One land-locked sailor has dedicated his life to ensuring access to sailing programs for all
Anyone who has grown up on the water knows the transformative power it has. It's a classroom, a playground and a haven, a constantly evolving presence that can deliver whatever is needed, from job skills and life lessons to bonding, excitement and peace.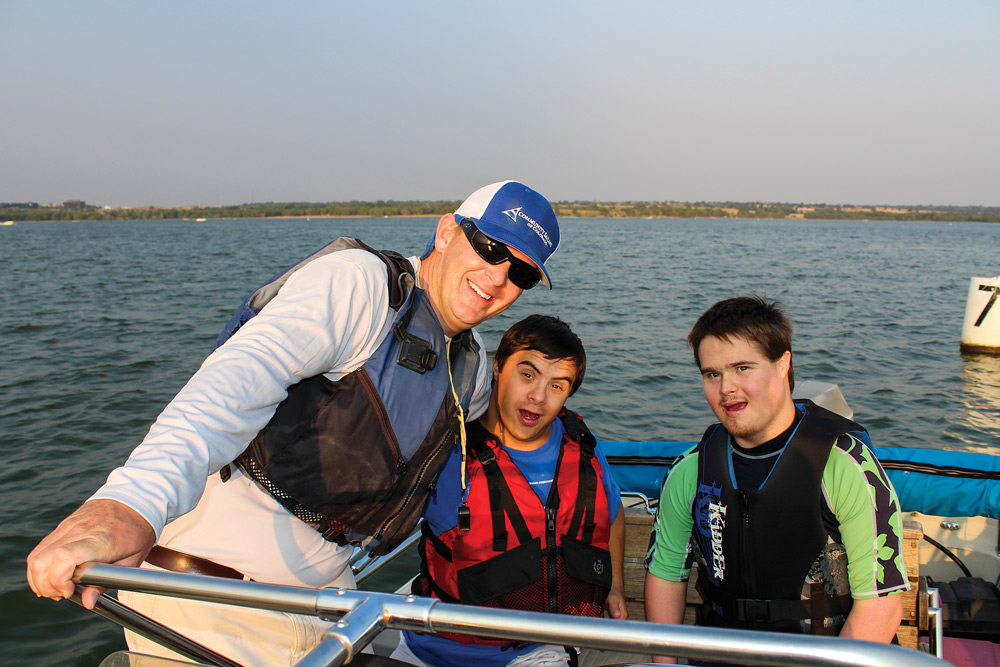 But the truth is, not everyone has access. A person may be living in a landlocked area, not knowing how or where to get on the water. A child could be growing up in an underserved community with limited opportunities. Someone with special needs might not have a mentor or champion to help lead the way.
For Iowa native Brandon Kass, the desire to provide access to the water has become the driving force in his life. Through his role as the executive director of the nonprofit Community Sailing of Colorado, he helps about 2,000 people access area lakes each season.
Kass was 8 years old when he sailed for the first time. His grandparents had a cottage on Lake Okoboji, a natural body of water that's part of a northwest Iowa chain known as "the Iowa Great Lakes." During a summertime visit, he took part in the Okoboji Yacht Club's public Okoboji Sailing School.
"It was the late 1980s, and I was zooming around on Lasers with a bunch of 8- to 10-year-old friends," he recalled. "I was a first-generation sailor, and I absolutely fell in love with it."
He also discovered that he had a natural competitive streak. At age 10, when he had a choice to pursue sailboat racing or to play baseball, he chose racing without question.
"I transitioned to an X-Scow and raced with my sisters," Kass said. "We had a big social network at the club. All my friends were there, and people came from 500 miles in every direction—from Minnesota, Iowa, South Dakota, Nebraska—to go sailing."
Kass became an instructor when he was 15, but he said his abilities really took off when the club brought in a new coach two years later. That coach was Rob Coutts, older brother to acclaimed Olympic, America's Cup and professional sailor Sir Russell Coutts.
"He was the first coach who really made things click," Kass remembered. "I was with him for two years, teaching, while he was the program head. I raced every weekend."
All too soon, however, Kass's high school years drew to a close, and he headed to the University of Iowa. The endeavor lasted just a year. The 20-year-old heard the siren call of the ocean and moved to Southern California, where he worked for the Lido Isle Yacht Club in Newport, the Long Beach Yacht Club and the Leeway Sailing and Aquatics Center.
"I followed my passion," he said. "I was able to offer sailing to the public in a very diverse community, coaching aboard Capri 14s, Lasers, Flying Juniors, 420s, and Santana 30/30s. We built junior programs that were able to compete with area yacht clubs, and ran dinghy and keelboat programs for adults as well.
"At that time, US Sailing was really pushing community sailing centers to make sailing more accessible," he said. "It was never about status or how much money someone had. It was all about fun, as it should be. Some of those kids had never been on or around the water."
Kass spent seven years in the California sunshine, introducing people of all ages and from all walks of life to the water and sailing. Yet, like so many 20-somethings who are attempting to pursue their passions, he eventually found himself at a fork in the road. He could continue doing what he had been doing. Or, as he put it, he could get "a real job." So he returned to Iowa, where he earned his degree in 2008. A job in bar management and catering brought him to the Mile High City.
"Both my sisters lived in Denver, and I'd vacationed in Colorado as a kid, going skiing and enjoying the mountains in Aspen and Summit County," Kass said. "I thought, well, if I can't have the ocean, let's do mountains."
While he did love the mountains, he quickly realized that he did not love hospitality as a career choice and had no desire to climb any corporate ladders. But then, in 2010, a welcome opportunity crossed his desk. A small, local nonprofit was looking for an executive director to help run its summer sailing programs for a couple hundred kids. Kass seized the opportunity, and under his leadership, Community Sailing of Colorado has experienced startling growth. When he started, the nonprofit served roughly 200 kids each season. Today, it serves more than 10 times that number.
"It's exciting, all the new opportunities for people in our community to go sailing," Kass said. "We've expanded our programming to include all ages; we have more junior programs, we have adult programs, and we offer free sailing nights for people who never thought sailing would be an option here in the Denver-Boulder metro area.
The numbers reveal the impact of Kass's work. In 2015 and 2016, 711 children participated in junior sailing programs on Cherry Creek Reservoir in Denver; 491 children participated in programs on Boulder Reservoir; 127 junior sailors took part in the racing program for ages 18 and under; and 126 adults attended beginner and intermediate classes. And, in 25 outreach events, the nonprofit provided free sailing for 1,047 people.
Although Community Sailing of Colorado has offered programs at Cherry Creek Reservoir for 17 years (the first official location was Westminster's Standley Lake, from the nonprofit's 1994 founding until 2000), Boulder Reservoir became its flagship location in 2014. In just three short years, 40% of the participants are there; and, thanks to a new partnership with Boulder Parks and Recreation, the nonprofit is now offering new combination camps that incorporate windsurfing and stand-up paddleboarding.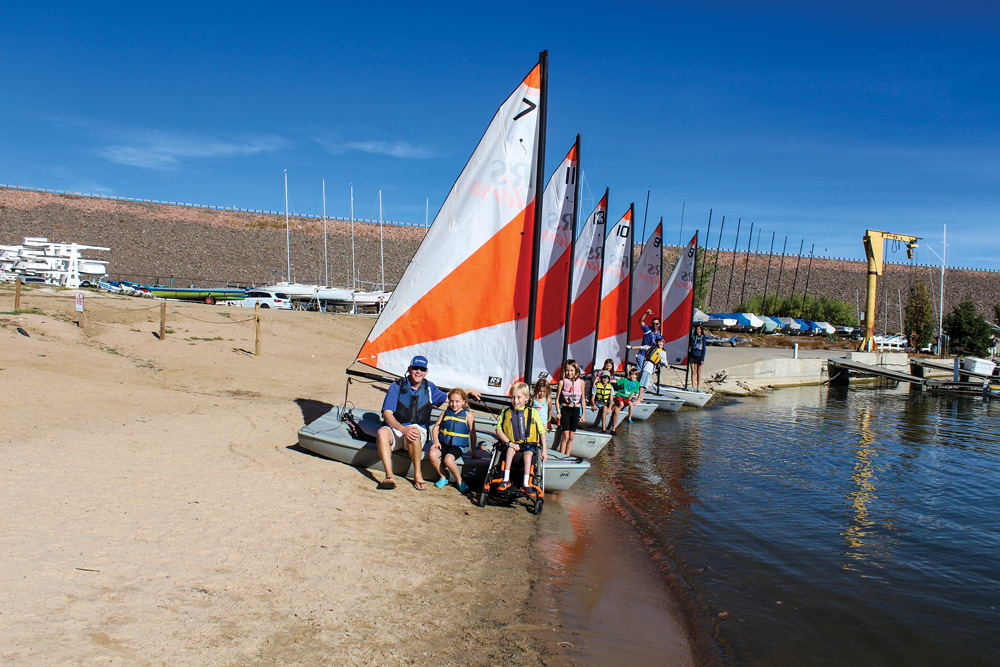 "I'm a big proponent of peer group learning, after my own childhood experiences in Iowa," Kass said. "The kids love the programs, because they're out on the water and having so much fun with friends. And the parents had no idea this was even an option, and then the experience sells itself.
"On Day One, many of the children have never even touched a boat," he explained. "By Day Five, they're skippering, they have new best friends, they've bonded with the staff, and they're sailing back to camp, happy and empowered."
Kass also noted that his group is now running some STEM (science, technology, engineering, math) modules in the camps.
"There's been a big push toward incorporating the sciences in outdoor programs, and sailing is perfect for learning subjects like geometry and physics," he said. "We can offer kids a powerful experiential learning environment."
Of course, the price tag to do all of this is a hefty one, and a big part of Kass's job is securing funding. Fortunately, Community Sailing of Colorado receives strong revenue from programming, and it hosts popular fundraisers like the annual Spirit of Sailing Gala, which attracts hundreds of community members to support critical initiatives like the Roy Burley Scholarship Fund and the Adaptive Sailing Program.
In 2015 and 2016, Community Sailing of Colorado funded 110 scholarships for children in need, and it served 789 people with disabilities through the Adaptive Sailing Program, which has become Kass's new passion.
"The Adaptive Sailing Program, which we started in 2011, truly makes sailing accessible to all," he said.
The organization has two 18-foot RS Venture Keels, five Access 303 dinghies, a portable adaptive lift and other specialized equipment, and it regularly partners with world-renowned, Denver-based Craig Hospital as well as the Rocky Mountain Down Syndrome Association, the Rocky Mountain Multiple Sclerosis Center, the National Sports Center for the Disabled, and recreational therapy departments that support individuals with autism spectrum disorders, ADHD and other developmental disabilities.
"Once people are on the water, everyone is equal," Kass said. "And, because these disabilities also impact families, friends and caregivers, it's so important that they have opportunities like this to simply have fun and enjoy time on the water together."
Although his executive director duties keep him busy, particularly during the summer season, Kass does have opportunities to work as a sailing instructor and coach in the late spring and early fall. These days, when he does have that chance, he tends to focus on adaptive sailing.
"My passion started with youth sailing, but that love has moved to the adaptive side," he reflected. After a brief pause, he added softly, "It fills my cup."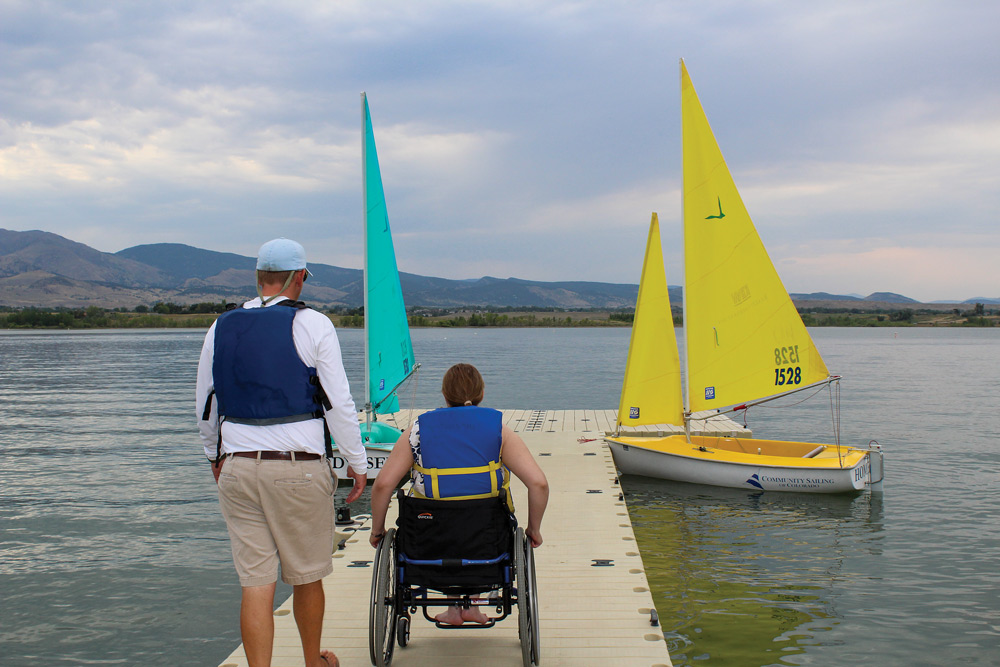 Kass continues to search for ways to expand access to sailing along the Front Range, from raising public awareness through free sail nights, movie nights, US Sailing trainings and an end-of-season community party to building new partnerships with groups like Big Brothers Big Sisters and Environmental Learning for Kids.
"We make sure we can get everyone out there, one way or another," Kass said. "We've never said no to a kid who wants to go sailing."
In his limited free time, Kass lives his own sailing life. Every few years, he and his family enjoy a charter cruise. And three times each summer, he returns to Iowa to race his C-Scow with his brother-in-law.
Reflecting on his on-and-off years with sailing, Kass said he now is exactly where he needs to be—although he admitted that the desire to join a modest little sailing nonprofit in the Rocky Mountains surprised him at first.
"In California, I was running year-round programs," he explained. "It was a lot of work, and honestly, I'd had my fill. I felt good about leaving, because I'd done everything I wanted to do. But passion for your life's work can ebb and flow. When I got back into mine, I realized how much I'd missed it."
With a laugh, he added, "The years have been incredibly quick since then."