To Alaska, on a very little boat
Friends face the inaugural 750-mile race through the challenging Inside Passage on an 18-foot catamaran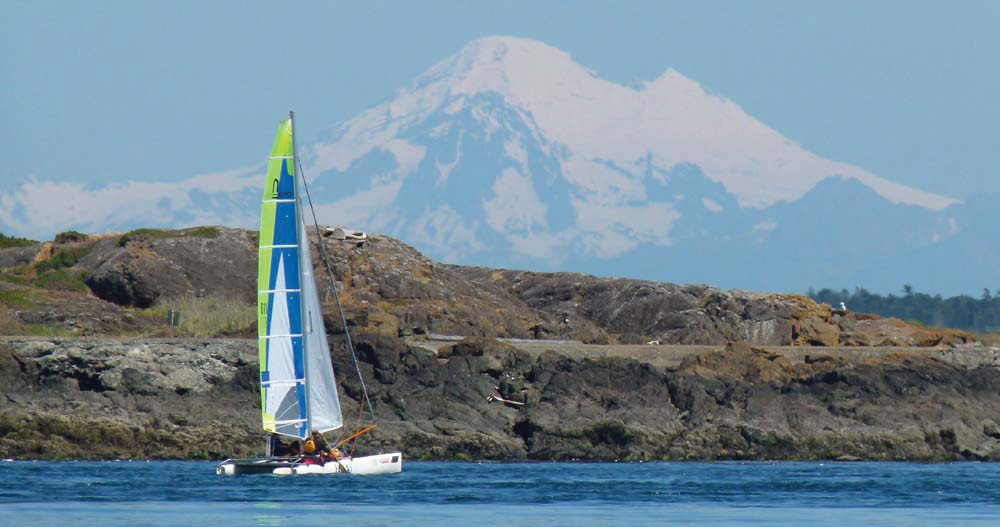 The sailing world is flush with professional races that operate like finely tuned machinery. So when a truly grassroots competition arrives on the scene, it's a breath of fresh air among intrepid pull-ourselves-up-by-our-bootstraps adventurers who make up for their lack of deep pockets with their courage, persistence and irrepressible good humor.
In June, 53 teams in a variety of watercraft converged on Port Townsend, Washington, for North America's longest human- and wind-powered race. Organizers designed the inaugural Race to Alaska to celebrate the tradition, exploration and "lawless self-reliance" of the Alaska gold rush. They advised competitors that this Inside Passage experience would be "like the Iditarod, on a boat, with a chance of drowning, being run down by a freighter, or eaten by a grizzly bear."
The R2AK was open to any boat without a motor, and the 750-mile, cold-water course would take competitors from Port Townsend to Victoria, British Columbia, and then on to Ketchikan, Alaska. The only rules: no private resupply, no support boats, no food drops. Teams must be self-supporting, all services and resources must be available to all competitors, and other than the two waypoints, teams were free to choose their own routes and decide whether to race at night.
Those who wanted a taste of the R2AK experience without the time commitment (or extra pain and suffering) could compete in Stage 1, the 40-mile stretch from Port Townsend to Victoria, British Columbia. The rest would go on to tackle the 710-mile long haul to Ketchikan.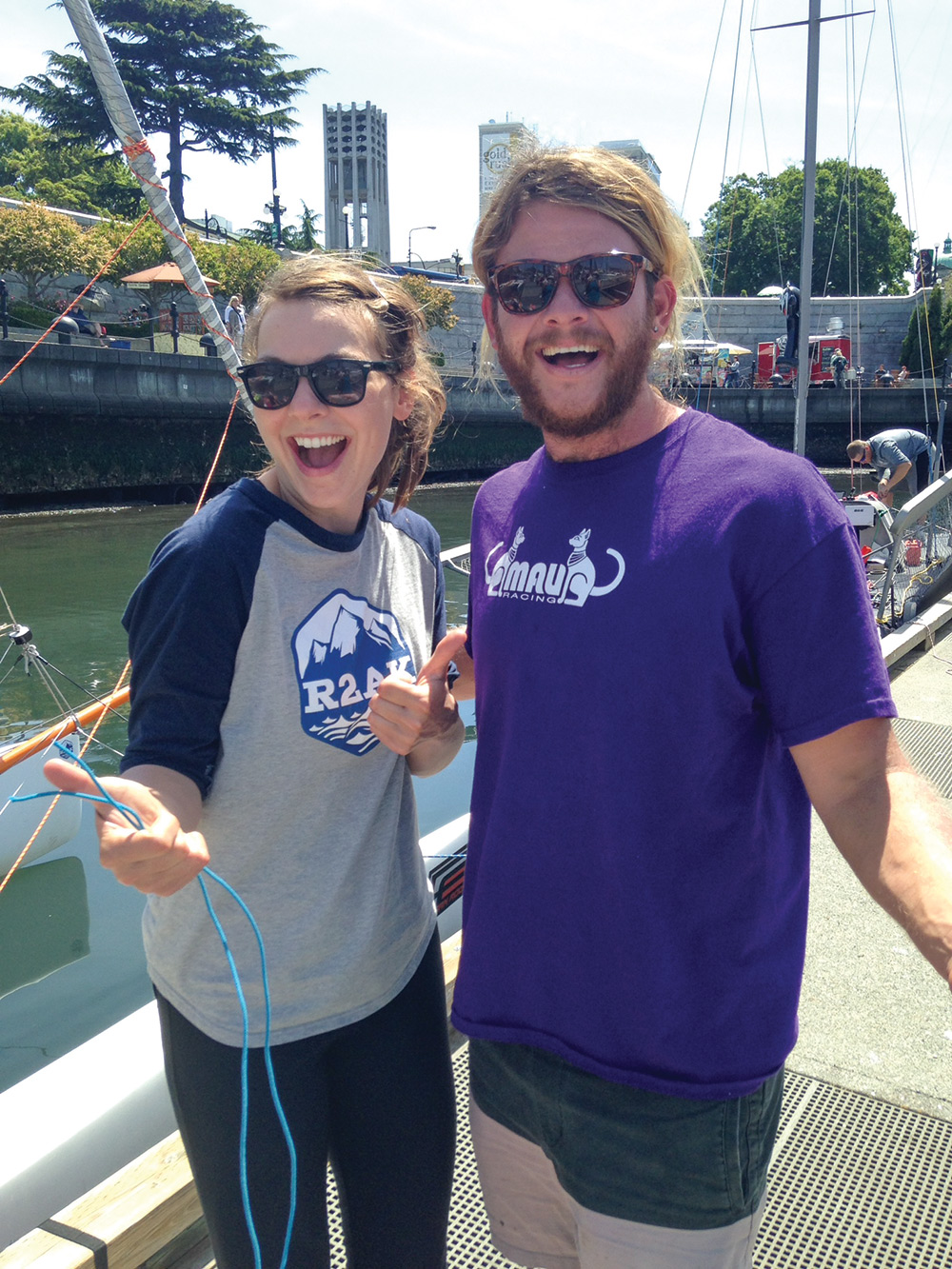 Of the 53 boats that started, just 15 reached the finish line in Alaska. Among them was Team Mau—a pair of longtime friends, aboard a small production beach catamaran, determined to have the adventure of a lifetime.
Phil Wampold, 29, grew up in Madison, Wisconsin, and learned sailing with his dad aboard a 16-foot dinghy. He went on to join the celebrated Hoofer Sailing Club on Lake Mendota, learned to race a J/24, and spent time cruising on both Lake Superior and Lake Michigan.
About 10 years ago, he relocated to the Pacific Northwest to attend the University of British Columbia at Vancouver, and he got involved in the racing scene aboard a San Juan 24. Yet his eyes were planted firmly on the horizon.
"I bought a 27-foot aluminum sloop and singlehanded it to Australia," he said. "It took about a year and a half. In February, I sold the boat and came back to Canada.
"While I was in Australia figuring out what to do with my life, I found the Race to Alaska online. I was intrigued, because it was the first one, and it was right in my backyard."
He sent a message to good friend and Vancouver resident Joanna "Jo" Ludlow, 28, writing, "I have a new adventure in my head… you're just the kind of adventurer I need on my team!"
"Um, OK," she responded. "I'll book time off work."
As Ludlow had no sailing experience, the duo started training as soon as they bought their boat in March. They chose a 570 Nacra, a simple, fast, 18-foot, high-performance catamaran that could carry a two-person crew comfortably. They named her Mau, after the cat form of the ancient Egyptian sun god Ra.
"We chose the 570 Nacra because we needed a boat that we could easily move with no wind," Wampold said, "and it had to be extremely fast when sailing. We wanted the adventure, but we also wanted to be competitive. It also had to be within our budget. We paid $3,500 for the boat, which weighs only 400 pounds. It was the fastest boat for the money."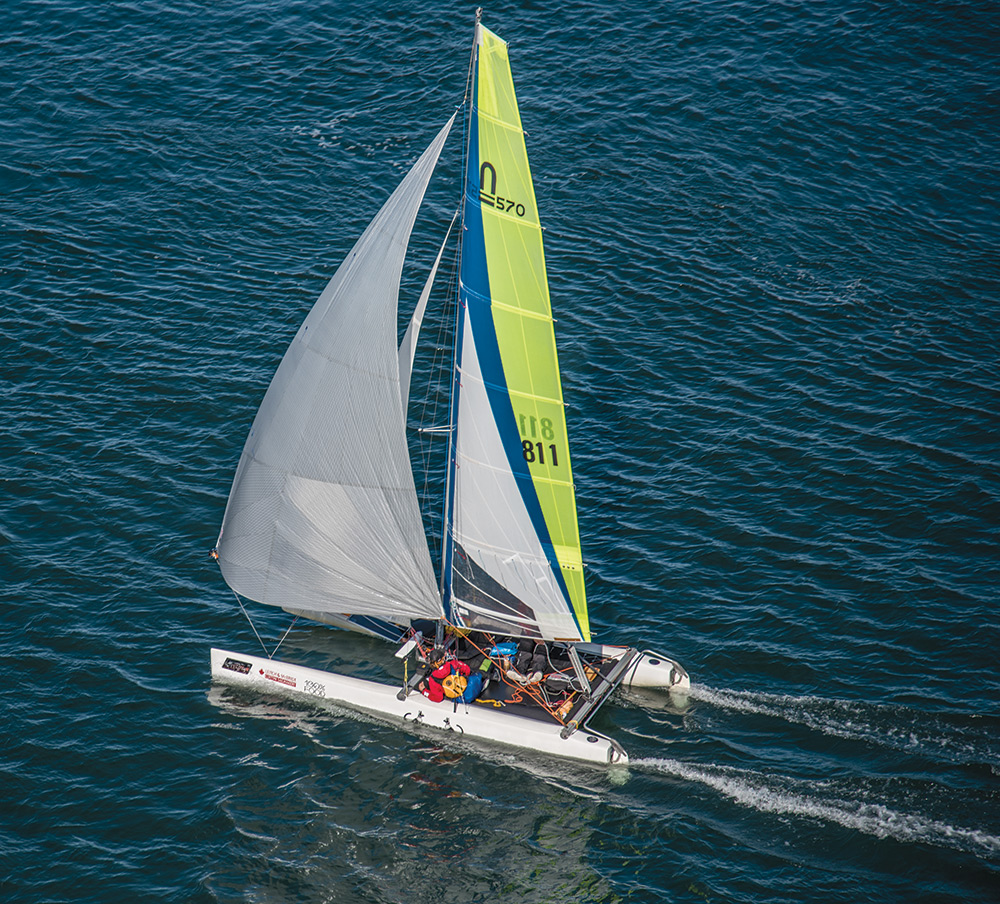 Nick Reid photo
The new owners went through the Nacra's rigging with a fine-tooth comb, understanding that safety had to be the No. 1 priority when facing offshore conditions. They put a big screecher on it for light winds, and they had a friend build a pedal drive.
"We learned that we hate paddling with oars," Ludlow said with a chuckle. "It's just the worst! We both love biking, and we ended up putting 150 miles on that pedal drive."
The sailors also added a solar panel, and they converted a Pelican case for battery storage. They proudly added a dodgerlike canvas to serve as an onboard shelter, but Mother Nature had other plans for this crowning achievement.
"It destroyed itself after a day," Ludlow said.
"No, I think it was three days," Wampold interjected, laughing.
Indeed, within just days of the race start, the sailors realized their goal might have to shift a little.
"We had high winds and tough seas," Ludlow reported. "We kept hearing that boats couldn't hack it and were dropping out. A big part of us still wanted to win, but we decided that we would be happy if we finished."
"You have to do a lot of tidal sailing up here," Wampold added, "and in the inner passages, currents are a real concern. The tidal rip can be up to 12½ knots, and while you can try to plan for it, you're not going to stop to wait for more favorable conditions."
In the Johnstone Strait, for example, the fleet had to navigate a 60-mile, steep-sided waterway with winds piping out of the north. Sailors found themselves either fighting the current or facing steep, breaking seas. The result: utter carnage that involved rocks, dismastings and even a U.S. Coast Guard rescue.
Wampold recalled seeing a 25-foot trimaran with its mast in two pieces. But Mau battled on.
"We were hanging with the top dogs, with 20- to 30-knot north winds," he remembered. "We were beating into sustained gale-force winds, just plowing through the waves. It was tough sailing."
Nighttime sailing became too dangerous, so they opted to put in at Quadra Island. And the weather promptly socked them in.
"We were there for four days, and man, it felt like a year," Wampold said. "It was so painful to wait for the right weather window. That was the hardest thing, the waiting."
The duo tried to take Mau out one day. The boat turtled.
"That was scary," Wampold said. "We put a hole in the boat that needed patching, and the mast hit the bottom, so we went through the rigging again to make sure it was all OK. We just couldn't believe it; the winds in summer in this area typically are nothing. To have four- or five-day gales is just unheard of."
When Mau turtled, Wampold and Ludlow also put holes in the bottoms of their drysuits and lost their shoes, leaving them without dry, warm footwear.
"That was bad for morale," Ludlow acknowledged. "We had cold feet for the rest of the trip."
This wasn't the only morale-buster. Because the sailors anticipated racing around the clock, Mau sailed only with the bare necessities—drysuits, wools, powdered food. The boat didn't carry a tent, sleeping bags, a camp stove or any other camping gear, so Wampold and Ludlow were forced to become increasingly creative during their island stay.
"We had a Race to Alaska knife, and we used it to make these lean-to shelters," Wampold explained. "We made a fire inside. We were proud of ourselves."
Finally, they caught a break. In a weather window with less than 20 knots of wind, the duo set sail for Bella Bella, an Indian Reserve community also known as Waglisla, home to the Heiltsuk. There, they quickly indulged in hot coffee and candy bars before undertaking the final 250-mile push to Ketchikan.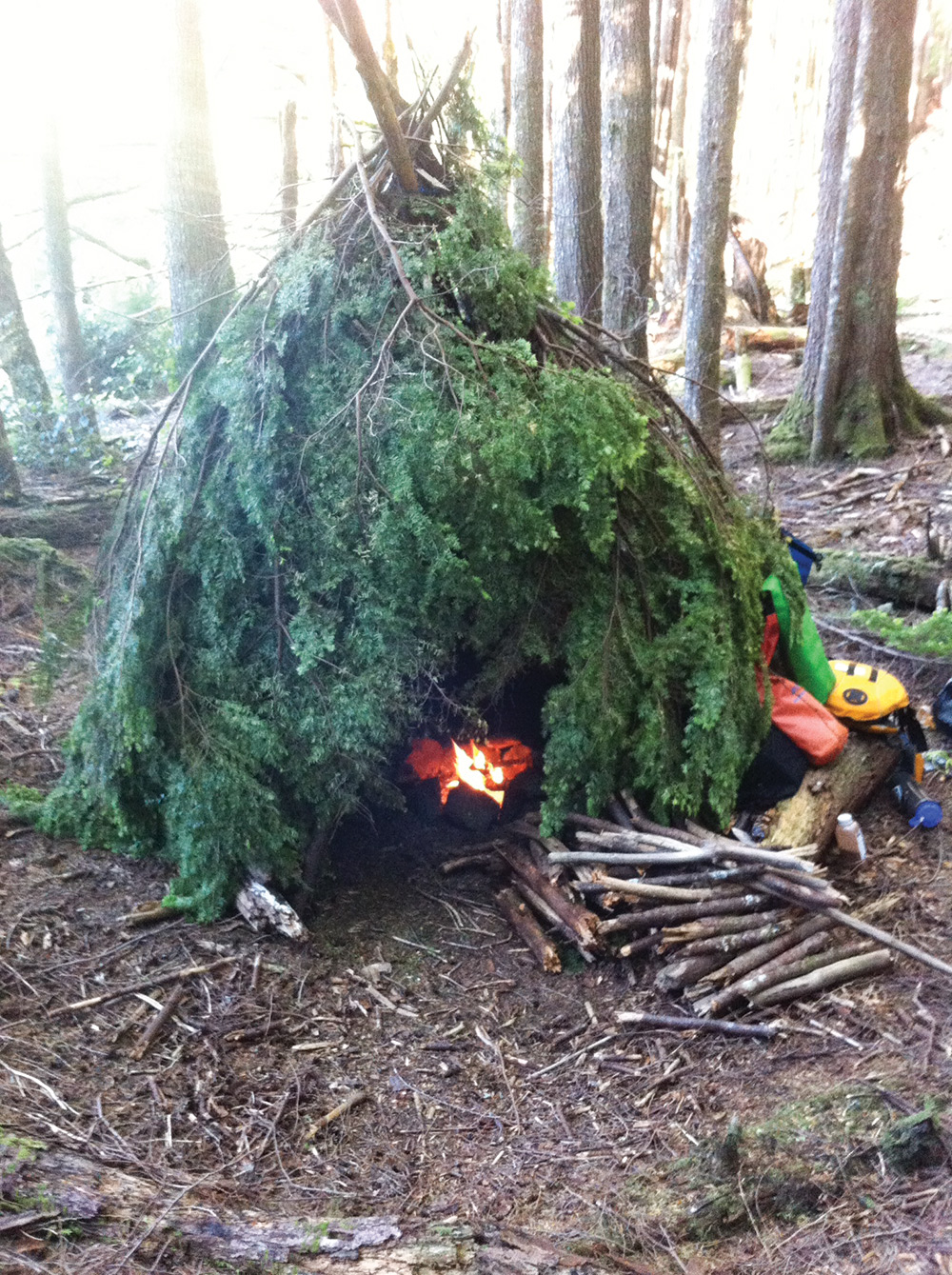 "We were so exposed and so cold, especially at night," Ludlow remembered. "We'd duck behind an island or come near shore and pedal instead of sail. We'd do one-hour shifts, because you couldn't really sleep longer than that. You'd maybe make it for 45 minutes before starting to shiver uncontrollably!"
If the physical component to the race was tough, the mental component was tougher. Both Wampold and Ludlow admitted that each day they found themselves asking why they were out there, putting themselves through such torture.
"But we knew the only way out was through," Ludlow observed. "We call it Type 2 Fun. It's miserable in the middle, but then later, you say, 'That was awesome!'"
Mau crossed the finish line in Ketchikan at 7 a.m. on Friday, June 19, just under 12 days after leaving Victoria, British Columbia, in Phase 2. She was the first boat under 20 feet to finish, coming in eighth place overall.
"We're really proud of that," Wampold said.
"It felt so good to get to Alaska," Ludlow enthused. "It was the ultimate release. It was surreal too, because we'd gone such a long way and seen so much coastline."
When asked what they learned from the experience, both sailors laughed.
"The other racers were so smart," Ludlow said. "They had, you know, things like a downstairs, heat, a way to cook food!"
"Keels are nice," Wampold added.
"But honestly, whatever you had to do to get there, that was the experience," Ludlow said. "From the beginning, we knew we were doing this. We never were going to quit."
For results from this year's race or information on next year's race, which will begin June 23, 2016, go to www.r2ak.com.