This popular trailersailer has some get-up-and-go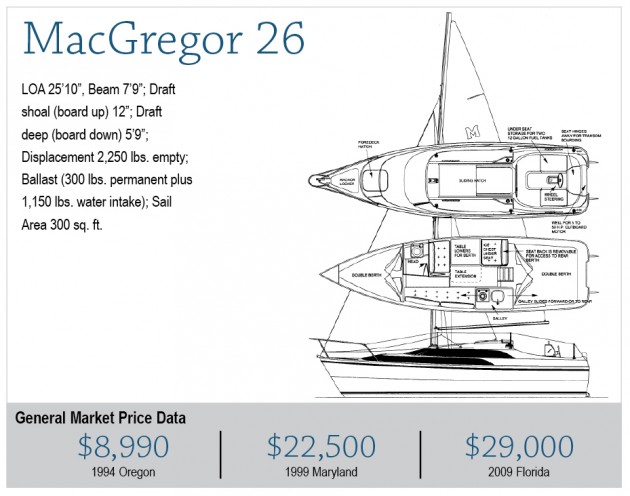 The MacGregor 26 is a trailerable coastal cruiser, powerboat, ski boat, party barge and floating home all wrapped into one hull. The obvious design compromises in a motorboat-sailboat hybrid have made many owners smile.
Designer and builder Roger MacGregor ventured into the boatbuilding business in the early 1960s after being assigned a college class project. With an undergraduate economics degree in hand, MacGregor was pursuing a master's degree at Stanford University when confronted with the challenge of creating a business. He decided on a plan to build a small, affordable boat that could be easily transported.

"It looked good on paper," he said. "And it worked even better on the water."

Eventually, MacGregor launched the MacGregor Yacht Corp., marking the commercial start of what would evolve into his lifelong passion and career.

"After college I worked for six years at the Ford Motor Co., in its missile division. I was really only building sailboats as a hobby," said the 76-year-old entrepreneur from Newport, California. "I have spent most of my life in Newport where dock space and moorings are at a premium, so a trailerable boat is very attractive."

MacGregor designed a retracting keel and later a water ballast system aimed at providing convenience and safety to those sailing trailerable cruising boats. "Filling the boat with water gave it the stability of a keelboat and higher performance," he said.

The manufacturing facility remains in Costa Mesa, California, although it has sprawled into a 5-acre campus and churns out 300 to 400 boats annually, with a third sold overseas. The company is approaching production of its 40,000th boat, which includes 104 MacGregor 65s.

Fifteen years ago, the MacGregor 26X went into production, marking a radical change with its water ballast system. The company built 5,200 26Xs. Seven years ago, the 26X was replaced by the 26M, with 3,000 built.
"We changed the shape. The new 26M is better looking, lighter, faster, and an all-around better boat," MacGregor said.

First impressions
The first time I ever saw a MacGregor 26M it was planing, pushed by what appeared to be a powerful outboard engine. The MacGregor 26 is a hybrid appealing primarily to trailersailors strapped for time and concerned about the rising cost of slip and mooring fees. At 26 feet it is simple to rig and sail, and just as easy to transport. Instead of chugging with the diesel at 4 knots, the MacGregor 26 speeds along at 22 mph.

The boat was also able to explore quiet coves or nestle onto sandy beaches because its twin rudders and daggerboard that require only 12 inches water when retracted.

Armando Jaen of Miami bought his brand-new 26M last year. "She does everything she was meant to do. It's the versatility I like," he said. "We trailered it from Miami to Key West, Florida, and had a nice experience with the kids. We were able to anchor just about anywhere. We were in two feet of water so the kids jumped off and snorkeled."

Construction
Roger MacGregor likes to say his boats are built to outlast their owners. All are hand-laid fiberglass matting or roving, which when cured results in solid laminates.

The MacGregor 26M assembly line is akin to those used to build powerboats. The hull is shaped by a mold. The gel coat is sprayed into the mold cavity, followed by application of the hull materials. Once the hull is removed from the mold, the deck is bolted on and adhesives are used to seal the seams. MacGregor believes pop rivets are not sufficient to bind hull to deck.

What to look for
When buying a used 26, decide whether you want an older X model or a newer M. The improvements evident in the M version can serve as an indicator for what to look for when buying a used X. For instance, the new model features a more traditional shearline and a smaller transom with rounded corners, making the 26M look more like a sailboat, or at least less like a powerboat.

The M series' bottom has a deeper V, allowing for better tracking, and the rig is taller. The noisy and potentially leaky centerboard trunk was replaced by a daggerboard well. The latter has no metal parts, reducing concerns about electrolysis. The rudders are larger and more elliptical in shape for better control. The outboard was relocated to under the captain's seat rather than behind it, which made the cabin 15 inches longer. The cabin has four lights instead of two, and there are two rows of windows, allowing more natural illumination inside.

Generally, potential buyers should examine water ballast valves for smooth operation, especially the gate valve so crucial to filling and emptying the ballast water.

On deck
Six-foot-long cockpit seats make it easy for everyone aboard to enjoy the weather. The helm seat is slightly raised to make it easier for the helmsman to see over the cabin. The steering wheel is mounted on a pedestal. The cockpit is self-bailing. The mainsheet is guided by a traveler mounted at the forward end of the cockpit. The headsail is roller-furling. Plenty of storage is available in lockers beneath the cockpit seats. An anchor locker is located at the bow and a boarding ladder at the stern.

The MacGregor 26M comes with Lewmar winches and Doyle sails. With an air draft of 35 feet, the mast can be raised or lowered by a single sailor using the built-in brake winch.

The standing rigging is tweaked with stay adjusters instead of traditional turnbuckles, which MacGregor contends are more reliable and easier to use aboard a trailerable boat where the mast is frequently raised and lowered.

The boat and trailer can be towed by a full-size sedan but an SUV makes a more suitable match.

Down below
The cabin has 6-foot headroom, large sofa seats and the dinette seats easily convert into berths. The table seats four. The sole is carpeted. There is another double berth forward, where sleeping is made comfortable by a large ventilation hatch.

Overall, the boat has two double and two single berths. The galley features a sink, ice chest, an optional hand-pumped Origo alcohol stove, counter tops and storage space. The freshwater tank holds five gallons. The head, with its solid door, is fully enclosed for privacy.

Engine
The MacGregor 26 comes equipped with a beefy outboard, ranging from 50 to 70 horsepower. Roger MacGregor usually recommends a 60-horsepower Evinrude, but several owners have said they have come to rely on 70-horsepower Suzuki engines. All engines can push the hull along at 24 knots, fast enough to tow a water-skier. The boat holds 24 gallons of fuel, giving it a range of 283 miles at 6 mph, or 84 miles at 21mph.

Underway
The boat's twin rudders can be retracted when the engine is in use, making for easier steering and reducing drag. A gate valve is used to fill the ballast water, a process that takes about four minutes. A forward vent lets air escape as water enters. Unlike a weighted keel, liquid moves from the centerline toward the lee rail as the boat heels. Some skippers contend the sloshing below deck can be felt in the rudder, making the helm less responsive.

The MacGregor 26 owners say the boat is tender, and prefer to sail in light winds, seldom over 15 knots, and then only with reduced sail. A few said they sometimes sail 20 knots, but never sail the boat offshore.

Conclusion
Compromise is the name of the game with the MacGregor 26. Obviously you can't have a classic yacht with dramatic overhangs and teak decks if you also expect the boat to go like the dickens with an outboard hanging from the transom. Face it, the MacGregor 26 isn't likely to be voted prettiest girl at the dance. It could however, be the perfect boat for an aging but active baby boomers looking to maximize time on the water. It offers performance and comfort in a single package, holds its value, and remains the world's best-selling trailersailer.


---
PRICE: The 26M is still in production. Used versions of the earlier 26X can be had for less than $10,000 while a newer 26M sells for a little more than $29,000 with outboard and trailer-a bargain when compared to a new model that can sell for more than $35,000 with all the options.

DESIGN QUALITY: Design compromises that allow it to function as a powerboat simultaneously eliminate sailing performance features found in many traditional sailboats of similar size.

CONSTRUCTION QUALITY: Most of the 26X and 26M versions built during the past 15 years are still sailing.

USER-FRIENDLINESS: The MacGregor 26 is comfortable above and below deck. It is designed so that a solo sailor can launch it from the trailer and step the mast using the simple winching system.

SAFETY: Roger MacGregor and his team have sailed the 26X and the 26M in 50 knots of wind without significant problems, yet it is still just a coastal cruiser. Built-in floatation increases safety. Failing to fill the boat with water ballast can be dangerous, as can emptying the boat and running on engine power with too much weight above deck.

TYPICAL CONDITION: Since the 26 tends to be purchased by older sailors and sailed in fresh water, the wear and tear is usually negligible. But some boats have been used hard and put away wet, so close inspection is warranted, especially in regards to the water ballast and trailer.

REFITTING: Because the boat is still in production, parts are available. Owners of the older 26X tend to do minor refitting by adding shelving to the storage compartments, upgrading the galley, replacing standing rigging, adding shore power and a bow anchor roller.

SUPPORT: Roger MacGregor prides himself on establishing and running a family-owned business that caters to its clients. There are several owner's groups, including www.MacgregorOwners.com and www.MacgregorSailors.com.

AVAILABILITY: There are plenty of MacGregor 26s on the market, although many owners keep their boats longer than they might a full-keel saltwater cruiser because trailerability reduces the cost of boat ownership with dockage fees.

INVESTMENT AND RESALE: The MacGregor 26 holds its value, particularly the 26M with its design improvements over the 26X. MacGregor owners report a 33 percent devaluation after 10 years, which is significantly less than many other sailboats of similar size.