The first fast, small keelboats were Stars, then came Solings, then the Viper 640 and now, 15 years after the introduction of the 640, comes the VX One.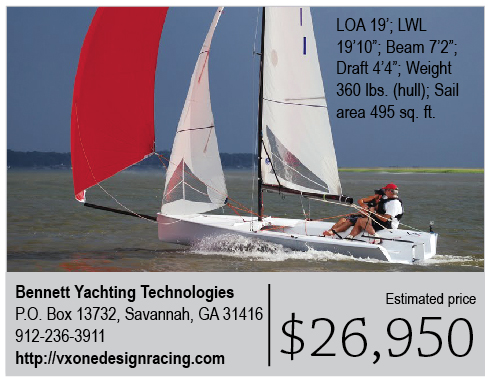 It's no surprise this planing, surfing high-performance racing keelboat is the offspring of Viper 640 designer Brian Bennett. He set out to design and build an two-person, affordable, transportable boat with fangs sharper than the Viper.

The VX One hull and two-piece Southern Spars carbon rig fits three boats to a 20-foot shipping container for easy group transportation, but the base price includes an aluminum trailer with fitted bunks. The keel retracts for travel and bolts down for sailing.

The kelp-cutter keel is one of several features designed to make the VX One a boat for everyone, not just masochistic speed junkies. An upside-down vang system, GNAV, gives space for the crew to maneuver around the Harken-outfitted cockpit while launching or retracting the gennaker from a tube. Hiking is a bit less painful on the rounded hull tanks which distribute body weight over the length of the leg. The only omitted convenience is a device to keep skippers from yelling, but that's not an option on any boat, yet.

A great way to judge the value of a new boat is to look at the "options and accessories" list. If a builder hides required equipment on the options list then watch your wallet. The options list for the VX includes padded bags, covers, a motor mount and clothing, nothing of real substance, so everything needed to race the boat is included in the base price.

The USA-built VX One comes with a carbon-glass rudder on a seamless,Vinylester and E-glass, PVC-cored hull, powered by a roller-furling, self-tacking jib on a radial track, and a 280-square foot gennaker launched and retrieved on a single line. The open transom might be a problem sailing backwards, but the VX One's retractable bowsprit gives the impression the whole boat is an arrow skimming the water. Arrows do not travel backwards.

Photographs show the VX One planing in water than appears relatively calm, with 10 knots of wind. The Star, designed in 1910, does not plane in 10 knots of wind, so it's clear that a 100 years of sailing evolution transformed two-person keelboats into thrill machines. No wonder the VX One T-shirt reads "Evolved."