New boat: Aeroyacht's Alpha 42
Yacht designers struggle to balance beauty and functionality. The Aeroyacht Alpha 42 meets the challenge with style. Gregor Tarjan, who came up with the concept for the boat "took what clients want, all the best features and put them into one boat." His credo for the build, "What looks good, flies good," comes from his jet-pilot brother, and Tarjan took those words to heart. He joined forces with PlayStation crewmember and sailmaker Paul Van Dyke to build an aesthetically pleasing, practical cruising catamaran that speeds along at 10 to 14 knots.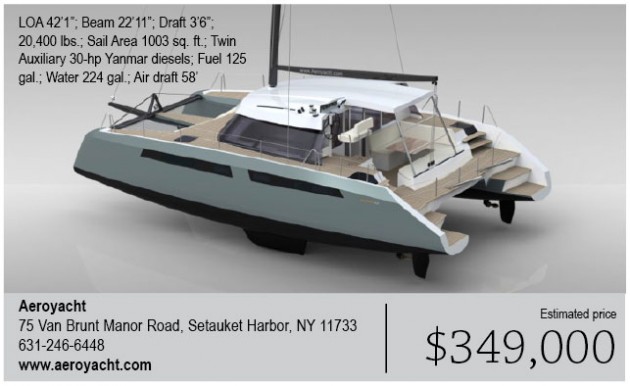 The marriage of beauty and practicality can be seen everywhere on the boat. The 360-degree windows look good and offer a wide view, but also flip open to cool the main cabin. The bowsprit gives more than a modern, go-fast look, tying into the main beam giving the hull structural support. The reverse bows are eye catching, but have a purpose.

"The bows' reverse angle adds waterline for speed while reducing weight, but is not wet for boats over 30 feet," Tarjan said.
The hulls are hard-chined for stiffness which helps the boat sail fast. The bilges are armored with Kevlar making them resistant to damage from grounding or contact with submerged objects. The foil keels are constructed to break away under severe impact without compromising the watertight integrity of the hulls.

Behind the bulkheads the Alpha 42 might seem like some kind of high tech Robocat, but the interior is meant for convenience and pleasure. There is a separate head for guests and plenty can fit onboard because the U-shaped dining settee seats eight around a fixed table. After dinner, pass through the sliding doors and walk down the transom steps for a swim between the hulls.

Come back on board, dry off, and lay on the queen-sized master berth dreaming of flying over the waves, and saying "What looks good, flies good."