A modern mix of cruising and racing for its time, this 40-footer is still the right fit for a family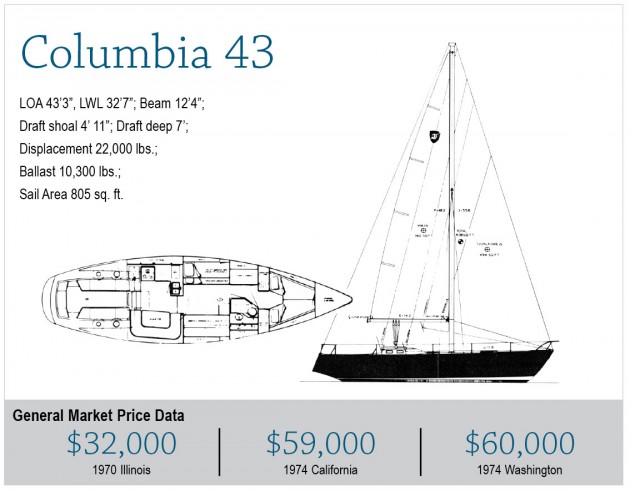 The Columbia 43 ranks among several early fiberglass classics spawned from the drawing board of the late naval architect William H. Tripp, Jr. While not as popular as his Columbia 50, this light-displacement sloop quickly became paradoxically known for its speed on the race course and its interior cruising comforts.

When the Columbia 43 first went into production in 1969, it was skeptically viewed by some as part of a trend in which lower-cost, lesser-quality fiberglass boats were overtaking their wood counterparts in the sailing yacht market. There was reason for such thinking.

The Columbia Sailing Yachts boatbuilding company was in disarray in the late 1960s and early 1970s. Fortunately, the Columbia 43 production run managed to avoid the most serious repercussions of corporate cost cutting that affected boats churned out in those days by Columbia and its corporate sister, Coronado Yachts, with inferior manufacturing processes and use of equipment not well-suited to a marine environment.

Most if not all of the approximately 150 Columbia 43s built between 1969 and 1974 had hulls strengthened by matts of hand-laid fiberglass rather than a matrix of short fibers spewed out by chopper guns. The latter method had resulted in "oil canning" on some earlier Columbia and Coronado models, a condition in which thin sections of the hull had too much flex, causing them to dent inward from water pressure and overall rigging tension.

Columbia Yachts started out as Glas Laminates, a fiberglass company founded by Richard "Dick" Valdes in 1958 and later renamed Glass Marine Industries. It produced camper shells and canoes for Sears, eventually turning its attention to sailboats. Early models included the Columbia 24 and 29. The name change to Columbia occurred in 1965, coinciding with the release of Tripp's Columbia 50. The company was eventually sold to the Whittaker Marine Group.

The Columbia 43 was splashed in 1969, exactly a decade after Tripp's legendary Bermuda 40 was released by Hinckley. It was billed as the first light-displacement racer-cruiser and striking in appearance with its graceful sheer, flush deck and low doghouse.

"I sailed on 43s many times from San Diego to Los Angeles. They have a lot of space below. Because the boat is so light, it tends to move around a lot at anchor, but that's not a negative. It just means it is not sitting deeply in the water," said Gerald Newmin, the top executive assigned by Whittaker to oversee Columbia. "It was also cruiser-friendly, with teak rails, nice galley, slate-look counter tops and a full shower. It looked more like a condo down below than a boat."

Despite these amenities, the Columbia 43 was designed to go up against the Cal 40 and similar boats in the Transpac races, where it performed admirably. The MkIII version of the Columbia 43 had its hull lengthened by six inches, a taller mast for more power and a lead-ballasted keel instead of iron, but only a handful of these were made.

First impressions
For most sailors, sleek is the word that comes to mind when eyes first set on the Columbia 43. The Tripp design has a classic bow, with overhangs typical of the era, an extraordinarily uncluttered deck and a rounded doghouse, giving the sloop a contemporary look despite its late-1960s vintage. An advertising company back in the day compared the 43's sleekness to a World War II German Messerschmitt fighter plane.

Construction
The Columbia 43's hull is heavily applied hand-laid fiberglass. The mast is keel-stepped. The boat has an iron-ballasted fin keel, spade rudder and was made in both full-keel and centerboard models.

"The 43 is a solid boat from bow to stern," said Stuart Swain of Illinois, whose family has owned the 1970 Columbia 43 Rainbow for 34 years. "We have sailed Lake Michigan, the Chicago area, the Northern Channel and up to Canada. It's a great family boat. It feels safe."

Swain replaced Rainbow's inferior plumbing, wiring and through-hull fittings after wrestling with faulty valves, a troublesome head and unreliable gaskets. He swapped the original gasoline engine for a Westerbeke 52-horsepower diesel and added a propeller designed to flip and rotate when shifted into reverse.

Swain's father, Robert, has spent a lifetime aboard Columbia boats, chartering a C-43 from 1974 to 1975, buying Rainbow in 1978, then moving up to a Columbia 57 in the mid-1980s. "I've owned over 100 feet of Columbia boats in my time," he said.

John David Miller of Hawaii, also known as Capt. Kawika, has owned his 1974 Columbia 43 MkIII Seadasha for six years.

"Our experience offshore on other boats led us to look for a heavily built, fiberglass hull that had no frills or difficult places to get into for service or modifications. The Columbia was perfect for that," Miller said.

What to look for
Due to production problems at the Columbia and Coronado plants, many boats in the 1960s and early 1970s were fitted with inferior plumbing and wiring. Malfunctioning heads and sinks, or corroded wires, have become the telltale signs of poor construction. A few owners posting comments online suspected plywood had been substituted for exotic woods in the cabin on some models.

On deck
Wide open space is what greets those boarding a Columbia 43. The masthead sloop features a 10-foot-long aft cockpit with plenty of room for everyone, including the helmsman. The foredeck is perfect for sunbathing at anchor or during balmy cruises.

The Columbia 43 had a large teak deck box in front of the mast, which some owners maintain proudly in a high-gloss finish while others had it removed.

Down below
The Columbia 43 was originally outfitted with a Universal Atomic 4 four-cylinder gasoline engine, the standard in its day, or in some cases a Palmer. But many owners have replaced the gasoline engine with a diesel. A small sink, alcohol stove and an icebox made up the galley, located to port, all of which was enhanced by slate-look countertops. The dinette to starboard is visible from the galley, giving the interior an open feel. The head featured a full shower. A single large, elongated portal to either side let in generous natural light. The boat offered berths for eight.

The Columbia 43 was designed to carry 45 gallons of fuel and 35 gallons of water.

Miller refitted Seadasha with a Perkins 4.108(M) diesel rated at 50 horsepower. He also added a roller furler and basic anchor with bow roller.
Swain swapped Rainbow's alcohol stove for a propane model and added a coal-burning fireplace to keep warm while sailing in Canada.

Underway
Columbia 43 owners praised the boat's handling capabilities in a wide range of weather conditions. Miller has sailed the boat mostly off the California coast in modest wind and sea conditions.

"I would say she does great in 20 knots of wind and 4- to 6-foot seas under full sail. I'm a sailor who likes to reef early and often, and that calms everything down on board and below. I found that we could get good speed and comfort reefed down to a single in the main and bring in one-third of the headsail," he said.

Swain and his father both commended the boat for its seaworthiness. "When you have owned a certain boat for as long as we have, you get to know it. The 43 can do everything we need and with all the lines going back to the cockpit you can almost sail her singlehanded," the younger Swain said.

Conclusion
The Columbia 43 is an exceptional light-displacement racer-cruiser perfect for going around the cans or taking the family on an extended sailing adventure. Solidly constructed of hand-laid fiberglass, its rugged hull can handle heavy seas but the overall boat design keeps it moving nimbly. An expansive foredeck and roomy interior make this boat attractive to sailors with growing families or those with plenty of fun-seeking friends.

---
PRICE: A used Columbia 43 can be had for between $32,000 and $60,000, depending on the year of construction, overall condition, extent of upgrades, and whether it is a rare MkIII model.
DESIGN QUALITY: The boat's light-displacement characteristics and heavy-duty fiberglass hull combined with its generous interior amenities for cruisers makes it an ideal racer-cruiser and all-around family boat. Although built during an era when Columbia Yachts was plagued by production problems, the Columbia 43 was able to avoid most of the downside of corporate cost cutting.
CONSTRUCTION QUALITY: The Columbia 43 has a heavy-duty hull and balsa-cored deck. The original electronics and plumbing were lacking in quality and the four-cylinder gasoline engine was a bit underpowered. But the winches and deck-mounted rigging have held up to the test of time, as has
the hull.
USER-FRIENDLINESS: The boat has a simple sail plan is easily fitted for shorthanded sailing. The expansive, clutter-free foredeck invites captain and crew to spread out their towels for sun bathing. The 10-foot cockpit is roomy enough for everyone aboard without getting in the helmsman's way.
SAFETY: Designed to compete with boats like the Cal 40, it has competed in bluewater races with success, although how the boat would withstand the pounding of an ocean crossing at more than 40 years of age remains questionable.
TYPICAL CONDITION: Most used Columbia 43s have undergone retrofitting, swapping the gasoline engine for diesel, and a redo of the wiring, plumbing and through-hull fittings. Unless the deck has gone soft from neglect, which would allow the process of delamination to take hold, most Columbia 43s tend to resist aging.
REFITTING: Depending on how the boat was sailed and cared for, inspection and tightening of the keel boats could become necessary. In the case of soft decking, replacement could prove costly.
SUPPORT: An active group of Columbia 43 and Columbia boat owners in general can be found online. Information on the Columbia 43 is available at the owners' association at www.columbia-yachts.com, at www.sailboatdata.com.
AVAILABILITY: Columbia 43s are for sale in Connecticut, Illinois, California, Texas, Washington, and even outside the United States in Panama and the BVI. They can be found sailing in many other states, although only approximately 150 were produced.
INVESTMENT AND RESALE: A Columbia 43 in good to excellent condition will hold its value as a quality racer-cruiser with family-boat characteristics and bluewater potential.