Golden, Colorado, is famous for Coors beer, but the Rocky Mountain city is not known for its boatbuilding industry. That may change with the Sage 17, an innovative, 16-foot, 10-inch pocket cruiser designed by Jerry Montgomery and built in Golden by Sage Marine.
Montgomery designed stability into the 17 by fastening a carbon fiber deck on the composite hull to lighten the boat above the waterline. A substantial 400-pound keel and 120-pound centerboard keep the center of gravity below the waterline. The result is a boat that should heel less than a dozen degrees before hitting its groove.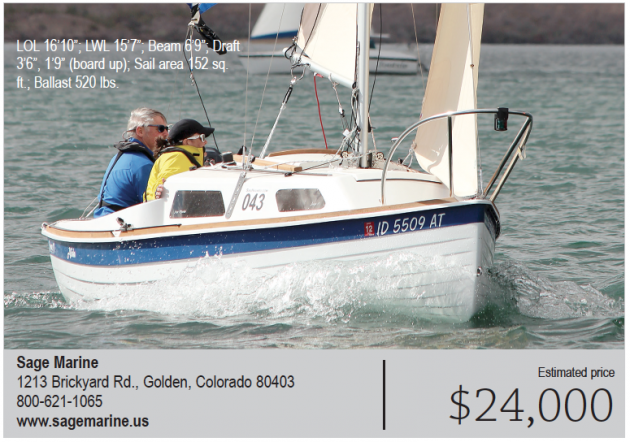 The sailplan is designed to move that underwater weight. The 17's fractional rig carries an 89-square-foot main, and is rigged for four headsails: a storm jib, working jib, lapper and genoa. The standard working jib can be rigged as self-tacking, and there is an optional spinnaker. One person is enough to step the 17's mast, and all lines are lead back to the cockpit.

The self-draining cockpit is long enough for sleeping at 6 feet 6 inches with the headsail winches mounted out of the way on the cabintop. There are three lockers under the cockpit seats. The centerboard winch is located in the cockpit just below the companionway, which saves a run belowdecks to winch up the centerboard in shallow water.

The cabin's cushioned V-berth covers an optional portable toilet and additional lockers. There is no compression post. A neat feature is the cushion-free, wood-accented port and starboard seats. That way, a swimmer can sit in the cabin and change without getting cushions wet.

A swim ladder and motor mount are standard. The wooden rudder kicks up on impact, or is raised with a levering motion of the tiller. The transom is carbon fiber, lightening the stern to give the Sage 17 a livelier feel. The boat itself looks lively, with the lapstrakes extending below the waterline, a sweet rocker to the sheerline and distinctly traditional windows and bow overhang. This boat will turn heads at the marina or on the road.

Pocket-cruiser sailors are often road warriors, so sound trailering is nearly as critical as seaworthiness. Sage Marine offers several trailer options, from LED lights to a spare tire, but the deluxe trailer has a built-in ladder, motor mount and low-riding frame-it's a head turner too. The boat and trailer should come in at less than 2,000 pounds, which is within the capacity for some minivans, including a couple of cases of Coors.