The Fisher Yarmouth 22 is a small cruiser designed by David Freeman, built in Sri Lanka by Neil Marine, and detailed and commissioned by the Fisher Boat Co. in southern England.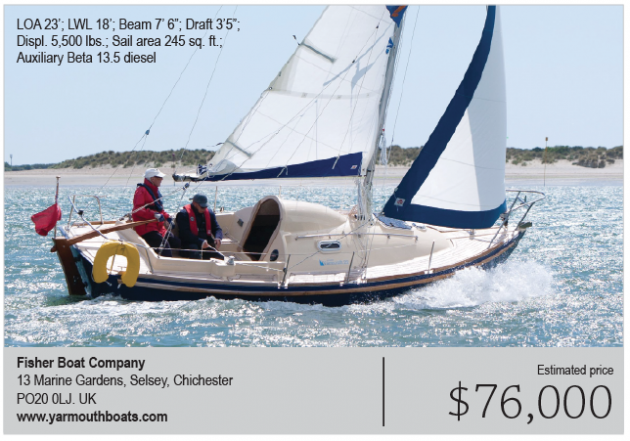 That's a long way for a small boat to travel, but that's the Y22 for you. It's built to go the distance. The boat has an RCD class B rating, which means it's designed for offshore passages.

The first thing that catches the eye is the sturdy, domelike companionway. According to Roger Barrow, president of Fisher, the companionway keeps "her simple, with a more modern, sleek minimalist appearance, while retaining the seakeeping benefits of a traditional long keeler. No leaks or maintenance that comes with a sliding hatch, and great fun grabbing the top of the coachroof and throwing your feet into the saloon the way it used to be done!"

All but the tallest sailors will like the 6-foot 2-inch headroom, four full berths and navigation area belowdecks. Installing the optional galley sink makes this boat the perfect weekender for regions with dicey weather.

The boat can be trailered, but is designed for the water, not the road.

The boat might not be fast, but the nearly full keel, with a small knuckle in the forefoot, makes for a comfortable ride, and is in keeping with the Fisher tradition of building tough bluewater boats. The rudder is attached to the transom and aft edge of the keel.

The company is willing to make nearly any modification to suit a sailor's racing or cruising needs. That includes altering lifelines, changing sail configurations and running halyards back to the cockpit. The standard rig terminates halyards at the mast which makes for a clean deck and cockpit, but requires sailors to leave to cockpit.

Cockpit footing is secure with pretty teak grating underfoot. All the flat deck surfaces are decked in Ceylon teak, which compliments the boat's overall classic look. The lapstraked hull, curved sheerline and the rudderhead gracing the reverse-curved transom compound the effect.

Even with all the upgrades, the boat is delivered with an impressive set of options, including compass, mainsail cover, anchor and chain, fenders and warps. The boat with all the gear fits nicely into a shipping container. That way, when it comes out of container just cut the bubble wrap, step the mast and go sailing.

Fisher will pack and ship the Y22 to ports all around the United States, but sailing one here from Chichester Marina, Sussex would be in the spirit of the boat-and Sir
Francis Chichester.