New boat: Keus 22 Short Tacks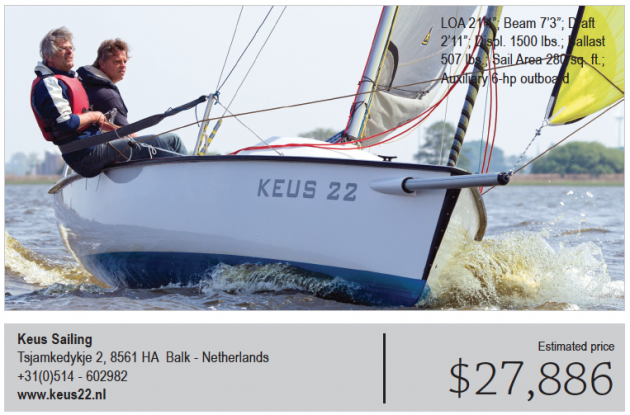 The Dutch, with their tidal estuaries and narrow canals, are masters of confined, shallow-water sailing. The Keus 22, a new daysailer from The Netherlands, keeps Dutch sailing performance but shakes off the traditional bulky look by combining modern design and boatbuilding materials with a sporty sailplan to build a boat that can sail on the morning dew and turn circles in a canal the size of a creek.
Peter Keus designed the boat, which includes four models around the same base design: the Basic, the Tour, the Fun and the Win. The model names give some idea as to each boat's role in the lineup, but all have a retractable, weighted keel and a cubby large enough to carry camping gear. The Keus 22 concept is a boat for buzzing around a large lake system connected by narrow waterways, camping or hotelling along the way. The Tour is a more comfortable, easier sailing version of the Basic; the Fun tacks an asymmetrical spinnaker onto the Tour, and the Win version, a racer, comes with a trapeze.
All the boats feature an encased motorwell designed for a short-shaft outboard located nearly amidships, like a saildrive. The fiberglass motorwell housing is also the base for the mainsheet block, a console and a convenient footrest when the boat is heeling. The Win version replaces the console with a traveler; racers are expected to leave the motor on shore.
The 22 is a fractional sloop with a jib. The mainsail has a large roach and comes with two reefs, and the Fun and Win have retractable sprits for the asymmetricals. The Basic and Tour models have Dacron sails, and the Tour has optional laminate sails and roller-furling jib; all have optional lazyjacks, except the Win, which also does not include sails.
The gooseneck is nearly on the cabintop, but the boom angles upward aft giving headroom to sailors sitting aft of the keel, but everyone is going to have to duck under the boom on this boat-it is, after all, a sportboat.
In a nod to practicality, a rubber bumper trims the gunwale, and an optional forestay lengthener makes dropping the mast easy.
The cockpit is long-five adults can sit there comfortably, and the edges of the cockpit are smooth and rounded.
The open transom cockpit is self-bailing, as is the fuel tank well, but the generous freeboard should keep sailors dry in all but brisk conditions.
Shallow-draft boats sometimes lack for performance, so the Keus 22 is an alternative for thin-water sailors wanting a performance boat. From Chesapeake Bay to the Pacific Northwest, North America's sailing landscape has plenty of shallow waterways that would be perfect for this Dutch import.