Rhapsody in blue

A collaborative effort from experts in cruising comfort and performance results in a 40-footer that is easy to sail and quick on its feet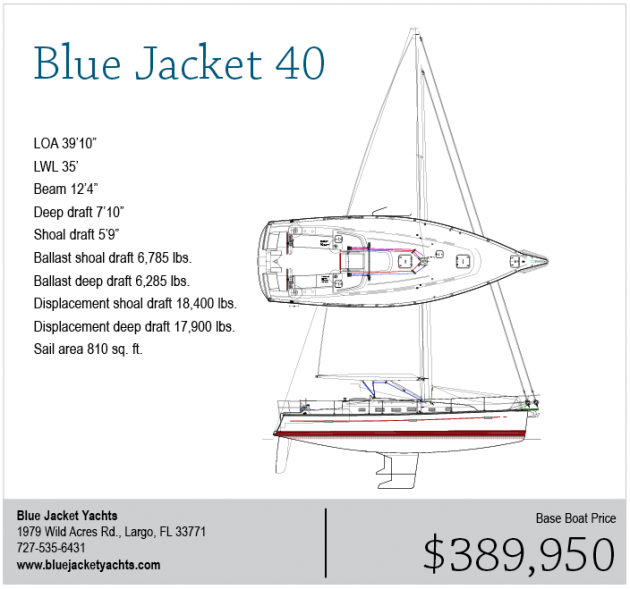 Collaboration can be a powerful thing as found especially when two of America's favorite yacht designers started with a clean sheet of paper to create the Blue Jacket 40. The design challenge was to "create a yacht with a performance pedigree, one that could compete effectively in around-the-buoy and offshore races yet provide a level of comfort, build quality and ease of use that would gratify the entire family." I jumped at the chance to put this new boat through its paces.
Bob Johnson, founder, CEO and chief designer of Island Packet Yachts, knows cruising boats. He has launched more than 2,500 boats with the laudable design goal of "seakeeping, safety, livability and ease of handling for a cruising couple." Tim Jackett, chief designer and former CEO of Tartan C&C Yachts has launched a similar number of boats with more of a performance edge. These two prolific designers took the best from their skill sets to create this new boat, with Jackett drawing the lines and Johnson contributing heavily to the interior. The boat is built at the Island Packet manufacturing facility in Largo, Florida, and is supported by a dedicated staff in the Island Packet Largo business office.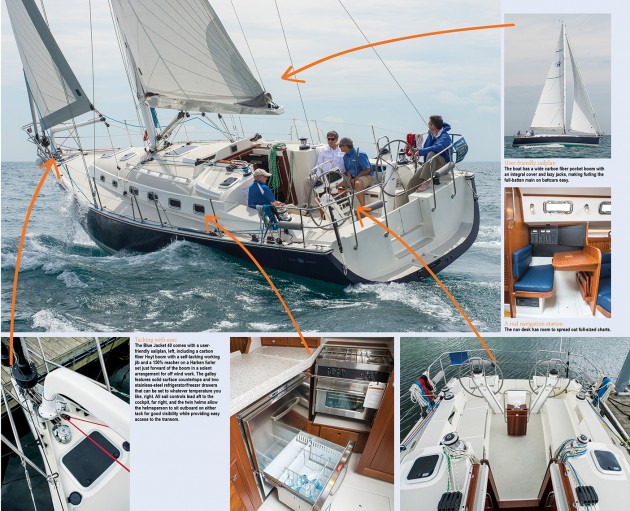 The details
Starting with the hull, Jackett designed a powerful shape that doesn't need a lot of baby-sitting. The very fine, V-shaped forward sections keep the boat moving smoothly in a seaway, while the broad aft sections provide both speed off the wind and stability to carry sail on the wind. That hull is crafted with a vacuum infusion process using vinylester resin, quadraxial knitted E-glass reinforcement and a structural foam core, which makes for a light and stiff hull.
The underbody is the biggest departure from the Island Packet formula of a full keel with attached skeg rudder. Jackett's modern keel and rudder design provide high lift and great response, all in a low-drag fashion. The keel options feature integral bulbs to enhance stability and sail carrying ability. I was really pleased with the performance from the high-aspect-ratio rudder with its carbon fiber post-its fingertip steering is something you'd expect on a sport boat. The blade itself is resin transfer molded for light weight and stiffness. The entire rudder assembly weighs only 86 pounds.
The rig is a nice blend of performance and ease-of-use. There is a large traditional mainsail for power, but it is set on a Harken Battcar system with lazy jacks and a pocket boom for easy stowing. The boat has a carbon fiber Hoyt boom with a self-tacking working jib. The boat carries a 150% reacher on a furler just forward of the boom in a solent arrangement for off wind work. The spar is first anodized and then powder coated which should keep it looking good for a long time.
I do a bit of boat maintenance and consulting and I can attest that Island Packet, or more correctly Traditional Watercraft Inc., the manufacturing arm of Island Packet Yachts, is a great builder. Every system is carefully installed and documented for a lifetime of support. Typical systems will be roughed in at the factory, every wire labeled, and the boats come with a technical manual.
I sailed hull No. 1 at Larsen Marine in Waukegan, Illinois. We had a great day that started out looking wet but turned into a nice summer day with flat water and about 10 knots of breeze. I was joined by Bill Bolin from the Blue Jacket factory, Capt. Ed Jirsa from Larsen Marine and Gaetan Charest, who recently purchased hull No. 1.
It is always interesting to have new or prospective owners aboard for a boat test. In this case Gaetan seems like a textbook fit for the boat. He has a lot of large-boat experience and was looking to own his first big boat, one he could competitively race but will provide total comfort when cruising.
On deck
The first thing you'll notice on deck is the large, comfortable cockpit. Twin wheels are set on custom pedestals to provide a perfect spot for steering, high or low side. The wheels also open to provide access to the transom step. The cockpit had a varnished drop-leaf cockpit table with a chartplotter mounted on the aft end. All sail control lines are led to the cockpit, the halyards and boom controls led to the cabintop, with the sheets to the winches near the helms.
The deck is very nice to work on, with wide sidedecks and raised bulwarks. The foredeck is designed for easy anchor handling with an anchor locker and windlass belowdecks. The forward end of the foredeck is an area that Blue Jacket calls the bow prod, which essentially allows for space to tack the reacher, and just a touch more elbow room.
The deck hardware package is top notch, mostly Harken with Spinlock clutches, and a Garhauer rigid vang. The winches are Harken Radials and the main halyard winch is electric. The rig is a Sparcraft aluminum spar, with Harken furlers on both the working jib and reacher.
Down below
The Blue Jacket interior design really shines, and Johnson somehow stuffed the interior of a 40-foot Island Packet into the interior of a much more low-profile performance hull. The design takes its cues from the proven Island Packet interior formula. You'll find a saloon table that retracts against the main bulkhead with its bottle rack, and large comfortable opposing settees, angled in a comfortable conversational style. There is a proper nav station to port.
The galley is large and open with lots of countertop space, plenty of storage and a centerline sink that will drain on either tack. The countertops are solid surface with integral fiddles. One of the best parts of the galley is the refrigerator/freezer compartment. Boat refrigerators are a pet peeve of mine, it seems they all have problems of some kind: leaky doors, inadequate insulation, and even the good ones don't provide any capability for organizing the contents. Blue Jacket leap-frogged this problem altogether by providing two stainless-steel refrigerator/freezer drawers. These drawers can be set to whatever temperature you like. They have commercial seals on them and proper insulation.
The boat is built with lightweight materials and the designers used the weight savings to provide a classy interior. The cabin is finished in satin varnished Sapele hardwood-a material more commonly found in fine musical instruments. You'll find quality materials like a tongue-and-groove cabin sole made of Sapele and oak.
The boat is available with two or three cabins. There is large forepeak area with an en suite head, and you can choose between two aft cabin arrangements, either two equal aft cabins with wide berths and plenty of storage or the starboard cabin can be replaced with a large locker, which also extends the galley and provides a large locker that is also accessible from cockpit.
Under sail
We set off from Larsen Marine on a quiet Monday morning, and had our corner of the lake to ourselves. Larsen is situated on a small channel, so we had time to assess the boat under power. The boat has a 40-horse Yanmar with a fixed prop that provided plenty of power to drive the slippery hull. The Blue Jacket handles smoothly under power, and it was very maneuverable, responding quickly to a small turn of the wheel.
Once outside the harbor we raised the main effortlessly with the powerful electric halyard winch. Setting the jib wasn't any more work, and the Harken furler worked well with the control line led back to the helm station rail.
The boat sailed beautifully in 10 knots of breeze over flat water. It was surreal to tack a 40-foot cruiser by just turning the wheel, with the self-tacking jib boom doing all the work. The boat accelerated nicely after each tack.
We headed dead downwind effortlessly sailing wing-on-wing with the jib boom poling out the jib. Next we decided to heat it up by rolling in the jib and setting the big reacher. The boat instantly accelerated, and we were able to effectively carry the sail from about 60 degrees to dead downwind. It was very nice to have these two off-wind "gears."
Our test sail quickly came to an end, and we doused sail on the way with the furler making such easy work of it, we didn't even need to stand up. The boat has a wide carbon fiber pocket boom with an integral cover and lazy jacks, this setup combined with a full-batten main on battcars makes furling the main easy. We just headed up and dropped the halyard, and the main slid right down into the cover on the boom.
If you are in the market for a 40-foot performance cruiser, I'd urge you to take a look at the Blue Jacket. Great looking, very comfortable, great performance, backed by a very strong manufacturer and dealer network, what more do you need? Overall the Blue Jacket is a low-stress performance boat, a very nice combination. Expect to see Blue Jackets around your marina soon.