This spacious, well-built coastal cruiser is an affordable way to enter the big boat world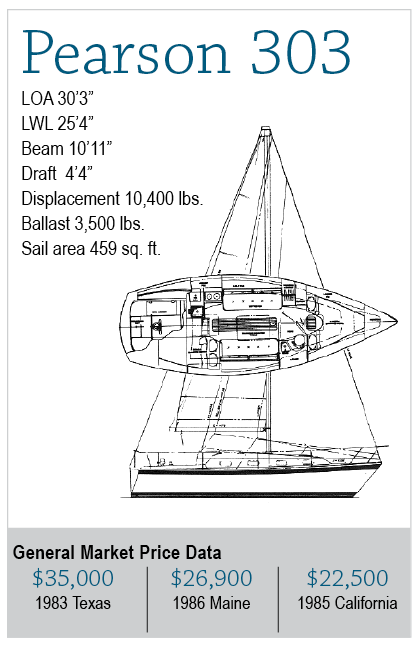 When Bill Shaw designed the Pearson 30 in the early 1970s, sailors responded by buying nearly 1,200 of them during a decade of steady production. Yachts in the 30- to 35-foot range were selling briskly, so just as the last Pearson 30s came off the assembly line, Shaw released the cruiser-friendly Pearson 303.
While it may have the same overall length as its predecessor, there were more differences than similarities. Certainly not a racing yacht, the Pearson 303 was targeted at families intending to go daysailing and coastal cruising for an affordable price. The gambit paid off handsomely, given that between 1983 and 1986, Pearson Yachts in Portsmouth, Rhode Island, churned out over 300 of these compact but roomy masthead sloops.
Shaw, who was at the helm of Pearson Yachts as chief designer and corporate executive from 1964 to 1986, has been criticized for cranking out different models that look too much alike. Harsh tongues have lumped the Pearson 303 in with this group, but the 303, which Pearson labeled a performance cruiser, had found an audience of admirers ready and willing to accept a design that sacrifices a bit of speed and handling ability for additional space and comfort below deck.
First impressions
Owners frequently can be heard remarking the P303 has a "big boat feel" that defies its 30-foot length. High off the water, it looks safe and capable of keeping its passengers dry. The small, deep cockpit with its bridgedeck exudes an air of oceangoing security, while the mast, stepped to the keel, suggests overall strength.
Construction
Solid fiberglass constructed of resin and hand-laid laminates is integral throughout the hull, while a sandwich of balsa wood between layers of fiberglass can be found on deck. The design features a fin keel with encapsulated lead ballast, so there's no need for concern about rusting keel bolts. The rudder is mounted on a sturdy skeg, a design that owners say provides protection for the blade. Seacocks are bronze. Most hardware is stainless steel.
"Pearson has a great reputation and these boats have held up fairly well," said Maryland yacht broker Jay Porterfield, who in July sold one of two 303s in his inventory. "The Pearson 303 is a performance cruiser built for sailing."
What to look for
Crazing at stanchions and deck fittings is certainly a possibility after nearly 30 years of use, so check the decks because water infiltration leads to delamination. Portals, pulpits, chainplates, travelers and other equipment installed by boring into the fiberglass have been known to lose caulking over time and begin to leak. Inspect the bilges for trapped fuel or water, which could indicate a leak. Keep in mind the icebox drains into the bilge. Give the engine close scrutiny, looking for worn belts, blown gaskets and signs of shoddy maintenance. Most through-deck fittings should have a backing plate. If possible, inspect the hull-to-deck fastenings.
On deck
The Pearson 303 is a masthead sloop. The small cockpit with bridgedeck can seat four adults. Five would be a squeeze. A medium-sized Edson pedestal-mounted Destroyer wheel takes up precious room in the cockpit. The aluminum-coated mast steps to the keel. Two Lewmar self-tailing winches and two smaller Lewmar deck winches help control the sheets. The bow and stern pulpits are made from stainless steel. The foredeck isn't exactly an open work area but nicely accommodates the roller furling drum and a recessed anchor chain locker. On the earlier models, the traveler was bolted to the bridgedeck behind the helm, with the main sheeted to a block at the end of the boom. Pearson later changed the configuration so that the traveler was mounted atop the coachroof with the mainsheet running to a midboom block.
"The cockpit is tight with four to five people," said Dennis Coolidge of Ohio, who recently traded his P303 Oceanid for a Pearson 37-2. "But the bridgedeck gives you a good feeling when you're on the ocean."
Coolidge replaced the stock traveler on the coachroof with an upgraded model fitted with cars so that it's easier to operate.
Down below
Spaciousness is the key word when describing this yacht's interior. The 10-foot beam allows sleeping quarters for five, a small galley, comfortable dining area, and adequate privacy. The galley to port is near the companionway and typically features a two-burner alcohol stove, single-basin stainless steel sink, modest countertop space and a 5-cubic-foot insulated, top-loading icebox. Settees to port and starboard in the teak-paneled saloon provide seating for meals at the drop-down table with a folding leaf.
For sleeping arrangements, there's a quarterberth aft while the settees in the saloon count as two single-berths. The master cabin forward has a generous V-berth for two with small bureau, hanging locker and cubbies. The head, located to starboard and forward of the saloon, is roomy enough so as not to feel cramped when using the handheld shower hose and nozzle. Some later models had a built-in, forward-facing chart table designed so the navigator can use the end of the aft quarter berth as a seat.
Four large portholes allow in plenty of natural light, enhanced by deck hatches for both illumination and ventilation. The yacht features a teak-and-holly sole and carries 38 gallons of freshwater. Headroom throughout is 6 feet 3 inches.
Engine
The P303 is powered by an inboard, two-cylinder, 13-horsepower 3GM Yanmar diesel, which has a reputation as a dependable propulsion system although it may seem lacking in a choppy sea or stiff current. Some owners report that the 13 horsepower isn't sufficient to push the boat unless seas are calm. The engine, fitted into a two-section box, can be serviced by removing the companionway steps. The fuel tank holds 22 gallons.
"I have been in Jacksonville, going straight against the current, and on shore a lady pushing a baby carriage was going faster than me," said Coolidge. "The engine could definitely use more power."
Underway
Because of its beamy hull, the P303 sails well at low angles of heel and owners say it sails "quite stiff" with a seakindly motion. The fin keel allows it to sail well upwind, although the relatively shallow 4-foot 4-inch draft has its disadvantages in a rough sea. The boat can be sailed short-handed. Hull speed under power seldom exceeds 6 knots in flat surface conditions.
"Having the traveler on the coachroof mitigates the need for a vang. And it's a pleasure to use the newer traveler system with cars and easier controls," Coolidge said. "But if I put too much genoa up, it overpowers the bow and you get lots of weather helm."
Coolidge has had plenty of opportunity to gauge how the P303 performs underway. He ordered Oceanid new in 1984 and sailed it extensively on the east coast of Florida as well as the Great Lakes.
"I have had her out on Lake Erie in 40 knots," he said, elaborating on the boat's ability to handle strong winds while remaining safe and comfortable. "She's solid below the water line."
"And she's no slow poke," he said, adding, "The 303 keeps up with the 35s and 37s."
Conclusion
Solidly built, affordably priced and easy to sail, with voluminous space belowdecks, the Pearson 303 is an ideal coastal cruising boat for a small family or a big-boat sailor looking to downsize.

---
PRICE: The going price for a P303 ranges from $22,500 to $35,000, although some have sold for less than $19,000 in recent years.
DESIGN QUALITY: Bill Shaw designed the P303 as a follow up to his popular Pearson 30. It is a shallow-draft yacht best suited to day sailing and coastal cruising, with a chubby hull shape that allows a spacious interior but results in slower sailing.
CONSTRUCTION QUALITY: Pearson Yachts in the 1980s built what were considered "better than average" boats. The hull is hand-laid fiberglass with sandwich construction of balsa between fiberglass layers on deck. Through-hull fittings are bronze and most deck hardware is stainless steel.
USER-FRIENDLINESS: The P303 is an easy boat to sail short-handed, with early models taking advantage of a traveler mounted on the cockpit bridgedeck and winches within reach of the helmsman. The boat's shallow draft means it can cruise into coves and rivers. The 48-foot mast allows passage under most fixed highway bridges.
SAFETY: The generous freeboard keeps sailors well above the water surface. The deep, scuppered cockpit has a bridgedeck, making it well suited to take a wave. The mast is keel stepped for strength and the stern and bow pulpits help the crew stay onboard.
TYPICAL CONDITION: The newest P303s are now 27 years old and quality construction has helped keep them from deteriorating. Brokers and marine surveyors report that the majority of P303s currently for sale have been well cared for, although some may require a thorough cleaning and attention to the brightwork and interior woods. Dock bites are common, but most owners report no hull blistering.
REFITTING: Many owners have added bladder waste holding tanks and increase freshwater tankage, as well as upgrades to the rig.
SUPPORT: Pearson Yachts went bankrupt in 1991, and while other models such as the Ensign have active owner's groups, there is little information on the P303 except for the Pearson Sailing Association of the Chesapeake Bay at www.cbpsa.org.
AVAILABILITY: There seems no shortage of P303s on the market, with more than 300 built.
INVESTMENT AND RESALE: The P303 has held up well over time, which helps maintain its value. The spacious interior also makes it attractive to cruising families.