The only Roman Emperor to retire from the job was Diocletian, who abdicated because of poor health and moved to Salona, Dalmatia, now called Split, Croatia. It's the home of AB Boat Co., builders of the new Salona 33, a highly customizable 33-foot racer-cruiser.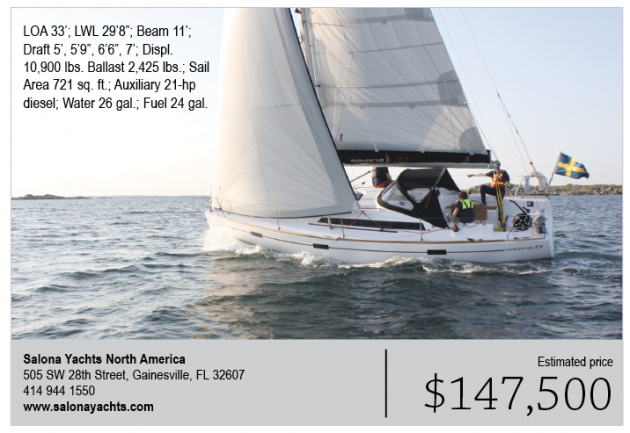 AB Boats chose the brand name Salona to reflect the region's history and bring to mind Diocletian's beautiful retirement palace, which still stands. That's a little like the construction of the Salona 33: a rock-solid hull around a comfortable interior.
The hull strength starts with a sturdy stainless steel gridlike structure above the keel, and that grid, in combination with a carbon fiber liner, makes for a stiff and strong hull. The fore and aft bulkheads are watertight, and the deck's sandwich construction is reinforced with an integrated ceiling liner. The hull is GRP but carbon is an option.
All that structural integrity might make the Salona 33 feel like a battleship, but the sailboat has a softer side belowdecks. The L-shaped galley features plenty of counter space, a two-burner stove with an oven and a sink. The head and a hanging locker are just forward of the starboard quarter, and a double berth is tucked into the port quarter. Another couple can sleep in the V-berth.
Two hatches, two long windows in the cabintrunk and six hull windows should give ample light for diners sitting around the drop-leaf table.
Belowdecks is definitely the "cruiser" part of racer-cruiser, but the rig, cockpit components and the keel are customizable to suit the owner's racing or cruising needs.
In particular, the 33 has three unique features: Optional twin wheels can replace the standard tiller making the 33 one of the smallest boats sporting twin wheels.
The traveler is recessed into the cockpit floor, and the recess comes with a teak cover.
AB Boats gives owners a choice between four optional keels designed to different performance requirement and ratings criteria. There is a shallow-draft keel, a 7-foot keel, an ORC-optimized keel and an IRC-optimized keel.
Owners can then match the keel with the rig-a choice of a standard or performance aluminum masts or a carbon performance mast. A retractable sprit is optional.
Even with the standard rig the SA/D is 23.47, which puts the 33 into the high-horsepower category, with the full-batten mainsail and a genoa driving the solid 10,900- pound displacement. That may seem a bit heavy, but the Salona 33 is rated for passagemaking, and a little meat under the belt never hurt when the wind comes up.