A sturdy bluewater cruiser gets the upgrades it needs for a once-in-a-lifetime trip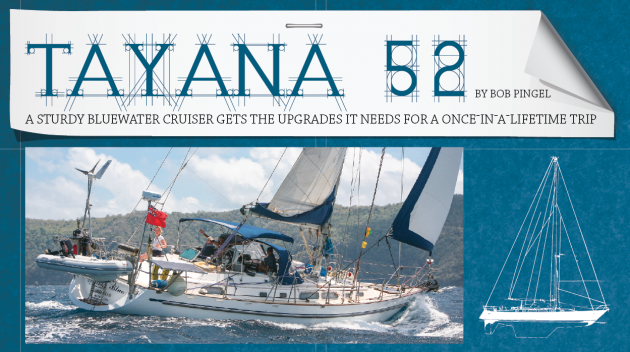 After many years of dreaming about a great sailing trip, our sailboat kitty was finally big enough to get a boat that we could really stretch our legs on. The rough plan is to take a yearlong sabbatical, head across the Atlantic in late May, spend the summer in the Western Med, the winter in the Caribbean and be back in the office before anyone realizes they don't need me.
We could spend about $275,000 on a boat, assuming we can get most of it back when we sell. The cost-recovery requirement ruled out a newer boat, so I knew we were looking for a fully depreciated cruising boat from the late 1980s. The goal was to find a good quality cruising boat, take care of a few minor items and go sailing.
Our design requirements were simple: A sweet motion in a seaway, room for guests and lot of storage. That equated to a big boat, likely in the 50-foot range.
A lot of good-quality boats were built in the mid-to-late 1980s. The dynamic duo of Bob Perry and Ta Yang Yacht Building was at full speed then, producing the Tayana line of boats. I particularly liked the Tayana 52 and wanted to find a clean one for our trip.
The Tayana 52 is a really sweet boat, drawn by Perry after his huge success with the Tayana 37. The 52 is fast and really beautiful, so it's no surprise that Perry says the boat has the "sweetest sheer" he had ever drawn. The boat is available with an aft or center cockpit. The rig is a big powerful sloop, with an inner forestay for a staysail. There is plenty of room down below and the joinerwork is first rate, like many of the Taiwan boats of this era. She is safe and secure on deck, with wide side decks protected by a tall raised bulwark.
I searched all over the country and found my boat in southern Maryland. I was willing to undertake quite a bit of system refit, but I wanted a boat with good cosmetics and a solid engine. I found a 1987 center-cockpit model with a fresh flag blue Awlgrip job and a Yanmar with just 600 hours. The interior cosmetics were very good, the electronics, sails, and rigging were serviceable and the other systems were in good shape.
The boat was listed for $230,000, but after a bit of negotiation I got the boat for $212,000. That left about $60,000 for the refit, although I certainly didn't want to spend it if I didn't have to.
The boat came with serviceable sails, but not good enough for a transatlantic crossing. I consulted with Tom Pease of North Sails Midwest to design a good package.
I wanted a bulletproof main with three sets of reef points, since we did not plan to carry a storm trysail. Our boat came with lazy jacks and a stackpack-style boom cover, so the sail needed full battens to give it a nice shape but also guide the sail into the boom cover. Tom suggested two fabric options with different constructions. The basic sail was built with heavy Dacron fabric, North NorDac, and a crosscut construction where the sail is built with panels that go diagonally across the sail. A better option used a laminated Dyneema cloth with a tri-radial construction, this construction orients the cloth to better hold the sail shape over time. I couldn't justify the better cloth and construction and went with a Dacron main costing $7,700.
We also wanted to carry a furling 120% genoa on our existing furler. To effectively furl the sail, we specified a luff pad to allow the sail to maintain shape as it was rolled up. Of course, we had Sunbrella UV covers and spreader patches. We had a similar discussion around sail material and construction and again went with a Dacron crosscut sail due to cost considerations. This sail cost us $8,600.
Our boat was rigged with an inner staysail furler, and the staysail combined with a second or third reef will be our heavy weather package. Pease specified a very robust staysail of just 321 square feet. We don't plan to furl this sail so we did not go with a luff pad. Again, we went with the Dacron sail for $3,200.
We plan to spend the summer in the Med and the winds there can be fluky-typically very heavy or very light. With European fuel dock prices around $10 per gallon, we want to be able to sail on those light days. Pease suggested a North code zero on a roller furler, which is a medium-sized flat cut asymmetrical that we can fly from a continuous-line furler. To maintain shape in this sail we chose an aramid fabric in a tri-radial construction. The sail is built around an anti-torsion luff rope so we should be able to pin it right on to a line drive furler. This sail cost $8,700.
To make that almost 1,200-square-foot sail easy to handle we choose a Colligo CN5 continuous line furler. Our application was a little oversized for the furler but we plan to use this sail for lighter air days and will take our chances. The furler cost us $1,600 and we spent another $400 on a furling, line guides and some accessories.
The mast and standing rigging appeared to be in really good shape but we could not document its age to our insurance company. To make the insurance company happy and to play it safe, we opted to replace the wire and swage terminals. Unfortunately, time was not on our side, so we opted to have this work done in the yard, costing us $7,500.
As the yard was working on the rig, we gave a close eye to the running rigging. The sheets looked good, but the halyards were a little tired. We wanted low stretch halyards and new shackles to go along with our new sails. Four new halyards for the main, genoa and staysail in covered Vectran and a Dacron spinnaker halyard were $3,000 from Mauri Pro Sailing.
We planned some long downwind passages, most notably the westbound passage across the Atlantic. The boat came with full spinnaker gear, but we had no intention of flying a poled spinnaker on a 52-foot boat in bluewater. We opted to remove the spinnaker and pole from the boat and mount a whisker pole on the spinnaker track. The pole would let us fly the 120% genoa downwind and, as the wind piped up we could roll a little in, and if it blew a lot we could roll it all in and leave the pole set. This is a true low stress to downwind sail with decent performance. A whisker pole for this boat is big, it is 15 feet collapsed and will extend to 27 feet. In aluminum, the pole would be a lot to handle, and we couldn't afford a full carbon fiber pole. Luckily Forespar makes a 50/50 pole, with the inboard end in aluminum and the outboard end in carbon fiber, a nice compromise. The pole and accessories cost us $3,600.
We had a good deal of paint built up on the bottom of the boat and decided to do a bottom job. We had the boat soda blasted to get it back to clean fiberglass. From there we laid on five coats of Pettit Protect high-build epoxy primer and 3 coats of Pettit Ultima SR-40 ablative bottom paint.. We did the paint work ourselves and we were able pull this off for just $7,000.
With our boat in good shape, a great trip awaits. Two Atlantic crossings, a culture filled summer in the Med and a wonderful tropical winter in the Caribbean. I am not going to want to go back to work.
---
Tayana 52 $212,000
Mainsail $7,700
Genoa 120 $8,600
Staysail $3,200
Code zero $ 8,700
Furler $2,000
Standing rigging $7,500
Running rigging $3,000
Bottom job $7,000
Whisker pole $3,600
Refit total $51,300
24% of the purchase price
Grand total $263,300
---
Sources
North Sails Midwest, 414-975-5991, www.na.northsails.com; Colligo Marine, 480-703-3675, www.colligomarine.com; Mauri Pro Sailing, 888-765-8883, www.mauriprosailing.com; Pettit Paint, 800-221-4466, www.pettitpaint.com; Forespar, 800-266-8820, www.forespar.com