If you had to choose a modern manufacturer and a designer with a timeless sense of style, the combination of German Frers and Swan would be at the top of the list. Swans are expensive boats because they are beautifully built and proven performers, which makes them perfect candidates for retrofits. Many sailors can't afford a new Swan but buying a used one and refitting is often within the realm of possibility.
Frers loved the Swan 46 Mk I, saying the boat is "beautifully responsive to sail, small enough for two or three competent crew to handle, yet big enough to accommodate a family of six in complete comfort."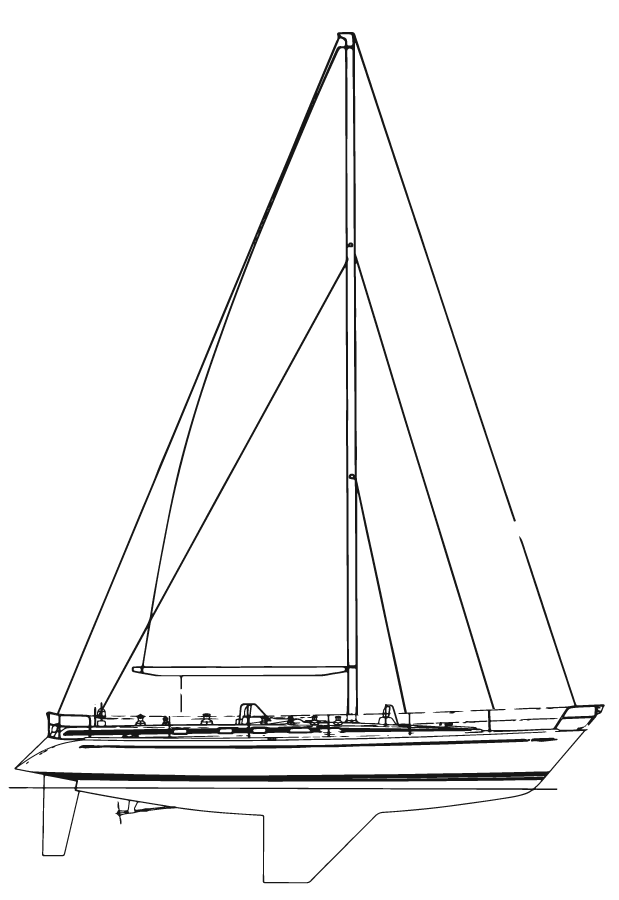 I couldn't agree more. The 46 is a great boat at sea, too. I can remember a passage I made a few years back in a 40-something-foot modern cruiser. We were transiting the East Coast and hit a little squall off Cape Hatteras, with 45 knots and rolling seas—not a big deal but it kept our attention. We were making tremendous leeway and really working to keep the boat going where we wanted. A well-kept Swan 46 came up on us and sailed right past, looking totally relaxed.Nautor built 81 46s so there are always a few for sale. The boat is very popular and appears to actually be appreciating in value as time goes on. I found a variety of boats all around the world, and I tried to justify a world tour to find the best boat, but exercised enough self-control to limit the search to boats in North America. After careful exploration I chose a well-maintained 1985 model that I found on the East Coast and bought it for $285,000. My budget is $350,000, so I can spend about $60,000 on the refit and still have a little left for unexpected expenses.
The boat was very clean overall, well maintained and most of the systems up to date. I will need sails to go offshore and likely a bit of running rigging. The surveyor noted that he couldn't get the radar to fire up, but the rest of the electronics looked good. The batteries were noted as an item that may need some attention.
I started with a review of the running rigging. The owner recently replaced the main and jib sheets but the halyards looked a little tired. I decide to replace all of them, but will reuse the beautiful Sparcraft shackles after spending a little time buffing them up. To keep the new sails in good trim I decided to splurge on New England Ropes V100 halyards for the main and jib, this is a very nice Vectran cored line with a tightly woven Dacron cover. I used New England Sta-Set for the spinnaker halyards. I spent about $1,300 at Mauri Pro Sailing, and saved a ton by not having to buy all new shackles.
I also needed to address the tired batteries: nothing can ruin a passage faster than babysitting batteries. The 46 is setup with a 24-volt DC system and 12- to-24-volt converters for the largely 12-volt electronics, and the house bank is made up of four Group 31 batteries. I disconnected the batteries and tested them out with a battery analyzer I borrowed from a buddy. I decided to bite the bullet and buy four new AGM batteries from East Coast Battery and Electric. The total came to $1,000.
With a solid battery system, I dove into the electronics. I could get the old radar unit to power up but it wouldn't scan. The unit was about 15 years, so I decided to replace it. I have always been a fan of Furuno radars, so I chose the NavNet 3D system. The system consists of an 8-inch multifunction display, 24-inch radome, railmount GPS mushroom and all the cables. The equipment cost $5,500.
Cosmetically the boat was in really good shape but the bottom paint was aging. I scuffed up the bottom with some 80-grit sandpaper and rolled on a couple coats of paint. This job required a box of sanding disks, a couple rollers, two Tyvek suits and a five gallons of paint. I chose Pettit Ultima SR60, which is a very nice multiseason ablative paint. The job cost me $1,400.
With the majority of the bigger issues handled, I turned to the sail inventory, for which I had reserved a good chunk of the refit budget.
I consulted with Tom Pease of North Sails Midwest to design a good package. I explained that I was looking for good quality offshore sails and Pease developed a quote that included a a loose-footed main with three full battens. The sail has three reefs, the third pretty deep since I didn't want the hassle of a trysail. I chose a Series 400 Norlam Dyneema mainsail. This sail is a tri-radial design and made with low elasticity Dyneema cloth. Both the construction and cloth help the sail to maintain its shape under varying conditions, and to maintain that good shape over a longer lifespan. The sail has a few nice-to-have features like a cunningham attachment point and an over-the-top leech cord to allow leech tension adjustments from the gooseneck rather than at the end of the boom. This sail was not cheap at $15,968, but the superior cloth and construction will serve well for many years.
Next came the genoa, the boat came with a 135% but I decided to dial back to a 120%. The 135% would be nice on the light-air days, but I would need to furl it early. I decided to trade the extra area for a better unfurled shape. Pease again suggested a Series 400 Norlam sail built with Dyneema fabric for better shape. To maintain that shape when I furl he added a foam luff pad. The sail is complete with spreader and stanchion patches, and telltales. The sail cost a little more than a simpler Dacron sail at $9,989 but I wanted the best for our boat.
The Swan 46 is a great sailing boat and I want to sail even on the light-air days, to make that happen I asked Pease for a light-air sail. He suggested a G-0 roller furling gennaker, which is a very flat-cut asymmetrical spinnaker that I can reach with on light air days. The sail is built to fly on a line-drive furler, so it should be easy to handle. Pease suggested Norlam Taffetta fabric to hold shape yet still allow the sail to furl well. This sail cost $7,675.
I chose the Colligo CN5 continuous line furler to handle the gennaker. The big sail should handle as easily as a genoa with this furler. The furler cost $1,990 and I spent another $400 on a furling line, guides and some accessories.
The last item on the list is the one that no one really wants to deal with. The heads were not in the greatest shape, they were a little smelly and spit a bit when you pumped them. Heads typically are rebuildable, but they seem to never really recover, sometimes you just a need new equipment. I chose a couple of manual Raritan PHII heads and replaced all the waste hoses with the best hose we could find. The project cost $850 but was well worth the money.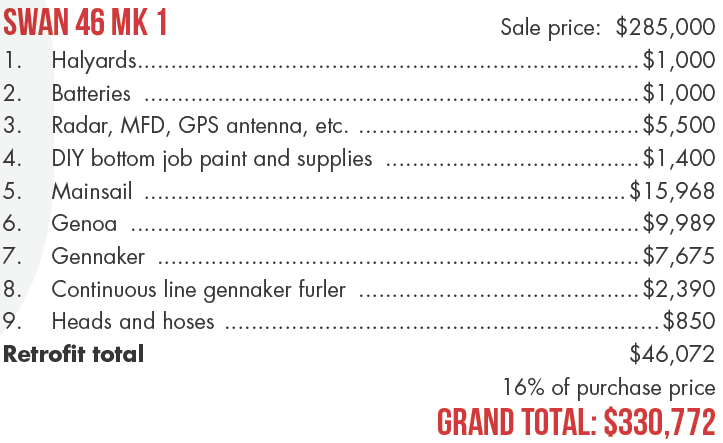 With that, this classy dreamboat was ready to roll. I was able to complete the refit for just over $46,000, so that leaves a little in the boat fund for repairs and maybe a future upgrade. It's money well spent for a boat I could well have for the rest of my life.
MATERIAL SOURCES North Sails Midwest, 414-975-5991,www.na.northsails.com; Colligo Marine, 480- 703-3675, www.colliogmarine.com; Mauri Pro Sailing, 888-765-8883, www. mauriprosailing.com; East Coast Battery and Electric, 954-5222-2403, www.eastcoastbattery.com; Defender, 800-628-8225, www.defender.com; New England Ropes, www.neropes.com; Pettit, 800-221-4466, www.pettitpaint.com; Furuno USA, 410-479-4420, www.furunousa.com; Raritan Engineering, www.raritaneng.com
Other retrofits in the December 2014 / January 2015 issue: