Some boats are meant for a lot of daysailing, a little bit of cruising and maybe one longer cruise a year in nearby waters. That's where a boat like the Cal 33 comes in.
The Cal 33 is big enough to be reasonably comfortable, seaworthy enough to take on a squall but small enough to tuck into small harbors. And with a smaller boat comes a smaller price tag, generally speaking.
The retrofit boat is a 1987 Cal 33 designed by Raymond Hunt, an update to the original Lapworth design. The boat cost $32,500 and while it was older and in need of some repair, it was in pretty good shape overall and had a decentsized galley, two double berths and plenty of living space.
This retrofit started with the sails. The existing inventory was a bit lacking, which is to be expected on an older boat that was mostly cruised. Every once in a while you can find an older boat that was raced a little bit and whose previous owner invested in some new sails, but that wasn't the case with this boat. I feel that few investments in a boat are as important as sails. Good sails can keep you sailing at least 75% of the time, and isn't that the point?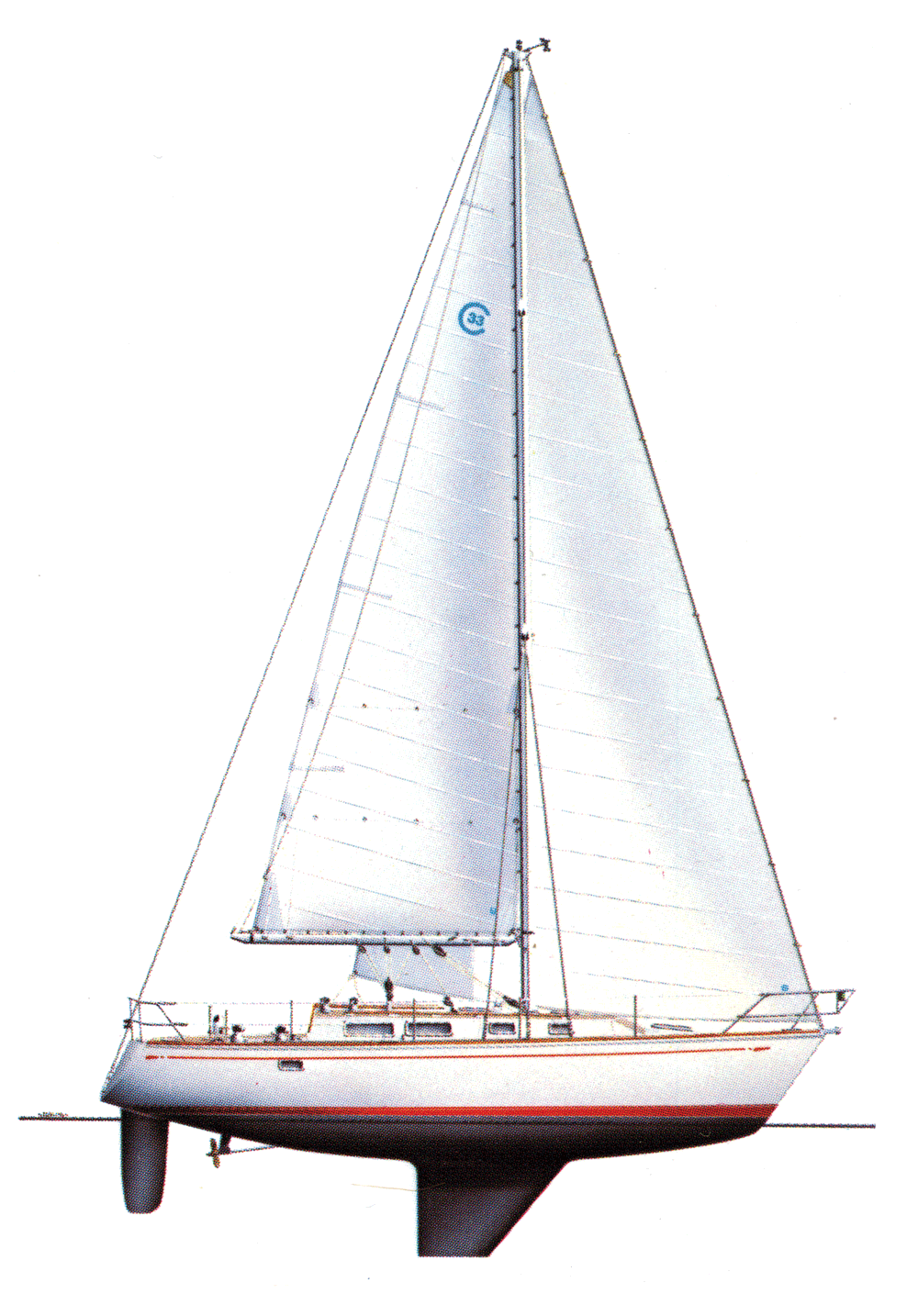 Peter Grimm of Doyle Fort Lauderdale considered the existing inventory and the future intended use of the boat. Hands-on sailmakers need to know how you sail and what your goals are, and maybe even do a little sailing with you, in order to make sure you have the right sails.
Sails have two major enemies on a cruising boat: UV rays and flogging. To mitigate both of those issues, Grimm suggested a full-batten mainsail and a Doyle cradle cover to act as an automatic sail cover. The full battens better support the main, helping to reduce flogging and make the sail easier to flake on the boom. Grimm specified the mainsail with 7.88-ounce low-aspect fabric from Challenge Sailcloth, a heavier weight cloth that will last longer.
Grimm suggested just two deep reefs instead of three. Skipping the intermediate reefs saves cost, weight and cloth bulk. To make the sail easy to hoist and drop, I used Bainbridge AllSlip slides, which have a waist that rides on the outside of the mast and are made with a bit of Teflon. These slides reduce friction significantly but at a fraction of the cost of a slide system. The mainsail cost $2,700.
The cradle cover—essentially a sail cover integrated with lazy jacks—is a wonderful thing. The lazy jacks and cover, in concert with the battens, gather up the sail as it is dropped, the whole sail just drops right in. It takes a couple tugs to straighten out the sail and the cover can be zipped right up. The cover also holds the bunt of the mainsail when reefed eliminating the need for reef ties. This cover costs $1,200 and is worth every penny, in my mind.
Grimm also specified a 135% genoa to provide power in light air. He designed the big sail to be reefed early and often. He built it with extended head and tack patches that will distribute loads when the sail is reefed. Peter added a luff flattener to keep proper shape as the sail is reefed down and some reference stripes to let me know how much is rolled up. The genoa is constructed of 7.38-ounce cloth, light enough to fly nicely in light air but strong enough to hold its shape when reefed. Grimm cut the foot and clew high in order to see under the big sail. Because I envisioned this as a boat to be sailed on the Great Lakes, I went with UV Dacron instead of Sunbrella for the UV cover. The lighter fabric lays better and is significantly lighter. Grimm estimated that I saved more than 10 pounds on the sail. The sail cost $2,900.
I wanted to round out the inventory with a light-air downwind sail and Grimm recommended a Doyle APC asymmetrical spinnaker. The sail is built with .75-ounce nylon, allowing it to be carried to 20 knots downwind and reach with it in lighter winds. The sail comes with a luff line that takes the brunt of the luff load, especially when the sail collapses and refills. The tackline is spliced onto the sail and it came with a tack collar. The collar is U-shaped and fits easily over the rolled genoa, it keeps the tack of the sail under control and on centerline making it much more efficient. I cleat the tackline on a bow cleat about 12 inches above the pulpit and forget it. Grimm set me up with an ATN Spinnaker Sleeve for ease of handling. The sail with all the accessories cost $2,400.
The boat did not come with refrigeration, and I am not a fan of managing ice for weeks at a time. I have had really good luck with Frigoboat refrigeration systems on other boats, so I chose one for this boat. Frigoboat, like most companies, use a standard Danfoss compressor and a thin aluminum evaporator plate, but its novel addition is the keel cooler condenser. Most refrigeration systems condense the coolant with air (a fan blowing over a heat exchanger) or water (seawater pumped through a heat exchanger), Frigoboat has an option to loop the coolant outside the hull in a bronze "shoe." It has all the benefits of water cooling (efficient operation at high ambient temperatures) but none of the drawbacks (drawing water into the boat is hassle of managing leaks and clogs). I chose a box-type evaporator, compressor, keel cooler and digital thermostat, for a cost of $1,400.
I intend to spend a lot of time at anchor and I like creature comforts: lights, refrigeration and a movie now and again. These two expectations can't be satisfied with a standard electrical charging system. The boat has a good-sized house bank and a decent alternator, but I don't want to run the engine a lot to charge. The solution was to harness the sun with a solar panel. I chose to mount an 85-watt solar panel on top of my bimini. I looked to eMarine Systems in Fort Lauderdale, which sells a full line of panels and regulators and have packaged a lot of flexible mounting systems. The entire system consisting of the panel, mounts, charge regulator and wiring cost me $1,530. The system puts out enough power to keep up with the boat's refrigeration needs, allowing me to keep the engine quiet for two days at a time if I am careful with my other electrical loads.
The boat was in pretty good shape, but needed a good spring cleaning. I started with a full wash and wax on the hull and topsides. I started out with 3M Multi-Purpose Boat Soap to get things cleaned up. I followed up with 3M Imperial Compound to clean things up and then polished with 3M Finesse-It II, and protected everything with 3M Scotchguard Marine Liquid Wax. A good buffer is required for a job like this but it can be tricky to use. Shurhold is sells a random orbit buffer that is much easier to use without the risk of burning or swirling. We bought the gear from Jamestown Distributors for $275.
With the boat nice and clean I got after the bottom paint. The boat was painted with Interlux VC17 but it needed a new coat. I rolled on two coats of Interlux VC-17m with foam rollers for a nice smooth finish. The two quarts of paint, thinner, rollers, and supplies cost $150.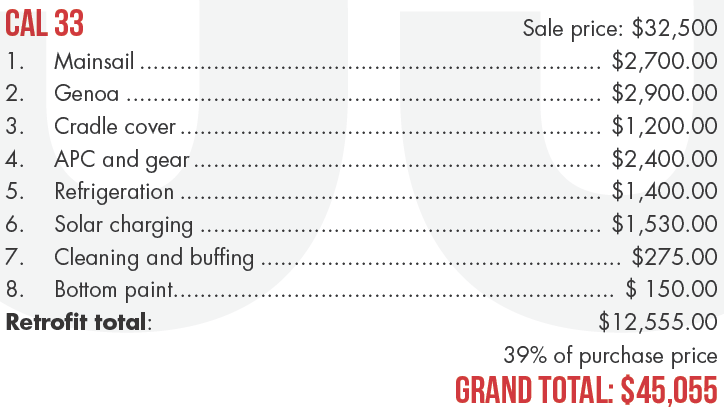 A well placed $45,000 has given wings to what is now a great boat.
MATERIAL SOURCES Doyle Fort Lauderdale, 800-541-7601, www.sail-depot.com; ATN Inc., 800-874-3671, www.atninc.com; Interlux, 713 682-1711, www.yachtpaint.com; Defender, www.defender.com; eMarine Systems, 877-432-2221, www.emarineinc.com; Coastal Climate Control, 301-352-5738, www.coastalclimatecontrol.com; Jamestown Distributors, 800-497-0010, www.jamestowndistributors.com
Other retrofits from the December 2014 / January 2015 issue: