A trailerable cruiser gets rehauled DIY style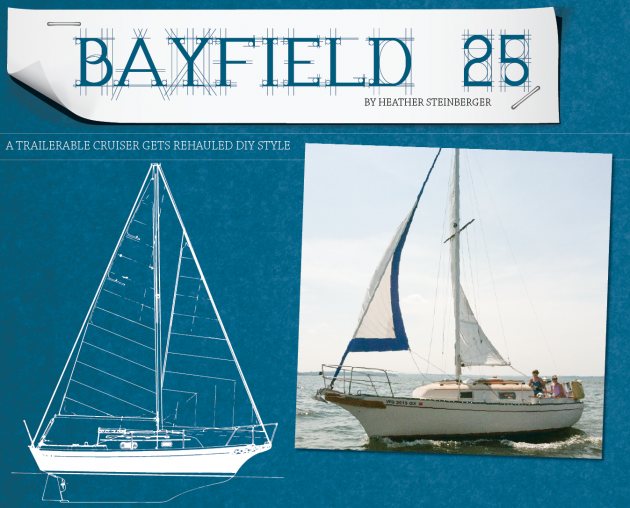 When Madison, Wisconsin, resident Barb Constans and her partner Deb Rohde were preparing to downsize from their Southern Cross 31 Tao they had a few specific criteria: Their new boat needed to be trailerable, offer standing headroom, have a classic look and the versatility required for bluewater sailing (no small feat for a trailerable boat), and it had to have a decent trailer.
With those non-negotiable criteria in mind, they set their sights on just the right pocket cruiser: the Bayfield 25.
Designed by Ted Gozzard and built from 1975 to 1984 at Bayfield Boat Yard in Ontario, Canada, the Bayfield 25 is well known for its 1,500-pound full keel that draws less than 3 feet, shippy-looking miniature bowsprit and comfortable living spaces that provide 6 feet of standing headroom.
"We've been sailing together for 30 years, and we were very clear on what we were looking for," Constans said. "We also wanted a full keel, solid construction, deck-stepped mast and a nice, dependable, inboard diesel engine. The Bayfield 25 had it all."
Constans and Rohde paid $11,200 for the boat they found on Lake Winnebago, a 1982 Bayfield 25 they renamed Zephyr. The name honored their late pet, a cocker spaniel who joined them on a nine-month sabbatical cruise down the East Coast, through the Bahamas and into the Caribbean.
"It's a perfect name," Constans said simply. "It's a warm west wind and the name of a really great boat dog."
The price was midrange for a Bayfield 25 of this vintage: prices can range from $8,000 up to $15,000, depending on the boat's condition and how much work has been done.
Zephyr, the trailer, Yanmar 1GM single-cylinder diesel engine and sails-a main and a roller-furling genoa-were all in good condition, so Constans knew she wasn't facing a major reconstruction project. Yet there was going to be a substantial to-do list anyway.
"This is probably our last boat," she said. "We don't want her to be a project for the rest of our lives, but she needed updating to make her safer and more comfortable for liveaboard cruising."
That fall, the first task was to strip off the standing and running rigging and lifelines, which had never been replaced. Constans went to West Shore Marine in Racine, Wisconsin, for new stays, lifelines, turnbuckles and lifeline latches. She also bought new genoa sheets, and she replaced the mainsheets with line she had in stock at home. The halyards also needed replacing but she was able to use spares from their previous boat.
The 8-horsepower Yanmar didn't need refurbishing, but Constans decided that future maintenance and trouble-shooting would be made easier if they had service and parts manuals for it. So she approached Torresen Marine of Muskegon, Michigan, which provided the documentation.
"You can change the oil, filters and impellers yourself, and at the very least, you can figure out what the problem might be before you call a diesel mechanic," Constans advised. "It's good to have drawings that are specific to your engine, especially if the mechanic is used to working on cars."
Then, in spring 2012, Constans embarked on the bulk of the retrofit. She anticipated two to three weeks of work; it ended up taking six.
First, she replaced the winches, since self-tailing models would make it easier to sail shorthanded. She purchased two new Lewmar 16ST winches on sale from West Marine and installed them herself.
"I definitely learned a lot," she said with a chuckle. "The new winches didn't match our old winch holes, and it was an interesting and difficult process to set them properly and drill straight down. There was a lot of measuring and drilling, and it took much longer than I thought.
"It's worth it to look for expensive items on sale," she added. "I do a lot of shopping before we buy anything."
After that, Constans addressed the lighting belowdecks. She replaced all but one interior light, added two new halogen Aqua Signal reading lights in the V-berth and mounted a small kerosene swing lamp on the wall in the main cabin.
Constans soon found herself rewiring all of the boat's living spaces. Zephyr's wiring was old, and it wasn't tinned. So she replaced the wires with ABYC standard yacht wire.
"I was lucky, because I had a lot of electrical supplies from rewiring our previous boats, and I didn't have to replace the panel, which can be costly," she said. "Predicting what a rewiring job will cost is difficult, because it depends on the size of the boat and how many feet you need."
Next, Constans replaced the stationary, crazed portlights with two stainless steel opening models from Port Townsend, Washington-based Newfound Metals.
"Newfound Metals was so great," Constans said. "They have a YouTube how-to installation video, and they talked to me a bunch of times. Even so, it was significantly more work than I expected. Imagine trying to hold a sliding, heavy porthole in place on a thin sidewall and drilling! I had to buy clamps and screws to hold everything in place.
"I was dealing with templates, and it was tough to find the right lengths of metric screws because you've got to match stainless with stainless and not just buy any old screw from the hardware store," she continued. "This was one of the most complicated projects I've ever done. If you're going to do it, have a partner, and avoid 90-degree days! Butyl tape melts more than you'd think."
Because Constans and Rohde are frequently on the hook, Zephyr's anchor was a critical feature. The boat came with a Bruce, but Constans opted for a 25-pound CQR with bow roller; she kept the Bruce as a backup.
"The CQR is a nice working anchor," she observed. "It's held everywhere. But I suppose sailors tend to stick with what makes them comfortable."
After cutting blocks of wood to serve as backing plates, Constans placed the anchor mount farther out on the bowsprit. That way, the CQR could sit on one side with the Bruce on the other.
Constans then turned her attention to Zephyr's lead-acid batteries, replacing them with two AGM Group 27 batteries. She purchased battery boxes as well.
She also added a new LinkLITE battery monitor, similar to the one she and Rohde once had on Tao.
"It's disconcerting to not know the condition of the dedicated starting battery and house battery," Constans explained. "Being able to keep track of that was important. But space is at a premium, and it was challenging to decide where to mount the monitor and bus bar, and then figure out the wiring."
Next came the galley. Zephyr came with a two-burner, fixed-position stove, which Constans removed. Instead, she added a Coleman one-burner propane stove and a Forespar swing stove. And she purchased a Whale telescoping faucet, which has an on/off switch at the nozzle.
Then, Constans replaced the boat's bow and stern lights, as well as the mast light, with Aqua Signal Series 25 non-LEDs.
Finally, Constans addressed safety issues. The existing compass had a bubble in the oil, indicating a gasket failure, so she replaced it with a Plastimo Contest through-read model, which is viewable from the cockpit or down below.
"A friend helped me make the interior and exterior wood mounting rings, as the hole was a bit too big," she noted.
In addition, she bought a large radar reflector to help make Zephyr a bigger target on heavily trafficked waterways, added Tao's Apelco VHF radio with WAM unit, purchased a cockpit speaker so they would be able to hear the VHF and replaced the aging fire extinguisher with a larger, brand-new one.
The foredeck cleats were corroded, so she replaced those with new stainless steel cleats and wood backing plates. And, she added two stainless steel Johnson folding midship cleats along the boat's toerails so they could rig spring lines.
Constans also was determined to address the boat's anchor locker. There was no way to keep it shut.
"We're planning to take her on the Great Lakes, to the Intracoastal Waterway and even across the Gulf Stream to the Bahamas," she said. "In the event of a knockdown, I don't want that thing open."
She purchased a big, heavy, stainless steel barrel bolt from Jamestown Distributors. It was expensive, but it did the trick. Constans and Rohde also made several minor improvements including adding small amenities to the head, purchasing egg-crate foam for the V-berth, sewing a new head curtain, sewing winch and tiller covers, sewing sheet bags, using plastic snap-lid containers in the lockers to keep things dry, and adding a 12-volt outlet to the cockpit for the GPS and another down below. They also stripped some of the wood and replaced varnish with Sikkens. Constans estimates that about 90% of the refit was DIY.
There was one exception. Constans hired Select Plastics of Norwalk, Connecticut, to refurbish Zephyr's aging, crazed hatch. The company took the Lexan out, put acrylic in and added new gaskets and holes. And, at Constans's request, they incorporated her old solar vent.
"Over the years, I've learned when I can do something myself and when I need to find skilled labor," Constans said. "That being said, we had a problem with the trailer this fall, so in the spring I'm going to find someone to teach me to repack bearings. "
Constans has a few more things on her list. She'd like to add a mast floodlight for anchoring, a bimini top, a gin pole so she and Rohde can take the mast up and down themselves, a tiller pilot and a fuel pump to replace the existing manual one.
"I'm also thinking of sewing a gennaker," she mused. "I've never tried that."
To get a sense of what a new gennaker would cost, SAILING contacted UK Sailmakers in Annapolis, Maryland. Representative Dave Coughlin said the company would recommend a Matrix-cut Flasher; compared to Tri Radial, Matrix has more panels to allow better shape, performance and tear control. He also recommended Dimension Polyant's Dilon 100, a high-performance, 1.05-ounce-per-yard, ripstop spinnaker fabric that comes in a wide range of colors.
Sail area would come to 490 square feet, based on 165% Spinnaker Maximum Width (SMW). Coughlin said he estimates the price would come to roughly $1,617, which includes the sail and side-launch sail bag.
Opting to take sailmaking off their ambitious DIY list might be a good thing, because Constans and Rohde are looking forward to some serious sailing. Although the pair keep Zephyr at Mazanet Marine on Lake Mendota and enjoy lake sailing, they definitely are planning to cruise big water.
"We have a two-week cruise in the Apostle Islands National Lakeshore in our sights," Constans said. "Now we have a trailerable boat, so it's very doable."
When asked if she's happy with the Bayfield 25 so far, Constans is enthusiastic.
"She's a great boat," she said. "She's faster than our 31 was, and she can go out in 25 to 30 knots with two reefs in the main; she just jogs right along. She handles waves well. We're really pleased with her."


---
1982 Bayfield 25 (with trailer): $11,200
Retrofit Projects & Costs:
Replace rigging and lifelines $1,000
Genoa sheets $80
Yanmar 1GM service and parts manuals $165
Winches $1,100
New lighting and wiring $715
Two portlights $1,334
Anchor, anchor mount, bow roller $553
Batteries and battery monitor $760
Galley upgrades $237
Compass $153
Cleats $170
Fabric for curtain, sheet bags, winch covers $100
Misc. improvements $390
Refurbish hatch and add solar vent $371
Retrofit total $7,128
64% of Purchase Price
Grand total $18,328
---
SOURCES:
Bayfield Yacht Owners Yahoo Group, http://groups.yahoo.com/neo/groups/bayfieldyachts/info; Defender, 800-628-8225, www.defender.com; Jamestown Distributors, 800-497-0010, www.jamestowndistributors.com; Newfound Metals, 888-437-5512, www.newfoundmetals.com; Select Plastics, 877-874-3767, www.selectplastics.com; Torresen Marine, 231-759-8596, www.torresen.com; West Marine, 800-262-8464, www.westmarine.com; UK Sailmakers, 718-885-2028, www.uksailmakers.com; West Shore Marine, 262-632-2724, www.westshoreinc.com