A new engine bring a roomy production boat back to life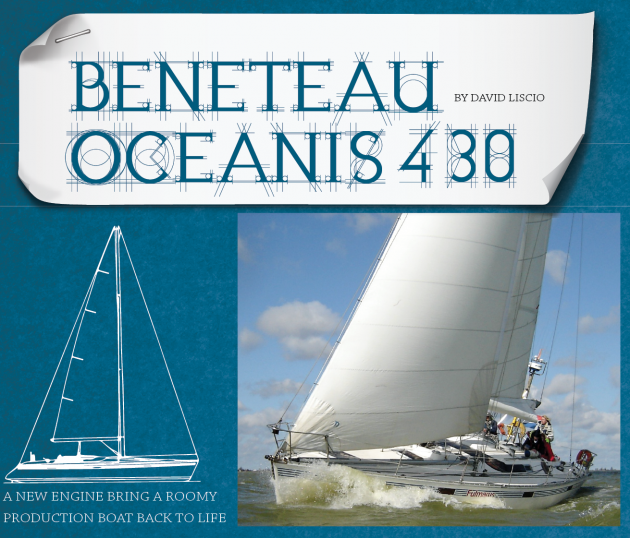 After a protracted "been-there done-that" discussion over whether to buy another bargain-priced, classic plastic, full-keel sloop in need of TLC, we knew it was time for something different.
Although I'll always appreciate vintage vessels-especially those with graceful sheerlines and long overhangs, decks gleaming with varnished wood and saloons darkly paneled as a gentlemen's club-we decided to scrap our predilection and look hard for a used boat with spacious quarters, modern conveniences, and an overall design that would be easier to maintain.
I've chartered boats in various parts of the world, so I'm familiar with the layout and sailing capabilities of popular cruising models made in the late 1980s and early 1990s by Beneteau and Jeanneau. These brands gave our search a starting point.
The Beneteau Oceanis 430 stood out because there were several on the market for an average $85,000 to $130,000, an amount far less than we might pay for a seaside Florida vacation condo, even after adding the cost of a retrofit. The two boats nearest our New England home were in Ontario, Canada, and Hopetown, Bahamas, and priced respectively at $115,000 and $99,000.
The more expensive yacht was a 1986 owner's model, with one large stateroom with a full head and shower, and two smaller cabins each with a sink and shower. The other contender was a 1989 model with two aft and two forward cabins. Since the four-cabin model was more likely to have undergone hard usage as a charter yacht capable of sleeping nine, we eliminated it from our search. We didn't need more than two cabins and reconfiguring the layout seemed an unwelcome task.
I found at least eight more Beneteau Oceanis 430s for sale in Spain, Portugal, Greece, Turkey, Italy, Thailand and Australia as we finalized our decision.
The deeper we delved into the Beneteau Oceanis 430 as the boat of our dreams, the clearer it became it could be a perfect match. After all, we were planning to coastal cruise the United States and perhaps set out for the Caribbean, not circumnavigate the globe.
Designed by Philippe Briand, the French-built monohull offered many of the features we previously decided were musts-fiberglass construction, a simple sailplan, diesel engine, keel-stepped mast, an overall length less than 45 feet and a draft shallow enough to allow gunkholing. It also had a winged keel and spade rudder, letting us sail upwind more efficiently than on a full-keel boat. The keel and rudder design would also improve maneuverability when the engine was in reverse.
With a 13-foot beam, the yacht was relatively sleek, falling within the 3-to-1 length-to-width ratio that tends to make for an attractive appearance. It already had earned a reputation among Beneteau aficionados as a fast passagemaker.
Although the hull was molded and hand-laid GRP and appeared in good shape, we had heard stories of keel bolts rusting from rain and seawater entering through the mast. We had found no evidence anywhere of a Beneteau losing its 6-ton cast-iron keel as a result of weakened bolts, but after more than 25 years under stress it wasn't hard to imagine. The only way to find out was to pull the keel.
Technician Todd Mentuck at the Fred J. Dion Yacht Yard in Salem, Massachusetts, said dropping the keel from an older Beneteau isn't difficult once the adhesive is loosened, but the galvanized bolts often need replacement.
The flat foredeck was sound, with no soft spots or evidence of water intrusion that might prompt delamination. We closely examined the stainless steel grabrails, chainplates and stanchion bases for crazing and weakened support bolts, finding some signs of stress but not enough to warrant immediate action. We also checked the eyebolt inside the anchor locker where the bitter end is tied off. It felt solidly embedded.
On advice from another Beneteau owner, we sprayed water on the coachroof skylight to see if it leaked, knowing a customized replacement would be expensive since the glass panel is no longer available from the manufacturer. Luckily, the skylight was weather tight.
The engine, an original 50-horsepower Perkins 4-108 was a disappointment. Although it could still push the boat in a chop, the number of running hours was uncertain, the gaskets oil-darkened, and we had no desire to rebuild it. We opted for a new 4-cylinder, 53-horsepower Yanmar diesel. It was not a decision we made easily, but I know a reliable engine is worth a lot of peace of mind.
The cost, however, proved daunting. Mentuck warned there was little sense in installing a new Yanmar without upgrading the primary wiring, and replacing the fuel line, raw water lines and exhaust system from engine to transom.
Mike Parker of Manchester Marine Corp. in Massachusetts, estimated a new 53 horsepower Yanmar and gear would retail for $15,000 while the cost of installation would add another $25,000 to $30,000. According to Parker, rule of thumb dictates labor and materials for installation equal twice the engine retail price.
The electric windlass and autopilot worked fine, but other electronics aboard were sorely dated, including the depthsounder, knotmeter, wind speed and direction indicators, and a completely useless Loran C. The VHF radio was functional but it, too, needed to be replaced with a newer model. We also wanted an updated chartplotter with GPS. We considered installing a radar system but decided against it, as the budget was already being stretched.
The boat had no wastewater holding tank, so we bought two flexible models from Vetus, designed to nestle in the lockers and spare us from having to saw open the sole to install a hard plastic tank.
The galley was ideal, with refrigeration and a three-burner stove, so thankfully no upgrades were needed in that area.
The boat was offered with a 13-foot Boston Whaler and hefty outboard engine. It seemed massive so we asked the owner to subtract its value from the asking price. We then bought an 8-foot 6-inch Achilles LSI-260E Hypalon inflatable for $2,155 with lightweight 2.3 horsepower Honda outboard for $918.
The standing rigging had been previously replaced and showed no signs of wear. The main halyard was tired and needed replacement, as did the mainsail. We bought a New England Ropes halyard for $250.
Bob Pattison, chief designer and technical director at Neil Pryde Sails, advised a full-batten, loose-footed Dacron mainsail made from Challenge sailcloth, with two reef points, for $3,000, or cut from a heavier cruising fabric for $3,300. We chose the latter.
We considered buying a standard, high-neck mainsail cover from Mauri Pro Sailing for $400. Instead, we ordered a zippered Neil Pryde Lazy Bag attached to the boom to make the mainsail easier to stow.
For our new furling headsail we went to Doyle Sailmakers in Salem, Massachusetts, where designer Greg Marie recommended a locally manufactured, low-aspect, 135% genoa made of durable Marblehead Weave.
"The low-aspect genoa is balanced. It's a good sail for the weekend sailor or those going cruising for a few weeks each year," he said. "It can handle the load in all directions and winds in the high teens, but still has enough horsepower to get it going in the light stuff." Besides, "Most people don't seem to go out when the breeze starts going beyond 16 to 18 knots," he said.
The genoa retailed for $3,950 with UV Dacron protection or $4,250 with Sunbrella UV protection.
The spray dodger, too, was faded and thinning in parts, as was the bimini, but we decided those were low-priority items that could wait another year or two. Several local upholsterers were willing to do the job with price depending on quality of canvas.
With a new engine, a few new sails and a couple creature comforts, our Beneteau is ready to see a lot more sailing.
---
1986 Beneteau Oceanis 430 $90,000
Lazy Bag $725
Mainsail $3,300
135% Dacron genoa $3,950
Wireless multi-gauge display $1,833
Dinghy 8'6" $2,155
2.3 horsepower outboard $918
Wastewater holding tanks and installation $646
Halyards $250
Yanmar 4-cylinder diesel $40,000
Retrofit total $53,777
60% of purchase price
Grand total $143,777
---
SOURCES:
Defender Industries, 800-628-8225, www.defender.com; Doyle Sailmakers, 978-740-5950, www.doylesails.com; Fred J. Dion Yacht Yard, 978-744-0844, www.fjdion.com; Manchester Marine Corp., 978-526-7911, www.manchestermarine.com; MarsKeel Technology, 800-381-5335, www.marsmetal.com; Mauri Pro Sailing; 888-756-8883, www.mauriprosailing.com; Neil Pryde Sails International, 203-375-2626, www.neilprydesails.com; New England Ropes, www.neropes.com; West Marine, 800-262-8464, www.westmarine.com