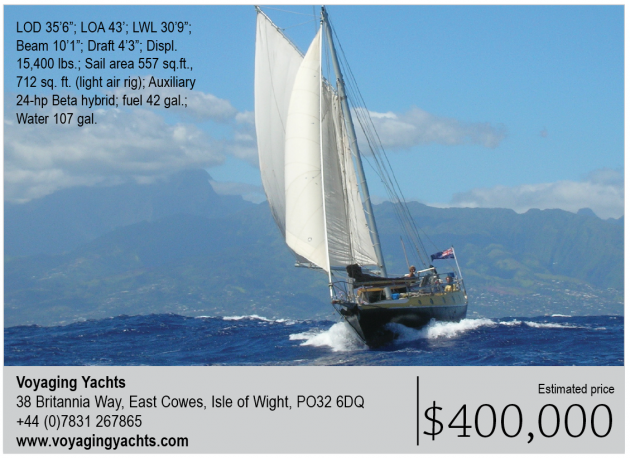 All sailors are part adventurer. We love the freedom of backing out of a slip and motoring away from the marina heading for open water. Although most of us will have to head back to our daily lives, a lucky few get to continue the adventure. For those sailors, there is the Wylo 35.5, a steel-hulled, bluewater, high-latitude stomping machine meant to take sailors from tropical paradise to icebergs and back, safely.
Nick Skeates designed and built the original circumnavigating Wylo, a 32-foot centerboarder. He sold Wylo's plans to 140 or so like-minded sailors until 2013 when Voyaging Yachts began building a slightly larger Wylo as a production boat. You can buy the boat in several stages of finish from a bare hull, to parts kits, to commissioned for bluewater.
No design feature of a bluewater boat is more comforting than a full, low-aspect keel, and the Wylo's is broad enough to rest on sand with the help of beaching legs. The hull's steel plates are laser cut for a nearly perfect fit in a series of gentle chines up to the long cabintrunk, which is flush with the topsides, that is, there are no side decks. There are 11 portholes cut into the cabintrunk and a hatch forward. The sprit adds 8 feet.
Aft of the cabintrunk is a truly unique design feature-the optional cockpit well. The original design omits a well in favor of an aft cabin below the cockpit, with the deck crew sitting on lockers and protected by a solid wraparound stern rail and boom gallows.
There are three available rigs: junk, Bermudian and topsail gaff cutter, the later being the most popular. The maststep is a tabernacle, which also serves as the attachment point for the gooseneck. That way, the boom stays attached when the mast is lowered.
Belowdecks, the Wylo's design precludes bulkheads, so any customized layout is possible. The standard interior, though, is a bit different from typical 35-footers, with a pilot berth across from the head and a split berth forward consisting of an adult-sized double across from a child's berth or workbench. The hull is insulated with foam.
The standard engine is a Beta 25-horsepower, keel cooled, diesel-electric hybrid. This system allows for efficient, long-distance motoring under battery, with the Beta running at optimum revolutions while charging the batteries.
The Wylo 35.5 may not use canting keels and carbon fiber, it's design and construction, in a quest for adventure, is every bit as thoughtful and considered as a racing circumnavigator's.