This classy bluewater racer-cruiser is worth waiting for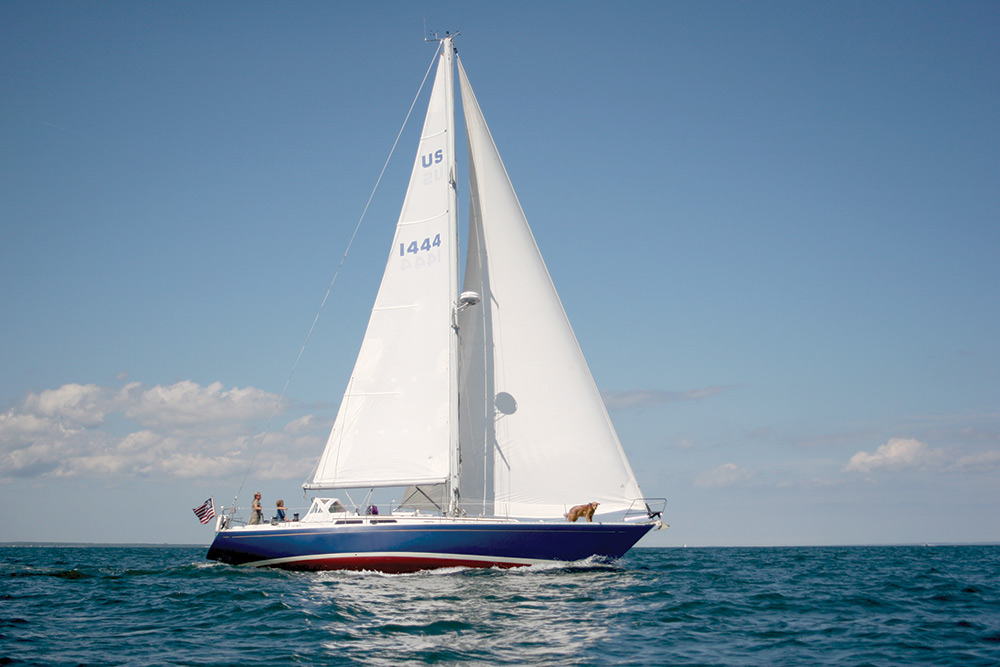 The Alden 44 was designed in 1977 and has been turning heads ever since. This capable offshore racer-cruiser has made countless passages and won its fair share of hardware on the race course in its day. The classy Alden design and high-quality construction methods have made the 44 an enduring boat on the used-boat market.
First impressions
Classy, sleek and beautiful are words typically heard when admirers first encounter the Alden 44. This yacht exudes power and style with a cutter rig, long graceful sheer, teak decks and quality hardware. The open cockpit is roomy enough for an intimate cocktail party of six during calm weather but designed to keep sailors warm and dry in a pounding sea.
For traditionalists, the Alden 44 is a dream yacht, well proportioned overall, slender at the beam, sturdily built, big enough to sleep eight, seaworthy and especially pretty.
Construction
The boat's fiberglass hull is vacuum bagged with a balsa core. The decks are similarly constructed as a sandwich of fiberglass and lightweight woods.
The hull can reach three-quarter-inch thickness in some places and is solidly constructed of hand-laid roving. Unidirectional fiberglass cloth has been added to reinforce high-stress areas. The deck is made with a similar sandwich construction and through-bolted to the hull. The deck-to-hull connection was made sturdier by an inward flange and 3M 5200 sealant
The keel is lead, which outranks cast iron in quality and durability. Teak deckboards and brightwork enhance the overall appearance. A blend of exotic woods—mostly teak—were used to trim out the cabin interior. Most fittings are bronze. Original winches, deck hardware and standing rigging were top quality.
What to look for
As with any wood-cored deck, delamination from water infiltration is always a possibility. Check for soft spots on the surface and stress cracks near stanchions, chainplates and other deck fittings.
The Alden 44 has a narrow beam, which translates to less space below deck. The stuffing box can be very hard to reach and repack. If the original engine has been replaced with a larger model, it may take up inordinate space in the engine compartment. This makes routine servicing a challenge and repairs difficult. The boat's hydraulic centerboard isn't without its drawbacks since any technology involving moving parts immersed in saltwater can cause problems.
On deck
On most Alden 44s, the teak deck is a standout feature. However, teak requires maintenance and over time the bungs and screws can work loose, making for an expensive repair job. Some models also featured teak toerails, while others opted for an aluminum track akin to those pioneered by C&C. The tracks make for more convenient sail block configurations and adjustments. The lack of a teak toerail also means less seasonal maintenance.
Barient winches, stainless steel genoa tracks, traveler, stainless steel stanchions with double lifelines, steel bow pulpit, electric windlass, aluminum spars and a double spreader with stainless rod rigging all make for an impressive and purposeful display on deck.
The dodger promises to keep sailors, including the helmsman at the Edson wheel, out of the elements. The cutter's sailplan features a large genoa, working jib, a second track for the trysail and a hydraulic boom vang.
Down below
Three configurations were available on the Alden 44, which is why it's difficult to find two built in exactly the same configuration. The 44 was usually fitted with two 90-gallon fiberglass water tanks and twin 45-gallon fuel tanks. Some 44s had a belowdecks layout that included a captain's berth forward, generous guest quarters aft and four quarter berths off the saloon. Corinna Kersten, who sails the Alden 44 Tioga with her husband Philip, said the high ceiling in the saloon and all bunks allow her to sit up rather than crawl into a berth.
"I like the captain's quarters and the open space, with a twin-size bed," she said.
The main cabin has 6 feet 4 inches of headroom. Nearly all models have a cushioned settee with storage, dinette, nav station separated by a bulkhead and equipped with swing-out seat, cedar-lined hanging locker, and cabinet doors throughout that are either caned or louvered.
The boat has a single head with sink and integrated shower.
Engine
The Alden 44 originally came with Perkins or Westerbeke diesel engines, but many owners have replaced those powerplants with Yanmar diesels. Although the original engines were reliable, many by now have amassed thousands of hours of running time, so a new Yanmar would be considered a significant upgrade.
Underway
Philip Kersten, who lives in Massachusetts and has sailed Tioga to Bermuda and the Caribbean, describes the yacht as a great offshore performer, "It's happy in heavy weather," he said. "And everything on board is redundant, including the halyards."
According to Philip, the centerboard model can sail just about anywhere.
"Obviously a full keel would be better, but then you can't get into shallow water, so the ability to go anywhere is a tradeoff," he said.
Since the centerboard model isn't as deep as the full keel, the boat can't sail as fast and has more difficulty going upwind. The Alden 44 by all accounts is not a quick turning boat but can cut through waves and stay on course with ease.
"Waves and wind, the worse the weather gets, the better the boat steers," Philip said.
Conclusion
Although a quarter century has elapsed since the last Alden 44 was constructed, the yacht regularly appears on lists compiling the top-20 offshore sailboats. Evidently the term "built to Alden standards" still has meaning.
As Philip put it, "If I had to, I would buy this boat again."
Click through to the next page for SAILING's Value Guide on the Alden 44.