This rugged Carl Alberg-designed classic is a bargain-priced family cruiser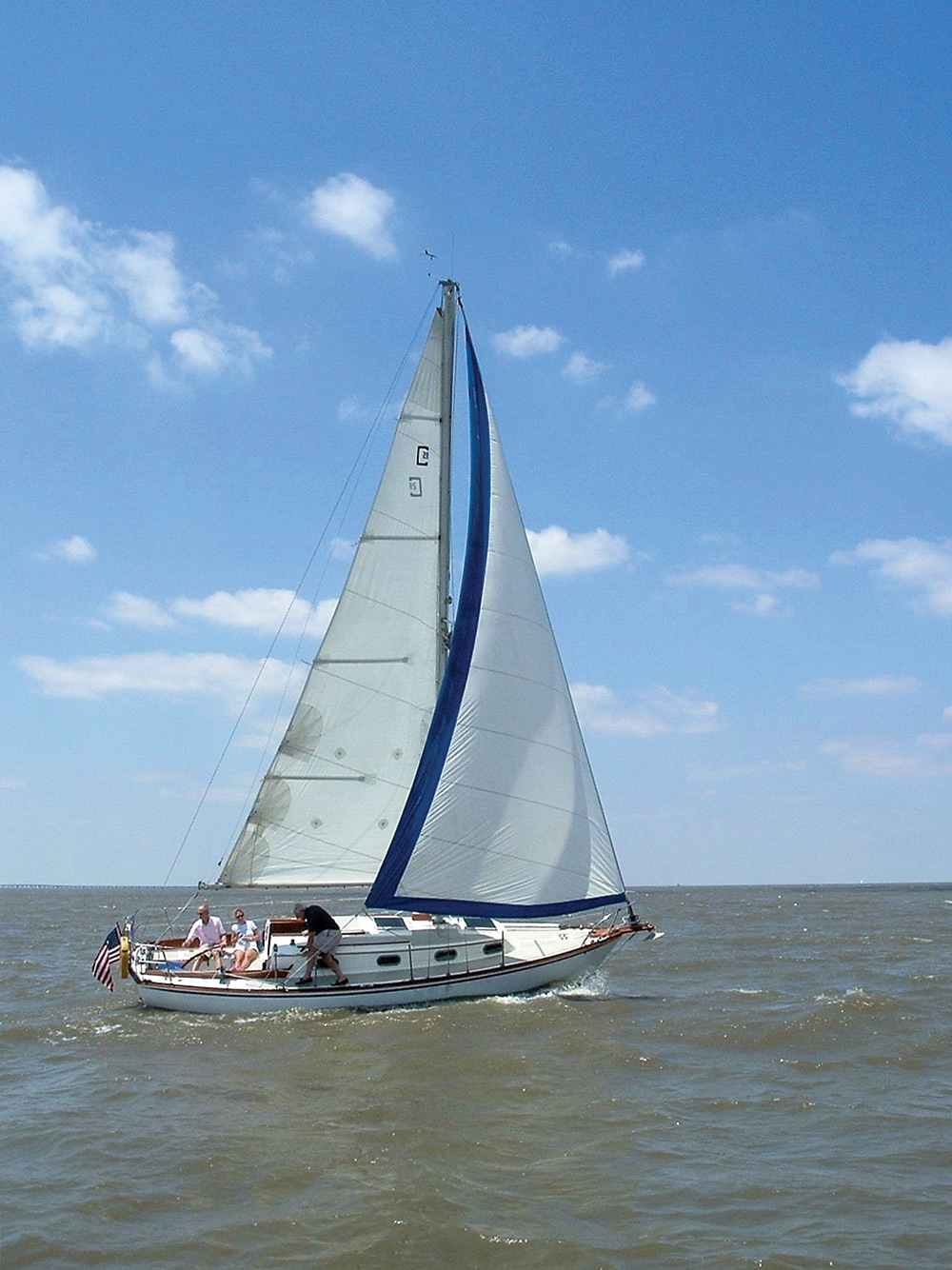 P
racticality coupled with a sense of style sums up the Cape Dory 28 sloop. This one-design, compact cruiser ranks among the more popular boats in its size and class. Designed by naval architect Carl Alberg, it continues to attract families looking for a safe, easy-to-handle boat with offshore sailing potential.
According to the Cape Dory Sailboat Owners' Association, Cape Dory Yachts in East Taunton, Massachusetts, built 389 CD28s between 1974 and 1987.
During the company's 28 years in business, it built more than 2,800 sailboats, ranging in length from the pint-sized Cape Dory 10 to hulls exceeding 45 feet. The Cape Dory Typhoon, just shy of 20 feet, proved a standout. The CD28 is often compared to the Pearson Triton 28, the Columbia 29, Bristol 27 and Alberg 30.
First impressions
There's something pleasant about the Cape Dory 28. It has a robust, seagoing appearance, perhaps due to the bowsprit with anchor roller and the long cabintrunk. Four portals on each side of the cabin are uniform in size and shape, giving the boat a traditional look that's further enhanced by two deck hatches, a graceful sheer and low freeboard.
Designer Carl Alberg had to compromise in order to gain interior volume in this relatively slender sloop. As a result, he left the bow overhang intact to promote the impression of elegance, but the stern overhang was dramatically trimmed back. That design decision gave the boat a longer waterline, which increased its speed potential, but detracted from its overall beauty.
A bridgedeck was installed in the cockpit approximately four years after the start of production. It added to the interior volume. The deck has plenty of walkaround room for crew to go forward when changing sails or anchoring.
The mainsheet is attached aft of the cockpit where it doesn't interfere with crew activity. The original models have tiller steering and a self-tending, club-footed jib, allowing the boat to be sailed with minimal crew. A jiffy-reefing system on the mainsail also makes for easy sailing.
Construction
The CD28 hull is solid fiberglass in polyester resin. The decks are a sandwich of fiberglass cored with either marine plywood or balsa. In keeping with Cape Dory Yachts' reputation for high-quality construction, the through-hull seacocks are bronze. Two deck hatches and eight portals open to provide ventilation and natural light. The boat has tiller steering, a full keel with lead ballast, and a keel-hung rudder. The mast is deck-stepped. "The shrouds and fittings are oversized for a vessel of this size," said New Orleans sailor Keith Fawcett, who sails the CD28 Sea Hound.
What to look for
Deck delamination is always a possibility on older boats and the CD28 is no exception with its sandwich deck construction. The decks should be inspected for any spongy feel. Water infusion can occur at the chainplates or wherever other deck hardware is fastened. Telltale signs are stress cracks, crazing and blistering.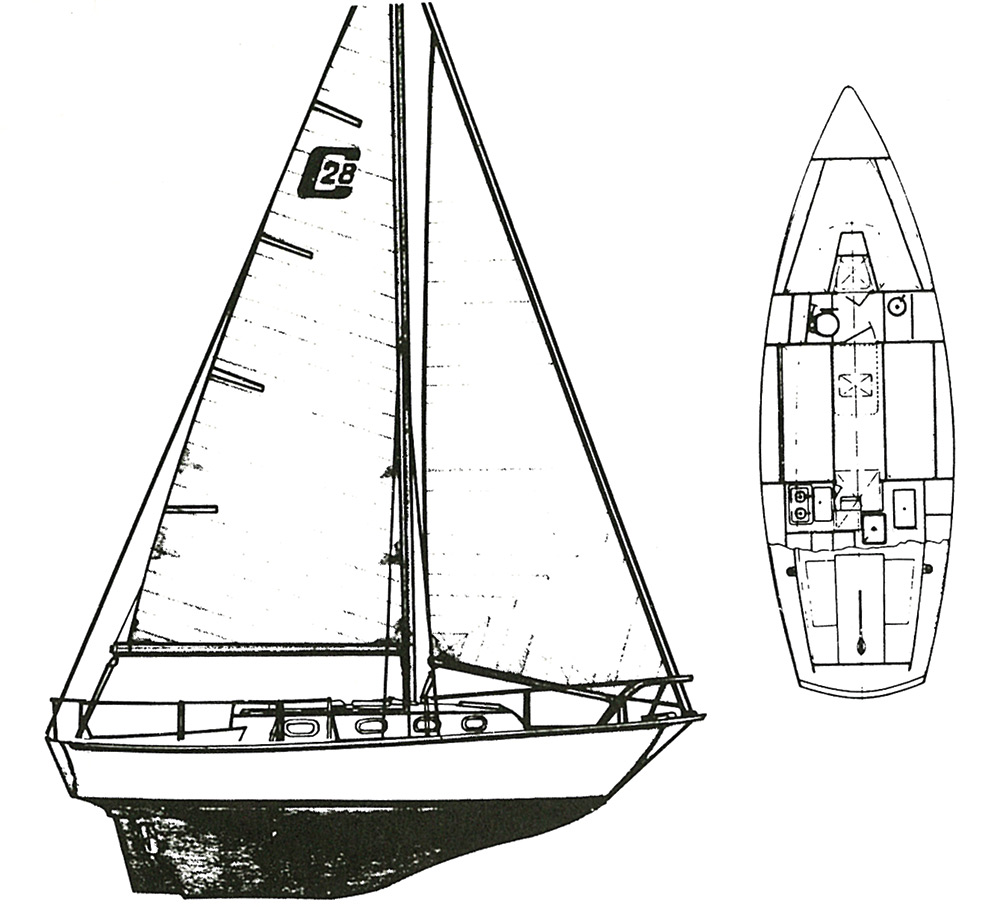 Fawcett noted the internally fastened chainplates are cast iron, which create problems of rust and corrosion. The chainplates are accessible from the interior. He also warned there is a jib stay with a bronze cast fitting on the stem that should be watched for problems.
Owners report that the plastic portals installed between 1974 and 1978 were of inferior quality.
By now the winches may be tired and in need of an upgrade. If the standing rigging is original, it should be replaced. The diesel engine should be tested for compression, leaks and other potential problems. At the very least, belts and filters should be replaced.
Fuel tanks are either steel or aluminum. The steel tanks can rust and weaken. The aluminum tanks, because they're in direct contact with a plywood base, can begin to pit.
On deck
The boat is sloop-rigged, the mainsheet attached at the aft end of the cockpit to keep it from interfering with crew activity. Its 42-foot aluminum mast is deck stepped and secured by heavy-gauge standing rigging. The self-tending, club-footed jib on the foredeck is a welcome addition for short-handed sailors. The sturdy bowsprit supports an anchor roller and extends the forestay outward, providing more room for a genoa. There's plenty of workspace on the foredeck. The cockpit has a bridgedeck on most models. The deck has a nonskid surface.
Down below
The area below the deck isn't cavernous by any means. The boat's beam of just under 9 feet gives the CD28 a sleek appearance while dictating that the quarters below will be cramped.
On the positive side, headroom is 6 feet 2 inches in the cabin. The boat sleeps five. There's a V-berth in the bow, an adjacent head to port and a wet hanging locker to starboard, which is a typical layout for compact cruising boats. The saloon features a starboard settee that is used as a single berth, and a port settee that slides out to become a double berth. A drop-leaf table rests between the settees.
The galley is aft, with an icebox and stainless sink to starboard, alcohol or propane stove to port. The two deck hatches and eight portals provide plenty of natural light and ventilation.
The boat has several storage lockers and carries 60 gallons of fresh water.
Engine
The original CD28s were fitted with a Volvo 2-cylinder, 15-horsepower diesel engine. Owners say the engine is powerful enough to push the boat in a chop, but tends to be loud, smoky, and shakes like a demon. The engine is accessed from the cabin by raising the companionway steps and through two cockpit lockers, but service space is tight. The fuel tank holds 32 gallons.
Underway
Owners describe the CD28 as kindly and capable in rough seas. Despite its 9,000-pound displacement, the boat moves easily in light winds over 10 knots with the club-footed jib. The full keel with attached rudder helps the boat track downwind and allows it to point nicely to windward.
The owner of the CD28 Entropy II once remarked, "I kept the original rig—a club-footed working jib for brisk-to-heavy winds and a 140% genoa for light winds. The Cape Dory 28 is a very sweet sailer —9,000 pounds of displacement with a Carl Alberg-designed hull—makes for a comfortable ride in various weather conditions. She may not be the fastest, but she's a cruiser that points well and is easy to sail."
"She can't compete sailing with modern fin spade keel designs, but for the traditional sailor she will provide endless joy," Fawcett said.
Several CD28 owners maintain websites that describe their sailing experiences, which include bluewater passages and Fred Bickum's three-year, singlehanded voyage completed in 2009 aboard FeNIX, a
1978 model.
Conclusion
The Cape Dory 28 is a sturdy, traditionally styled, compact cruising sloop ideal for family coastal cruising yet capable of offshore sailing.
---
Principal dimensions: LOA 28'2"; LWL 22'3"; Beam 8'11"; Draft 4' ; Displacement 9,000 lbs.; Ballast 3,500 lbs.; Sail area 404 sq. ft.
General Market Price Data
$35,000 1983 Maine • $24,900 1982 Michigan • $10,000 1978 Washington
---
SAILING's Value Guide
(5-sailboat rating system)
PRICE: (4 sailboats) The price of a used Cape Dory 28 can range widely, depending on age, condition and upgrades. A 1978 model in North Carolina that requires an engine is selling online for $5,500, while a fully equipped 1983 boat in excellent shape is on the market in Maine for $35,000.
DESIGN QUALITY: (4 sailboats) The CD28 was designed by prominent naval architect Carl Alberg, who preferred boats with an elegant, Scandinavian-inspired sheer, low freeboard and long overhangs.
CONSTRUCTION QUALITY: (3 sailboats) Cape Dory Yachts in the 1970s and 1980s had a reputation for building ruggedly constructed boats, with solid fiberglass hulls in polyester resin and fiberglass and sandwich cored decks. All hardware is heavy duty, the seacocks forged in bronze. Teak is used throughout the interior.
USER-FRIENDLINESS: (3 sailboats) The CD28 has an anchor roller and self-tending, club-footed jib. The cockpit comfortably accommodates four. The heavy displacement makes for a smooth ride. And the sensible sailplan helps keep the boat under control in high wind conditions.
SAFETY: (3 sailboats) Safety features include sturdy lifelines, and roomy deck space, a 3,500-pound full keel with lead ballast to keep the boat upright, and a cockpit bridgedeck on later models that prevents water from entering the cabin.
TYPICAL CONDITION: (3 sailboats) Many CD28s are 40 years old, which in all likelihood means they've had multiple owners and varying maintenance regimens. The boat's solid fiberglass hull is difficult to damage and often found in sound condition. Decks may have softened due to water infusion.
REFITTING: (3 sailboats) Several owners have replaced the Volvo engine with Beta Marine or Kubota diesels and report much quieter operation. The standing rigging likely needs replacement. Many owners eliminate the club-footed jib in favor of a roller-furling genoa, claiming the latter affords better sail trim.
SUPPORT: (2 sailboats) Cape Dory Yachts is no longer in business, but there's an active Cape Dory Sailboat Owners' Association (www.capedory.org), with fleets located in the Carolinas, Gulf states, Chesapeake Bay and the Northeast.
AVAILABILITY: (3 sailboats) There's no shortage of Cape Dory 28s on the market. At press time, at least 15 were for sale in the U.S.
INVESTMENT AND RESALE: (3 sailboats) The Cape Dory 28 holds its value.
Overall SVG Rating: 3 sailboats