More than 80,000 people packed downtown Auckland, New Zealand, in July to celebrate the triumphant return of the America's Cup after a 17-year absence. Thunderstorms didn't dampen spirits as Emirates Team New Zealand paraded down Queen's Street, the Auld Mug held high, and onto a boat for a tour of the jam-packed Waitemata Harbour.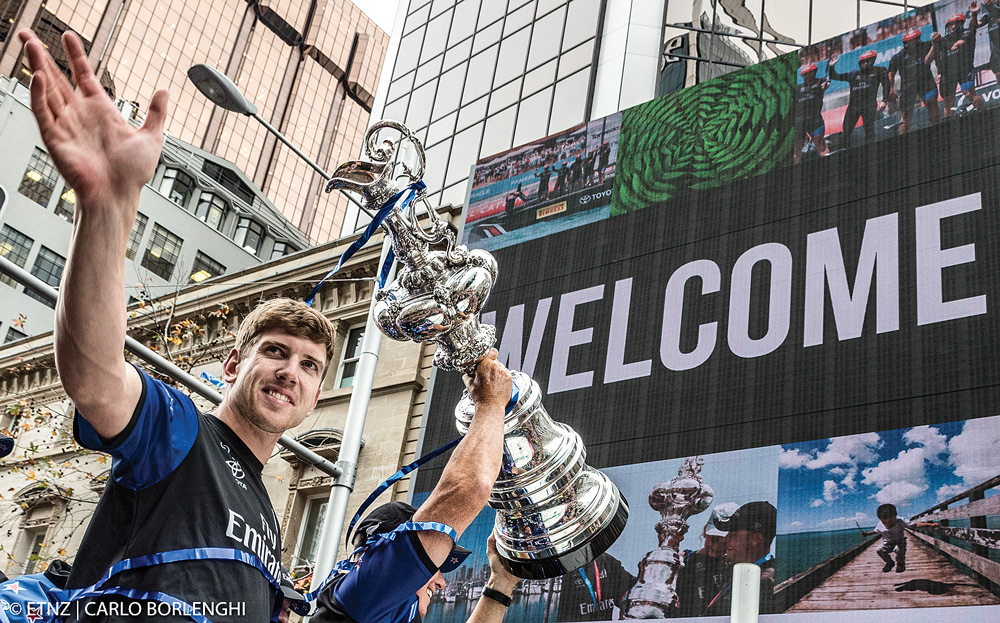 ETNZ/Carlo Borlenghi photo
It was sweet revenge for Emirates Team New Zealand that blew a seemingly insurmountable lead in San Francisco, losing eight consecutive races against Oracle Team USA in the last America's Cup in 2013. This time, the Kiwi team out-engineered, out-designed and out-pedaled Oracle to take the Cup in Bermuda, winning seven races to one.
As Helmsman Peter Burling foiled over the finish line, clinching the victory in the final race, Royal New Zealand Yacht Squadron Comm. Steve Mair was huddled belowdecks aboard the superyacht Imagine, owned by Matteo di Nora, the principal investor behind the Kiwi team. According to a story by Suzanne McFadden written for the online Newsroom, with him was Agostino Randazzo, the president of Cicolo della Vela Sicilia, the Italian yacht club behind Patrizio Bertelli's Italian Luna Rossa team that had been working closely with the Kiwis. Having instructed the club back in New Zealand to turn off the computers and phones and not to accept any packages, Mair ensured that the Italians would be the first challenge received, making them Challenger of Record.
The Auld Mug is now ensconced behind alarmed, bulletproof glass in the RNZYS, and it has become a scramble to find a home for the America's Cup village, where team bases will be built alongside entertainment and media center facilities. The government is working with groups such as "Stop Stealing Our Harbour" that oppose more pier construction along Auckland's waterfront.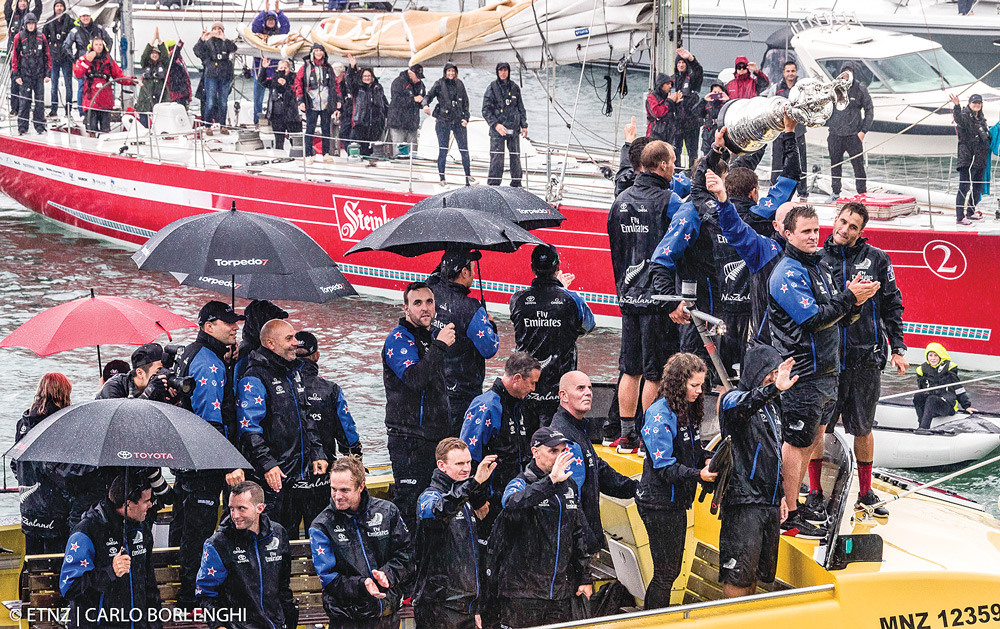 ETNZ/Carlo Borlenghi photo
The only official announcement to come from the new holders of the Cup was a statement issued that the two groups would issue the protocol sometime this month. The the 36th America's Cup Match and the preceding Challenger Selection Series might be held in Auckland in early 2021 during the New Zealand summer. One thing is for certain, Team New Zealand is intent on bringing back elements of the original Deed of Gift such as "friendly competition between foreign countries, the protocol will contain a 'constructed in country' requirement for competing yachts and a nationality requirement for competing crewmembers." --Greta Schanen