Graceful, sturdy and seakindly, this Sparkman & Stephens design is an enduring classic
The Yankee 30 was one of many fiberglass boats that was affected by the global oil crisis of the 1970s, which curtailed production. The cost of resin raised boat prices above the budget of average sailors. In some cases builders simply lacked the raw materials required for construction.
Despite the tough economics, Yankee Yachts in Santa Ana, California, was able to build 132 Yankee 30s between 1971 and 1975. According to yachting industry reports from the mid-1970s, company founder and owner John L. Shumaker Jr. refused to reduce the quality of his boats because of the shortage and instead went out of business in 1975.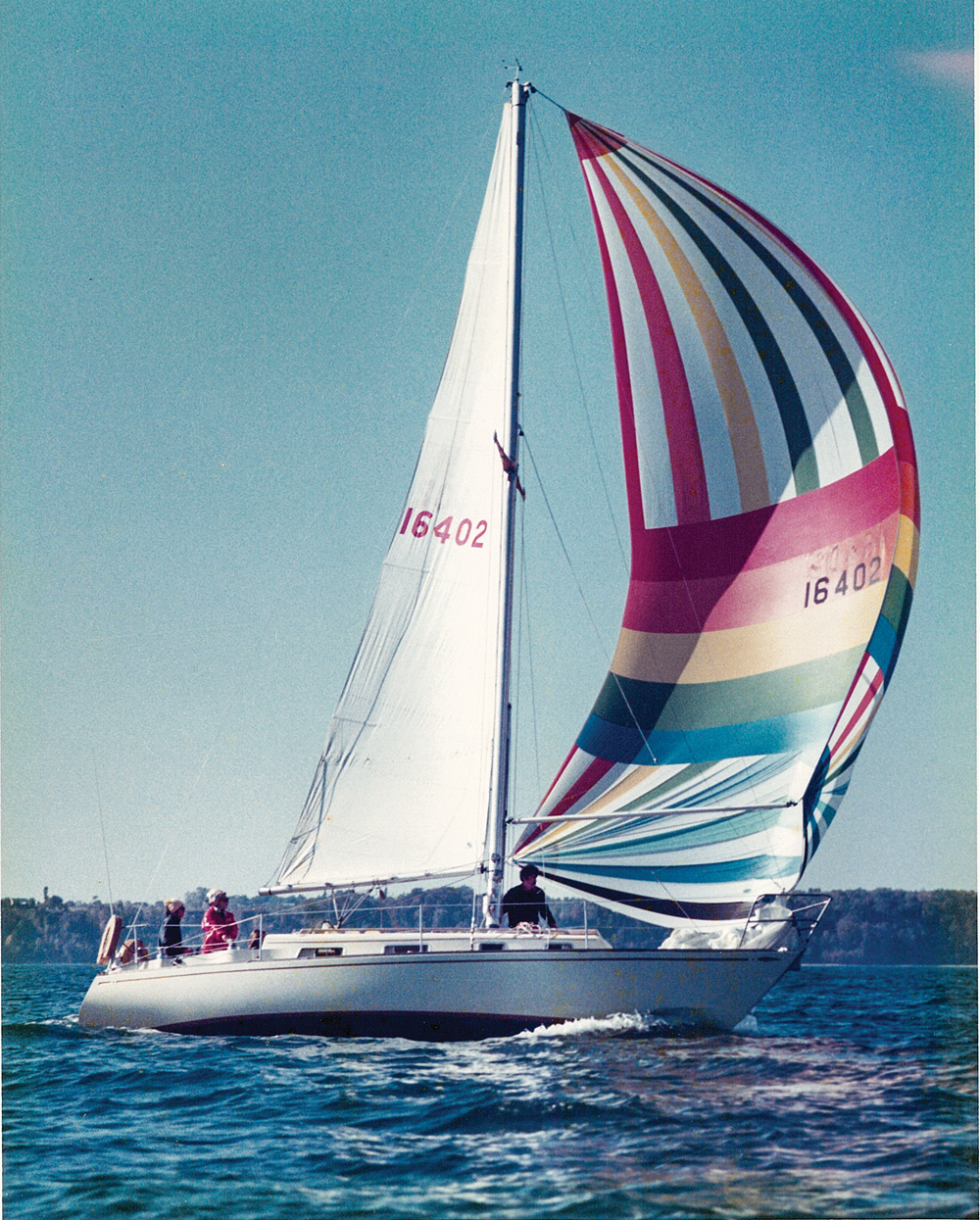 Shumaker, who died in 2015, started his boatbuilding career in the 1960s building the Sparkman & Stephens-designed Dolphin 24 at a yard in Marina Del Rey, California. The first boat was owned by his family and named Yankee, inspiring the name of the company. Shumaker moved Yankee Yachts to Inglewood and finally to Santa Ana in 1969, by which time he'd already commissioned Sparkman & Stephens to design a 30-footer.
In an effort to remain competitive on the racecourse and appeal to varying needs, the Yankee 30 underwent three design modifications—minor tweaks that included increasing mast height and more significant ones such as adding 1,000 pounds of ballast. The first series of hulls are classified as MK I. Hulls built after No. 98 are MK II. Boats in the last group, designated MK III, have the additional pounds of internal ballast. Interior layouts were also changed on all three models, usually with two versions offered to buyers simultaneously.
First impressions
It's easy to see why sailors interested in both cruising and racing admired the Yankee 30. The 3/4-ton sloop looks ready for sea, with strong lifelines, bow pulpit, eight fixed portals (two large and two smaller on each side), and plenty of heavy-duty deck hardware. Most sailors appreciate the fin keel coupled with a skeg-hung rudder that offers security and tracking. The hull is relatively heavy and narrow, with a deep forefoot, and the reverse transom adds a racy appearance.
There was no skimping on deck hardware. Chocks and cleats are through-bolted where needed, including on the mast. Stainless standing rigging, two-speed sheet winches, a halyard winch on the mast, and a cabintop traveler all point to sail manageability, even when sailing shorthanded.
Construction
The Yankee 30 has been described over the years as overbuilt, but not in a negative way, perhaps because its weight doesn't seem to affect its performance.
The boat is constructed with a solid, hand laid-up hull and a cored deck. The solid construction is again used at the stem, around through-bolted fittings on deck, and for the coachhouse. A bonded flange or lip is used to attach the hull and deck, further supported by a teak toerail that is through-bolted. According to S&S brochures, the boat features double chainplates fitted to single structural knees of glass that are molded into the extensively thickened hull topside. In theory, this system spreads the load over a broader area of the hull. The hull and deck have separate liners. The external, lead-ballasted fin keel is bolted to the stub keel with silicon bronze bolts.
What to look for
Although the boat has a solid fiberglass hull and solid areas around bow and deck fittings, the deck itself is cored and that means the possibility of water intrusion exists. Since these boats are nearly a half-century old, potential buyers should inspect for moisture, delamination and telltale soft spots.
Some of the boats were built with wastewater holding tanks, which could otherwise be costly to install. The boat has several through-hull fittings with bronze valves that should be inspected and tested.
On deck
There's plenty to admire on deck, starting with the stainless standing rigging with adjustable backstay that supports a tapered aluminum mast and boom. Shrouds are 9/32 inch, considered beefy for a 30-foot boat. A bow pulpit and stem head fitting give the boat a rugged, seagoing appearance. Two Barient sheet winches, a halyard winch and cabintop traveler make sail handling a breeze.
The Yankee 30 has abundant chocks and cleats for securing to the dock. Touches of elegant craftsmanship are evident, with teak toerail and trim, including around the companionway opening. The tiller is oak.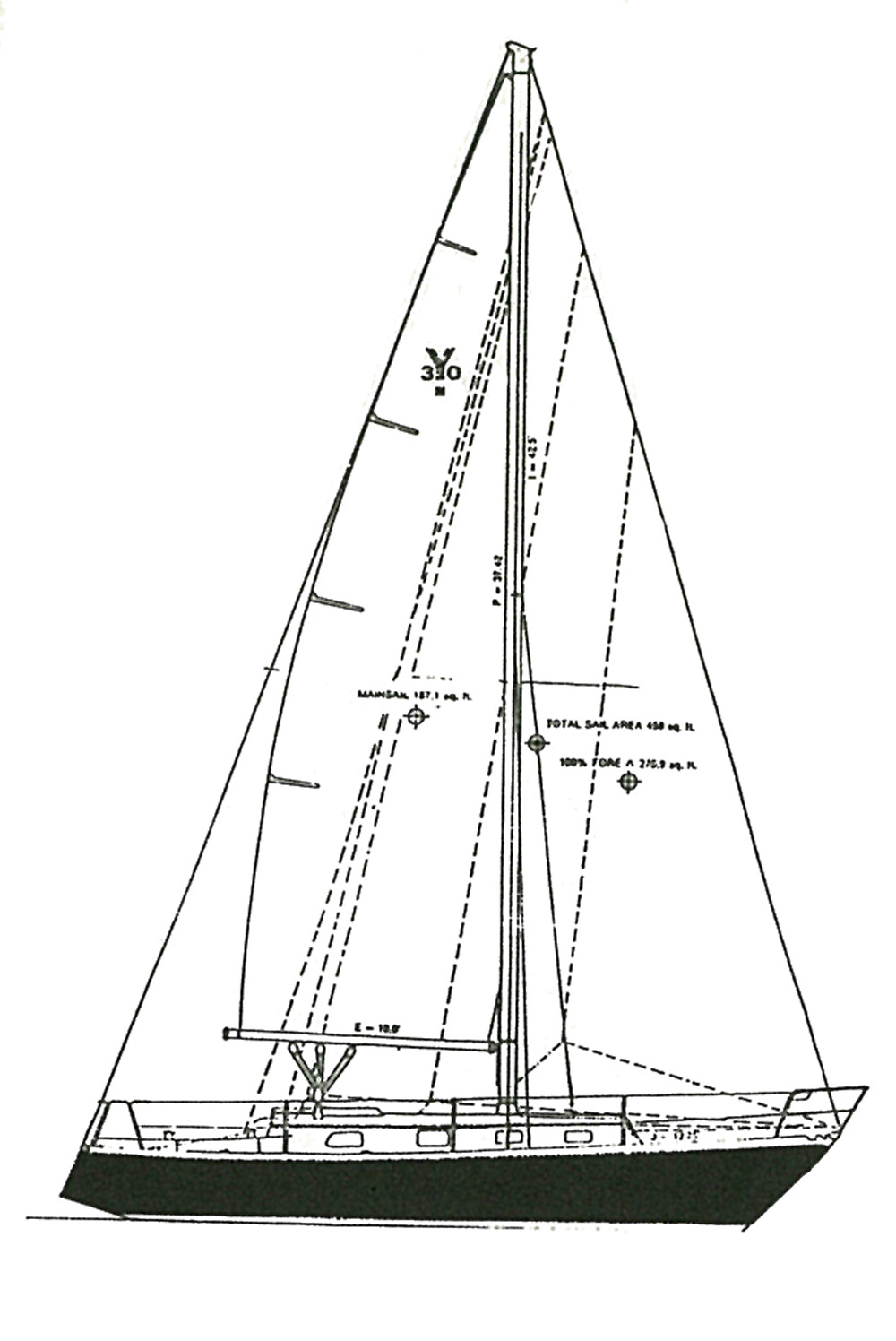 The sloop boasts eight fixed portlights, two large and two smaller to both port and starboard, which admit natural light and increase visibility. The boat has a comfortable cockpit with high coamings to keep the crew dry. Seating provides room to squeeze six.
Down below
The Yankee 30 isn't the roomiest 30-footer in its class, but it can sleep five—two forward in the V-berth and three in the cabin on the settee and convertible dinette.
The two berths in the V-berth compartment are 6 feet 8 inches in length, long enough to accommodate all but the tallest of sailors. The berths share space with an anchor locker. The settees in the cabin create U-shaped seating to port on some models and standard bench seating to starboard. There's a chart area to port toward the aft end of the cabin, and an enclosed head to port. The galley with stove is to starboard near the foot of
the companionway.
Eight fixed portlights provide plenty of natural illumination. The interior is aesthetically warmed by a holly-and-teak sole and bulkheads of Honduran mahogany.
The boat carries 28 gallons of fresh water.
Engine
The boat's history is marked by the installation of different engines, including the gasoline-fueled Universal Atomic Four, a Westerbeke Pilot 10 diesel, an 18-horsepower Westerbeke 20B2 diesel, an Albin two-cylinder diesel, and a Bukh two-cylinder diesel.
The Westerbeke Pilot 10 is a single-cylinder model with counterbalanced weights for smooth operation. It's located under the convertible dinette table and fitted with hinges at the back to provide service access, an arrangement that has weathered its share of criticism.
According to one owner, the Albin engine was considered underpowered and required priming with alcohol upon starting before switching over to diesel. Many owners found this burdensome.
The boat carries 17 gallons of fuel and has flexible fuel lines and filters.
Underway
The general consensus among owners is the Yankee 30 represents a happy medium between sprightly performance and comfort in a seaway. The boat is sprightly, needing only a light touch on the helm. It accelerates like a light boat, yet shoulders through chop like a heavy one.
The owner of hull No. 53 described the boat as both graceful and sturdy. "These littler sloops are well suited to both racing and cruising, with a tall, keel-stepped mast and high aspect sailplan to make them go fast in light air, high ballast-to-displacement ratio to make them stiff and dry to weather, and a bustle and skeg-mounted rudder for ideal handling off the wind," she said.
Yankee 30s can be found sailing off just about every U.S. shoreline and San Francisco sailors report the boat is ideal for windy conditions found on the bay.
Conclusion
The Yankee 30 is a handsome, seaworthy, solidly-constructed sloop that provides cruising comfort while retaining performance capabilities on the race course.
---
Principal dimensions: LOA 30'; LWL 23'; Beam 9'; Draft 5'; Displacement 8,700 lbs.; Ballast 4,130 lbs.; Sail area 430 sq. ft.
---
General Market Price Data
$40,000 1971 California • $29,900 1972 Oregon • $20,000 1971 Texas
---
SAILING's Value Guide
(5-star rating system)
PRICE: The price of a Yankee 30 can range from approximately $12,000 for a hull in need of TLC to $40,000 for one in turnkey condition. ***
DESIGN QUALITY: The Yankee 30 was designed by Sparkman & Stephens and is considered a graceful, sturdy, seakindly classic by industry standards. The boat design is S&S No. 1999, the numbers often displayed on sails. ****
CONSTRUCTION QUALITY: Yankee Yachts in Santa Ana, California, built boats to high standards, with one-piece, hand laid-up fiberglass hull and deck. Teak-and-holly cabinsole, mahogany bulkheads and interior cabinetry is used in the cabin. Quality bronze or aluminum was used for valves and fittings. ****
USER-FRIENDLINESS: Owners say the Yankee 30 is comfortable in a seaway, has an easy-to-manage rig, and is steered with a strong oak tiller. A cabintop traveler helps control the rig. ***
SAFETY: It has a keel-stepped mast and abundant ballast to ensure the hull remains upright in a heavy blow. It is often described as overbuilt. The interior has overhead grabrails, but there is no bridgedeck in the companionway. ****
TYPICAL CONDITION: Since these boats are approaching the half-century mark in age, condition tends to run the gamut from boats in need of repairs to those that have been completely refit. **
REFITTING: The owner of the Yankee 30 Vim installed new rigging, chainplates, portlights, head, replaced two bulkheads and all electrical wiring. He replaced lighting fixtures on the mast, added a wind vane, antenna, stove, cushions, and employed a crane for rewiring the 40-foot tapered aluminum mast. Parts are not readily available for the Yankee 30. **
SUPPORT: Sparkman & Stephens plans are on file at Mystic Seaport in Connecticut. Owner's manuals are available online. Some information can be obtained from the Yankee 30 blog at http://yankee30.blogspot.com and the info link at www.cruisersforum.com. ***
AVAILABILITY: Approximately 132 boats were constructed over a four-year production run. In late spring, at least eight Yankee 30s were on the U.S. market and others in the UK and Italy. ***
INVESTMENT AND RESALE: The boat sold new in 1973 for $18,950 without sails. Despite their age, Yankee 30s have a strong following and are still in demand. ***