You don't have to spend a lot to own a seaworthy and sturdy pocket cruiser
If the Balboa 26 had a motto it would echo the original marketing brochures that celebrated the boat's ability to "go fast, go anywhere." Designed by Lyle Hess, who in the mid-1970s would become well known for his 28-foot Bristol Channel Cutter design, the Balboa 26 fulfilled a growing demand for an economical cruising boat.
Hess understood utility, which is what the Balboa 26 delivers in spades. It can sail the open sea or gunkhole along coasts, taking advantage of shallow channels and protective coves. Biographers have noted Hess, a native of landlocked Idaho, designed and built his first boat at age 16 after the family moved to Southern California. It was a 17-foot, hard-chine pocket cruiser designed so that he and his brother, Lee, could sail to Catalina Island.
During World War II, Hess worked as a shipwright in San Pedro, California. There he helped build minesweepers and plywood-hull PT boats for the British Navy.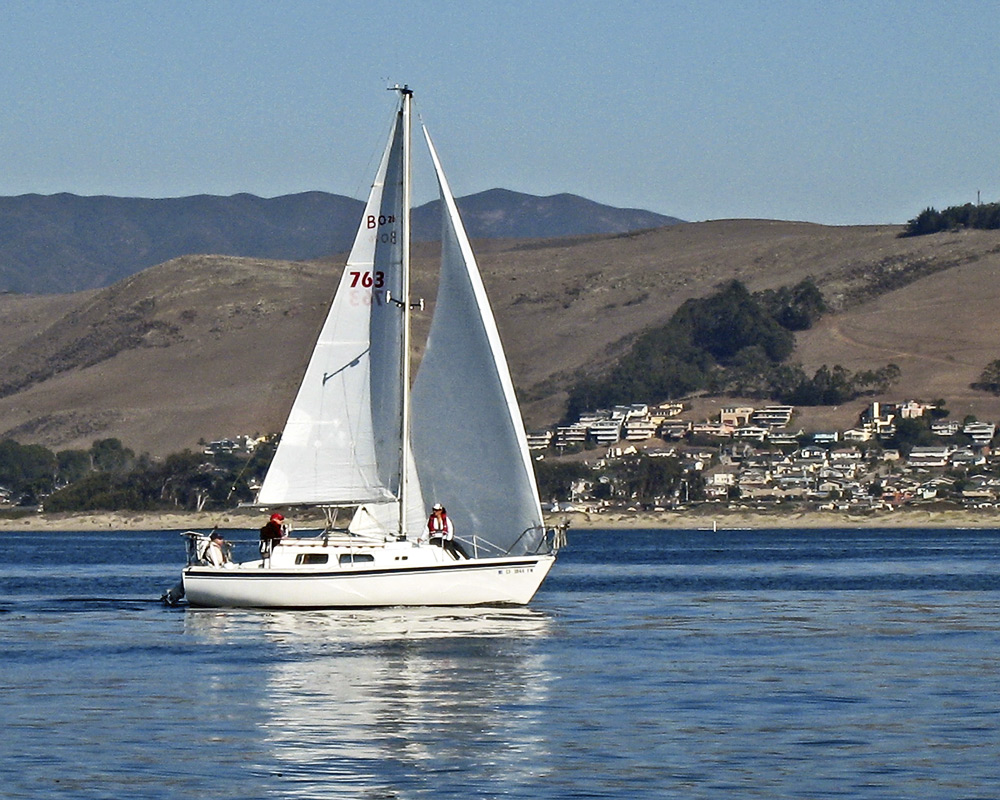 When the war ended, Hess built fishing boats for the Humbolt Bay Boat Co. before founding his own firm, the L.A. Yacht Yard in Harbor City, California, with partner Roy Barteaux. In those booming post-war years, Hess was building houses with his brother, but he was soon able to devote his full attention to boats, due primarily to the success of the Balboa 20.
Fate stepped in when sailor Larry Pardey selected Hess' Renegade design for a pocket cruiser he was planning to build and sail around the world with his partner, Lin. Pardey introduced Hess to boatbuilder Richard Arthur of Arthur Marine in Cosa Mesa, California.
Arthur was enamored with the Balboa 20 design and began building them in 1967. Two years later, he followed suit with the Balboa 26. Both models achieved instant success. Arthur described the Balboa 26 as the largest trailerable boat on the market, leading one owner to call it "a trailersailor's Cadillac."
The Balboa 26 was built by Arthur Marine from 1969 to 1972. Coastal Recreation took over production into the mid-1970s. A few hulls were customized with a full keel and inboard engine.
First impressions
The Balboa 26 is deceptively small considering it sleeps four, has a full galley, and is capable of sailing open water or coastal shallows. The compact cruiser's voluminous cabin leaves little walkaround room on deck, but the single lifeline should help keep crew safe when heading to the foredeck. In addition to exuding a rugged appearance, the masthead sloop offers a snug cockpit, midboom traveler, simple sailplan, large fixed portlights, a forehatch, and welcome safety features. Deck hardware is adequate but not abundant or oversized. The deck has a non-skid surface.
The boat might not be considered a classic beauty, but function over form may be enough in this case to interest a cash-strapped couple or small family in buying one.
Construction
The boat benefits from high-quality construction, especially the boats built by Arthur Marine. The hull is made of hand-laid fiberglass. The deck is constructed as a fiberglass sandwich with a marine-plywood core. The rigging is stainless, as are the stanchions and bow pulpit.
What to look for
Several owners put inspection of the foredeck plywood core at the top of their repair lists, but those complaints seem most prevalent among the later boats. The mid-boom fitting for the mainsheet was also cited as a potential site of stress cracks. Deck fittings loosened by wear and age may also need rebedding.
Potential buyers should also check the swing keel, lift cable, hand-crank winch, pivot bolt and other related mechanical parts for wear. Examine the maststep hinge for wear, the mast compression plate for wood rot, and the chainplates for leaks.
On deck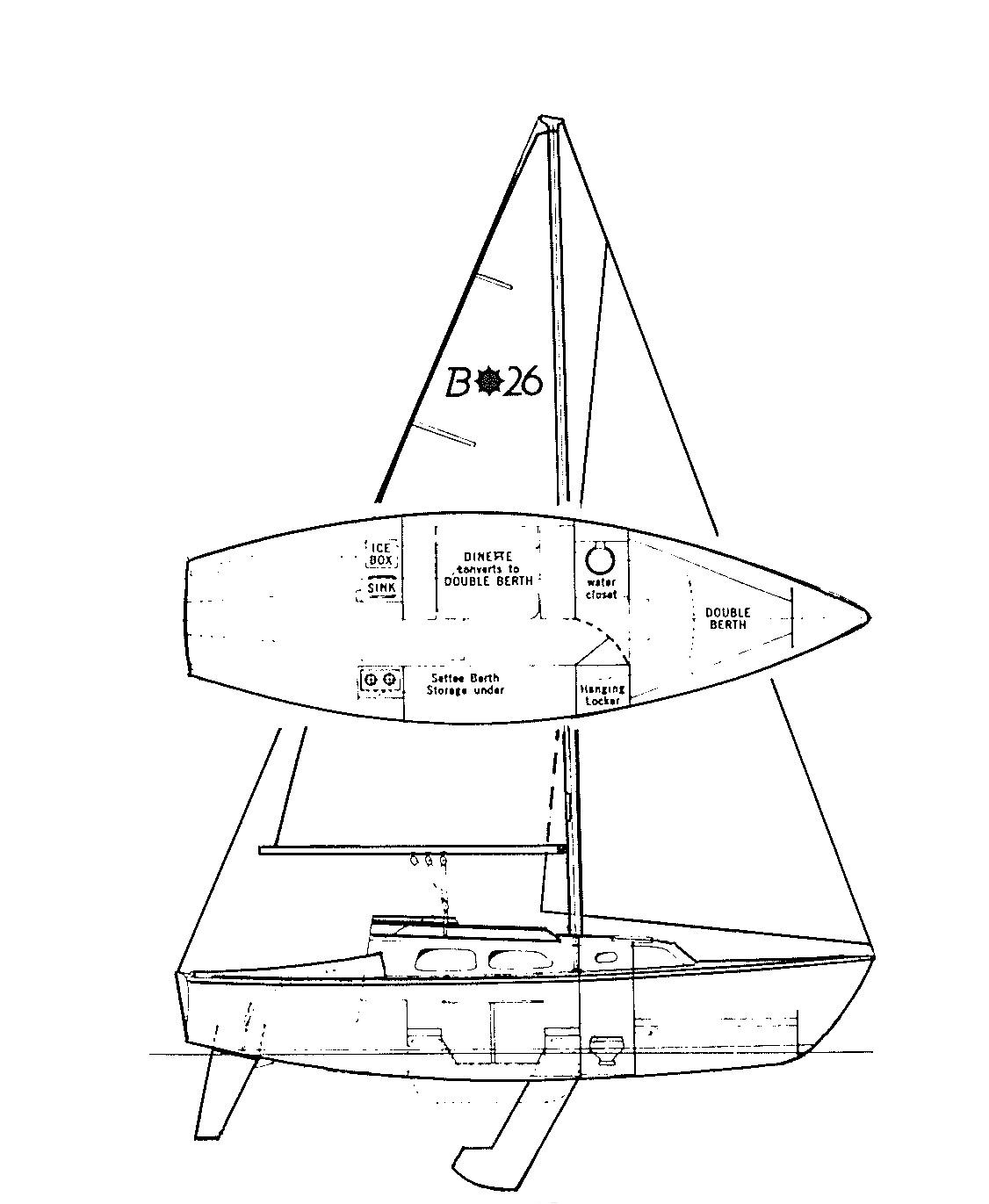 This masthead sloop rig is a utilitarian marvel. The hinged mast easily folds down for trailering. The anchor chain stows in a locker. A single lifeline surrounds the deck. The small cockpit with roomy seat lockers features a coaming to keep the crew dry. With tiller steering, the cockpit can comfortably seat four.
The coachroof is shaped to shed waves, supplemented by cockpit drains and foredeck scuppers to keep water out. There's a hatch just forward of the mast. Wooden grabrails are through-bolted to the cabintop. The sailplan is simple, the mainsail is tamed by midboom sheeting attached to a cabin-top traveler. There isn't much walkaround room on deck due to the interior volume of the cabin.
The transom features a self-draining well for the outboard engine.
Down below
Despite its relatively short length, the boat easily sleeps four—two in the V-berth and two on the port dinette, which converts to a double berth. A fifth sailor can sleep on the settee to starboard. There are storage lockers under all berths.
There's plenty of natural light below, provided by two large fixed port and one smaller on both port and starboard sides. On the negative end, especially for tall sailors, the cabin headroom is only 5 feet 6 inches. For most sailors, bumping your head is a given.
Entering the cabin, there's an insulated icebox to port, small stainless sink with manual foot pump, modest counter space and lower cabinets for pots and pans. The dinette separates the galley from the head, which features a small sink. Some boats had only a porta-potti.
The Formica dinette table features a colorful world map, which has become a highlight for the Balboa 26. The V-berth also contains a chain locker. A stove, most often a two-burner, is located to starboard near the bottom of the companionway, followed forward by a settee and hanging locker. The boat carries 20 gallons of fresh water.
At the center of the cabin is a fiberglass housing with wooden cover that conceals the keel board winch. Critics have complained about the placement of this apparatus. The cabin interior has teak bulkheads and teak trim.
Engine
The boat has a self-draining motor well that is clear of all rigging. Most Balboa 26 owners chose a transom-mounted, long-shaft outboard engine in the 9- to 12-horsepower range.
Underway
The most often heard word about the Balboa 26s sailing characteristics is "stiff." The 1,200 pounds of lead ballast helps keep it upright and on track. Owners report it is fast and maneuverable, but is prone to weather helm, so paying attention to the tiller is key. Once the keel board is lowered, the boat can sail close hauled, but owners find her a bit slower off the wind. In this position, the keel can emit a noisy rattle at hull speed, which is about 6 knots.
With the keel cranked up, the boat can enter shoal water and allow for coastal exploring and gunkholing.
Conclusion
The Balboa 26 is a trailerable, stoutly-constructed, economical cruising boat ideal for a couple or small family planning to gunkhole or sail the open sea.
---
SAILING's Value Guide
(5-sailboat rating system)
PRICE: The price of a Balboa 26 can range from about $3,000 to $9,000 depending on condition and whether a trailer is included. (3 sailboats)
DESIGN QUALITY: The trailerable Balboa 26 sloop designed by Lyle C. Hess was first constructed in 1969. It was created to fulfill the demand for an economical cruising boat. The masthead rig has a balanced spade rudder with stainless shaft and a steel swing keel. (3 sailboats)
CONSTRUCTION QUALITY: Built by Arthur Marine/Coastal Recreation, Inc. USA, the boat has a solid, hand-laid fiberglass hull and a fiberglass deck cored with marine-grade plywood. The boat was made to withstand the elements. (4 sailboats)
USER-FRIENDLINESS: This compact masthead sloop is easy to singlehand with its midboom sheeting on a cabintop traveler. The boat is equipped with a beefy, laminated tiller and benefits from a manageable sailplan. The cockpit coamings help keep the crew dry and on board. Walkaround room on deck is minimal if going forward. (3 sailboats)
SAFETY: The Balboa 26 has plenty of safety features, including plentiful ballast, rugged stainless standing rigging, self-draining cockpit and motor well, nonskid deck and cabintop grab rails. (4 sailboats)
TYPICAL CONDITION: Like most boats approaching the half-century mark, the average Balboa 26 may need some upgrading but the integrity of the hull and deck are likely in good condition. (3 sailboats)
REFITTING: Owners note refitting will likely involve replacing the swing-keel bolt, winch cable and other related hardware, upgrading the wiring and electronics, rebedding leaky portals, replacing the forehatch with a newer design, installing a sturdier swim ladder, adding a vapor barrier in the V-berth, and perhaps opting for a built-in head if the model had only a porta-potti. (3 sailboats)
SUPPORT: Although the builder is no longer in business, parts often can be found at Seal's Spars and Rigging, www.sealsspars.com. Specific information about Balboas is available from the Balboa owners association on Yahoo groups and through online discussion forums. (2 sailboats)
AVAILABILITY: Although most Balboa 26s are still sailing, they are only occasionally found on the market. Records are unclear about how many were constructed, but hull No. 384 was recently part of a Balboa 26 discussion group. (2 sailboats)
INVESTMENT AND RESALE: The boat holds its value. (3 sailboats)
OVERALL 'SVG' RATING: The boat holds its value. (3 sailboats)
---
PRINCIPAL DIMENSIONS: LOA 25' 5"; LWL 20' 8"; Beam 8'; Draft (fixed keel) 5'; Draft (swing keel) 1'8" to 5'; Displacement 3,600 lbs.; Ballast 1,200 lbs; Sail Area 296 sq. ft.
---
General Market Price Data