A diminutive sturdy cruiser that is capable of mighty bluewater passages
If there was ever a question about whether the Southern Cross 28 is bluewater capable, Donna Lange's two solo circumnavigations aboard the compact cutter surely answered it. Lange sailed her 1982 Inspired Insanity around the world for the first time starting in 2005, a journey that took 17 months. She did it again in 2015, when she experienced a knockdown and dismasting in 45-knot winds, forcing her to traverse the Panama Canal instead of rounding Cape Horn.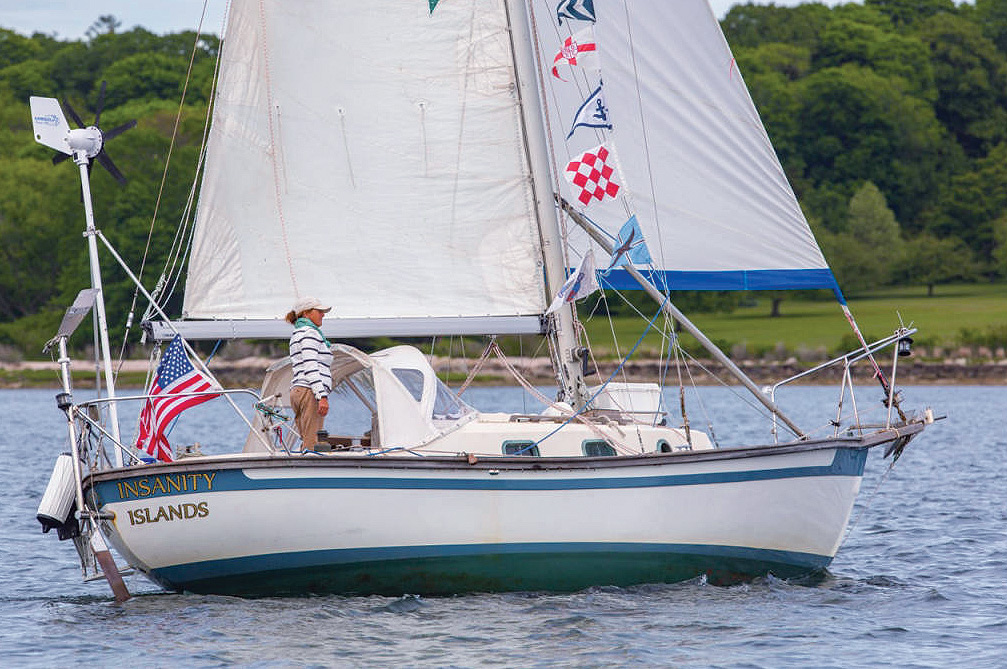 The late naval architect Thomas C. Gillmer designed the double-ended cutter in 1978, three years after the release of his popular SC31. Gillmer previously found success in 1961 with his 30-foot Allied Seawind, which helped establish fiberglass as a suitable material for boat construction. He was still on the Naval Academy faculty at the time, but turned his attention to boat design full time upon leaving.
First impressions
Owners enamored of their SC28s seem to have one thing in common, a love for traditionally styled sailboats, particularly double-ended hulls, decks trimmed with wood and portals framed with bronze. The attraction was part of Gillmer's magic, having in 1976 designed a replica of the 19th-century clipper ship Pride of Baltimore, and later the Pride of Baltimore II.
"We're not racers and we're not looking for performance," said Naomi Rappaport, who with her husband Kevin Brown have owned the SC28 Jade in South Dartmouth, Massachusetts, for 10 years.
"Our boat, hull No. 20 built in 1979, is a traditional design and very solid in a way they don't make them anymore. It's the kind of boat when you see it, you say, 'I like the way you look.'"
Construction
The Southern Cross 28 is a robustly constructed fiberglass cutter with a beefy bowsprit and an encapsulated lead keel. The deck is a fiberglass sandwich with balsa core, while the hull is fiberglass over a layer of Airtex foam. Teak and holly are used generously on deck and in the cabin. Not all the boats were factory finished, which allowed owners of so-called kit boats to customize their interiors. Numerous owners have reported problems regarding the hull-to-deck joint.
What to look for
In preparation for her first voyage, Lange refitted her Southern Cross 28 by rebuilding the keel, rudder and skeg, and repairing hull delamination. Standing rigging, bow pulpit, chainplates and stanchions were replaced. The engine transmission was overhauled. Pumps, electrical system, autopilot and instrumentation were also replaced. During a second refitting following a crossing from Rhode Island to Ireland, the steering vane lost its rudder and needed rebuilding. More electrical system work was completed to prevent short-circuiting. The hull-to-deck joint failed during the passage, allowing more than 100 gallons of seawater to enter. Epoxy was applied to the rail but the joint eventually needed a complete rebuild before she could undertake a longer offshore passage. Lange's upgrades can serve as a guide for potential buyers.
Obviously not every sailor is prepping for a circumnavigation, but certain upgrades are required for some cruising waters, such as installation of a holding tank. Some owners solve this with a flexible bladder while others opt for a hard tank. Buyers should also inspect for leaks in the coachroof, mold on bulkheads and oil in the bilge. A steam cleaning may be necessary. The condition of sails is also a factor since replacing the entire suit can run into thousands of dollars.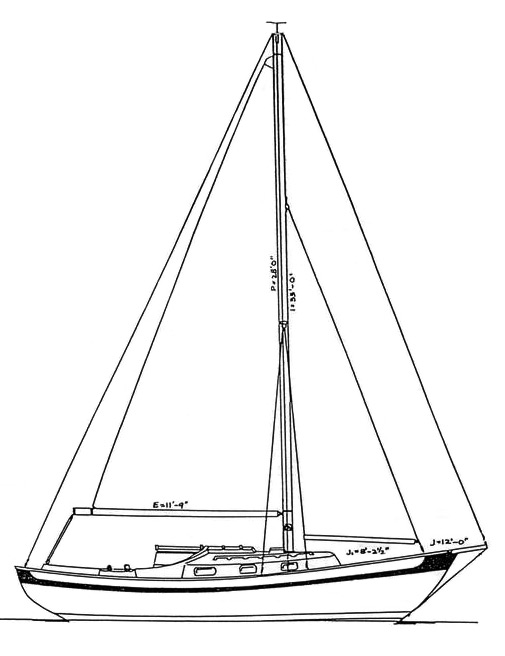 On deck
The SC28 deck features a hatch over the V-berth and dorades for ventilation, bronze or synthetic portals for natural light, and rubrails to protect the boat. Grabrails and lifelines help keep crew aboard. Many boats are equipped with dodgers. The cockpit is relatively small, and the seats are deep for comfort and safety. A bridgedeck helps keep seawater out of the cabin. Most SC28s were built with a tiller that could be converted to wheel steering if desired. The cutter rig and self-tacking jib make singlehanding much easier. Since it can be difficult to bring a genoa around a staysail, the SC28 typically has a Yankee jib.
Down below
The configuration of the cabin depends on the extent to which the boat was finished during production. Generally, the boat sleeps four, but the V-berth is a bit short for a 6-foot sailor. The galley is compact with a two-burner pressurized stove and modest-sized sink. Cabin headroom is just over 6 feet. The head is cramped, causing one owner to consider expanding it into a portion of the V-berth.
"We would love more beam," said Rappaport. "But we're cozy. The boat is well ventilated. And we can go for three weeks very comfortably."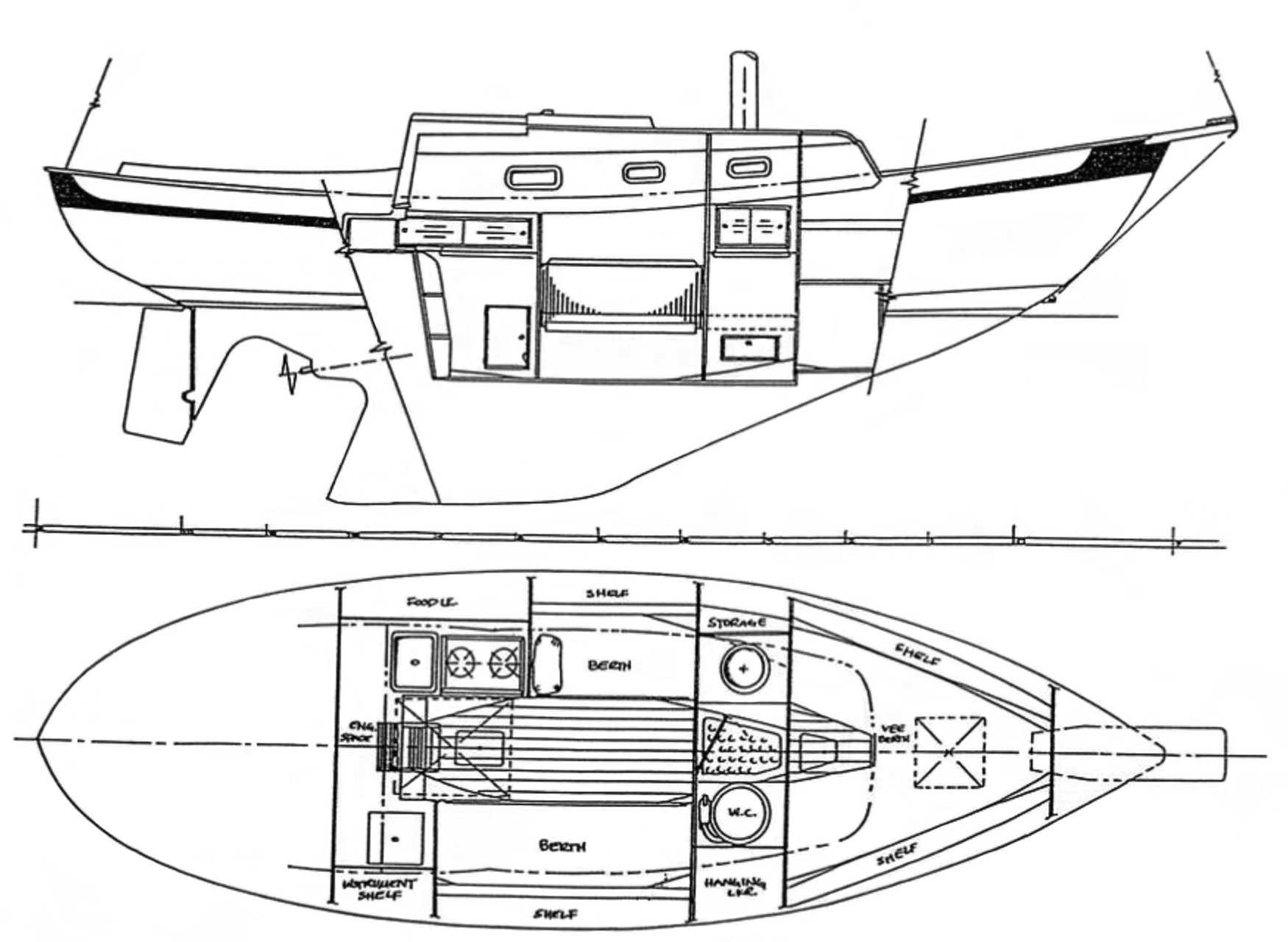 Engine
The 14-horsepower M18 Universal diesel engine was commonly installed during production. Owners mostly agreed the horsepower was adequate to push the boat in a heavy sea.
Underway
"The boat handles easily and turns on a dime. I can do 360s within 35 feet. The maneuverability is incredible," said Rappaport, noting the boat had wheel steering, which they replaced with a tiller.
Brown seconded that opinion. "The cutter rig allows for easy sailing because multiple sail configurations are possible that help keep the boat balanced."
Owners contend the cutaway keel and skeg rudder can be a nuisance in waters peppered with lobster traps and fishing nets. "The skeg rudder protrudes just enough to catch a lobster pot line," Brown said.
SC31 owner Hooper Brooks previously sailed an SC28 hull No. 3 in Maine for a decade. "I like how the cutaway keel can turn on its heel. Very nimble," he said. "But the way the rudder is hung, there is a protruding piece that's actually the bottom of the rudder itself. It should have been cut off because it catches lobster buoys and the rope lodges between the rudder and where it's attached. One owner I know cut it off and actually claimed it made the boat sail better. Otherwise, it's a very good design and tracks like a full-keel boat."
Brooks said the self-tacking jib makes it easier for singlehanded sailors to enter a congested harbor and maneuver among the boats.
Conclusion
Diminutive but seaworthy, the affordable Southern Cross 28 is ideal for a cruising couple with plans to sail near the coast or venture offshore.
SAILING's Value Guide
(5-sailboat rating system)
PRICE: The price of a Southern Cross 28 can range from approximately $17,500 for a hull in moderately good shape to $29,000 for one in turnkey condition. 3 sailboats
DESIGN QUALITY: Also known as the Gillmer 28, the Southern Cross 28 was designed by the late Thomas C. Gillmer, who also designed the 31, 35 and 39. It features shapely ends, a pronounced sheer, low freeboard. With a bowsprit, the boat's overall length and sail are significantly increased. Some sailors contend the rounded stern eliminates vital deck space near the transom. 4 sailboats
CONSTRUCTION QUALITY: A rugged, fiberglass cutter first built by Clarke "C.E." Ryder in Rhode Island in 1978. The hull supports a cutaway keel with an outboard rudder on a skeg. Ballast is lead. The Ryder yard closed in the mid-1990s but most of the SC28s are still afloat 40 years after construction.
USER-FRIENDLINESS: The SC28 is simple to singlehand and rugged enough to take a pounding. Most owners report being able to "turn on a dime." The freeboard, lower than that of the SC31, makes it easier for shorter sailors to climb aboard. 3 sailboats
SAFETY: It was built to handle bluewater sailing, with lead keel for ballast, heavy-duty lifelines, plenty of grabrails on deck and in the cabin, stainless steel bow pulpit and heavy-duty stern pulpit. A cockpit bridgedeck prevents seawater from entering the cabin. 4 sailboats
TYPICAL CONDITION: Since these hulls were offered as factory-finished or kit boats, condition often varies based on the quality of the finish. As one owner put it, "I don't think there are two 28s that look alike below deck." 3 sailboats
REFITTING: New owners or potential buyers should carefully inspect the hull-to-deck joint to determine if separation has occurred. Chainplates and stanchions may require rebedding. The boat may also require a holding tank. 3 sailboats
SUPPORT: Southern Cross Owners' Association, www.southerncross-boats.com. 4 sailboats
AVAILABILITY: Approximately 70 SC28s were produced between 1978 and 1982. At least six were for sale in the United States in 2018. 4 sailboats
INVESTMENT AND RESALE: The SC28 tends to hold its value if properly constructed. Owners generally agree a used SC28 selling for $10,000 will likely require another $10,000 in repairs to make it a bluewater boat. 4 sailboats