A roomy pocket-cruiser that's a breeze to sail
It's not hard to understand why the original Cal 25 appealed to so many sailors. It was relatively inexpensive, easy to maintain, comfortable below deck and fun to sail. Jensen Marine built 1,848 of these compact racer-cruisers between 1965 and 1976, making the Cal 25 one of the company's most popular boats. But like most things, there was room for improvement and changing preferences among the sailing community resulted in the Cal 25-2, also known as the Cal 25 MkII.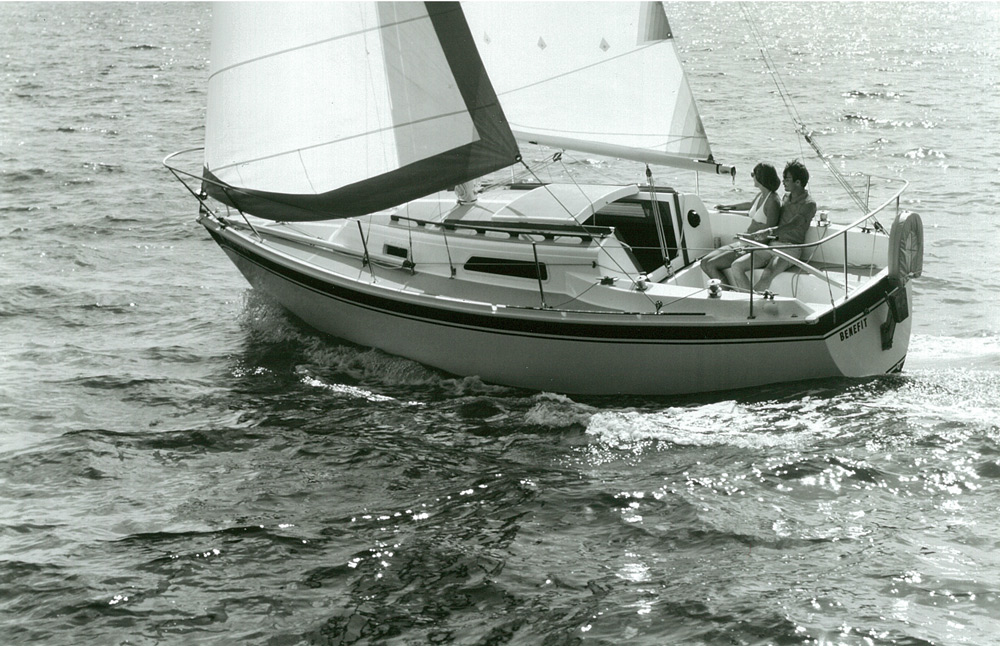 C. William "Bill" Lapworth designed both sloops and successfully incorporated suggestions into the updated model. He widened the beam from 8 feet to 9 feet, beefed up the toerail height, increased the cabin standing room, added privacy to the head, and made it possible for buyers to opt for an inboard diesel instead of an outboard engine.
From 1977 to 1983, Jensen Marine, which in 1965 was purchased by Bangor Punta Marine in Cosa Mesa, California, built 392 Cal 25-2s, many of which can be found sailing in California, Texas, the Great Lakes and the southern reaches of the Eastern Seaboard.
First impressions
The Cal 25-2 is Lapworth's second-generation cruiser. Unlike the original Cal 25, which featured a trunk cabin and was recognized for its flat-top deck, the Cal 25-2 has a raised cabin and a distinctly different profile.
At first glance, the newer design incorporated wider side decks that made it easier for sailors to move fore and aft, and the shrouds were attached inboard rather than to the outside of the hull, further clearing the side deck passageway. The toerails were beefed up to a height of nearly 2 inches.
More surprises were in store below deck. The interior was reconfigured with 5 feet 10 inches of headroom in the saloon, and 5 feet 6 inches in the head, which previously had no privacy screen. The V-berth was made roomy enough for two full-size adults, so it became possible for a small family to cruise comfortably for more than an overnight.
Construction
The Cal 25-2 was constructed using the traditional hand-laid fiberglass layering process. It is considered a sturdy boat that has withstood the test of time. The design featured a fin keel with spade rudder and tiller steering. The keel encapsulated 2,000 pounds of lead, eliminated concern about failing keel bolts and giving the well-balanced hull a displacement of 4,500 pounds.
What to look for
Like any older boat, the Cal 25-2 may exhibit wear from general use, repeated seasonal haul outs and relaunchings that cause the hull to flex or distort, and lax maintenance. Some owners have expressed concern about excessive mast compression as evidenced by fiberglass crazing at the maststep on deck or near the interior cabin liner just beneath it. Potential buyers should inspect for cabintop sag in that area. Indicators of excessive compression also include slack standing rigging and failure of the sliding head privacy door to operate smoothly. Through-hull fittings should also be inspected for wear and standing rigging checked for swage cracks. Based on reports from owners, the electrical system may also require attention if it was improperly installed after the original purchase.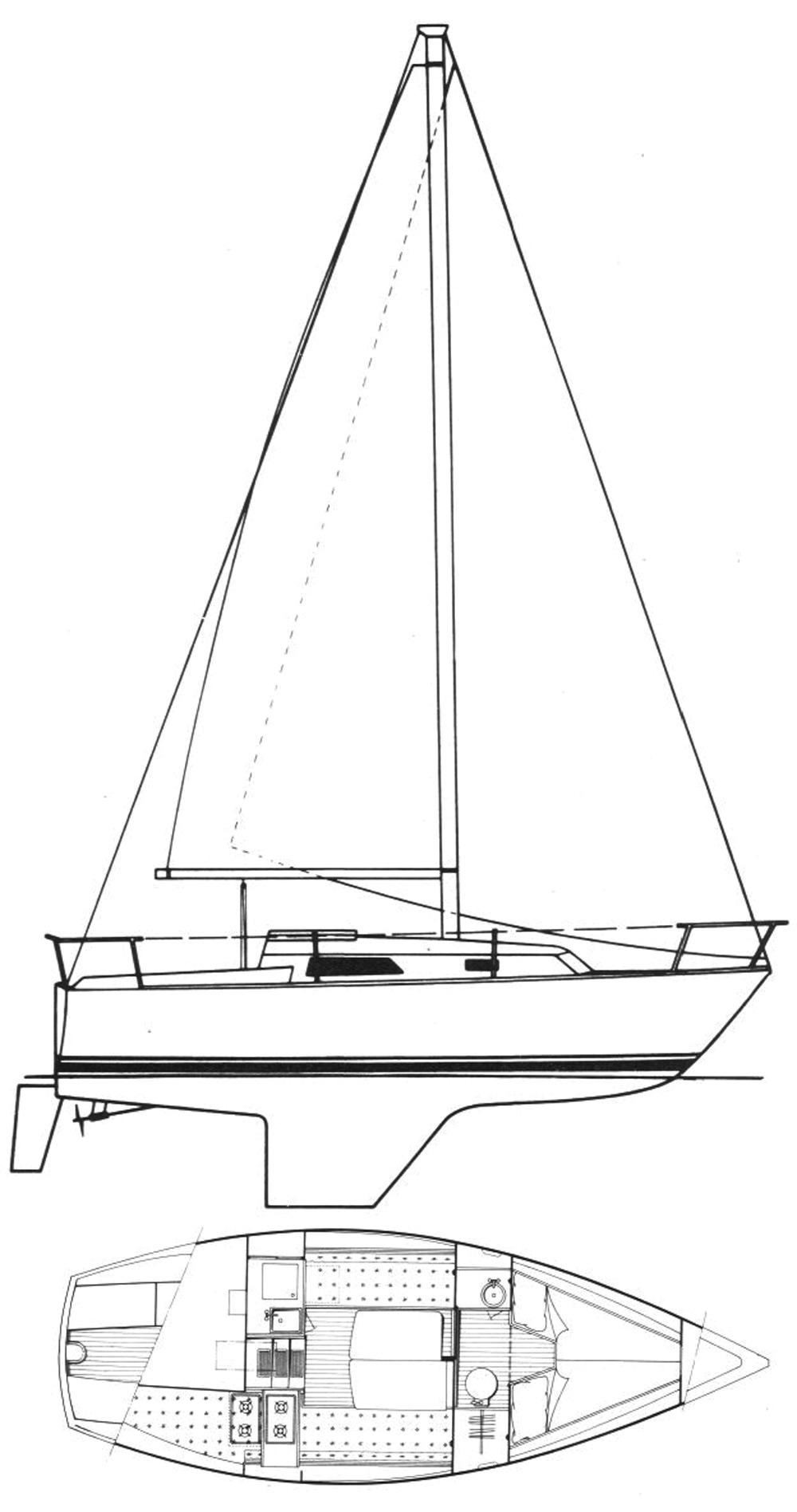 Any spongy areas on the foredeck could be the result of water infusion in the fiberglass layers and subsequent delamination, often caused by leaky chainplates.
"Cal did a very good job with delamination by getting the excess resin out during production," said Tennessee yacht broker Chris Rooke who has two Cal 25-2s in his inventory.
On deck
The Cal 25-2 is a well-designed and nicely equipped masthead sloop. Although only 25 feet long it has the appearance of a larger boat, partially due to its 9-foot beam that allows for wide decks. The traveler is located on the bridgedeck just before the opening to the companionway, where it doesn't interfere with those seated in the cockpit.
The boat has tiller steering. Stainless bow and stern pulpits along with stainless stanchions provide a rugged support system for the boat's lifelines. A stainless swim ladder is attached to the stern.
Although the original winches are not self-tailing, they are strategically positioned and adequate in number, as are the cleats. The cabintop features wooden grabrails, the foredeck a hinged hatch.
Down below
Rooke has sold several Cals over the past 20 years and he's quick to point out the main cabin in the Cal 25-2 "isn't simply big, it was laid out to be lived in." He noted, for example, the head compartment closes with a sliding door, ensuring privacy without sacrificing valuable cabin space. The boat has five full-size berths—two settees, a quarter berth and room for two adults in the V-berth. The galley is laid out efficiently with a 4.5-cubic foot icebox, two-burner alcohol stove, single-basin stainless sink, and a 21-gallon freshwater tank. Dinner is served on a fold-down dinette table.
Engine
While the original Cal 25 relied on an outboard engine, the Cal 25-2 offered the options of a 15-horsepower gasoline OMC Saildrive, an 11-horsepower Universal 5411 inboard diesel, or an 11-horsepower Yanmar inboard diesel. Like any engine, it should be inspected for oil and fuel leaks, worn belts, tired gaskets, secure mounting bolts and overall alignment.
Underway
The Cal 25-2 performs remarkably well in light winds, mostly thanks to its tall rig, generous 314 square feet of sail area, flat bottom and balanced keel. The mainsail is on the small side, making it easy to handle and pair with a variety of headsails or roller-furling adjustments. The boat has a traveler and boom vang to help tweak the sails.
We had the opportunity to sail a Cal 25-2 last summer in windy San Francisco Bay. It was easy to see why fans of this boat describe it as nimble and balanced. The deep keel and wide beam make it less tender. Sailing downwind was effortless. The boat also points nicely, as we found during a fast run from the San Francisco Marina to Sausalito and a jog around Alcatraz and Angel Island. Waves splashed the cockpit whenever we were on a beam reach. And since the bay has a strong tide near the Golden Gate Bridge, it wasn't surprising the boat pounded as we headed upwind in a chop.
Conclusion
Roomy below deck, ruggedly constructed, affordable and fun to helm, the Cal 25-2 sails like a bigger boat, making it an ideal choice for daysailing or coastal cruising with a small family.
---
LOA 25'3"; LWL 22'; Beam 9'; Draft 4'6"; Draft shoal 3'6'; Displacement 4,500 lb.; Ballast 2,000 lb.; Sail area 314 sq. ft.
---
SAILING's Value Guide
(5-sailboat rating system)
PRICE: The asking price for a Cal 25-2 ranges from $5,000 to $10,000. (3.5 sailboats)
DESIGN QUALITY: The Cal 25-2 was designed by C. William "Bill" Lapworth and is often cited for its comfort, efficiency, roominess and ease of handling. The boat features a spade rudder and fin keel, and is known for its well-balanced helm. Lapworth was responsible for many Cal designs, including the most-popular Cal 20 and the much-admired Cal 40. (3.5 sailboats)
CONSTRUCTION QUALITY: Jensen Marine, purchased by Bangor Punta Marine in 1965, built the boats in California with hand laid-up fiberglass and quality materials, including stainless steel, aircraft-grade aluminum and interior teak. (3 sailboats)
USER-FRIENDLINESS: Known for its responsiveness and balance, the Cal 25-2 features roller furling and a boom vang. Owners say the tiller is so balanced a 60-pound person can easily handle the boat in 25 knots of breeze. (3.5 sailboats)
SAFETY: The 9-foot beam and wide side decks with inboard shrouds make it easy for sailors to move fore and aft. The cockpit offers protection from the weather and features a bridgedeck to keep water from entering the cabin. (3 sailboats)
TYPICAL CONDITION: The condition of a Cal 25-2 can range from needing only TLC to a boat needing costly upgrades, such as self-tailing winches, upgraded electronics and instrumentation, self-steering system and new sails. (2.5 sailboats)
REFITTING: Many owners have added self-tailing winches, replaced the portable toilet, upgraded the stove to non-pressurized alcohol, added self-steering and brought control lines back to the cockpit. (2.5 sailboats)
SUPPORT: The Cal 25 Owners Association www.Cal25.org maintains an active presence online. Jensen Marine is no longer in business. (3.5 sailboats)
AVAILABILITY: Five Cal 25-2s were for sale in the U.S. in early 2019. The boat was in production for seven years from 1977 to 1983, and 392 boats were built. Another version under license was built and sold in Brazil as the Martinique 25, which had a shoal draft of 3 feet, 5 inches. (2.5 sailboats)
INVESTMENT AND RESALE: Given that a Cal 25-2 in top condition sells for between $8,000 and $10,000 and has all the features of a 27-footer, makes it a great buy for a used compact cruiser. The boat is a great value, as one broker put it, "You couldn't make a Cal 25 with an inboard diesel today for less than $95,000."(3 sailboats)
Overall SVG Rating: 3 sailboats