This classic Chuck Paine design is a capable offshore cruiser
When Morris Yachts launched the Chuck Paine-designed Annie 29 in 1980, it attracted plenty of attention in the sailing community. Its look was in sharp contrast to Paine's double-ended designs, the Frances 26 launched in 1974 and the Leigh 30 launched in 1979.
"The boats had many similarities, but the Annie had a raked transom with a transom-hung outboard rudder," said Paine, a Camden, Maine, resident with a long list of award-winning designs to his credit.
Paine, who considers himself a disciple of famed boat designer Nathanael Herreshoff, designed the Annie 29 as an offshore cruiser and recreational keelboat. It was available as a masthead sloop or as a cutter. The production run was approximately half sloops and half cutters.
Occasionally some confusion arises when the boat is referred to as the Annie 30.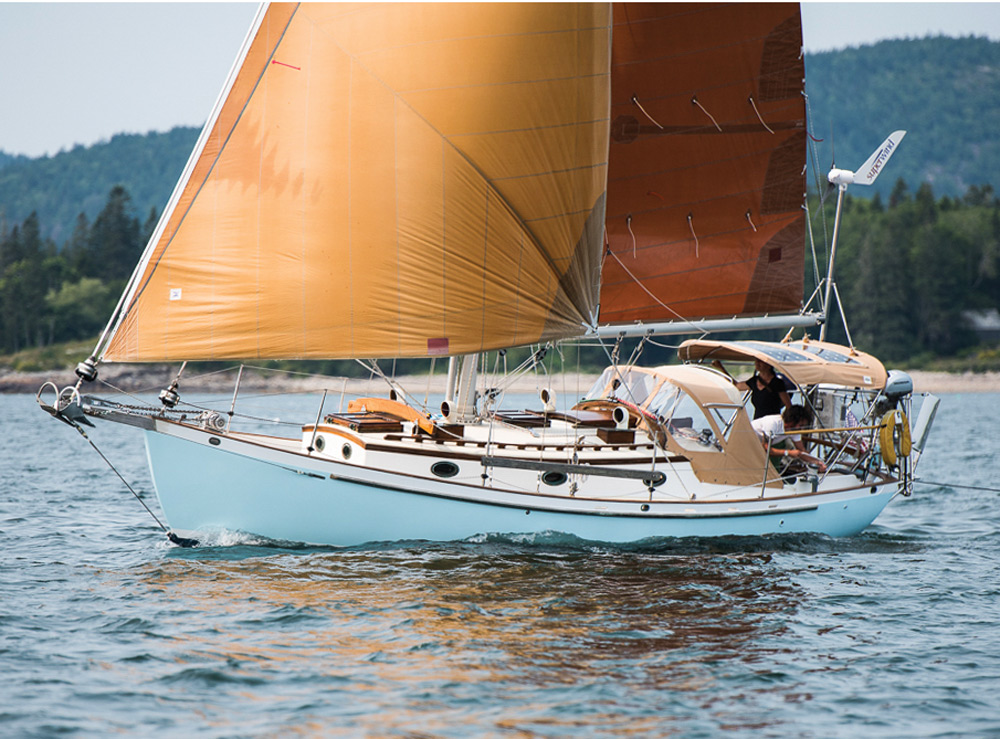 "The hull itself was 29 feet 7 inches long. Once you reckon in the stemhead weldment and the fact the rudder extended from the transom, the overall length was around 31 feet," Paine said. "Tom Morris and I always were assiduously honest in everything we did or said, so we agonized over what length to claim. At first, we called her the Annie 29, so as not to claim something that was not true. But in the end, people were putting them in marina slips and paying rent by the length, in which case calling her 29 was dishonest. So we settled on the name Annie 30."
Despite that naming decision, the boat is most often referred to as the Morris Annie 29, which should not be confused with the Sparkman & Stephens-designed M29, built and launched by Morris Yachts in 2008 as part of its M-Series. Paine eventually designed a revised version of the Annie 29, which he dubbed the Annie 2.
"It was an intellectual exercise that I undertook after I closed the office in 2008. None of them has ever been built, unfortunately," he said. "I would love to see someone build it."
First impressions
With low freeboard, a sharp bow, tall rig and sloped transom, the Annie 29 looks ready to take on most any sea with aplomb. Everything about it looks rugged yet graceful, from the bronze and stainless steel deck fittings to the elegant teak and mahogany trim. It's immediately clear why she has been included on classic sailboat lists worldwide. The closer you look, the more you notice the top-shelf construction materials and the masterful boat building. The Annie 29 radiates quality.
Construction
Morris Yachts built 16 Annie 29s and four more were built by Loomis Yachts in Maine after the company purchased the hull molds from Morris. The solid hull is hand-laid fiberglass. The deck is fiberglass with a balsa wood core. Portals are bronze, though some may be high-grade U.S. stainless steel, depending on owner preference.
The ballast is lead and attached to the keel stub with stainless bolts. All deck hardware is bronze or stainless steel. Handrails, toerails and other deck-mounted wood fittings are typically teak. The stanchions and bow pulpit are stainless steel and strongly support the lifelines. Chainplates independently attach through the deck to beefy fiberglass layers inside the hull.
What to look for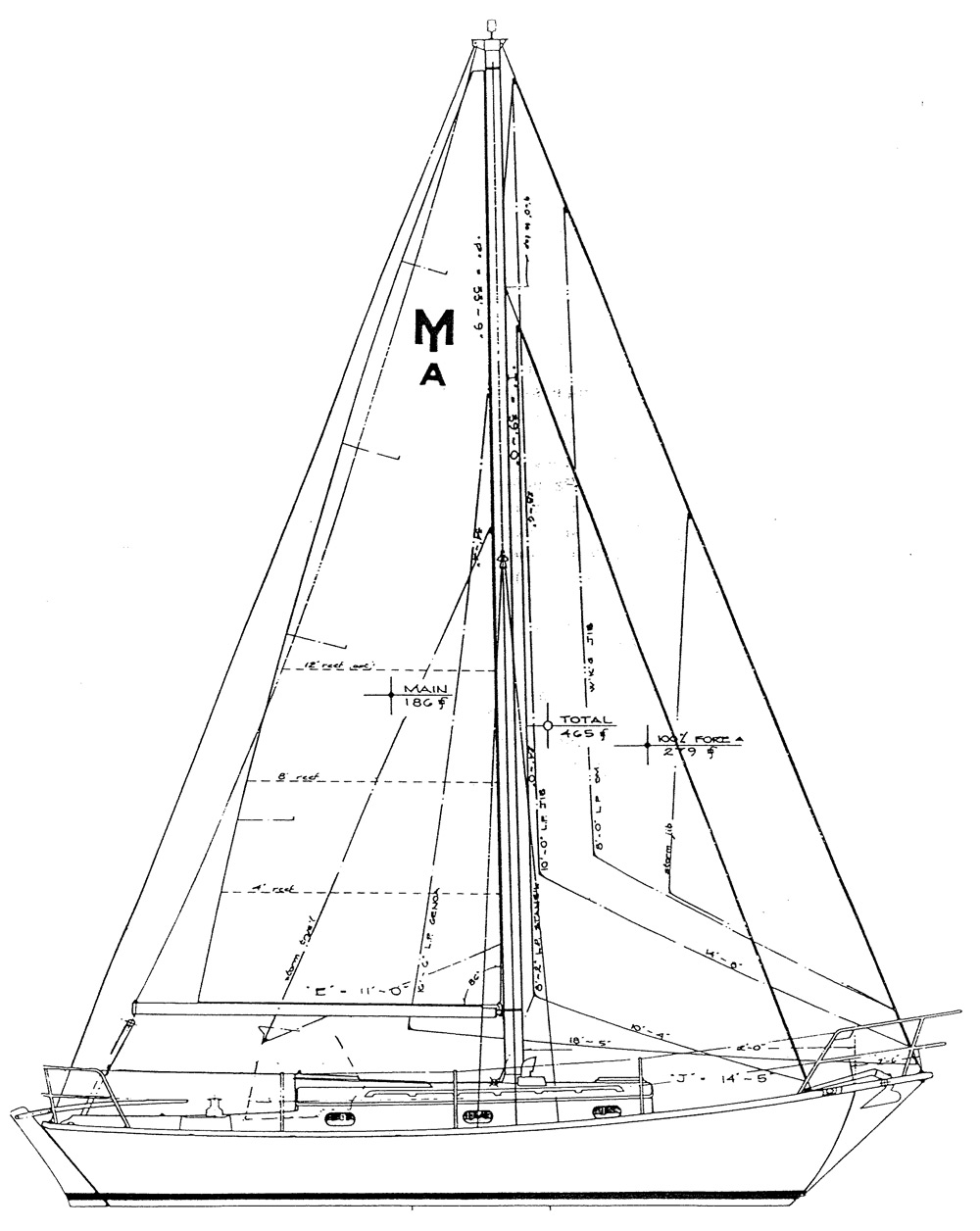 The Annie 29 is nearly 40 years old and time may have taken its toll on certain aspects of the boat. Although the keel bolts are high-quality stainless steel, there's always a chance they've weakened and threatened to separate the ballast from the keel stub. Seacocks, through-hull fittings and chainplates should be inspected.
"You have to take a look at them, but Tom Morris and I asked ourselves how we could make the chainplates last forever," Paine said. "They're designed so that the load is captured by the glasswork. The mast could fall off and the boat's plywood completely rot away, but the chainplates would still be attached to the fiberglass. Besides, they're made from very high-quality stainless steel."
The bowsprit should be examined on the cutter rigs. Deck fittings should be inspected for leaks. The engine, too, should be closely checked for compression, fluid leaks, worn belts and cracked hoses.
On deck
Beauty and functionality describe the deck of the Annie 29, with strategically placed grabrails, protective toerails, appropriately located winches and genoa tracks and an adequate number of cleats. Boxed dorades offer ventilation in addition to the main hatch and companionway door.
"I really appreciate ventilation aboard a boat," Paine said.
The mainsheet traveler is mounted aft of the cockpit where it doesn't interfere with crew movement. Roller furling was in its infancy in 1980, or as Paine put it, "a novel idea at the time and a lot of owners didn't believe in it." As a result, furlers were not installed on the earliest Annie 29s and about a third had steering wheels.
Down below
The elegant interiors were finished in teak or mahogany with masterful joinery. Some of the later models featured cherry wood, however, no two Annie 29s are alike.
"When these boats were being built in the early 1980s, the owners explained what sort of layout they wanted and Tom Morris was glad to follow those plans, with some recommendations," Paine said. "Tom enjoyed making interior modifications."
The V-berth sleeps two and has a privacy curtain. Most boats have a settee and a drop-leaf table that converts to an additional berth. The galley was usually located to starboard near the base of the companionway stairs and featured, a stainless basin sink, two-burner stove and top-loading icebox.
"Refrigeration came much later," said Paine. "If it's on one of the Annies it's
a retrofit."
The boat carries approximately 40 gallons of freshwater. Later models had 12-gallon waste tanks.
Most Annie 29s received natural light from three or four portals on each side of the cabin and one forward, in addition to deck prisms. The head was installed either near the V-berth or farther aft in place of the chart table and dresser, depending on owner preference. A shower was optional and used freshwater engine cooling to heat the water.
Engine
The boat was designed with two-cylinder Volvo engine with 18 gallons of diesel. Paine noted there was no standard engine during the production phase of the Annie 29.
Underway
Annie 29 is a heavy-displacement cruiser with a tall rig with a large sail area. It has a long keel with a cutaway forefoot and tends to track nicely.
Most of the cutters had a boom on the staysail, while the yankee sail was hanked on. The mast was shorter on the cutters, but it carried slightly more sail area than the sloops.
According to Paine, the external ballast positively affects handling because it creates a stiffer boat.
"With internal ballast, the center of gravity is higher up due to the way the lead is encapsulated inside the hull. There's more up at the top and less at the bottom where it tapers, which can be a drawback," Paine said.
Conclusion
The Morris Annie 29 is a classic, compact, seaworthy keelboat capable of cruising offshore in style and comfort.
---
SAILING's Value Guide (5-sailboat rating system)
PRICE: The market price typically runs between $60,000 and $90,000.
DESIGN QUALITY: Famed naval architect C.W. "Chuck" Paine designed the Annie 29 after gaining a solid reputation for his double-enders built by Morris Yachts in Maine. The Annie 29 was available as a sloop or a cutter.
CONSTRUCTION QUALITY: The late Tom Morris, who founded Morris Yachts in 1972, built most of the Annie 29s. Morris had already earned a reputation for quality construction.
USER-FRIENDLINESS: Owners report the boat is simple to reef and anchor, and easy to handle in a wide range of sea conditions. The boat exhibits heavy weather helm during a hard blow, according to Paine. The earlier models lacked roller furling so the foresails were laboriously hanked on.
SAFETY: The Morris Annie 29 has been described by owners as safe, sturdy and seaworthy and is known for its bluewater sailing capabilities. Plenty of external lead ballast helps keep the hull upright and provides a lower center of gravity. A dodger protects the small cockpit while high coamings keep the crew dry. Heavy-duty stanchions and lifelines add another measure of safety.
TYPICAL CONDITION: Owners of Morris-built boats are typically proud of their investment and tend to have adequate resources to maintain the vessel in good-to-excellent condition.
REFITTING: The Morris Annie 29 is a relatively expensive boat, which translates to higher costs when refitting. And since only 16 were built, there is no warehouse of spare parts. At nearly 40 years old, the boats may require replacement of holding tanks and keel bolts and repair of deck delamination.
SUPPORT: Morris Yachts was acquired by The Hinckley Company in 2016. Hinckley services Morris-built boats at its facilities along the East Coast from Maine to Florida.
AVAILABILITY: Only 16 Morris Annie 29s were built by Morris Yachts and they remain in demand. Four were on the market in the United States during summer 2019. Loomis Yachts of Maine later built three or four additional Annie 29s to the same rigorous standards imposed by Morris.
INVESTMENT AND RESALE: As with most Morris-built boats, the Annie 29 holds its value over time, with potential buyers putting trust in Morris' reputation.
---
Principal dimensions: LOA 29'7"; LWL 24'6"; Beam 9'5"; Draft 4'6"; Displ. 11,027 lb.; Ballast 4,400 lb.; Sail area 459 sq. ft.
General Market Price Data
$75,000 1982 Maine; $79,500; 1983 New York; 1991 $89,000 Maine