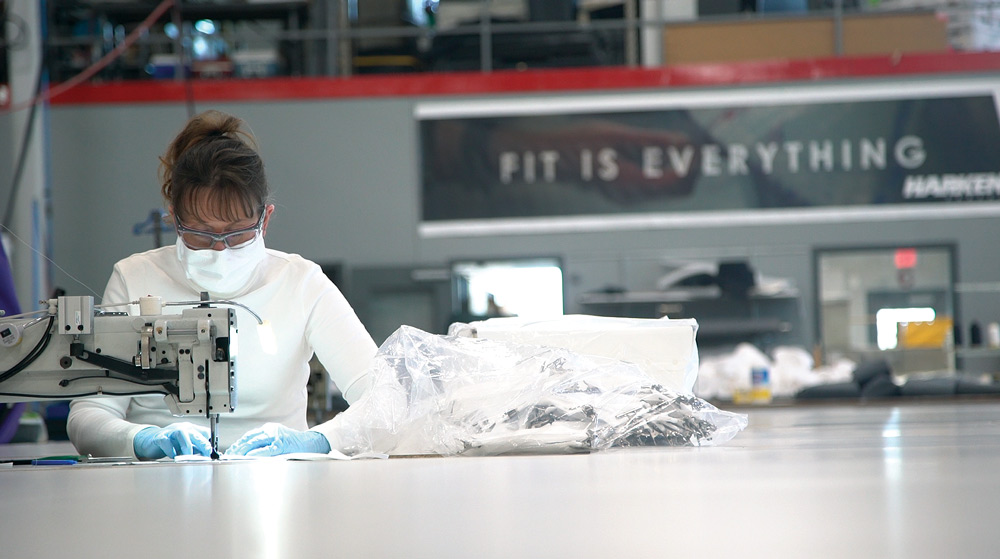 The sailing industry has been through tough times before, the recession and fuel shortage in the 1970s and most recently the recession in 2008, but the coronavirus pandemic that erupted in February could be the biggest challenge yet. While it is too early to tell what impact it will have on the future of the sport, many companies have quickly shifted gears to switch to online products and services and even pitched in making medical supplies for the healthcare workers on the front line.
"We joined a local consortium of business in southeast Wisconsin called One Million Masks to make PPE for local health care providers," said Bill Goggins, CEO of Harken USA. "We were inspired by Allen Edmonds Shoe Co., which did a good job of creating a system for making the masks."
Working with other area business that also donated the hospital-grade material, Harken engineers and CNC operators created hand-operated jigs to precisely fold the masks. Once the hand-operated jigs were built, the time-consuming task of folding the cloth was handed out to volunteers in the community, including Goggins' own children. The Harken Canvas department, which usually makes boat covers and boat cushions took over the sewing.
West Marine also pitched in, helping to supply PPE to health care workers in California. It worked with multiple researchers to transform Ocean Reef snorkel masks into respirators for hospitals and health care systems. The company is also working at a local level to make donations that meet hospital-specific needs.
"We kept seeing reports of scuba masks with the potential of being adapted into respirators and we realized this was a real possibility to do our part during this pandemic," said Ken Seipel, CEO of West Marine. "We've worked closely with all of these organizations to develop the appropriate adaptor for the masks and as the masks continue to be deemed acceptable PPE, we are ready to begin distributing over the next few weeks."
West Marine also donated products to help create 4,000 face shields to be distributed throughout the San Francisco Bay Area and store managers across the country donated to local area hospitals and health care systems, including 5,000 gloves in Fort Lauderdale, a supply of bungee cord to make face masks in Richmond, Virginia, and 150 spray suits in San Diego.
Usually using sewing machines for making sails, companies such as UK Sailmakers and North Sails have also stepped up.
UK Sailmakers New York delivered PPE to local hospitals in Westchester County, New York.
"We only found out about the shortage at Montefiore hospital when some of our customers shared that they have kids working there without adequate PPE," said the loft's Emmett Dickheiser. "These gowns may only be a drop in the bucket, but it's a start."
Many of North Sails service lofts around the country are producing masks for their local communities. North Sails manufacturing loft in Milford, Connecticut, is offering pre-cut mask kits in a pack of 20 that provide the material and instructions for do-it-yourself masks for $20 plus shipping and handling.