A proven, long-range cruiser for two that is forgiving and economical
The seaworthy Downeaster 32 was designed by Bob Poole, who founded Down East Yachts in Santa Ana, California, during the fiberglass boatbuilding heyday of the 1970s. Poole was an East Coast native and boat-industry executive at Columbia Yachts, which by the late 1960s was the world's largest fiberglass boat manufacturer. A Maine sailor, he favored traditional lines and solid construction.
Poole envisioned building strong boats in an East Coast style and selling them on the West Coast. With 14 years of boatbuilding experience to his credit, including head of engineering, quality control and customer service at Columbia Yachts, he quit his job to start his own company in 1974.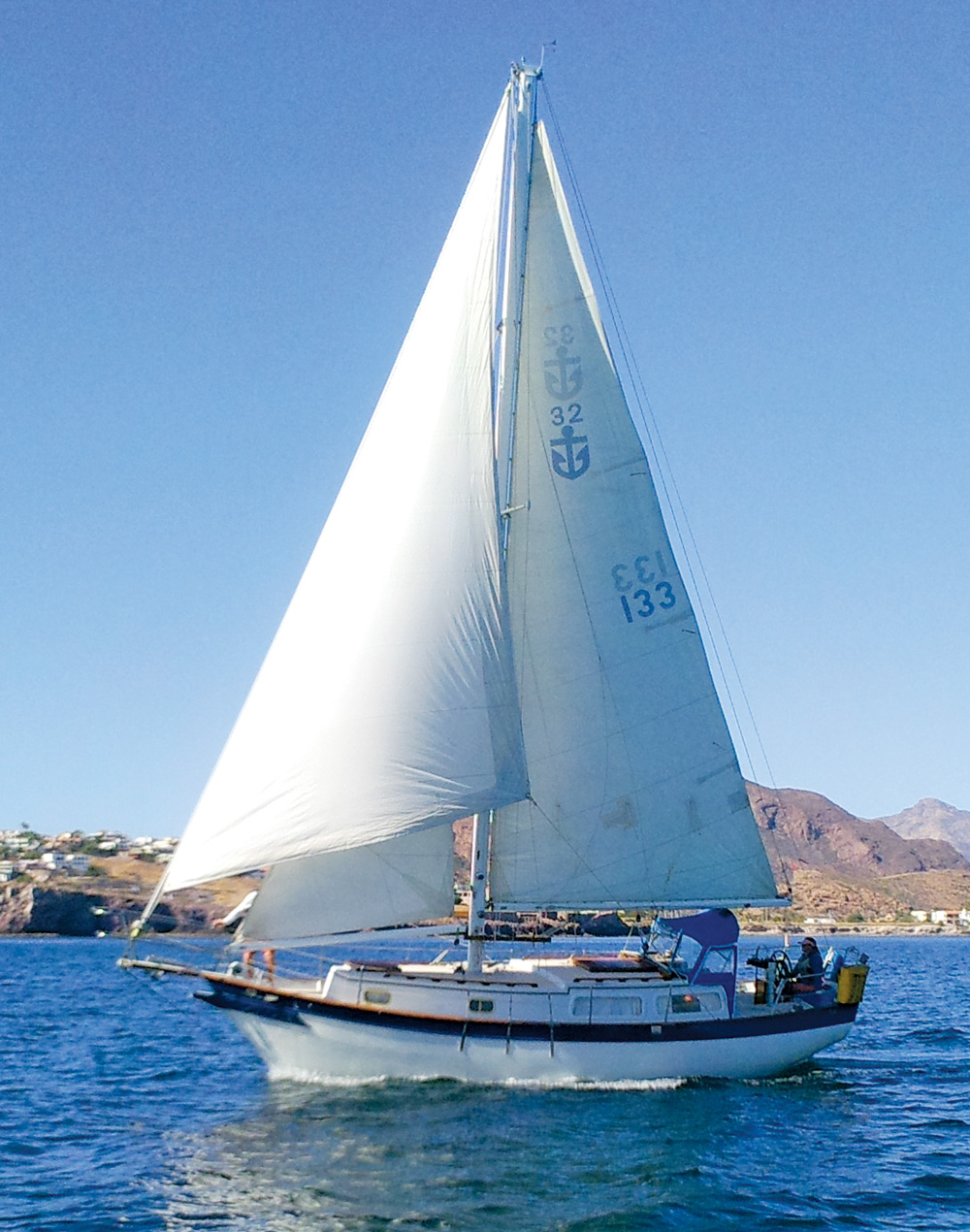 The first boat off the assembly line in 1975 was the Downeaster 38, which Poole designed in collaboration with self-taught engineer and boat designer Henry Mohrschladt, who was then an engineer at Columbia Yachts and later went on to co-found Pacific Seacraft.
"Bob put himself at great risk by leaving Columbia to start his own company. The odds of success were definitely less than 50-50," Mohrschladt said. "He wanted Columbia to build the 38. The dealers liked it, but Dick Valdes, then president of Columbia, decided not to do it."
A few months following the Downeaster 38, Poole unveiled the Downeaster 32, a traditional, heavy-displacement cruiser of his own design. The boat went on to join the ranks of Down East Yachts' most popular models. It has been compared to the Westsail 32, Pacific Seacraft Mariah 31 and the Island Packet 31.
Poole died from cancer in 1978, but Down East Yachts survived until 1983. By then, 134 Downeaster 32s had been built, the last one in late 1980. Vast changes had swept the boatbuilding industry as the price of oil soared and with it the cost of resin. In 1983, the molds and tooling were sold to Newport Offshore Yachts.
First impressions
One look at the Downeaster 32 and you'll be buying offshore charts for a bluewater passage. Strong and beefy-looking, the traditionally styled, heavy-displacement cruiser with classic lines was an immediate head turner. The cutter rig with its clipper bow, 4-foot bowsprit, elegant woodwork near the stem, and externally mounted chainplates add to the overall look. Many admirers initially believed the hull was made of wood because the mold featured faux planking lines.
Construction
Built of hand-laid fiberglass, the thick laminate hull protects the keel-hung rudder and propeller. The mast is stepped onto a compression post. The master craftsmen at Down East Yachts paid close attention to detail.
What to look for
The Downeaster 32 is solidly built, but after more than 40 years some parts will likely need upgrade or repair. The mast steps to a compression post and reports from owners indicate the set-up can soften and sag just below the cabin sole due to deterioration and lack of a wood block between the post and the keel.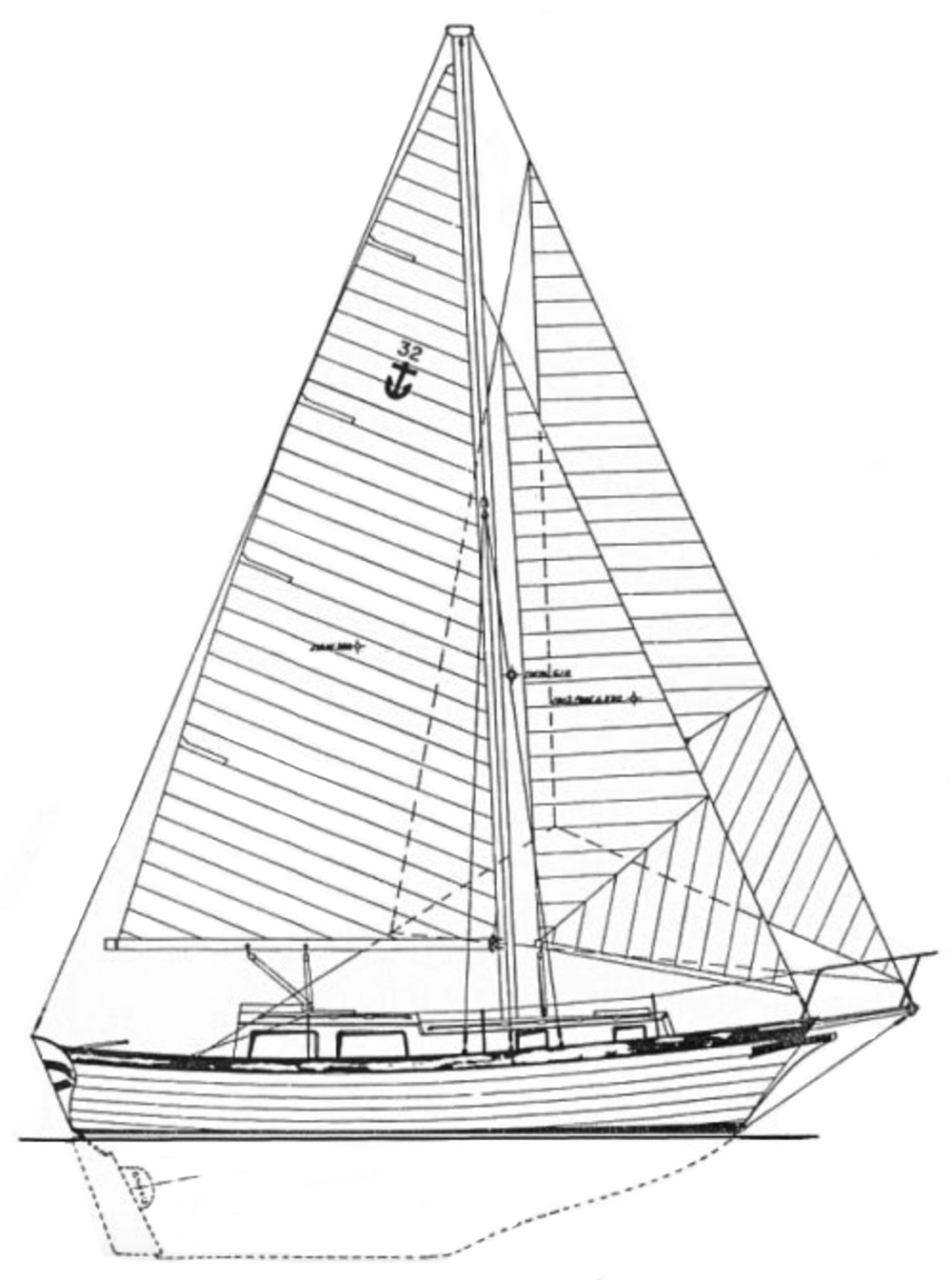 Deck delamination is also among the most common problems. Deck leaks are typical, very likely due to through-deck fittings that have lost their caulk seal and allowed infusion of water into the composite deck. Some owners said the fuel tanks are difficult to replace without extensive carpentry.
Potential buyers are warned to inspect the spreaders carefully for cracks or weakness. If an amateur carpenter has modified the boat, it's best to get a quote on the cost to replace nonoriginal cabin paneling, electrical and plumbing parts. Many owners have replaced the original Farymann diesel. The cutlass bearing should be inspected, based on the number of reported repairs. All belts and hoses on the engine should be inspected and replaced if necessary, as should any through-hull fittings. The engine should be examined for fuel or oil leaks.
On deck
The boat was designed with tiller steering but some owners replaced it with a wheel. The cutter rig gave the boat plenty of get-up-and-go. The sailplan was simple and efficient. Grabrails were bolted to the coachroof for safety. There is adequate walk-around space going forward. Mohrschladt designed the hull, rig, engine placement and ballast, but not the deck.
"I thought the deck was clunky looking. Too many sharp edges and that very tall house sitting on it," he said.
Down below
Each Downeaster 32 was finished below deck to the owner's specifications and preferences, which means no two 32s are alike. Tall sailors appreciate the 6-foot 4-inch headroom in the galley and 6 feet 10 inches in the saloon.
The boat sleeps six­­—two in the V-berth, three on the saloon bunks and one on the quarterberth to starboard. Original models had two doors closing off the V-berth for privacy from the adjacent head traffic.
The U-shaped galley features a gimbaled store, refrigerator/freezer and icebox, and a stainless, double-basin sink. The boat has two hanging lockers and other storage compartments. The forward cabin has a standing closet to starboard and drawers beneath the berth for additional storage.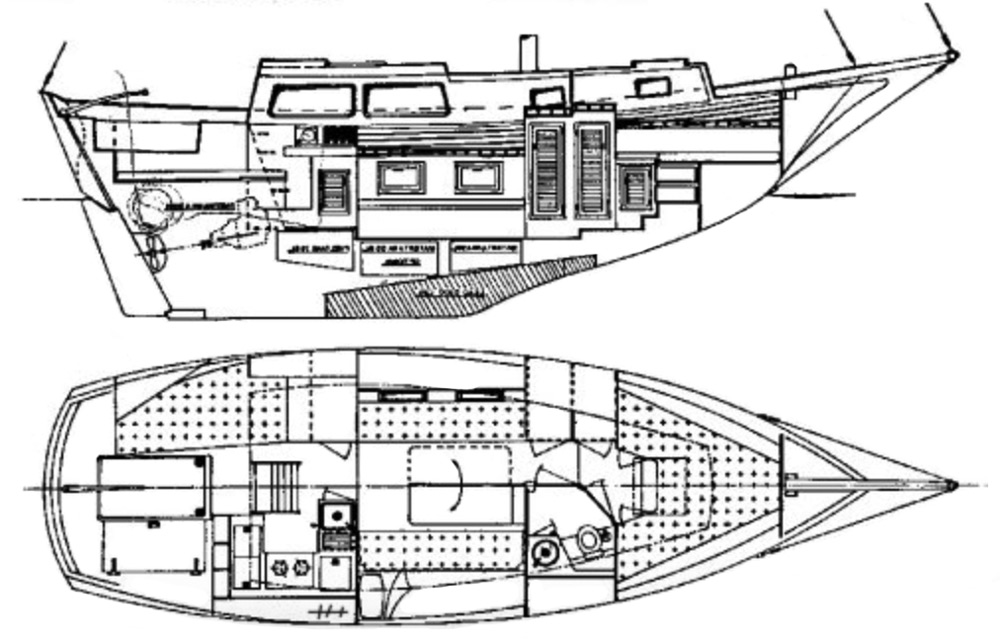 The boat carries 50 to 100 gallons of freshwater in a stainless steel tank and features a 30-gallon wastewater holding tank. With an 11-foot beam, there's plenty of room down below. The cabinets and bulkheads are finished in warm woods, with teak the dominant material. The dinette table in the saloon drops down to convert to a double bunk. The nav station is to starboard at the bottom of the companionway stairs. Four ports provide natural light, while hatches channel ventilation into the saloon.
Engine
The boat was fitted with a 24-horsepower Farymann diesel and carried 50 to 75 gallons of fuel in an aluminum tank. It was considered underpowered and became the subject of pervasive criticism. The Farymann was often replaced by a three-cylinder Yanmar diesel. Owners reported that accessing the engine and the bilge though two side openings was difficult. The Farymann was praised for its emergency hand-cranking feature.
Underway
According to comments on a Downeaster 32 owners' forum, the boat has reasonable performance on all points of sail, and sails exceptionally well in heavy weather, without hobbyhorsing. One owner noted, "Her full keel and beamy hull make her very smooth and comfortable while sailing, even in 25 knots."
Another wrote that his boat handled commendably in Mexico and in the South Pacific through all types of weather, including during Hurricane Lester.
The boat's cutter rig allows for various sail arrangements that can make for smoother and more comfortable sailing. The full keel helps ensure stability in offshore conditions, while the wine-glass stern assists with handling and performance.
Conclusion
The Downeaster 32 is an economical, solidly constructed, traditionally styled, heavy-displacement cruiser ideal for couples or singlehanders planning to sail offshore.
---
SAILING's Value Guide (5-sailboat rating system)
PRICE: The price of a Downeaster 32 ranges from $7,200 for a fixer-upper to more than $35,000 for a boat in pristine condition. Whether the original Farymann engine has been replaced with an upgrade will likely be a price factor. (3 sailboats)
DESIGN QUALITY: The Downeaster 32 was designed by Bob Poole and became one of Down East Yachts' most popular models. The full-keel boat had a cutter rig, cutaway forefoot and a wine-glass shaped transom. (3 sailboats)
CONSTRUCTION QUALITY: Down East Yachts built the DE32s in Santa Ana, California, from 1975 to 1980. A total of 134 fiberglass hulls were constructed to Lloyd's specifications. The Downeaster 32 has been called overbuilt and seaworthy based on the quality of the craftsmanship. (3.5 sailboats)
USER-FRIENDLINESS: Owners have described the Downeaster 32 as a forgiving and seakindly boat for novice sailors, while performance capable for more experienced crews. (3 sailboats)
SAFETY: The heavy-displacement sloop is nicely balanced by 5,500 pounds of lead in the full keel, and known among its admirers as sturdy, stable and comfortable in offshore conditions. The full keel protects the rudder and propeller. (3 sailboats)
TYPICAL CONDITION: The boat's rugged construction helps ward off aging but a glance at the current used-boat market suggests conditions can vary widely after more than 40 years, multiple owners and design modifications. (2.5 sailboats)
REFITTING: Some owners have replaced the tiller with an after-market steering wheel. The Farymann diesel engine was considered underpowered and was typically replaced by a Yanmar or Beta engine. Fuel tank replacement is common. Deck hardware cannot be accessed with the vinyl headliner in place and removing it is difficult. (2.5 sailboats)
SUPPORT: Downeaster 32 owners may find information on the Cruisers Forum at www.cruisersforum.com. Down East Yachts went out of business in 1983. (2.5 sailboats)
AVAILABILITY: During late summer 2019 there were five DE32s for sail in the United States and one in Mexico. (3 sailboats)
INVESTMENT AND RESALE: The Downeaster 32 with an upgraded engine and undamaged hull is a sound purchase for a couple planning to long-range cruise without draining their savings, though the boat likely will not increase in value. (3.5 sailboats)
OVERALL 'SVG' RATING: (3 sailboats)
---
General Market Price Data
$7,200 1976 Maryland
$17,500 1976 Washington
$35,900 1979 Florida
---
LOA 35'6"
LOD 32'
LWL 25'10"
Beam 11'
Draft 4'9"
Displacement 17,000 lbs.Ballast 5,500 lbs.
Sail area 602 sq. ft.