This well-built center-cockpit cutter can take you offshore in comfort
The center-cockpit Kelly Peterson 46 has sparked plenty of discussion among sailors who favor bluewater cutters, mostly because it's often compared with its little sister, the popular Kelly Peterson 44 performance cruiser.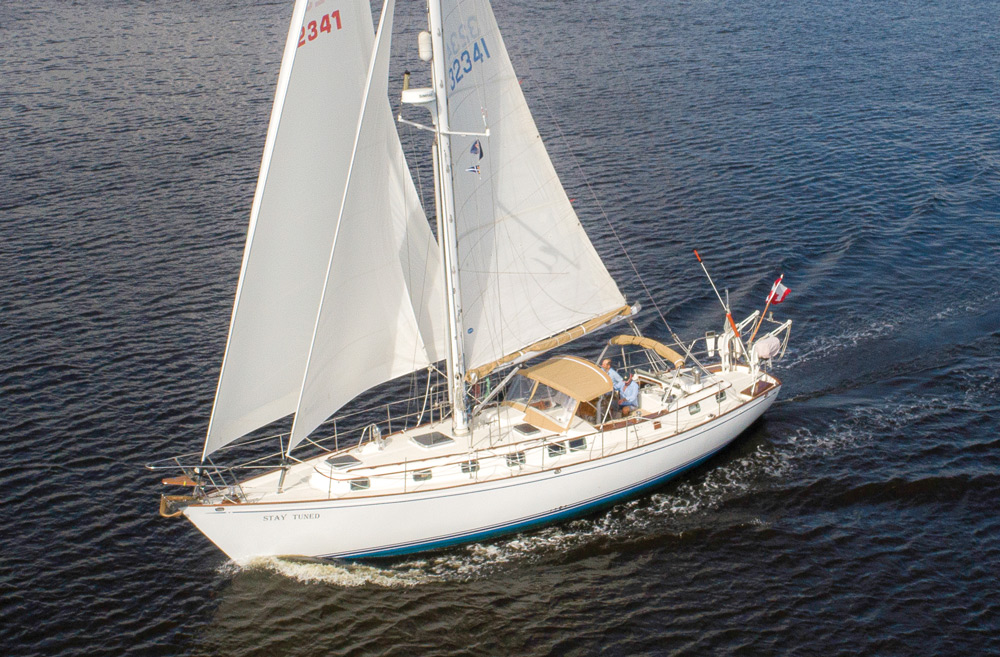 The KP46 is basically a lengthened version of the KP44, a design change that admirers agree gives the hull a more elegant sheer and some additional space below deck. Beyond that, the boats are significantly different in terms of construction quality, interior layout and sea-handling ability.
Both the KP44 and KP46 were designed by Doug Peterson, a California yacht designer who caused heads to turn when in 1973 he designed the one-tonner Ganbare, an IOR racer with an innovative fin keel and spade rudder that was widely praised for its overall appearance and sailing capabilities.
In 1976, he designed the Peterson 44 performance cruiser for Jack Kelly Yachts. Kelly was a sixth-generation San Diegan who grew up sailing. After his Navy fighter plane was shot down in the Pacific during World War II, he was rescued and returned to duty. Upon retiring from the military he became a West Coast yacht broker, but eventually turned his attention to building boats, and his goal was to build the kind of boats his clients were always dreaming about but couldn't find.
The KP46 was built in Taiwan by the Queen Long Marine Co. shipyard under Kelly's close supervision. Production began in 1980 and ended in 1990, during which only 30 KP46s were constructed.
First impressions
The KP46 is a center-cockpit cutter, but unlike many boats with that deck layout, it retains an elegance often sacrificed to make way for a cockpit high off the water. Peterson designed the boat so that the cockpit isn't raised and the overall lines of the hull at deck level remain unbroken.
"Everywhere we go she turns heads," said KP46 owner Emmanuel Lavoie, who is about to embark on an extended cruise to the South Pacific with his wife. "The perfect blend of traditional and modern lines creates a classic-looking sailboat. When I show people pictures of our KP46 they comment that the boat looks fast."
Construction
The Kelly Peterson 46 hull and deck are hand-laminated, reinforced fiberglass. The deck is Airex cored between fiberglass layers and finished in teak or a nonskid surface. The interior is constructed using teak veneer plywood and solid teak. Structural members are bonded with fiberglass to the hull and the deck. The lead keel ballast is internally bonded into place with fiberglass. The skeg-hung rudder is a high-density foam blade with a stainless steel rudderpost.
KP46 owner Brad Harley described the boat as a great trade off between speed, stability and cruising comfort.
"Both the hull and interior design are quality and make good use of existing space," he said. "The KP46 benefitted from the hundreds of KP44s made, and as such it's a very polished design."
What to look for
Like any boat, the KP46 isn't immune to age or neglect. Addressing leaks, wear and tear, rudder problems and an outdated engine can quickly increase the cost.
"A KP46 came on the block at what I thought was a very reasonable price," said KP46 owner Michael Tar of Toronto. "It turned out to be in very bad condition, one owner, but an owner who fixed everything himself, in the cheapest way possible. It was a nightmare of wiring, plumbing and water-damaged interior from leaks."
On deck
The KP46 has a low profile and graceful sheerline. Tracks and other hardware are recessed into the deck.
"The center cockpit makes for much drier conditions and better motion for those on board," Tar said. "The tracks are all sunken into the deck, so there' s much less chance of rolling your ankles."
According to Lavoie, the secondary companionway provides access to the aft cabin, but the hatch is prone to leaks. The cockpit has a bridgedeck, a safety feature that keeps water out of the companionway. Owners note the rear lazarettes are impractically small, as is the propane locker that can hold only two small cylinders.
Down below
Owners have described the layout below deck as intelligent and brilliant.

"Pretty much everywhere I look on the boat, I see intelligent, sensible design and construction choices that show a designer and builder who cared," Lavoie said. "I love the two private cabins and heads."
Harley praised the cabinetry and joinery.
"It's excellent, which is expected as it came out of Queen Long, which is where Hylas Yachts are made. Coincidentally, we have friends on a Hylas 44 of similar age and all the hardware is identical."
Florida yacht broker Melanie Neale at Sunshine Cruising Yachts, which listed the KP46 Havana Goodtime said the layout, with a large V-berth, comfortable master stateroom aft and two private heads makes it ideal for a family that is world cruising.
Four separate water tanks provide approximately 200 gallons of drinking water in stainless tankage. A central gray-water holding tank eliminates the need for additional through-hulls.
Down below, the master berth is aft, with private head and shower. The engine is farther forward, near centerline, with its own workbench to port, directly across from a generator on the starboard side.
The galley is to port, across from which are a chart table and locker. There's a settee to port, across from a C-shaped dinette.
Engine
The KP46 was originally outfitted with a variety of engines, including the freshwater-cooled, 82-horsepower Volkswagen Pathfinder Model 85 diesel. Boats that have undergone an engine upgrade often choose a Yanmar diesel.
"Our boat was repowered with a 125-horsepower turbo Yanmar that is way oversized. I think a 75- to 90-horsepower, is the sweet spot for this boat," Lavoie said.
Tar said he had a similar experience with Stay Tuned and repowered with a 75-horsepower turbo that is lighter, quieter and easy to service from both sides.
"The first thing I like to show people when I show this boat is the workshop just aft of the galley," Neale said. "There's plenty of access to the engine and a workbench with room for tool storage is located adjacently. An overhead lazarette provides light and ventilation."
Underway
Neale said the boat's rig is fairly simple, adding, "It's a cutter and so easy for a couple or singlehander."
Lavoie purchased his KP46 in May 2019 and completed his first 1,100-nautical mile offshore crossing from Fiji to New Zealand five months later.
"We hit 35-knot winds and 15-foot swells on our trip to New Zealand. We never once felt unsafe, the boat just kept charging on at 8 to 9 knots," he said. "Light air has been fine too. I wish the boat pointed a bit higher, but that seems to be the reality of this era."
Lavoie said the boat's deep draft makes parts of the world harder to access. "As with all things, it's a trade off," he said. "My wife was attracted to the KP46 for its comfort ratio in heavy weather."
Conclusion
The impeccably designed and constructed Kelly Peterson 46 cutter epitomizes the ideal offshore boat for a cruising couple or small family.
---
SAILING's Value Guide
(5-sailboat rating system)
PRICE: The price of a Kelly Peterson 46 ranges from $125,000 to nearly $160,000. (3 sailboats)
DESIGN QUALITY: The KP46 was designed by award-winning American naval architect Doug Peterson of San Diego. (3.5 sailboats)
CONSTRUCTION QUALITY: The KP46 is known for its quality construction, built in Taiwan by the Queen Long Marine Co. shipyard under the supervision of yacht designer/builder Jack Kelly of California. (3.5 sailboats)
USER-FRIENDLINESS: Owners report the boat is easy to handle in most sea conditions and if rigged appropriately can be sailed singlehanded or with sparse crew. Michael Tar, broker and owner, said "The boat weighs close to 20 tons, so it's not a light-wind boat, but she has more than 1,000 square feet of sail and can still move along." (3 sailboats)
SAFETY: The KP46 is a bluewater cruiser with a skeg-hung rudder, cockpit bridgedeck and heavy lifelines among its many safety features. Owners commend the boat's ability to perform in adverse sea conditions. (3 sailboats)
TYPICAL CONDITION: The KP46 is well built but contains plenty of teak and other rare woods both on deck and below deck, which translates to more maintenance. (3 sailboats)
REFITTING: Refitting the KP46 can be a challenge given the high-quality of original construction, particularly boats with teak decks that require attention. Most refits include replacing the original engine with a more powerful Yanmar diesel. (3 sailboats)
SUPPORT: The Peterson Cutter Group with 589 members, the Kelly Peterson 44/46 Owners Group on Facebook and the support forum www.KP44.org offer information. The Queen Long shipyard in Taiwan where the boats were built is still in business. (3 sailboats)
AVAILABILITY: Only 30 KP46s were built between 1980 and 1990. Three were on the market during winter 2020. (2 sailboats)
INVESTMENT AND RESALE: If properly maintained, the KP46 holds its value since the Taiwanese builder has a long-standing reputation for quality. The cutter already has an audience of admirers and would-be buyers.
PRICE: The price of a Kelly Peterson 46 ranges from $125,000 to nearly $160,000. (3 sailboats)
---
Principal dimensions: LOA 46'3"; LWL 40'10"; Beam 13'4"; Draft 6'8" ; Displacement 33,300 lb.; Ballast 11,330 lb.; Sail area 1,100 sq. ft.
---
General Market Price Data
$159,00 1982 California