In the dark of the night in the far south Atlantic, Jean Le Cam, right, rescued fellow solo skipper, Kevin Escoffier, left, after his boat broke in two and sank in the Vendée Globe Race
"I need assistance. I am sinking. This is not a joke. MAYDAY."
That was the last message Kevin Escoffier was able to send from his foiling IMOCA 60 PRB before it sank in the
South Atlantic.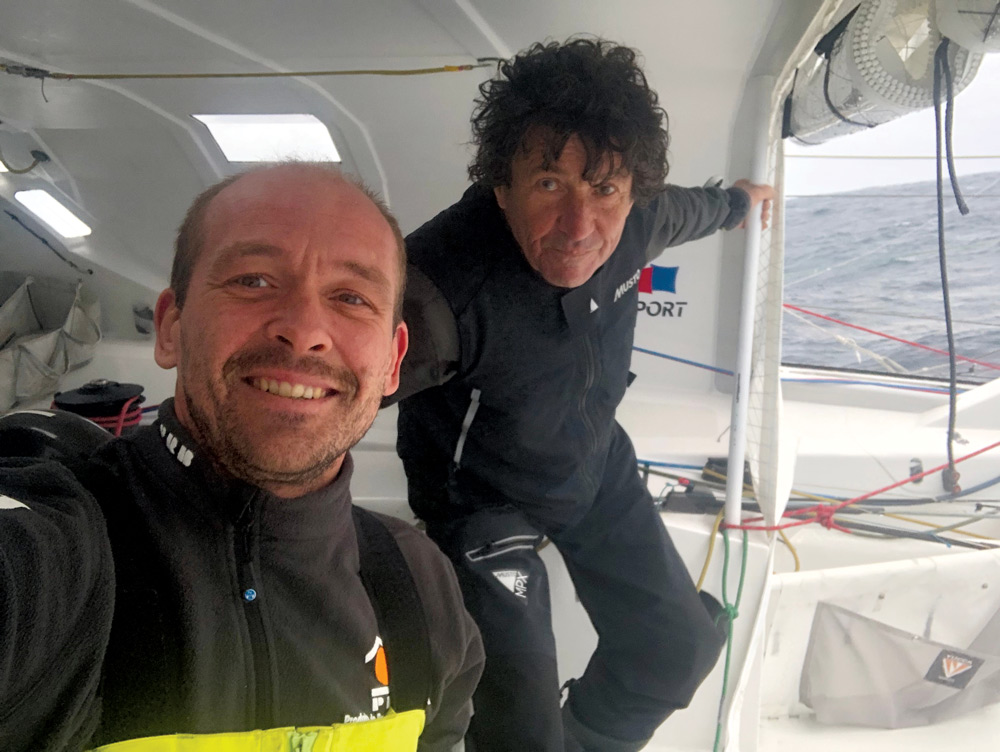 Kevin Escoffier / PRB
On November 30, the 40-year-old solo sailor was in third place in the Vendée Globe solo around-the-world race some 840 nautical miles southwest of Cape Town, South Africa, when his boat sailing at 27 knots buried its bow in a wave.
"In four seconds, the boat folded in half, the bow was 90 degrees, and I had one second to send a text before the electronics fried," Escoffier said. "It was completely crazy."
The solo sailor had only time don his survival suit, grab a GPS and inflate his life raft. Concerned that carbon fiber shards would damage the raft, he cut himself free as the boat sank.
Far from land, his only hope of rescue would be a fellow competitor. His hope would be answered by 61-year-old Jean Le Cam, a veteran solo sailor racing his fifth Vendée Globe. Le Cam was 30 miles behind in fourth place aboard his older nonfoiling IMOCA 60 Yes We Cam, and he turned his boat to the coordinates sent by race headquarters.
"I was two hours away from PRB, and when I got to the position given by the tracker I saw Kevin in his life raft. I told him I'd be back, no need to rush things," Le Cam said.
With 32-knot winds and steep, 15-foot seas, Le Cam needed to shorten sail before attempting rescue.
"It was not an easy maneuver, and by the time I came back to the spot where I left him, he was not there," Le Cam said.
With nightfall fast approaching, race headquarters diverted two nearby competitors to aid in the search. Escoffier's PLB beacon was giving intermitting signals, but Le Cam kept searching, hoping to see a light.
"I saw a flash of light reflecting off the waves and set off toward it," Le Cam said. "It's amazing because you switch from despair to an unreal moment."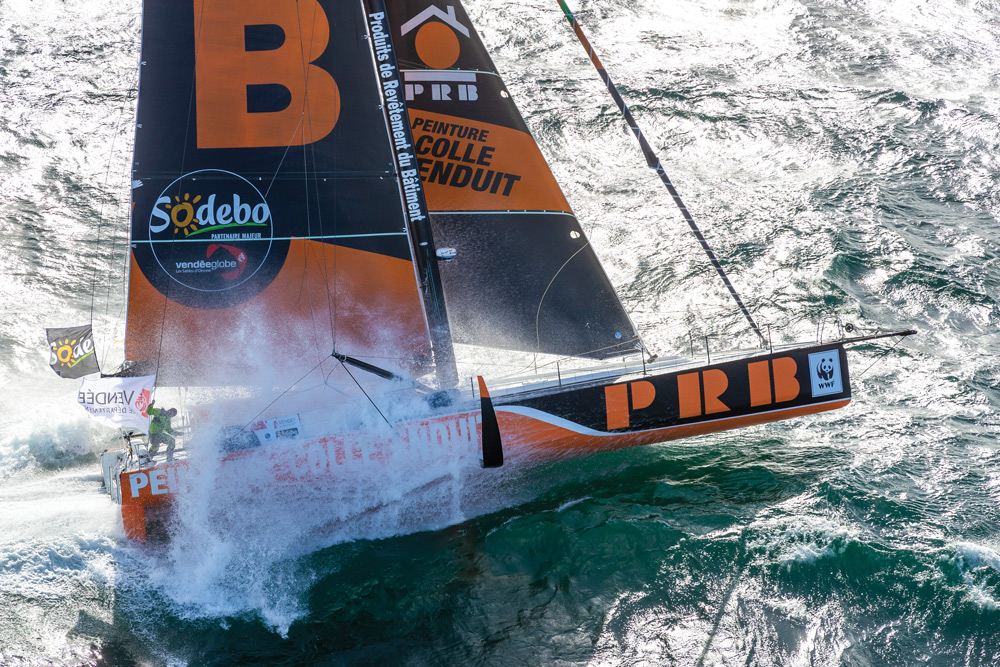 Jean-Marie Liot PRB photo
Le Cam positioned the boat to windward, drifting down toward the life raft.
"Kevin asked, 'Will you be back?' and I said 'We are doing this now,'" he said.
Le Cam threw a life ring and Escoffier swung to the back of the transom, climbing aboard between the rudders.
"I am sorry for disturbing your race," Escoffier said, once aboard. To which Le Cam replied "Sorry about your boat."
The pair also joked about the irony of Le Cam coming to the aid of PRB because Le Cam had been rescued off Cape Horn during the 2008-2009 Vendée Globe from his capsized IMOCA 60 by the skipper of the previous PRB, Vincent Riou.