When 'Fast is Fun' is designed to cruise, you get a swift passagemaker
There's really no way to talk about the Santa Cruz 52 without stating the obvious: It's fun to go fast. Bill Lee, who designed the SC52 along with several other sleek and speedy sailboats of varying sizes, actually adopted "Fast is Fun" as his mantra, one he continues to abide by nearly 30 years after the first SC52 was constructed in Santa Cruz, California.
Known in the big-boat sailing community today as "The Wizard," Lee was born in Idaho in 1942, but was raised in California sailing El Toro dinghies in Newport Beach.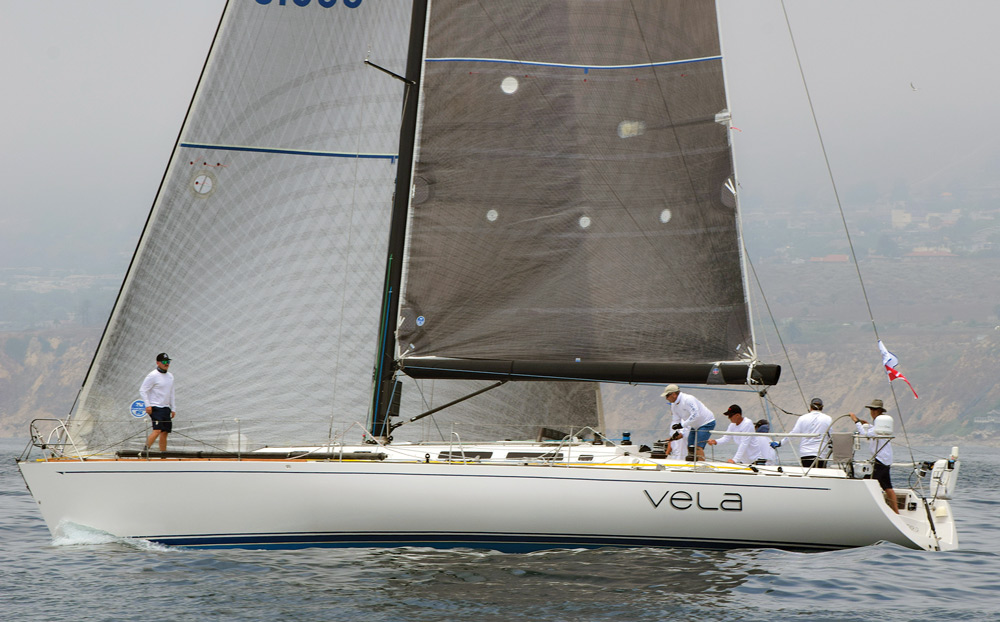 He graduated in 1965 with a mechanical engineering degree from Cal Poly at San Luis Obispo, California, and worked in the defense industry. Lee caused a stir in the 1970s when he introduced what would become a new classification of boats­—the ultra-light displacement boat or ULDB. His designs attracted plenty of attention.
In 1973, he designed the Santa Cruz 27, a masthead sloop with a short boom. It was his most popular design with 145 boats built. Four years later, he designed the 68-foot Merlin, which won the 1977 Transpac Race from Los Angeles to Honolulu, crossing in only eight days, 11 hours, with a top boat speed of 28 knots.
Lee went on to design other go-fast boats that were significantly lighter than their competitors at the time, primarily due to his integrated construction method and use of lightweight materials. In the late 1970s and early 1980s, Lee added a 33, 40, 50 and 70 to the Santa Cruz series. The Santa Cruz 52 joined the fleet in 1992. Twenty-nine SC52s were built at the company's yard in Santa Cruz.
First impressions
The Santa Cruz 52's slim hull and sleek overall profile radiate the potential for fast sailing. When asked to describe the boat, Lee once said, "We crossed a Swan with a rocket ship."
Santa Cruz resident Skip Ely has owned and sailed his 1995 Santa Cruz 52 Elyxir for 25 years.
"The hull shape is similar to Swan boats weighing 40,000 pounds, while the 52 weighs half that," he said. "I believe there is still no comparable boat that races and cruises so well. The aspects that make it a great racer contribute to her ability to outperform other cruisers, while remaining a well-appointed cruising boat."
Construction
Lee figured out early on in his career that big fiberglass boats needed to lose weight if they were expected to go fast. Cruising boat interiors are almost always overloaded with heavy furniture. Lee found the solution in the use of Kevlar for strength and balsa wood for its near weightlessness. He also developed a building process that integrated the boat's furniture during the hull construction, so that these appurtenances would actually increase its strength.
"This is a very comfortable boat," Ely said. "The furnishings are structural, so the boat is strong and light. They didn't finish the hull and then send in carpenters to install everything else, which would add unwanted weight."
Ely's words dovetailed with what Lee has often declared. "It's no longer necessary to equate strength with weight." The message is echoed in an SC52 sales brochure." Every piece of furniture, every panel, every cabinet, is fully and carefully bonded to the hull and deck, providing an integrated hull support structure."
Steven Davis, who with Tim Dornberg purchased the 1997 SC52 Vela two years ago, praised the boat's interior.
"The best thing about the Santa Cruz 52 is that while it's fast and a thrill to sail, it's also outfitted with a cruising interior and very comfortable," he said.
What to look for
The earlier SC52s are now approaching 30 years old and could be showing signs of age. Although some owners have modified their boats, "most are still pretty much as they were delivered from the yard in Santa Cruz," Davis said.

"We race it hard, put it away wet, and it still looks great," Ely said.
But technology has changed the way sailplans are configured, and many owners are choosing asymmetrical kites over symmetrical spinnakers.
"The asymmetrical kites would still be on a pole, which allows the kite to be pulled back and squared to the wind," Davis explained. "This setup allows for the best of both worlds."
Potential buyers should take note of whether the boat has upgraded to furling headsails and new navigation and communication electronics, given the advancements in technology since the boat was introduced. The addition of electric winches, dodgers, biminis and other equipment could impact the boat's value.
Davis said a common SC52 upgrade involves swapping out the original rudder for one with a high aspect ratio, the primary benefit being fingertip control with the new design and less drag.
The boat was made with a 9-foot fin keel or a 7-foot shoal model.
On deck
A masthead sloop, the boat has anodized aluminum spars, although carbon fiber was an option. The big wheel on the raised helm station is hard to miss, as is the large cockpit and open transom. The seats serve double duty as lockers. There's a swim step on the stern, four opening Lewmar deck hatches and eight portholes flood the interior with light. The boat has a bow roller and an optional windlass.
Down below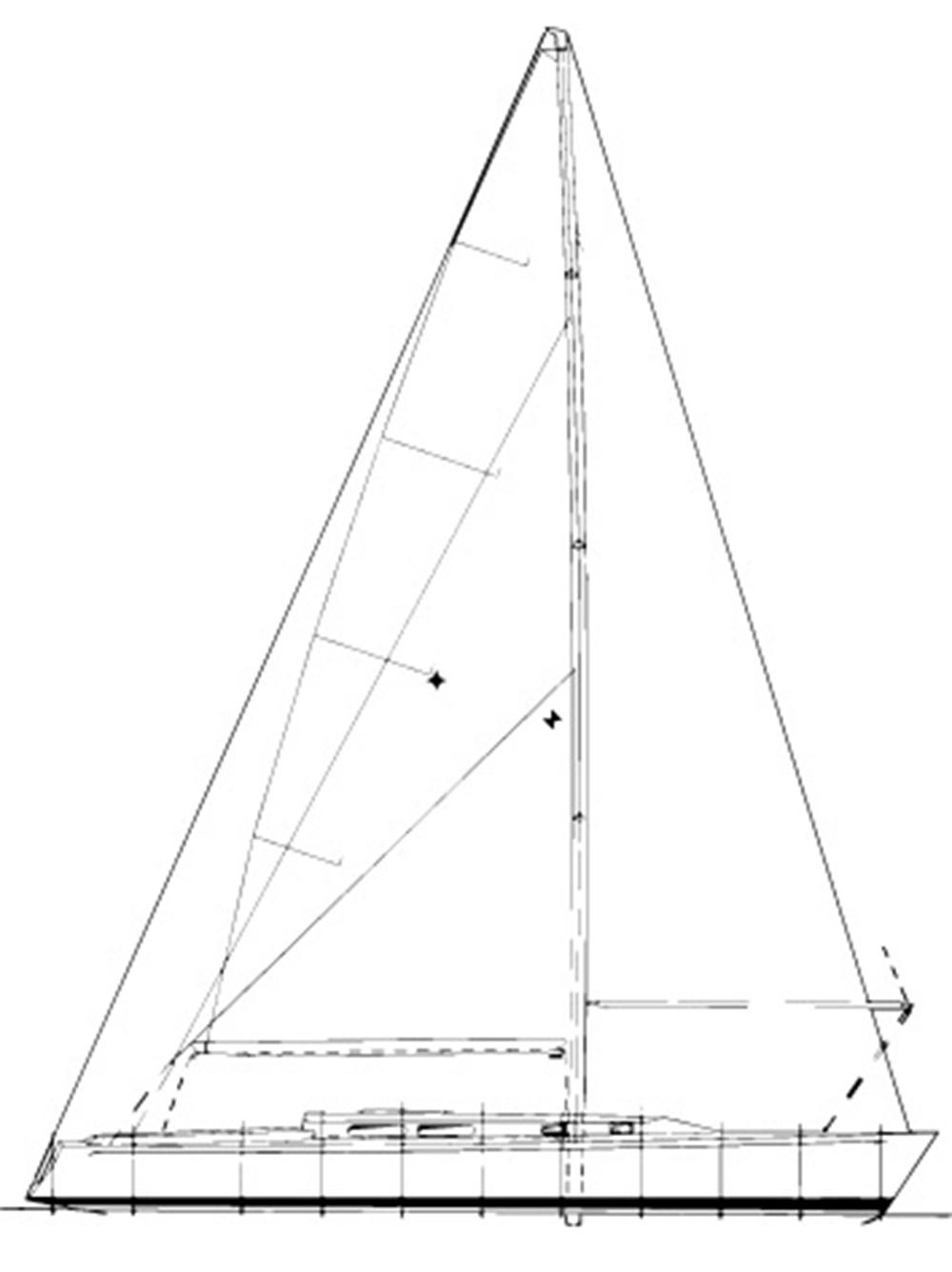 The SC52 is intelligently designed below deck with a wide open saloon, two private cabins, two heads, port and starboard pilot berths, a large dinette, a spacious nav station with full-size chart table, and all electronics and instrumentation within easy reach. There's a full galley set up for cooking while under way. According to Ely, even the boat's pilot berths are comfortable and well placed. The saloon has 6 feet 4 inches headroom. The forward head has a separate shower. The owner's stateroom has ample space, which Lee claimed was his favorite place to sleep. The Kevlar-reinforced bow is backed by a watertight collision bulkhead.
The teak-and-holly sole adds a feeling of warmth and luxury. There's plenty of ventilation provided by the deck hatches and eight opening Lewmar ports. The galley features a three-burner LPG stove with oven and broiler, an 8-cubic-foot refrigerator/freezer, and a watermaker. The boat carries 143 gallons of fresh water.
Engine
The SC52 relies on a 62-horsepower Yanmar 4JH2-HTBE diesel engine for auxiliary power. The boat carries 86 gallons of fuel. The engine easily pushes the boat, which weighs significantly less than other performance cruisers of similar size.
Underway
The SC52 gets high marks for its handling ability.
"When sailed shorthanded, due to the light displacement and powerful sailplan, she will sail at wind speed upwind in light air without overlapping headsails," said Ely. "Her hull was designed to perform well on all points of sail and is very stable. She will sail upwind in heavy wind with comfort exceeding heavier cruising boats such as Swans."
Ely waxed enthusiastically about a recent sail off the California coast. "In 7 knots of wind we can sail 7 knots of boat speed up wind. We keep it at 5 or 6 knots but the boat wants to go eight and pound."
Conclusion
The Santa Cruz 52 is a sleek, lightweight, well-constructed sloop, designed for comfortable extended cruising or ocean racing.
---
LOA 53'; LWL 46' 6"; Beam 14'; Draft 9' ; Displ. 21,000 lb.; Ballast 9,100 lb.; Sail area 1,327 sq. ft.
General Market Price Data
$294,000 1993 Vancouver, BC
$389,000 2000 California
---
SAILING's Value Guide
(5-sailboat rating system)
PRICE: The asking price for a Santa Cruz 52 during autumn of 2020 ranged from a low of $294,000 for a 27-year-old boat in Canada to $389,000 for a 2000 model in California. 3 sailboats
DESIGN QUALITY: Bill Lee, a mechanical engineer turned naval architect, designed the Santa Cruz 52. He is perhaps best known for Merlin, a 68-foot ocean racing yacht weighing a mere 25,000 pounds, which he designed and built in 1977. The Santa Cruz 70 and other ultralight displacement boats followed. 4 sailboats
CONSTRUCTION QUALITY: The SC52's hull is made from blister-resistant materials and a vacuum-bagged balsa core. There is a watertight Kevlar-mat collision bulkhead in the bow. Spars are anodized aluminum but carbon was an option. The interior framing is a key component in the boat's overall structure, strength, and weight. 4 sailboats
USER-FRIENDLINESS: Despite being designed as a go-fast yacht, the SC52 is outfitted with a comfortable, cruising interior. The boat can be easily sailed by a couple on an extended global voyage or by a short-handed crew in an ocean race. 3.5 sailboats
SAFETY: With its balanced sailplan and rugged construction, the boat provides secure and stable sailing in rough seas. It surfs smoothly downwind with spinnakers in a heavy breeze. The boat's roomy cockpit has substantial combings and drains quickly through the open transom. 3.5 sailboats
TYPICAL CONDITION: Most of the boats for sale in autumn 2020 were in excellent condition with evident maintenance and upgrades. 4 sailboats
REFITTING: Owners have made various changes over the years, such as adding furling headsails, electric winches, dodgers and biminis. Replacing the older-style rudder with a high-aspect model, which allows fingertip control and less drag, is among the most common upgrades. 3 sailboats
SUPPORT: Santa Cruz Yachts is no longer in business. Bill Lee, who still lives in Santa Cruz can be contacted through his website, www.fastisfun.com. There's a sizable racing fleet of SC52s in California and some of the boats participate in the TransPac and other well-known ocean races. 2.5 sailboats
AVAILABILITY: Of the 29 Santa Cruz 52s built, at least three were for sale in the United States and Canada in autumn 2020. 3.5 sailboats
INVESTMENT AND RESALE: The Santa Cruz 52 tends to hold its value. The average selling price was $300,000 in 2020 despite having been built nearly 30 years ago. 3.5 sailboats
OVERALL 'SVG' RATING: 3.5 sailboats