This midsized Canadian cutter is robustly built for bluewater passagemaking
Not every boat was finished in the same way, but the galley typically has plenty of cupboards and drawers for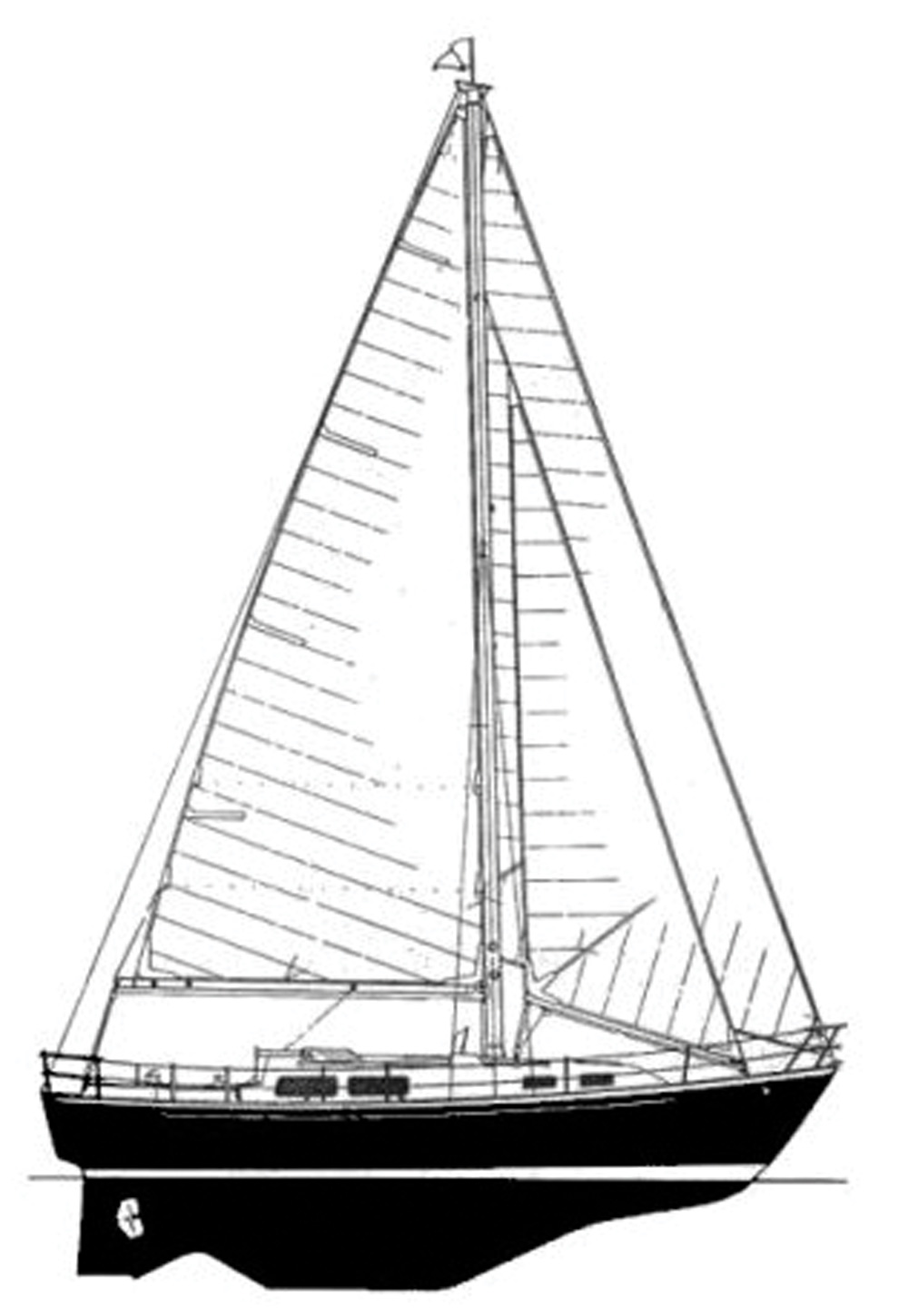 cookware, dishes, and glass storage. The U-shaped dinette provides a social gathering place. The teak table converts to a double berth. The three-person settee to starboard makes up into a single berth. The interior has plenty of storage and a hanging locker. The head is accessible from the V-berth. The boat was designed to carry plenty of fuel and water.
Engine
Cabot 36s were usually powered by a Perkins 4-154 or Perkins 4-108 marine diesel, although many of those have been replaced with Yanmar diesels.
Underway
By all accounts, the Cabot 36 is no speed demon. As a heavy-displacement ocean cruiser, she affords the crew a comfortable ride in most sea conditions. Owners who installed an extended bow pulpit might have found the modification made the boat more difficult to handle.
According to Eavis, the previous owner of Goin' On added 36 inches to the bowsprit, but he has considered restoring the bowsprit to its original location.
"Even in a small blow, we have absolutely no helm at all," he said.
Considering its size and weight, the Cabot 36 has a moderate draft of less than 5 feet, giving it the ability to sail in relatively shallow waterways and coastlines.
Conclusion
The Cabot 36 is a capable, comfortable, robustly built bluewater passage maker.
---
LOA 35'9"; LWL 29'7"; Beam 11'7"; Draft 4'9"; Displacement 17,800 lb.; Ballast 5,500 lb.; Sail area 632 sq. ft.
---
General Market Price Data
$29,900 1976 Florida
$55,000 Nova Scotia
---
SAILING's Value Guide
(5-sailboat rating system)
PRICE: The asking price for a Cabot 36 in the United States and Canada currently ranges from a low of $29,900 to a high of $55,000. 3 sailboats
DESIGN QUALITY: The Cabot 36 is bluewater cutter designed by Edward "Ted" Brewer and Robert Walstrom. 3.5 sailboats
CONSTRUCTION QUALITY: A fiberglass hull cored with Airex gives this boat its overall strength. The Cabot 36 was built by Cabotcraft Industries in Sydney, Nova Scotia, Canada. It is generally considered an impressively well-built boat. 3.5 sailboats
USER-FRIENDLINESS: Owners tend to agree the Cabot 36 is a safe and comfortable boat in just about any sea state. 3 sailboats
SAFETY: The Cabot 36 is made for bluewater cruising, hence its heavy displacement, hefty lead ballast and a modified full keel designed to protect the propeller and rudder. 3.5 sailboats
TYPICAL CONDITION: Cabot 36s owners have been described as borderline cultish for the zealous way they celebrate the boat's design and characteristics while keeping track of where the hulls are being sailed. As a result, most of the boats are kept in good condition. 3 sailboats
REFITTING: Due to the boat's age, upgrades to the navigation and communication equipment could be necessary, as well as rebuilding or replacing the diesel engine and sails. 2 sailboats
SUPPORT: Cabot owners tend to offer assistance to one another, particularly in online cruiser forums. Cabot Industries went out of business in 1978. 2 sailboats
AVAILABILITY: Only 49 Cabot 36s were built during a relatively short production run in the mid-to-late 1970s. At least five were on the market in late 2020. 2 sailboats
INVESTMENT AND RESALE: Although more than 40 years old, the Cabot 36 continues to hold its value, especially among those boats that have been maintained and upgraded with new electronics and other essential equipment. 3 sailboats
OVERALL RATING: 3 sailboats