Robustly built, this traditional cruiser is made for bluewater sailing
Down below
The interior layouts range from two staterooms, two heads and a traditional V-berth, to a space with closeable panels that can transform the interior from a large, open cabin to shuttered private compartments. Plan A has closeable panels and a V-berth that transforms with little effort from two settees facing each other into a full berth.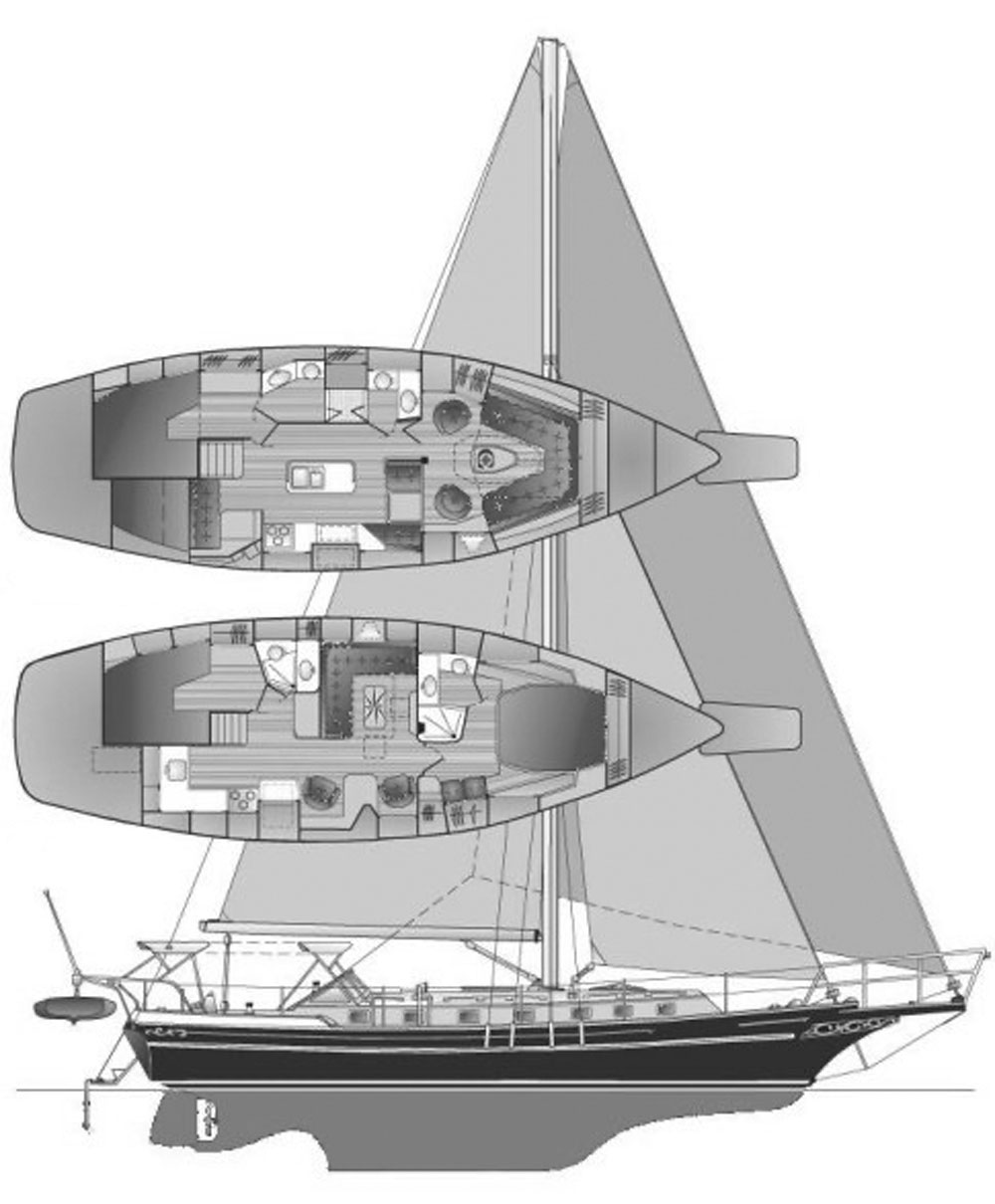 Cruising couples tend to appreciate the ability to live in a roomy, airy cabin, yet still retain the option of providing privacy should overnight guests come aboard.
"We have Plan B," Linne said. "Standard full V-berth and an aft cabin."
Most boats feature a galley with sink and stove. The nav station is fitted out with swivel chairs. The saloon has a settee, dinette and plenty of lockers.
The interior is warmed by rich wood, mostly cherry with a holly sole. Cabinets and furniture are constructed with masterful joinery. There's plenty of headroom in the saloon, but is lower in the aft stateroom because the bunk is located atop the engine.
The head in the V-berth has an enclosed shower. The second head off the saloon has a hand-held shower. The boat has a 52-gallon wastewater holding tank. There are adequate portals and hatches for light and ventilation. The boat carries more than 200 gallons of fresh water.
Engine
The standard auxiliary power for the Gozzard 44 Mk1 is an 82-horsepower Westerbeke inboard diesel. The Mk2 engine has a 71-horsepower diesel that can push the boat's speed to more than 7 knots at 2,500 rpm. The boat has 100 gallons of fuel in multiple tanks. The engine is easily accessible through side panels and by lifting the companionway stairs.
Underway
"It's very stable under all sea conditions, though it doesn't sail best to weather," said Linne. "Overall it sails great and the waterline is low, so she doesn't bob."
The boat has no scuppers, but should the cockpit take a wave and suddenly fill, the water drains quickly through a spring-loaded gate at the stern that opens to the swim platform. Simple, yet ingenious, the pressure of the water stretches the bungee cords until the gate opens.
The staysail is self-tacking, which makes things easier for the solo sailor or short-handed crew. The Gozzard 44 has proven its mettle as an offshore passagemaker.
Conclusion
The Gozzard 44 is a beefy traditional cutter suitable for extended-range coastal cruising or offshore passagemaking.
---
Principal dimensions: LOA 50' including bowsprit;LWL 37'3";Beam 13'6"; Draft 5'6" ; Displacement 29,925 lb.; Ballast 10,800 lb. ; Sail area 1,563 sq. ft., Ketch 1.498 sq. ft.
---
General Market Price Data: 2011 New York $285,000; 1993 Florida $230,000; 1994 Florida $199,000
---
SAILING's Value Guide
(5-sailboat rating system)
PRICE: Gozzard 44s were listed at $199,000 in Florida for a 1994 Mk1 model and $285,000 for a 2001 Mk2 in New York. A 2007 Gozzard 44 Mk2 was sold in Annapolis for $475,000. 3 sailboats
DESIGN QUALITY: Hedley "Ted" Gozzard had a long-standing reputation for creating stable and seakindly offshore boats. The Mk1 was designed in 1990 and launched in 1993. It has since been refined as the Mk2 cutter with a deeper-draft, updated keel and rudder configuration. 3.5 sailboats
CONSTRUCTION QUALITY: The Gozzard 44 is robustly built. This semi-custom fiberglass boat is made from top-shelf materials and constructed by masterful craftsmen to endure a life at sea. 3.5 sailboats
USER-FRIENDLINESS: The staysail is self-tacking, making short-handed sailing less stressful. The cockpit is huge, but a pod-like table that includes the helm creates a brace upon which crew can plant their feet. 3 sailboats
SAFETY: The Gozzard 44 is designed for offshore sailing and many safety features are standard in the design. There are D-rings in the cockpit where crew can clip their harnesses. The heavy ballast helps keep the boat upright while the cored hull provides impact resistance. 4 sailboats
TYPICAL CONDITION: The boats are well-maintained as Gozzard owners have been described as cultish. Gozzard 44 Mk2 owner Will Linne says, "You're just a steward for that boat until you pass it on to somebody else." 4 sailboats
REFITTING: The Gozzard 44 is spacious so working on the engine or making interior changes can be accomplished without ripping the boat apart. The masterful wood joinery in the cabin would be difficult to replicate. Refits often include replacing dated electronics, standing rigging and through-hull fittings. 3 sailboats
SUPPORT: Gozzard Yachts is still in business in Goderich, Ontario, Canada, run by the late Ted Goddard's son, Michael. Information is available on at www.gozzard.com, info@Gozzard.com or (519) 524-2120. 3.5 sailboats
AVAILABILITY: A total of 24 Gozzard 44s have been built—18 Mk1s and six Mk2s. Among those were two ketches. Three Gozzard 44s were for sale in the United States in early 2021. 3 sailboats
INVESTMENT AND RESALE: The Gozzard 44 holds its value, with Mk1 models from the early 1990s still fetching between $200,000 and $250,000 on average and Mk2s priced higher. 3 sailboats