This family cruiser offers affordable amenities
Underway
According to Hunter Marine, the boat has a hull speed of 8.08 knots. The Passage 42 is no different than most sailboats in that reefing early and often is almost always a wise decision. Boat tests have indicated the hull is maneuverable and easy to control, characteristics attributed in part to its large balanced rudder and the efficiency of its bulb-wing keel.
Although the boat is capable in most sea states, it can be tender in heavy weather with large seas and powerful gusts.
One Hunter Passage owner recounted how the boat endured a pounding during a fleet regatta while sailing in Papua New Guinea. While many of the boats sustained serious damage or complete failure, his Passage 42 came through with only minor rattles in two bulkheads.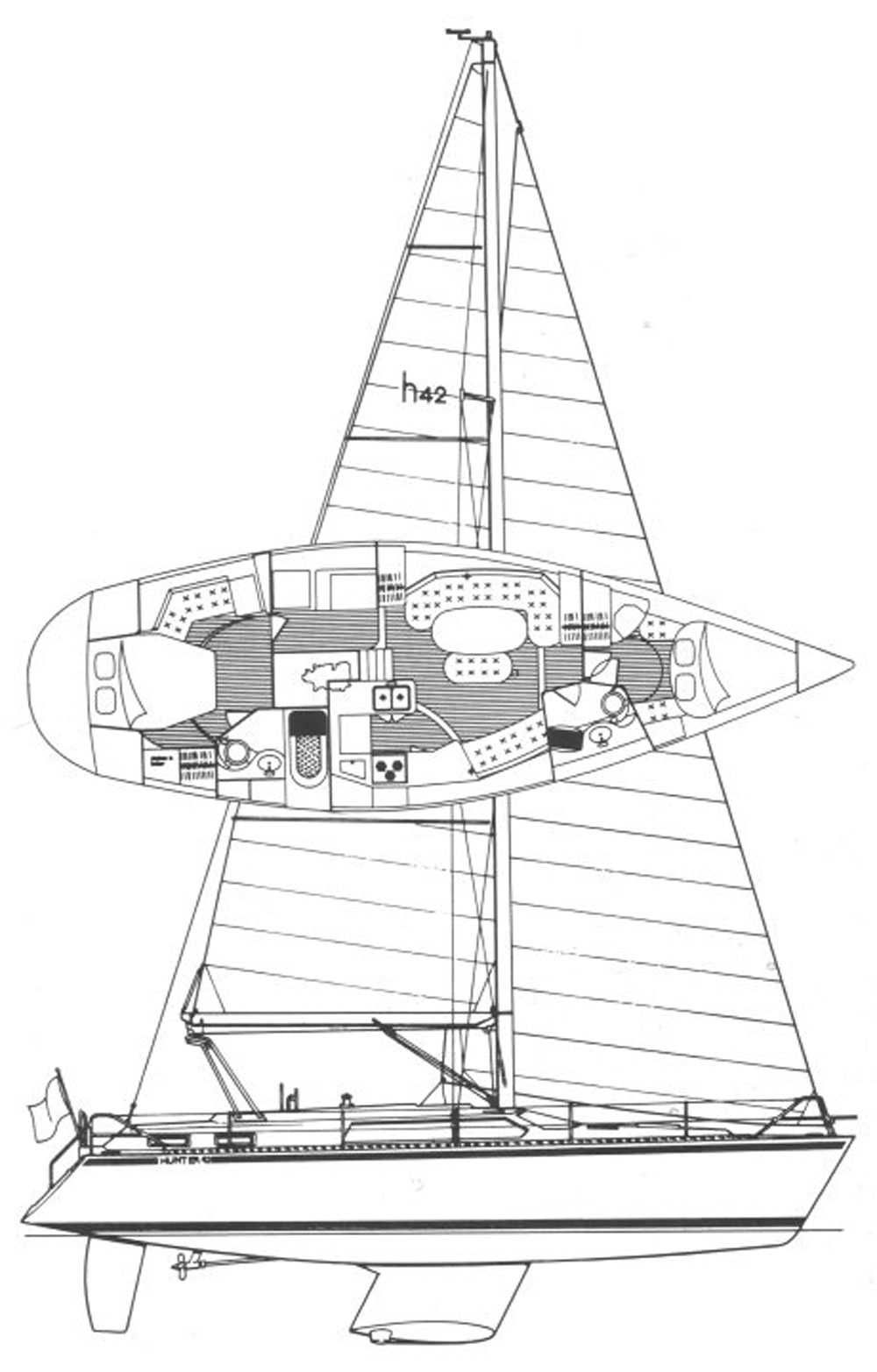 Another owner noted the swim platform can be difficult to approach in a swell. He suggested keeping a swim ladder aboard that can be deployed amidships. And when at anchor, the aft cabin can be noisy in a chop or wash.
Hunter Passage 42 owners have found the boat is best suited to coastal cruising or island hopping in the Caribbean.
Conclusion
The Hunter Passage 42 is a soundly built cruiser equipped with just about every amenity needed to spend a long weekend or a few weeks at sea in comfort.
---
Principal dimensions: LOA 42'6"; LWL 38'; Beam 14'; Draft 4'11"; Displacement 24,000 lb.; Ballast 7,700 lb.; Sail area 949 sq. ft.
---
General Market Price Data: 1991 Ohio $58,000; 1990 New York $75,000; 1993 Texas $94,000
---
SAILING's Value Guide
(5-sailboat rating system)
PRICE: The average asking price was approximately $80,000 in 2021. (3 sailboats)
DESIGN QUALITY: The center-cockpit sloop was conceptualized by Warren Luhrs and the design team at Hunter Marine Corp. as an easy-to-sail cruiser outfitted with just about every amenity. (3 sailboats)
CONSTRUCTION QUALITY: The mass-production boat is primarily made of fiberglass. It features an internally mounted spade type rudder, bulb-wing keel, raked stem, reverse transom, and masthead Bermuda rig with dual swept-back spreaders. (3 sailboats)
USER-FRIENDLINESS: Owners tend to agree that the boat is designed with the recreational user in mind when it comes to comfort and ease of sailing. Winches are within arm's length, and navigation instruments in direct view of the helmsman. The center cockpit, elevated well above the main deck and the sea, helps keep the helmsman dry. (2.5 sailboats) (3 sailboats)
SAFETY: Wide side decks allow the crew to move forward safely and quickly for sail changes, anchoring or other foredeck tasks. Stainless stanchions, lifelines, and bow and stern pulpits add to the safety factor, as do deck-mounted handrails. (3 sailboats)
TYPICAL CONDITION: Hunter Passage 42s can be found in a wide range of conditions, dependent upon upkeep over the past 30 years. (2.5 sailboats)
REFITTING: Refitting can be challenging because Hunter Marine Corp. is no longer in business. Some parts are available online from the Hunter owners' association. One owner noted in an online forum that he replaced the two traditional heads with composting versions, and removed the air conditioner in the forward cabin to make room for a compact watermaker.
SUPPORT: Hunter Marine Corp. is no longer in business but various groups provide support to Hunter owners, particularly at www.hunter.sailboatowners.com. The sailboat owners' group features a paid service in which Hunter owners can talk directly with marine experts intimately familiar with Hunter design and construction. (2.5 sailboats)
AVAILABILITY: At least seven Hunter Passage 42s were for sale in the U.S. during fall 2021, in Texas, Ohio, New York, California and South Carolina. Another was for sale in Mexico. (4 sailboats)
INVESTMENT AND RESALE: The boat holds value and remains in demand. The average asking price in 2010 was about $100,000 while today hovers around $80,000. (3.5 sailboats)
OVERALL SVG RATING: 3.5 sailboats