The sleek but spacious 45 delivers some prime sailing moments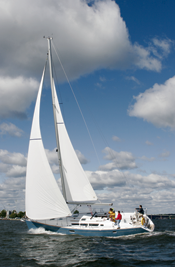 I am glad I bought the sunglasses with the extra dark lenses. That's my thought as I approach the new Jeanneau Sun Odyssey 45 on a glorious October afternoon in Annapolis. It's the kind of waterfront afternoon that fuels midwinter sailing dreams. The Jeanneau shines in the October sun as if it is run through with some powerful and mysterious electrical charge. The boat is sailing in Spa Creek, and as I approach it from the Eastport side, the sunlight plays a symphony on the properly finished teak, polished stainless, open deck spaces, clean hatches and a spotless topsides painted Stars & Stripes blue.

The Jeanneau 45 made its official American debut just a couple of weeks earlier in the United States Sailboat Show at the Annapolis City Dock, across the creek from where it lies now. There was a good buzz at the show around the boat, and I can now see why. When freed from the confines of an in-water boat show, it's easy to drink in the powerful hull shape and elegant lines.
The details


The new Sun Odyssey 45 was designed by Philippe Briand and the Jeanneau design team. This boat has roots in the charter industry and in the European market, but the new 45 carries an updated configuration and some attractive features for its introduction to the American market. It is a performance cruiser with an emphasis on stylish, hassle-free and comfortable cruising with a few people-or even a bunch of people-aboard. Sleek and visually appealing does not mean that space is tight. The Sun Odyssey 45 is all that, and it can carry a crowd.



Jeanneau has been producing commercially successful boats for nearly 50 years and fiberglass sailboats since 1970. Thousands of Jeanneaus sail the world as charter boats, privately owned cruisers, passagemakers and racer-cruisers. The experience gleaned from producing thousands of hulls is evident in the Sun Odyssey 45. It is a well-thought-out, purposeful boat. These days, Jeanneau is owned by Group Beneteau, a French-based conglomerate that also produces the Beneteau, Wauquiez and Lagoon lines.
Under sail
A few minutes after stepping aboard we are under sail in a chill westerly breeze. Strong cold fronts punch through the East Coast and out into the open Atlantic with regularity in October. These fronts often leave behind clear, strong breezes from the western quadrant. In Annapolis, along the entire western shore of the Chesapeake, and along many sailing areas on the East Coast, the gusty post-cold-front westerlies are challenging and rewarding for the sailor. The wind comes off the land shifty, and it blows up and lays down in asymmetric cycles.

As we slipped from Spa Creek into the Severn River, it was easy to see that we had a nice little testing laboratory right there at the mouth of the river: a shaft of 16 knots funneling down the narrow river, shifty lulls in the flatwater lee of the Naval Academy, and a nice run out into the bay, in a building sea.
The details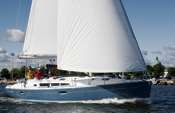 The Jeanneau quickly proved to be up to any challenge with its Kevlar-reinforced hull and a simple but powerful rig. Two keel configurations are available, both featuring epoxy-coated cast iron keels. A deep version draws 6 feet, 8 inches, and a shoal version is 455 pounds heavier and draws 5 feet, 5 inches. We short tacked up the Severn River into the 16 knots, and the shoal draft keel aboard our test boat easily attached as we came out of tacks and allowed us to drive to weather with an efficiency I was not accustomed to in a cruising-oriented boat.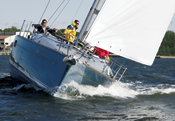 There is a nice but not daunting amount of wood on deck, and it is of good quality and finish. A thick teak toerail is visually stunning, but will someday prove to be a time-consuming varnishing assignment. Despite this, I think it is worth it. The big teak toerail looks beautiful and is nicely functional. So carpe diem, panicky varnish worryworts. We're going sailing.
On deck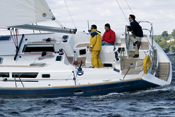 Jeanneau has standardized its deck hardware and rigging with top-quality Spinlock rope clutches and Harken turning blocks as part of the package. There are no tricks or gimmicks when it comes to the sailing part of the Sun Odyssey 45: It is straightforward, clean and easily driven. Its double-spreader rig is simple and sturdy, powerful enough to make fast passages but generally within the grasp of a vacationing or an inexperienced crew. The mast on our test boat was a Z-Spar.

As we tacked into the westerly, only two small shortcomings crept into the otherwise pleasant scene. I like the primary winches to be within reach of the helm, and I like the on-deck primary electronics display to be easily read from the helm station when standing, especially when sailing short-handed with the kids or inexperienced friends. While neither of these were aboard this 45, they easily could be addressed by individual owners.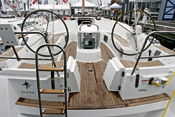 The cockpit is inviting and well-designed. Two wheels open up the cockpit and make socializing and reaching the stern of the boat easy. A clever fixed cockpit table arrangement offers a central gathering place, some storage, and, as I would later find out, provides additional headroom and light in the
aft cabin.

One other nitpick is an issue that comes up with all aft-cabin, aft-cockpit boats and was apparent, but certainly not to any alarming degree, in the Jeanneau. This arrangement sacrifices some "garage" storage in the aft end of the boat. And a boat of this size, layout, and range will certainly have plenty of ancillary toys and gear requiring storage space.

When looking closely at a boat, at a show or on a boat test, I purposely wait to go below until the last reasonable opportunity. We are sailors first, I like to tell myself, and we spend most of our waking hours on deck and in the cockpit. I want to understand the vibe and the flow of the topsides before introducing my senses to any interior spaces. I turn winches, look for hand holds, and make certain the tops of the lockers can be secured.
Down below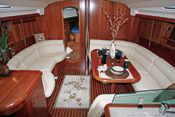 Having run my on-deck course on the Jeanneau, I made my way below and immediately confirmed what I had suspected-this is a big boat with a lot of room and features below. But this space is packaged in such a smooth, elegant design that it is deceivingly sleek from the dock and from the deck. Belowdecks, light pours in from a multitude of ports and hatches. Again, one does not notice all the hatches when viewing the boat abovedecks. It is only in the cabin that the generosity of ports and hatches becomes apparent.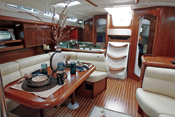 Someone put a lot of thought and care into this design. This is an appealing hull that smartly and perfectly cloaks a spacious, well-lit interior. The interior is clean and European in design, but broad teak surfaces provide warmth and rich beauty. Several configurations are available below, and the "L-galley" layout aboard the test boat was created specifically for the U.S. market. Bring your friends, your kids and their friends; there is an abundance of storage space in the galley area, in the generous refrigerator and in the freezer. A four-cabin layout has been designed with a straight galley, which is popular in the chartering world. A full-sized nav station and inviting saloon table are also part of the spacious saloon.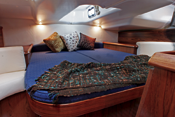 I am almost 6 feet, 2 inches tall and assume a crouch when planting my feet on the cabin sole of any boat, especially a fast one. But I quickly unfolded in the bright cabin of the Jeanneau, as there is plenty of headroom throughout. In keeping with the theme of well-designed, functional arrangements, engine access is superb.

This is a big boat belowdecks; it seems to keep going and going. Lockers, light (natural and electric) and smart details abound. Jeanneau has done the sailor a real service with this boat. A boat such as the Sun Odyssey 45, fast, simple, and attractive, with room for friends and family, can spark imagination.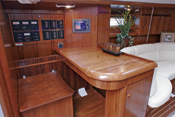 There are certain moments when a sailor feels pieces fall into place and some bigger picture comes clear, moments when boat and weather and sails mean more than anything in the universe. In my recent months, the weight of career and children have made these moments all too rare. When they happen, I am quick to feel it. And I am certain that I had one of those moments on the Jeanneau 45 that afternoon on the Severn River. It is a capable and stylish boat that promises to be as rewarding on the passage as she is in port. It can lead a sailor into fine sailing moments, deliver on real sailing dreams.
Dave Gendell is the editor and co-owner of Annapolis-based SpinSheet Magazine.