An aging speedster gets go-fast upgrades for family racing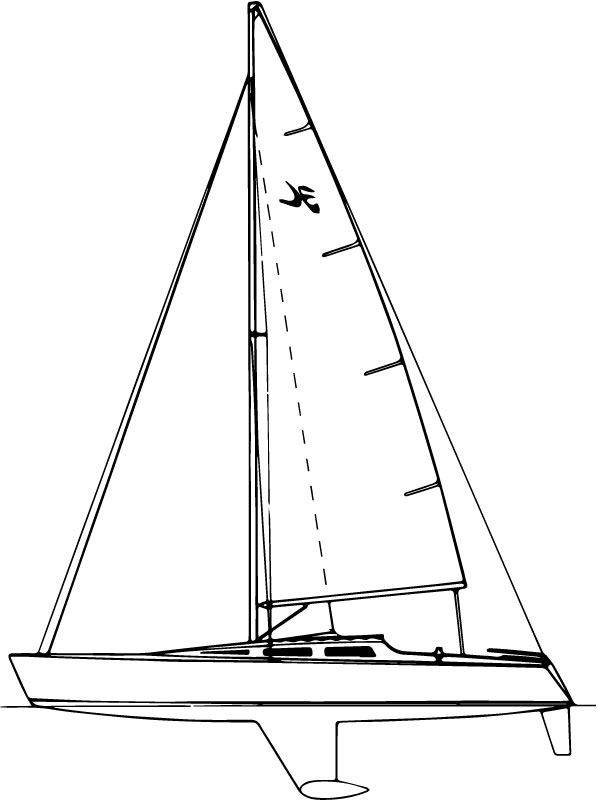 The first production ultralight displacement boats are turning 30 years old, and that means their price is finally down in the ultra-affordable range. I bought a 1986 Hobie 33 in New England for $23,000, dreaming of 20-knot surfs and front-of-the beer-can-fleet finishes, but its ancient sails and knotty foils needed replacement or repair, as well as some other standard old-boat touch-ups.

I set two budgets for this project: $5,650 for boat upgrades, like a slippery bottom, and $10,000 for sails. The boat upgrade budget is 25% of the cost of the boat and is probably considered more than the practical "going rate" for upgrades on a used boat. But the purchase cost is relatively small, and $5,000 to $6,000 isn't much to spend on retrofitting.

The advantage of buying a less expensive boat but spending more on retrofits is that I get to spend my budget on retrofitting the boat to my high-speed tastes, which don't include Corian counters in a new galley.

I split the sail budget off the upgrade budget because sails are recurring costs for sailboats and get a separate, independent budget over the base 25%. That's the way I explained boat budgets to my wife, and it seemed a satisfactory explanation.

My budget focused on go-fast improvements rather than creating a cozy getaway belowdecks, and I decided to sacrifice part of the kids' college tuition for off-wind speed rather than replace the portable toilet with a real head. Sorry kids.

The driving force behind speed is the sails, and this boat needed at least a main, jib, genoa and spinnaker for PHRF racing. The sails that came with the boat were destined for practice sessions and duffle bags, part of the reason why the boat's price was a bit lower than some of the sisterships I found listed with brokers. I tackled the sails first by calling Tom Pease at North Sails. He was familiar with the Hobie 33, and suggested adding a bowsprit to fly an asymmetrical spinnaker, reasoning correctly that my unpolished crew may find it easier to set and drop than a symmetrical flown from a traditional pole. Also, the 33 is probably light enough to get some speed gains sailing at sharper angles.

Juan Mauri, five-time Hobie 33 national champion, agreed that an asymmetrical sail would make the Hobie fly off the wind, noting that the Hobie's bow extends past the pulpit making an asymmetrical a natural to fly even without a sprit. Asymmetricals are banned under current Hobie 33 class rules, but we planned to sail under Lake Michigan PHRF.

The cost of an asymmetrical chute is only slightly more than the symmetrical and the added cost of the sprit renovation seemed worth the improved performance and ease-of-handling.

Pease offered several choices of sail material for the asymmetrical, and I went with the most commonly used one, Norlon 75, a ¾-ounce nylon produced by North Sails. Norlon 75 is more rugged than some of the other, faster North spinnaker materials, and I needed this sail to last a long time.

Choosing the mainsail material was a harder decision. While Dacron is a great, durable sail fabric, there are performance benefits to molded sails. In this case, the budget won and I chose a Dacron main.

With the savings of the main, I chose a 3DL 155% No. 1 genoa. It will get less use than the main, so the 3DL material will last a long time. The main should last for a long time too because North weaves its Dacron so the sails need less of the coating that makes sails feel crispy and hold shape. Less coating means the sails last longer under flogging, which Pease explained is a leading cause of sail breakdown.

The jib gets flogged hard in heavy air, so I bought a Dacron, 100% No. 3 jib. Each sail was between $1,000 and $3,000, and I got four new North sails for well under my $10,000 budget, coming in at $9,100.

Next, I needed an bowsprit for my new asymmetrical. Several companies make retrofit retractable bowsprits that attach to the foredeck with ring brackets or pin brackets and extend through the pulpit. Forespar's Banana Sprit is a unique design that fits in the bow anchor roller, or a sprit roller from Forespar. I don't have a roller, and didn't want to install one, so I purchased an 76-millimeter, 9-foot 10-inch carbon sprit and fittings from Selden for $1,710.

Bowsprit manufacturers recommend that at least half the length of the sprit remain secured on deck. That means I can extend my sprit a bit over 4 feet past the last deck bracket and one foot past the bow pulpit. Selden also makes the same-sized aluminum sprit for a quarter of the price.

The sprit was an easy DIY install, saving me the cost of installation. It did require drilling through the foredeck, so I made sure to measure several times and mock-up the sprit before drilling.

Since I was shaving weight off the boat, I decided to save 10 pounds and replace the original, battered stainless steel lifelines with New England Ropes' STS-12-75, a 100% Dyneema line. The 3/16-inch line's tensile strength is 6,100 pounds, plenty strong enough to stop a sliding body, and the choice of the gray colored line matched the boat. STS-12-75 sells for a dollar a foot, so four lines at 35 feet each cost $140. A rigger could make the eight eye splices for about $12 each, but I followed the single-braid splicing instructions from the June 2012 SAILING Magazine Technique and saved $96.

I needed that savings for the expensive process of fairing and smoothing the foils and bottom. Resin cures at slightly different rates in hull molds producing low and high spots, so even new boats need fairing. A super smooth and fair bottom and foils go a long way to improving performance. Fairing specialists Waterline Systems in Portsmouth, Rhode Island, quote Julian Bethwaite as gaining a 14% speed advantage in a faired 49er over an new, unfaired 49er. That speed gain doesn't cut into the PHRF rating.

Waterline Systems can fair the keel and do a decent bottom job finishing with 400-grit wet sanding for $3,625, giving my boat the slippery bottom I was looking for. I was able to schedule the bottom job at Waterline Systems before transporting my boat to the Great Lakes.
The nice bottom and the bowsprit drained my budget, but I had one more project for the boat. The deck nonskid had worn off, and walking on the foredeck or cabintop in wavy conditions was tiring and dangerous.

There are four choices for deck nonskid: adhesive mats, sprinkled grit over semi-dry paint, paint with pre-mixed additives and paint with no additive but applied with a special roller that leaves a rough surface.

None of these products are hard to apply, but some, like the adhesive mats, are expensive. KiwiGrip is reasonably priced at $140 per gallon. It's applied with a special roller cover that texturizes the paint during application leaving grit-like bumps for traction. I chose an aggressive pattern for good footing on those 20-knot surfs, but Pachena, KiwiGrip's maker, also sells roller covers that form an easy-on-the-skin pattern. I chose a standard gray color, but Pachena makes custom colors from customer's paint chips. I was eager to take on this project myself and was able to knock it out in an afternoon with help from a friend, by cleaning and then scuffing the deck with 180-grit sandpaper, taping off with masking tape and then painting.

The worn deck is just one of the tired parts of the boats. The halyards have another year or two of life, and the sheets are dirty but serviceable. The wood parts of the cabin sole need refinishing, and the cushions need recovering or replacement, but those items can wait. This year, my family has an appointment with the front of the fleet.
---
Project List and Cost Summary:

1986 Hobie 33 $23,000
New racing sails $9,100
Carbon bowsprit $1,510
Bowsprit fasteners $200
Drill bit and bolts $30
Faired and smoothed keel and hull $3,625
Single braid lifelines $140
Nonskid deck paint $140
Painting supplies $50

Retrofit less sails $5,695
(25% of purchase price)
Total retrofit cost $14,795
(65% of purchase price)

Grand total $37,796
---
Resources
Pachena, 206-306-2222, www.kiwigrip.com; New England Ropes, 508-678-8200, www.neropes.com; North Sails, www.northsails.com; Selden Mast, 843-760-6278, www.seldenmast.com; Waterline Systems, 401-682-1661, www.waterlinesystems.com