This rugged bluewater cruiser offers seakindly sailing and comfort
One of the ways to learn about the Corbin 39 is to read builder Marius Corbin's story in his own words. On the verge of creating the boat of his dreams, Corbin founded Corbin les Bateaux Inc. in Canada in 1977, working with designer Robert Dufour of Dufour Yacht Design in Montreal, Quebec.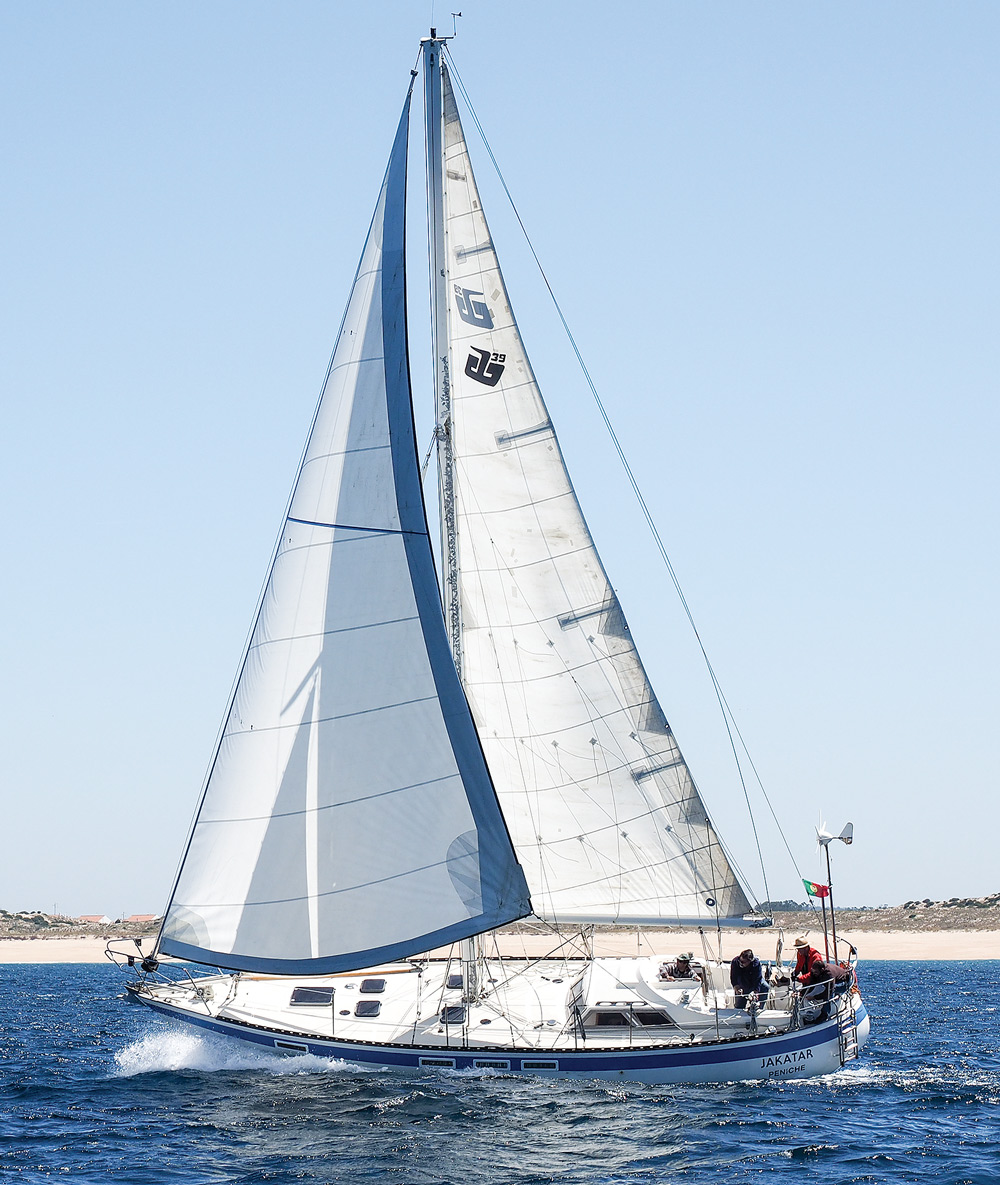 "My requirements were quite simple: about 40 feet, comfortable, good performance to windward and in light air, strong enough for around-the-world cruising, an interior layout suitable for two people or a small family, and built to the highest specs," Corbin wrote in the brochure.
Corbin, a professional boat designer, was determined to build a boat after seeing one of Robert Dufour's drawings for a 39-foot cutter named Harmonie.
The prototype was much as he had envisioned, with sleek lines, a canoe stern, shallow fin keel and a skeg-braced rudder. After some discussion, it was agreed the boat should have higher topsides and a flush deck.
By early 1981, more than 100 boats in all stages of finish were delivered to customers, and over the ensuing eight years, roughly 99 boats were launched.
A factory fire in 1982 destroyed some of the original molds. However, additional boats were produced after the fire, probably up to hull No. 135, according to David Sharman, owner of Bockra, hull No. 123 and administrator of the Corbin 39 Owners' Association website.
First impressions
One glance at the Corbin 39 and you know you're seeing an offshore boat. There's a sleekness that defines the sheer and hull shape, which ends gracefully in a canoe stern. Some models were lengthened with a bowsprit to assist anchoring. But it's the flush deck that makes the boat a standout.
Construction
The fiberglass hull was relatively thick, gaining strength from eleven layers of fiberglass. The deck was a fiberglass sandwich with a marine-grade plywood core. The interior layouts and use of specific materials typically relied on owner preference. Overall quality depended in most cases on how the boat was finished.
According to Sharman, many false rumors regarding Corbin 39 construction persist. Among them, that the first 15 boat were finished at the factory for use at boat shows.
"Most of the factory-finished boats were direct to client. Of the mark 2s, only hull No. 129, StradiMarius, was used as a demo boat and ultimately as Marius's personal boat," Sharman said.
He said the hulls were made to accommodate two different mast steps. The mark 2 cutter used the forward mast step, whereas the mark 1 cutter used the aft.
What to look for
"As far as we can determine, all the decks are a sandwich of fiberglass and mahogany plywood. No Airex was used anywhere in the deck. Likewise for all rumors that the decks were cored with balsa," Sharman said. "The hulls are a fiberglass-Airex-fiberglass sandwich to well below the waterline, then solid fiberglass down through the keel."
Like any boat built nearly 40 years ago, the Corbin 39 has age-related problems. Another consideration is how the boat was built. When originally sold, the boats were in various stages of construction, such as hull only, or with ballast and structural bulkheads installed. Some were "motor away," which meant they had an engine and tankage installed. Still others were sold as "sail away," which added a mast and sails. Considering these purchase options, it's easy to understand why there are such vast differences in interior finish.
Some owners have reported compression post corrosion, mostly where the steel rests in the bilge or braces against the deck. A common fix is to replace them with 316 stainless posts. Other owners have said the fiberglass roving shows through on their hulls, and that decks exhibit crazing due to the thick paint application.
On deck
The oldest boats had a mainsheet traveler across the cockpit bridgedeck, which made things crowded. The smallish cockpit was further cramped by a boom gallows and a hydraulic steering pedestal.
In the more recently built aft-cockpit models, the cockpit was widened and lengthened, and the mainsheet traveler relocated to atop the pilothouse roof.
The Corbin 39's cockpit lockers are considered undersized, but storage space is gained by two enormous sail and chain lockers on the flush foredeck. The lockers are easy to access via large hatch doors.
"The bow sail lockers are huge and I routinely fit a small, deflated dinghy in one," said Horatio Marteleira, owner of Jakatar, hull No. 73, a mark 1 tall mast model.
The lockers are spacious enough to stow chain, large anchors, docklines, shore-power cables, water hoses and other cumbersome gear used for long-distance cruising.
Although some Corbin 39s have a self-tacking, clubfoot boom, the flush deck is large enough to remain uncluttered.
The center-cockpit model features two helm stations, one above deck, the other below. The main advantage of the center cockpit is its separate aft stateroom. The aft-cockpit model features a pilothouse with inside and outside steering stations.
Down below
The layout varies by model because of owner preference. The saloon is typically beneath the pilothouse. There's a centerline steering console, nav station, quarter berth or hanging locker to port, and fridge or freezer to starboard. The dinette is in front of the fridge, with settee or pedestal chairs opposite. Two steps lead down to the saloon beneath the flush deck. A spacious galley is set to port. Head and hanging lockers separate the main salon from the forward V-berth.
There is generous headroom throughout, with plenty of light and ventilation provided by eight clear opening deck hatches.
"Although the interior is huge for a boat of its size, due to the flush deck and smallish cockpit, the interior layout, especially the berths in my aft cockpit model, could be better designed," Marteleira said.
Engine
The auxiliary power installed in a Corbin 39 varies by owner preference and year constructed. The earliest boats off the line featured either a Volkswagen Pathfinder or a Westerbeke 32-horsepower diesel. Later boats had a Perkins 4-108 or a Yanmar 3GM diesel. A few aft-cockpit models were built with a Bukh 36-horsepower saildrive.
Underway
In 2002, Marteleira crossed from Lake Erie, Canada, via the New York State Barge Canal, to the Azores to Peniche, Portugal.
"On the crossing we experienced large waves, and we comfortably sailed with the waves at a slight angle with only a reefed staysail. I would say the boat tracked well and never gave us reason for concern," Marteleira said.
Marteleira said that, with its 50-foot mast and no bowsprit, "Jakatar starts to experience slightly annoying weather helm at about 15 knots, which is controlled by easing the main," Marteleira said. "As the wind stiffens, on a reach, there's no option but to reef to tame the weather helm. "Corbins sail well, but they need generous sail area for light air," he said. "I started out with a high-cut yankee and was somewhat disappointed with the boat's performance until I invested in roller furling and a large, lower-cut genoa."
Sharman said only boats with the tall mast cutter rig have weather helm.
All others do not experience weather helm. On the mark 1, it can be alleviated by at least two different methods, which can be combined and retrofitted: adding a bowsprit and in-mast furling," Sharman said.
Conclusion
A sleek, rugged, bluewater cutter, the Corbin 39 merges sea-kindliness with comfort and proves ideal for a cruising couple or small family.
---
SAILING's Value Guide
(5-sailboat rating system)
PRICE: The price for a Corbin 39 cutter ranges from $33,000 to $83,144. David Sharman, owner of the Corbin 39 Bockra, said the boats often sell for $120,00 to $140,000. "Right now, you are seeing boats for sale that are at the older and shabbier end of the spectrum, which is one reason for the lower prices." (2.5 sailboats)
DESIGN QUALITY: Designed by Canadian Robert Dufour of Dufour Yacht Design (no relation to the French boat designer and builder Michel Dufour) in Montreal, Canada, the 39 was offered as a center cockpit and an aft cockpit. (3 sailboats)
CONSTRUCTION QUALITY: Approximately 200 boats were built by Corbin Les Bateaux in Quebec, Canada, from 1979 to 1989 using matt-and-roving fiberglass to sandwich an Airex closed-cell foam core. (3.5 sailboats)
USER-FRIENDLINESS: Owners say the boat keeps them dry and comfortable in breezy or rough sea conditions and sails particularly well in light air, though less so to windward. The boat reportedly exhibits weather helm, but only aboard the earlier versions of the tall mast cutter. (3 sailboats)
SAFETY: The Corbin 39 is sturdy and heavy and has a good reputation for its ability to sail in a wide variety of sea conditions. The relatively small cockpit and a bridgedeck can be an asset in the event of taking waves over the side. (3 sailboats)
TYPICAL CONDITION: The typical condition of a Corbin 39 can be difficult to determine since most of the boats were customized to the owner's preferences. Boats completed at the factory tend to be in better shape. (2.5 sailboats)
REFITTING: Sailors planning extended voyages will likely need to rig lines that come back to the cockpit and install a self-steering system. The center-cockpit model can also be rigged as a ketch. (2.5 sailboats)
SUPPORT: The Corbin 39 Owners' Association provides owners with support and guidance at www.corbin39.org and a mailing list via email at admin@corbin39.org. (3 sailboats)
AVAILABILITY: At least five 39s were for sale in the U.S. Another Corbin 39 was on the market in Ontario, Canada, and additional boats were being offered in France and Guatemala. (3 sailboats)
INVESTMENT AND RESALE: The Corbin holds its value. Factory-finished boats tend to command the highest prices while those boats finished by amateurs are likely to have less value. (3 sailboats)
OVERALL 'SVG' RATING: 3 SAILBOATS
---
LOA 41'6"
LWL 32'
Beam 12'1"
Draft 5'6"
Displacement 31,800 lb.
Ballast 9,000 lb.
Sail area 822 sq. ft.
---
General Market Price Data
$83,144 1982 France
$33,000 1980 Florida