A flotilla charter to the Caribbean islands of the Grenadines is filled with camaraderie and playing pirate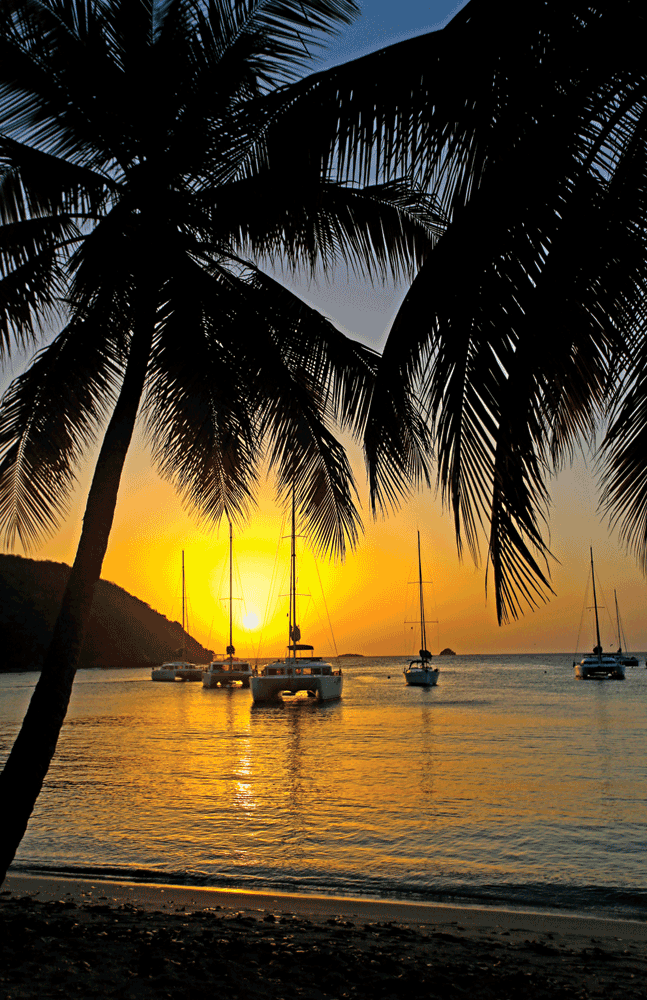 Bob Grieser
Each morning, when we arose and puttered about the deck, the boat boys took their cue and zipped over in colorfully painted pangas with names such as Quality Man, Mandy Man, Romeo Man and shouted "Do you want baguettes? Ice? T-shirts? Fish?" Boat boys are pervasive and persistent in the islands, but they are knowledgeable, so you might as well accept their assistance and be ready with a EC $5 note in exchange. Some were pushy, and we were warned about leasing a mooring from someone who didn't actually own it, but we found most to be helpful and polite.
Quality Man tied up to our catamaran one day, with a boat loaded with T-shirts, tank tops and shorts. With an audience of five ladies, he sifted slowly through the pile and our questions. "What size is that one? Do you have that in a tank top? Could you put that in the 'maybe' pile?" He was so patient I figured he must be married. We bought a smorgasbord of souvenirs from him. The sun was raging and the colors of the sea electric when we raised our mainsail, graced over the mooring can, and slipped our lines, bound for Union Island.
We had almost skipped this stop, but our diminishing supplies of staples and cash persuaded us, as it was the only island with a bank. It was a short but lively jaunt to the edge of the reef and entrance to Clifton Harbor, which is dissected by another obvious and well-marked reef. Sandwiched between these two coral banks, we anchored in 12 feet of water with good holding for a breezy day. On our nose, a swarm of kiteboarders whizzed back and forth over the shallows, getting their addictive, ceaseless thrills.
The crew boarded the dinghy for a splashy ride to Anchorage Yacht Club. When we asked Dockmaster Alston where we could top off our gas tank, he offered to handle it while we explored the town. Clifton Harbor was the real deal, no tourist trap. Set against a backdrop of arid hills, it had narrow twisting roads and a decrepit sidewalk along the waterfront that demanded full attention during the day and bright flashlights at night. We set about to divide and conquer. Rex and June off to find a boulangerie, while others shopped for fruits and vegetables at the small market in the town center. Colorful stalls were hung with fresh produce, and the vendors were friendly and inquisitive. On the way back, we stopped for passion fruit mojitos that were too delicious to deny and debated about eating dinner at the new Italian bistro.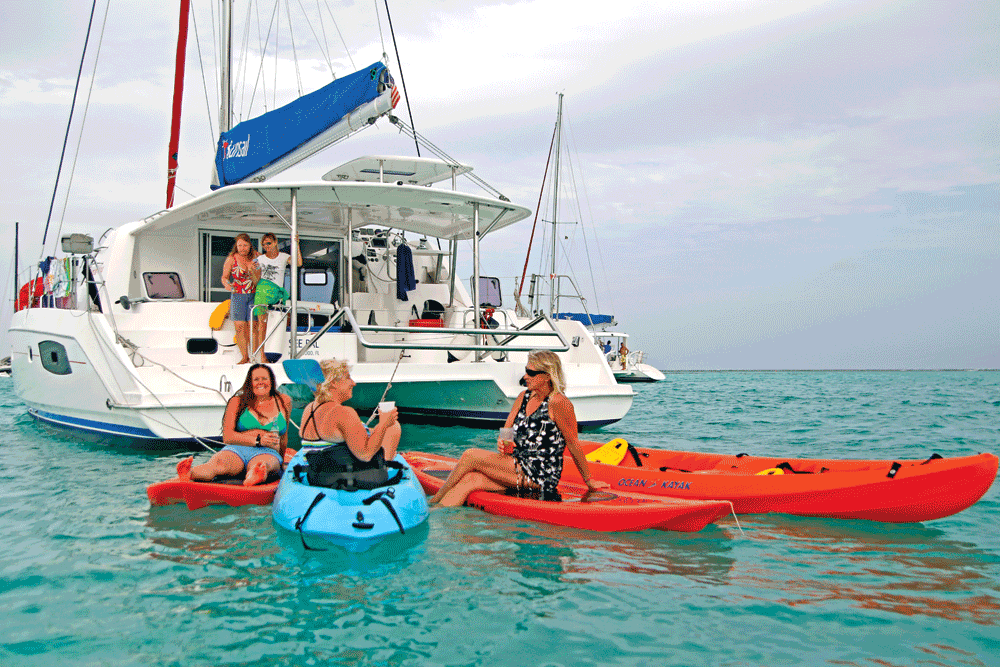 Bob Grieser
Petit St. Vincent, a short four miles southeast, is more famous for what it isn't, than what it is. This small private island is lightly developed and maintains a wild air in spite of its five-star resort. We anchored at the edge of the turquoise water, where it faded to cobalt. Later, when I swam to shore, I saw the anchor had completely disappeared into the powdery white sand below.
We swam, napped, kayaked and paddleboarded, then returned to the informal Goaties Bar for umbrella drinks, and ravaged the nicely stocked gift shop. In this sublime setting we fired up the grill and enjoyed the bounty of our earlier sortie to Union Island.
From there we ventured to Mayreau's Salt Whistle Bay. The picturesque cove was packed with cruisers, and luckily our flotilla crew snagged us one of the last moorings. Several of our newly made friends had already hiked up the steep path to an eatery at the hilltop, where there's a spectacular viewpoint. But the restaurant was closed due to a workboat regatta at nearby Saline Bay. We opted instead to stroll the beaches, gathering sea glass and shells.
Salt Whistle Bay is separated from the Atlantic side by a narrow isthmus that fans out like a whale's fluke. It was calm and glassy on the western side, windswept and rubbly on the east.
That night we enjoyed a beach barbecue and drinks ashore, watching the regatta-goers buzz the bay in their pangas and dinghies, entertaining us with their high-speed antics. We awoke early to a strong wind from the northeast—right on the nose for the passage back to St. Vincent. We attempted to beat north, but ultimately ended up motorsailing to St. Vincent, thankful for twin 39-horsepower engines.