Racing for fun with the pros
The Bitter End Yacht Club's Pro-Am regatta is a sailing camp for grown-ups in the British Virgin Islands
Sharon Green photo
Going away to camp is a childhood ritual. There are space camps with real astronauts like Scott Kelly, tennis pro camps, celebrity baseball camps and even a football academy where Tom Brady could be the coach. So why not a yacht racing camp with the pros? The Bitter End Yacht Club's annual Pro-Am offers just that, inviting top sailors from an array of disciplines to sail and compete with campers. But the event has one exceptional twist—it's for grown-ups.
For 30 years Bitter End Y.C. has hosted the Pro-Am Regatta—a weeklong festival of sailing and watersports. There's snorkeling, kayaking, windsurfing, kiteboarding, scuba and fishing expeditions at this sailing-centric resort on Virgin Gorda in the British Virgin Islands. But the centerpiece of the event is racing in paradise with the pros.
Each fall, as the North American sailing season is winding down and the Caribbean season ramping up, dozens of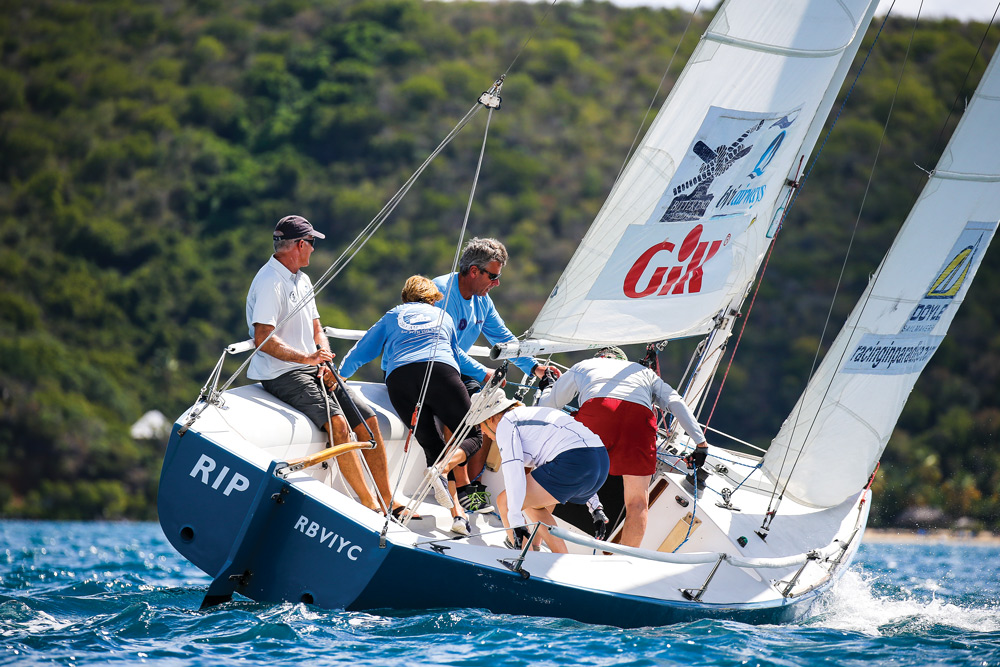 Sharon Green photo
guests migrate to Bitter End Y.C. specifically for the Pro-Am. They are a mix of neophytes, experts and a few lucky souls who just stumbled on the event. The VIPs are carefully selected, explained John Glynn, "They have to be great sailors but have to be great people too," said John Glynn, the event organizer and head of marketing for the resort.
When one attendee complained about a skipper who relegated guests to the role of rail meat, organizers listened.
"If they're not nice people, they are conspicuously absent in the future," said Glynn, who sailors call the glue of the regatta—promoting, organizing and running all aspects of it.
And what's not to love? The event includes racing on several different types of boats and racing formats. From Laser and Hobie racing, to a charter boat race to the Baths, participants get time on the water with the pros rotating amongst the teams, helping hone skills in distance, fleet, team and match racing. Past pros included Ken Read, Paul Cayard, Peter Holmberg and Russell Coutts. But last year's 30th anniversary promised a posse of pros.
Our group, which included photographer Sharon Green, and our respective partners, Barry Senescu and Brad Brown, hit the palapa bar on the first evening, mingling with a rather jolly crowd of the world's leading professional sailors. There was Steve Benjamin, Olympic medalist and Rolex Yachtsman of the Year sitting on a bar stool, talking with Tom Leweck, the original Scuttlebutt Curmudgeon. Dave Ullman, 470 and Melges 24 world champion and coach of the US Olympic team mingled with match racing champion Taylor Canfield. Olympian and four-time Rolex yachtswoman of the year JJ (Fetter) Reichel and her husband, yacht designer John Reichel waved from across the bar.
While the mood at the bar was jovial, on the water the next day it was intense. The Pro-Am started with a day of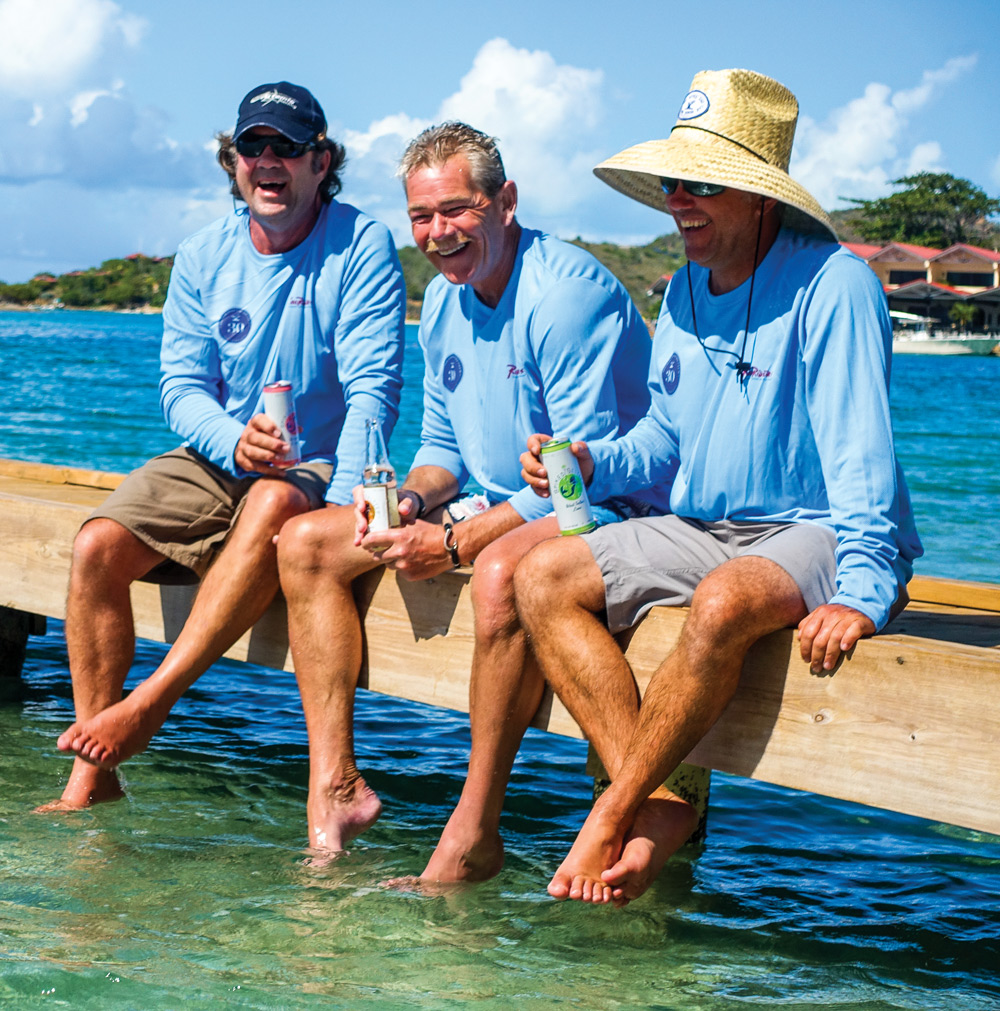 Sharon Green photo
Laser and Hobie Cat racing, followed by the Sunsail Defiance Day race to the Baths, and back. Day three's racing was aboard the IC24s, which are modified J/24s. A lay day followed before a final day of IC24 racing, featuring match racing with the pros. In between there were volleyball matches, spike ball matches, scuba and snorkeling excursions, and parties, parties, parties.
The Bitter End Y.C. is an elegant, but not opulent, sprawling resort of villas perched on hillsides and along beaches, which is a far cry from the cluster of scruffy cottages purchased by cruisers Myron and Bernice Hokins in 1973. Since that time, it's been updated to embrace restaurants, bars, shops and a wide assortment of water toys. The North Sound is a playground of reefs, cays and islands, fringed with deserted beaches. Trade winds from the east make the sound ideal for racing, on blissfully tepid turquoise waters.
There are also about 70 moorings, and that's where we tied up our spacious Moorings 4800 catamaran. Living aboard the mothership, we had the best of both worlds. From our own roomy, air conditioned accommodations we could leap in the water, kayak and paddleboard and still enjoy the activities and amenities of the Bitter End Y.C., including powerful Wi-Fi that reached throughout the anchorage. Nearby, the Saba Rock resort sat on a squat little isle, wrapped in breeze. Easily accessible from Bitter End Y.C., it provided a welcoming option for lay day drinks and dining.
After sailing four days, with the various pros rotating on the boats, the Gill Scuttlebutt Championship was held.
"The most important event of the whole week," said Leweck, the self-proclaimed "Almighty Judge" of racing.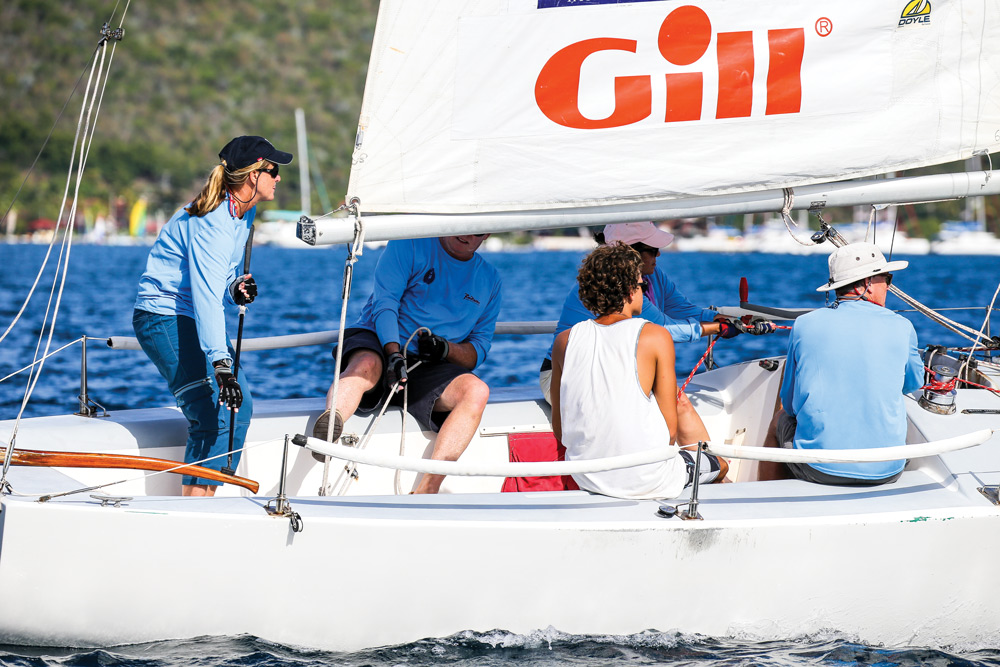 Sharon Green photo
Guests got a chance to practice what they'd learned from the pros, and the windward-leeward races were won by Ron Boehm from Santa Barbara, who lauded those clashes as, "It was incredibly competitive, with everyone rounding the marks within 30 seconds," Boehm said. "But not too much bumper boating."
Taylor Canfield won the opening fleet race, and won both the match racing and fleet racing championships, to take top honors among the pros.
"What a pleasure to race in my back yard," said Canfield, a 28-year-old U.S. Virgin Islander. "This is such a special experience, and I love the energy of meeting and sailing with new people."
His victory earned him an invitation to the 2017 Pro-Am to return to defend his title.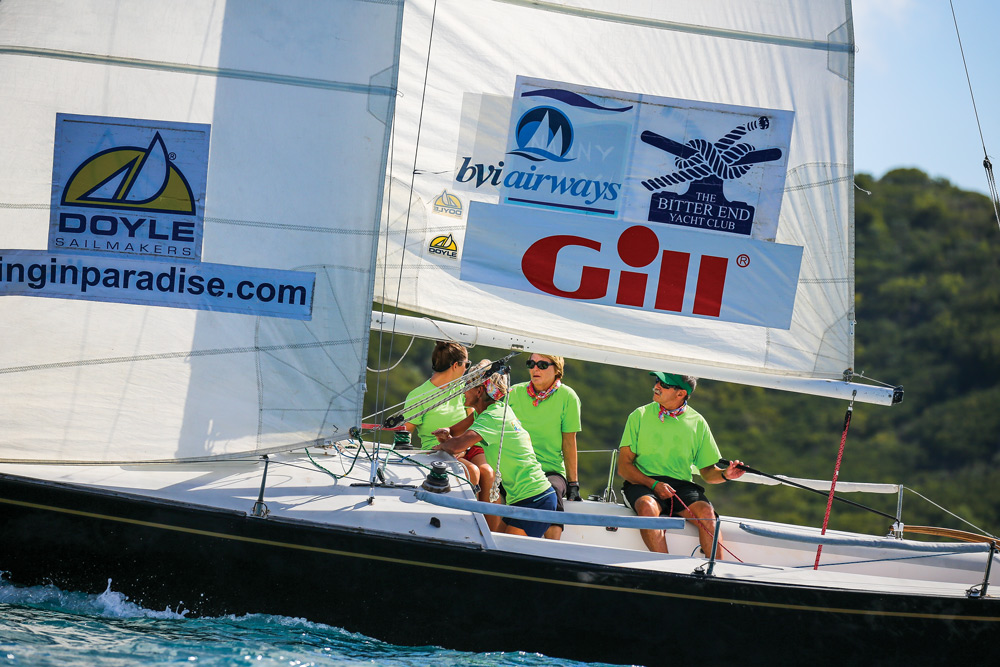 Sharon Green photo
Roughly 75% of the attendees are return guests, and by week's end, 30 sailors had already signed up for the next year's edition. Repeat sailors are the mainstay of the event, which is quietly promoted because so many sailors return. Maybe it's because it's a place where friendships are made and kept, such as George Huntington and Tom Story. Huntington, a New Yorker, joked that he bribed his wife Debbie with the annual vacation so he can return to race with Story, a sailor from Indiana he met 20 years ago at the Pro-Am.
"What we don't do on the racecourse, we make up for on the buffet line," Story said. Their once-a-year reunion is a merry one, as they banter throughout the week like Statler and Waldorf, the gray-haired hecklers from the Muppet Show. In fact, everywhere you went, there were clusters of new friends or reconnected with old ones, and we personally added a dozen new allies to our Facebook accounts.
"This is just like going to summer camp when you're a kid," said Dave Perry, the match racing guru who literally wrote the book on the sport. "People come from different parts of the world, but have shared interests. It's like old home week with some of our friends, but we have made so many new friends this week too."
"Getting to sail with new people is the essence of this regatta," said Anthony Kotoun, World Champion J/24 skipper. "Every time I switch boats and get a new bunch of people, I'm excited.
"Although the skippers get a lot of the pomp and recognition, it's the guests that make us look forward to coming back."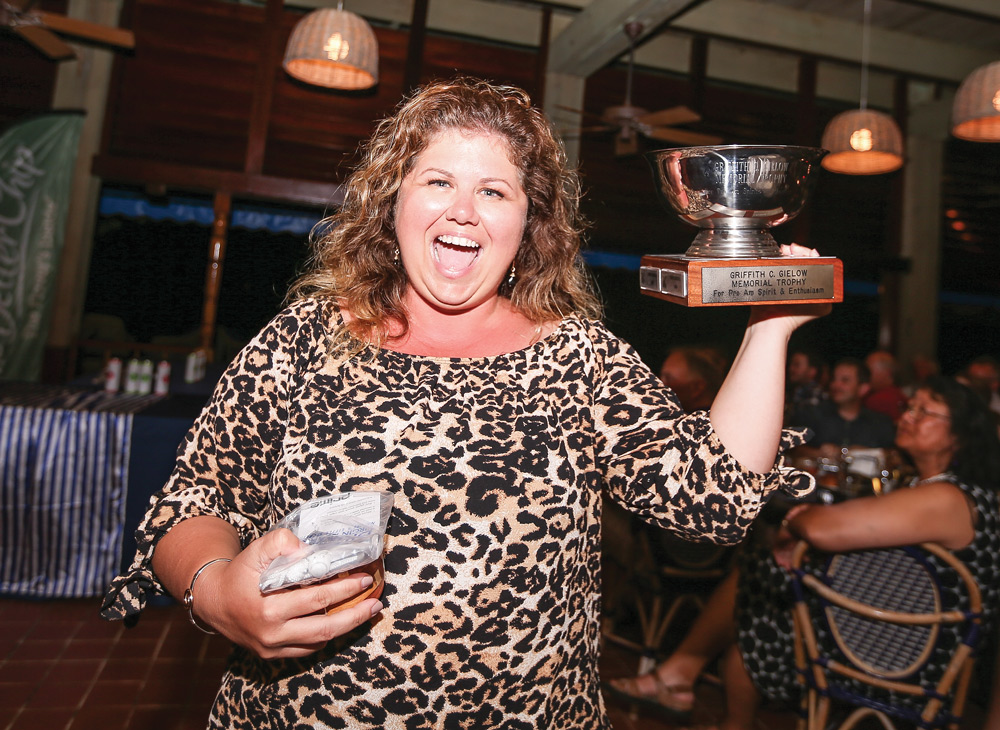 Sharon Green photo
The focus on enthusiasm and camaraderie is so great, there are off-the-water prizes for just that, filling the lively end-of-week awards ceremony with even more to celebrate. And when our newfound friend Angel Ganey was recognized for "embodying the spirit of the Pro-Am," we were out of our chairs in celebration. The Tallahassee sailor, with her husband Mike, received a free return to the Pro-Am next year.
Sadly, our week of rubbing elbows with the world's best sailors was coming to an end. But before it did, Perry offered a grand finale. He introduced his wife Betsy, who was celebrating her 60th birthday. A big chocolate mousse cake was brought out from the kitchen, and the entire raucous crowd rang out in "Happy Birthday." He had ordered an immense cake that was big enough for all their new Pro-Am friends.
The 2017 Bitter End Y.C. Pro-Am regatta will be held October 21 to 29. Visit www.beyc.com for more information.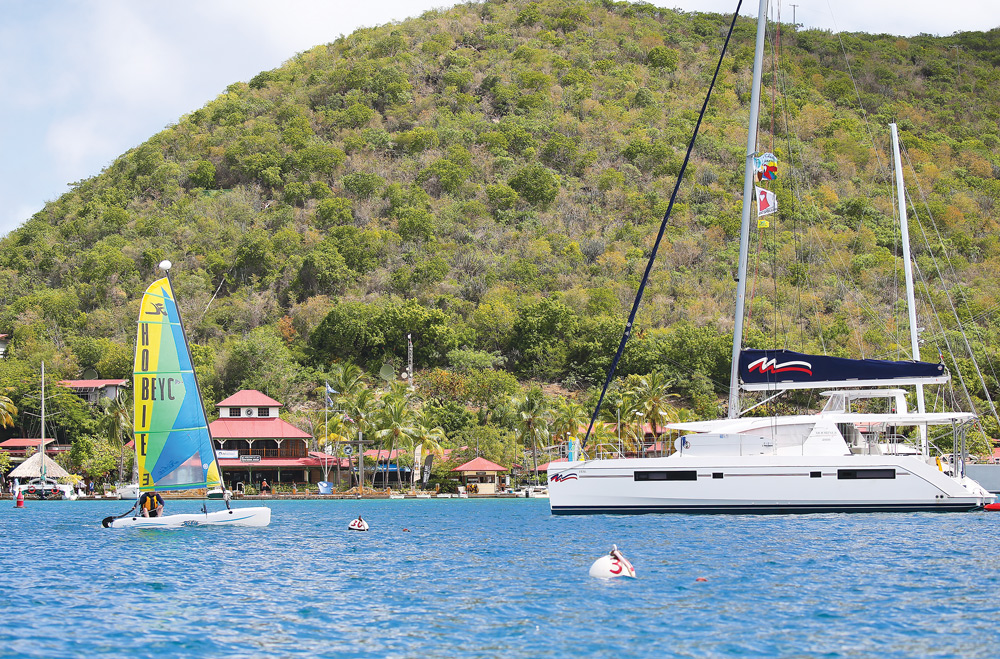 Sharon Green photo