SAILING Magazine Contributing Photographer Sharon Green captures the action of Key West Race Week in her favorite conditions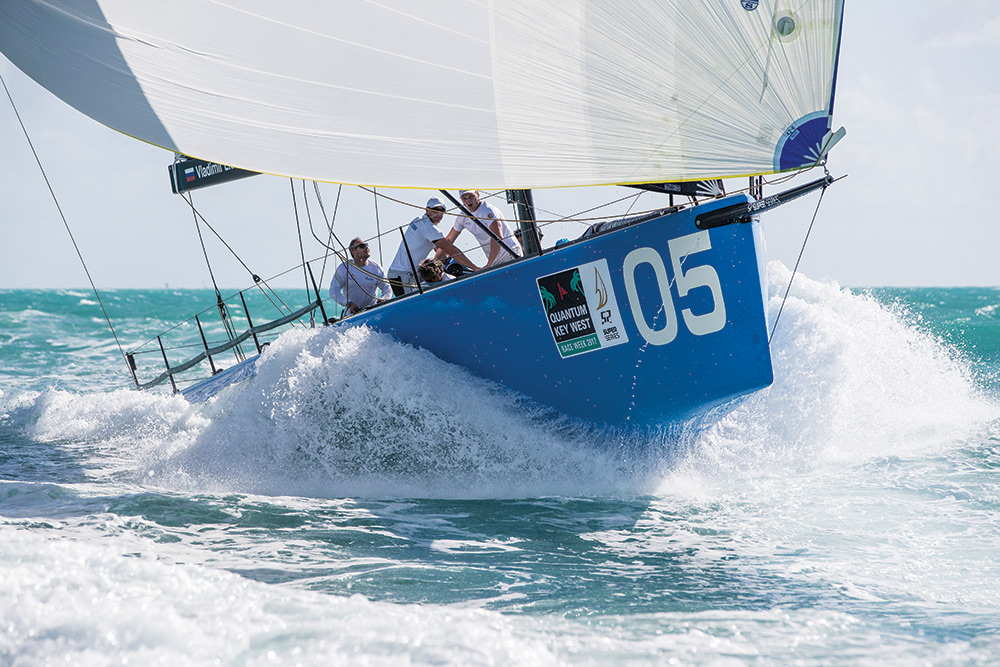 Sharon Green photo
For 30 years, sailors have escaped the clutches of Old Man Winter by heading south, to the southernmost point in the U.S.—Key West, Florida. This year, Quantum Key West Race Week was sailed in perfect conditions, which began with a 15- to 20-knot southeasterly on the first day before diminishing as the week went on. There used to be an old saying, "Don't trust anyone over 30," but as race week successfully wrapped up its third decade, this popular regatta proved otherwise. Trusty, gusty breezes enveloped the fleet of nearly 100 boats from the get-go, providing the exhilarating and challenging conditions racers have come to expect.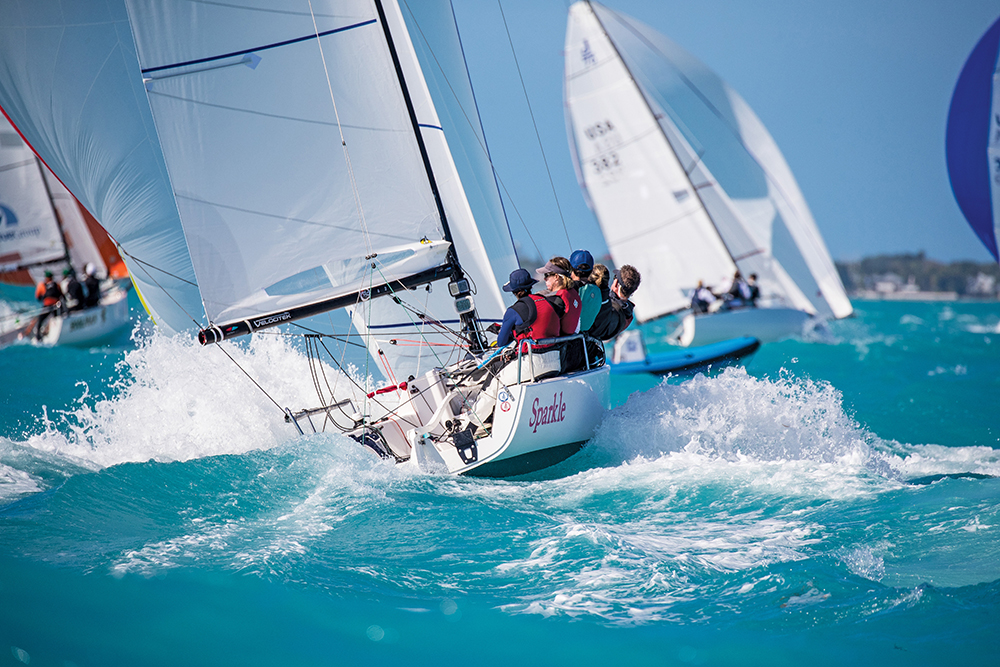 Sharon Green photo
Hundreds of sailors from around the world turned up to compete in five days of racing in the turquoise waters off this funky and frivolous Florida hamlet. The first two days saw winds of 15 to 20 knots, gusting to 25, which eased slightly on the third day. As if to appease sailors on the morning after the traditional Mount Gay Rum party, the breeze relaxed and remained light the last two days. As a result, sailors met with an assortment of conditions that gave everyone a chance at a win.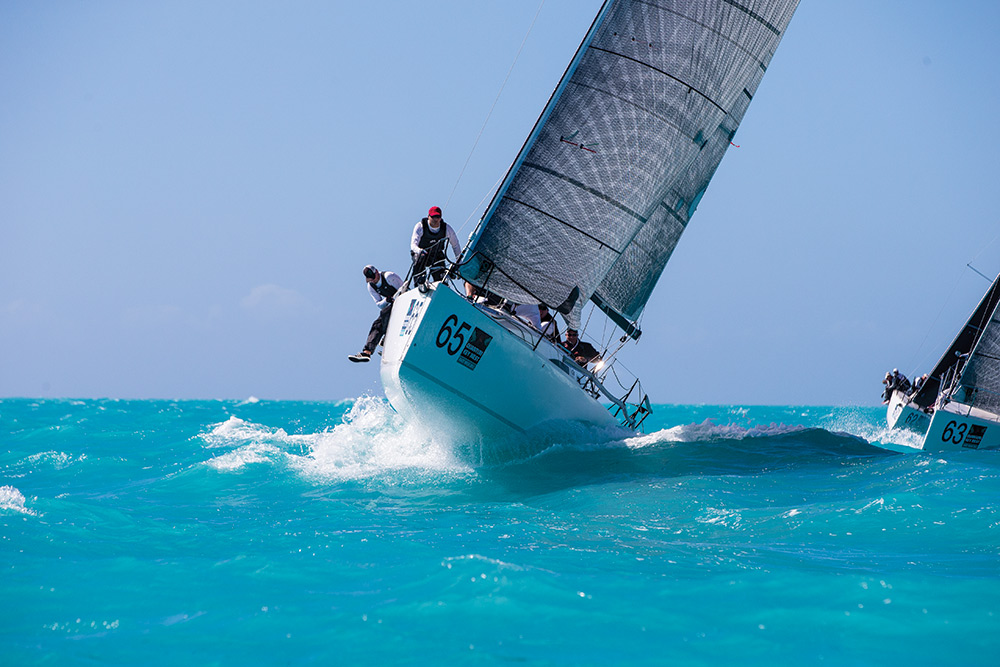 Sharon Green photo
"For years I've heard about all the great conditions and big breeze, and that's what it delivered," said J.D. Hill, who brought his J/122 Second Star down the Overseas Highway for the first time. Calling conditions "sporty," Hill sailed Second Star to victory in the nine-boat ORC Class, with just two points to spare. New York Yacht Club Commodore Phil Lotz' Gunboat 60 Arethusa won the Multihull Class, while Todd Stewart's White Rhino crushed the Performance Cruising Division with a string of bullets. Bringing new meaning to the term "when pigs fly" Hogfish Racing soared to victory in the Flying Tiger 7.5m division. And two one-design class winners had such solid leads, they didn't race the final day. Dan Cheresh in his C&C30 Extreme2 and Laura Weyler's J/88 Hijinks were able to sit out, having secured the win.
But it was the large J/70 fleet and the high-octane TP52s that added the sizzle to race week. A constantly changing leaderboard kept the crews on their toes, and on the last day four TP52 teams were within three points of first place. After a nail-biting final day of racing, Quantum Racing topped the leaderboard winning the TP52 Class Championship and earning skipper Doug DeVos his second Boat of the Week award.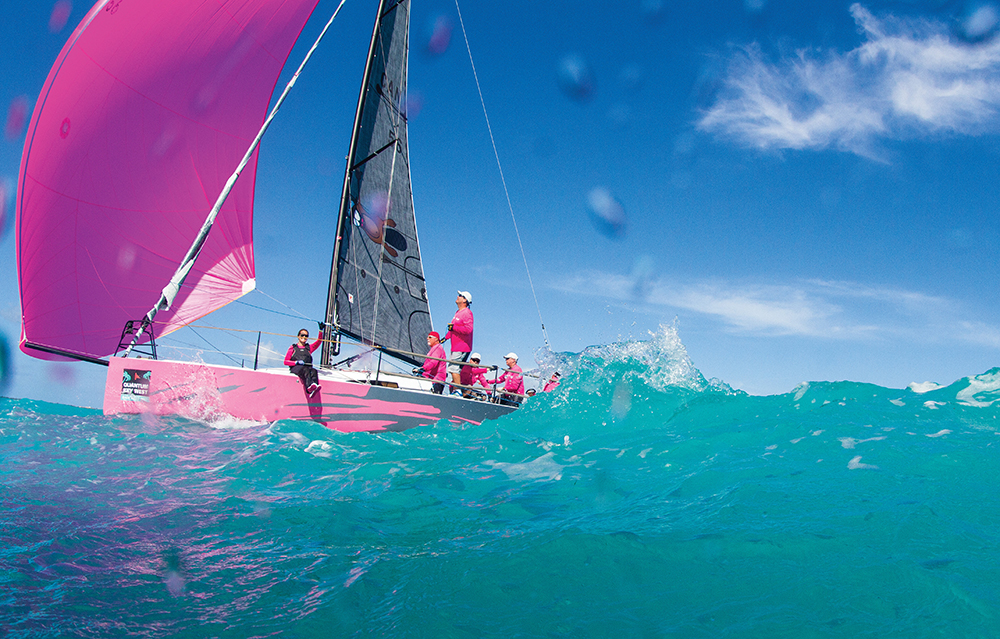 Sharon Green photo
Although the event clearly is a favorite of sailors worldwide, the future of race week is murky. Shaky sponsorship has thwarted efforts to secure the entries of needed class championships, which need roughly 18 months advance planning.
"Fewer boats does not mean less quality," said Terry
Hutchinson, two-time Rolex Yachtsman of the Year and tactician for winning Quantum Racing. "Key West's champagne sailing conditions always deliver," he said. "If it was up to me, I'd come here every year." -- Betsy Crowfoot