A stress-free charter in one of the world's most exotic locations was just the ticket for this happy group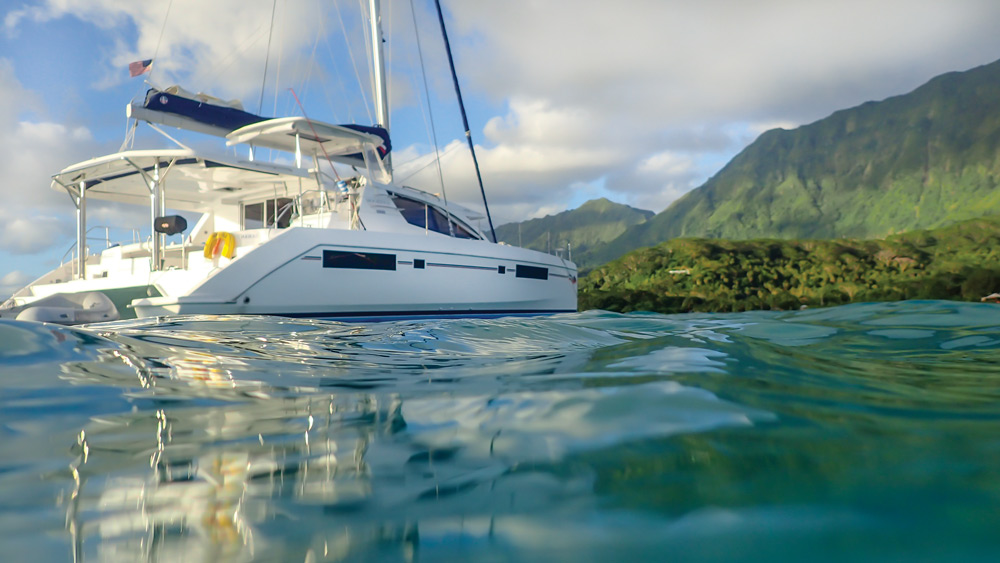 Susan Colby photo
Sailing French Polynesia is the stuff dreams are made of. We had Laura, a marine biologist, who dreamed of exploring the sea life and coral gardens, and Jane, an avocado rancher, who dreamed of seeing the lush Tahitian flora and traditional medicinal uses. School principal Barbara fancied the ancient cultures, while Katie envisaged learning a Tahitian dance. Susan needed time in paradise to recover from a recent surgery and Maggie and Pamela were looking for tropical fun and adventure. Seven cruisers. Seven agendas. Could a weeklong cruise in the Tahitian islands satisfy everyone's idea of a dream vacation?
To help check off everyone's wish list on a quick seven-day charter, we started planning early, with lots of research and the help of staff at The Moorings in Raiatea.
Known as the Sacred Island, Raiatea is a spectacular puddle jump from Tahiti's international airport in Papeete. From there, the islands of Taha'a, Bora Bora and Huahine are within close reach. Suki, Jane and I had arrived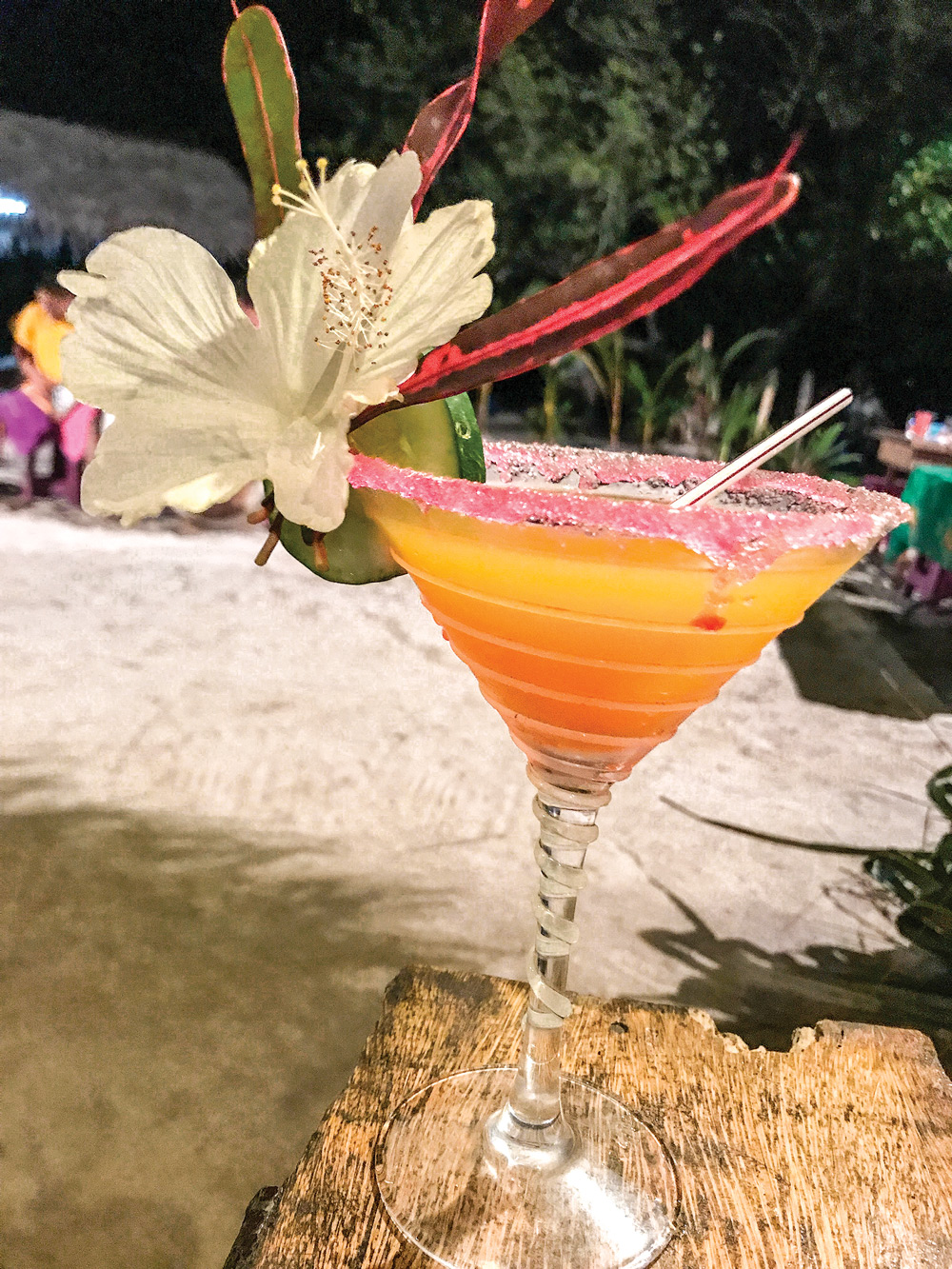 early, to get a head start. The two grocery stores in Uturoa are a quick taxi ride from the base on Baie Apooiti. But first we made a stop at Patisserie Bon Apetahi to stock up on fresh baguettes, pastries and a delicious pain au chocolat to munch on while we shopped. We visited both grocers plus the produce market, all conveniently located downtown close to the wharf. We were thrilled the Champion store offered to deliver several cartloads of groceries to the base.
We delved into the chart briefing at the Moorings base and Laurent helped us fine-tune our wish list, while Corinne made advance reservations. The boat check-out was a breeze, as we'd chartered the same spacious Moorings 4800 catamaran in Belize and the British Virgin Islands. It was like coming home again, to the gleaming, beamy four-stateroom boat that would be our roving residence for the next week.
When the other gals arrived Friday morning, we were ready to launch. We slipped out of the marina and headed to the east side of Taha'a, to the anchorage at Motu Mahaea abreast Passe Toahotu. Within just hours of landing, our crew was washing away the grit and weariness of redeye flights and over-saturated work and family schedules. Soaking in the delicious turquoise waters of Tahiti is food for the soul.
We swam and snorkeled until Taha'a, the dense emerald island notched with fingers of cobalt water, tempted us to move on. The Moorings had helped us book a table at the dinner and dance show at Le Ficus that night, so we clambered back onboard and set off for nearby Baie Apu, grabbing a free mooring. Soon the cockpit erupted with excited chatter. The western sky was streaked pink and blue, morphing into violets and ruddy gold. The women held their cell phones high, to capture the stunning sunset, steadying cold drinks in their other hand.
As the fire in the sky subsided, we spirited off in the dinghy to Le Ficus, for a traditional Tahitian feast called a tamaaraa. We dined on a spread of dishes, cooked old-style on heated stones in a pit called a hima'a. As we ate, we enjoyed the music and dance performances that were delightful in their authenticity. Novice dancers in the back followed the more experienced ones in the front row, all eager and smiling. Outside the sandy dance floor, youngsters mimicked the expressive moves and mouthed the words. Grandma sat quietly nearby with a baby on her lap.
"It was very much a family affair, no polished operation," Suki said. "It was such an amazing experience, I would not want to have missed it."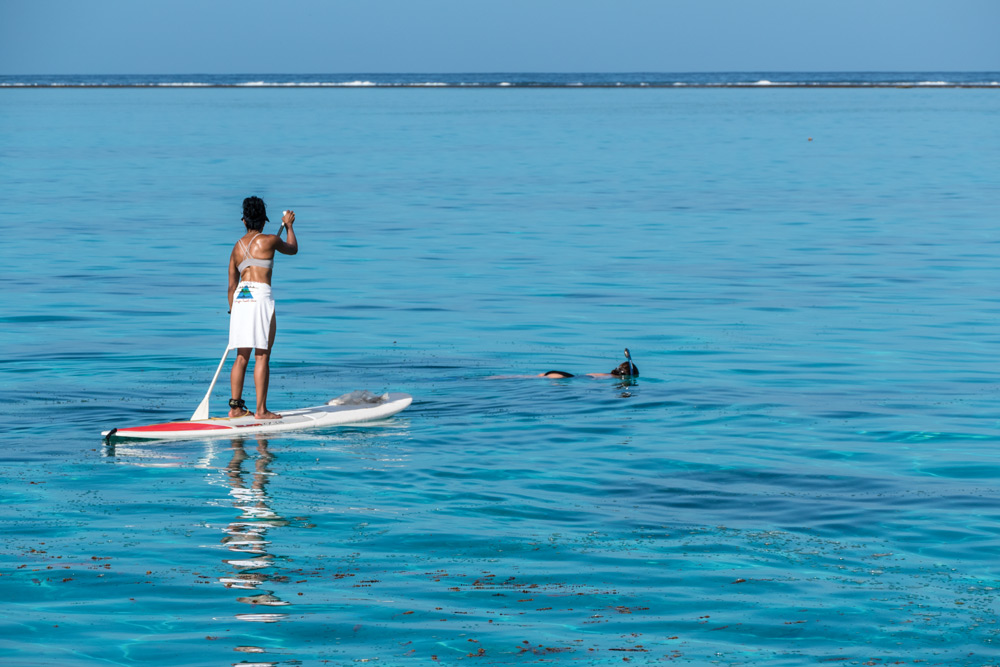 Susan Colby photo
The next morning, we set off early for the Vanilla Farm and Island Tour with Noé Plantier. His parents had started this acclaimed tour decades ago and Noé, an aerospace engineer, had recently retired, returning from France to take over the family business. Intelligent, charming and informed in all things Tahitian, Noé began the outing in his Polynesian-style home, crafted from coconut leaves and bamboo walls. After exploring the vanilla farm and probing the unusual (and somewhat sensual) way vanilla beans are fertilized and grown, we circumnavigated Taha'a in an open car. Noé stopped often to tell us about the local plants growing in profusion beside the road, describing their traditional and modern uses. Pizza in Tapu'amu and a rum tasting at the Piri Piri Distillery were also on our agenda. We took in fragrant flowers, dazzling views, decadent rums, and tangy tastes, ending our lively adventure with a picnic at Mt. Haporauta. That night, we slept soundly on one of the Plantiers' complimentary moorings.
---