Magic wands and record breakers
Since its first running over a century ago, the Transpacific Yacht Race has bewitched sailors of all backgrounds and ages, to challenge the 2,216-mile course from California to Hawaii. This year's edition was no exception—a magical experience, for more reasons than you could shake a wand at. There were racers young and old, on yachts large and small, from classic Cal 40s to the record-breaking maxi Comanche. There was a sled with a cat's name, Pyewacket, and a cat with a monkey's name, Chim Chim. And this year's race marked the return of The Wizard.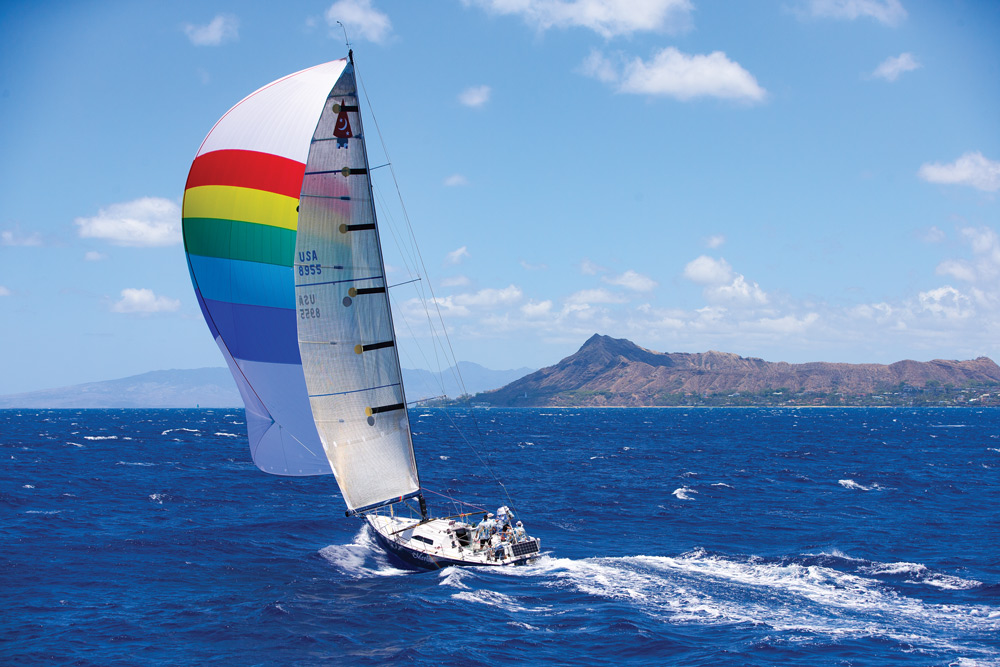 Sharon Green photo
It was 40 years ago that Bill Lee's then-radical design Merlin was launched. Her dimensions—68 feet long and 12 feet wide—were dictated by the size of the repurposed chicken coop she was built in. At 25,000 pounds, she was half the weight of her contemporaries, making her the pioneer in the ultralight displacement boat movement.
Lee himself was a bit unconventional too. After donning a pointy wizard hat impulsively made by a buddy at a sail loft party in 1973 celebrating his design Chutzpah's Transpac win, people started calling him The Wizard. In 1977 the moniker became complete when a theater costume robe salvaged by Janey Larson, wife of a fellow crewmate, was brought to the Transpac finish line. Sailing Merlin, named in part after the magician from "King Arthur and His Knights of the Round Table," Lee had just shattered Windward Passage's 1971 Transpac record by nearly a day, logging a finish of 8 days, 11 hours, 1 minute, 45 seconds, and setting a record that stood for 20 years.
The boat became legendary as Merlin competed in scores of Transpacs, under various owners, and spent time on the Great Lakes, all the while undergoing modifications, repairs and redesigns, including the addition of a cumbersome canting keel.
aboard Aafje.
The Transpac is encouraging the next generation of bluewater racers, said Transpac devotee, Tom Corkett.
"I was 17 years old when I did my first Transpac, in 1959. My next Transpac was in 1963, and as skipper of the 40-foot sloop Islander I became the youngest skipper ever to win the Transpac on overall corrected time," he said.
Now 76, Corkett has gone on to do 16 of the sprints from Los Angeles to Honolulu, including this year aboard the Andrews 70 Runaway.
"There is no other race like Transpac—tradewind sailing is the best, with blue skies and blue water. It's still a very challenging race, but a fun one. And you can't finish an ocean race in a better place than Hawaii! It lures me back every year."
Transpac 2017 also saw two new records set. With a spellbinding sprint of 4 days, 6 hours, 32 minutes, 30 seconds, HL Enloe and the crew of Mighty Merloe zapped the multihull record by more than a day. The previous monohull record vanished as well, when Jim and Kristy Clark's Comanche finished in 5 days, 1 hour, 55 minutes, 26 seconds, in an effort led by skipper Ken Read and navigator Stan Honey. Rio 100 conquered a river of problems underway to win the Barn Door for the first-to-finish non-exempt boat, with an elapsed time of 6 days, 17 hours, 9 minutes, 9 seconds.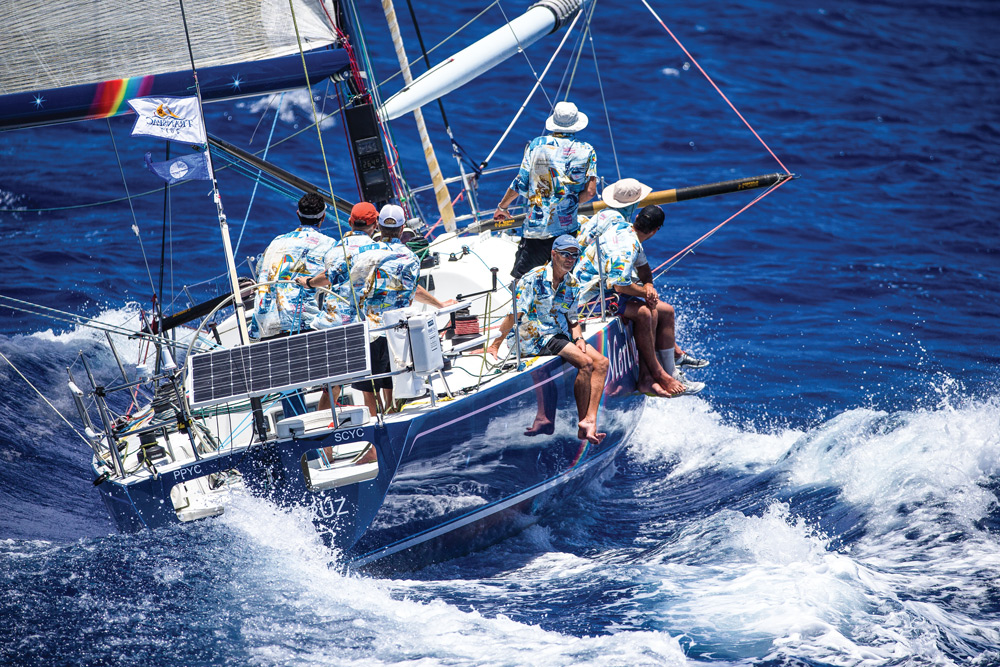 Sharon Green photo
By no sleight of hand, Frank Slootman's Pac52 Invisible Hand captured first overall and first in Division 1. The fleet's smallest boat, the Hobie 33 Dark Star, took first in Division 6; while the blast-from-the-past Cal 40 Azure won Division 7 in the Aloha fleet. The cushy Cabernet Sky wrapped up the race early on the morning of July 19, earning "Tail End Charlie" honors.
David Sharples, skipper of the 50-foot Zephyr, was lured to the Transpac race by its reputation.
"Before we entered the Transpac, we had heard how special the race is. But until you experience it first-hand, it's hard to appreciate just how unusual it is," Sharples said. "Yes the sailing is excellent, tactics and weather challenging, but what makes it so wonderful is the hospitality of all the organizers and volunteers. It was such a treat to be welcomed by such warmth, and a sense of inclusion."