The 50th anniversary of the E-scow class Blue Ship Regatta brings the biggest names in sailing to Wisconsin's Pewaukee Lake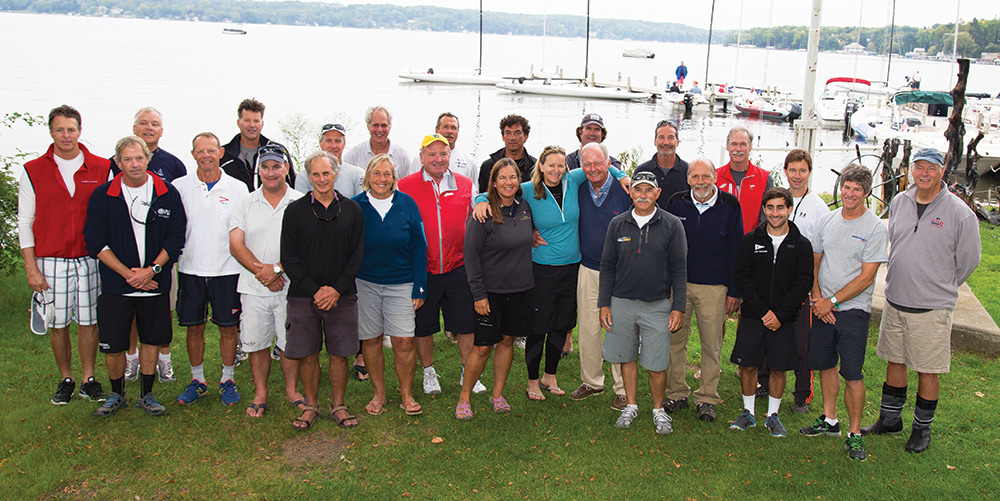 Sharon Green photo
Rather than a soggy sandwich between races, the relaxed pace of this fun-focused regatta allowed for leisurely hot lunches ashore after which some of the best sailors in the world chatted each other up. Caribbean sailing pro Peter Holmberg hung out with Canadian Finn medalist Terry Neilson. Match racing guru Dave Perry was seen with Steve Benjamin, of TP52
Spookie
fame. Sixty-nine-year-old sailmaker Dave Ullman chatted with 22-year-old College Sailor of the Year Graham Landy. This creating and rekindling of friendships is what makes this event so special.
Inside the club, Loie Sawyer was assisted at the buffet by daughters Sunny, Cindy, Kathy, Sally and Tammy (wearing a second hat: photographer) all in matching aprons. Tom Sawyer, the deceased patriarch of the clan, was one of the creators of the Blue Chip.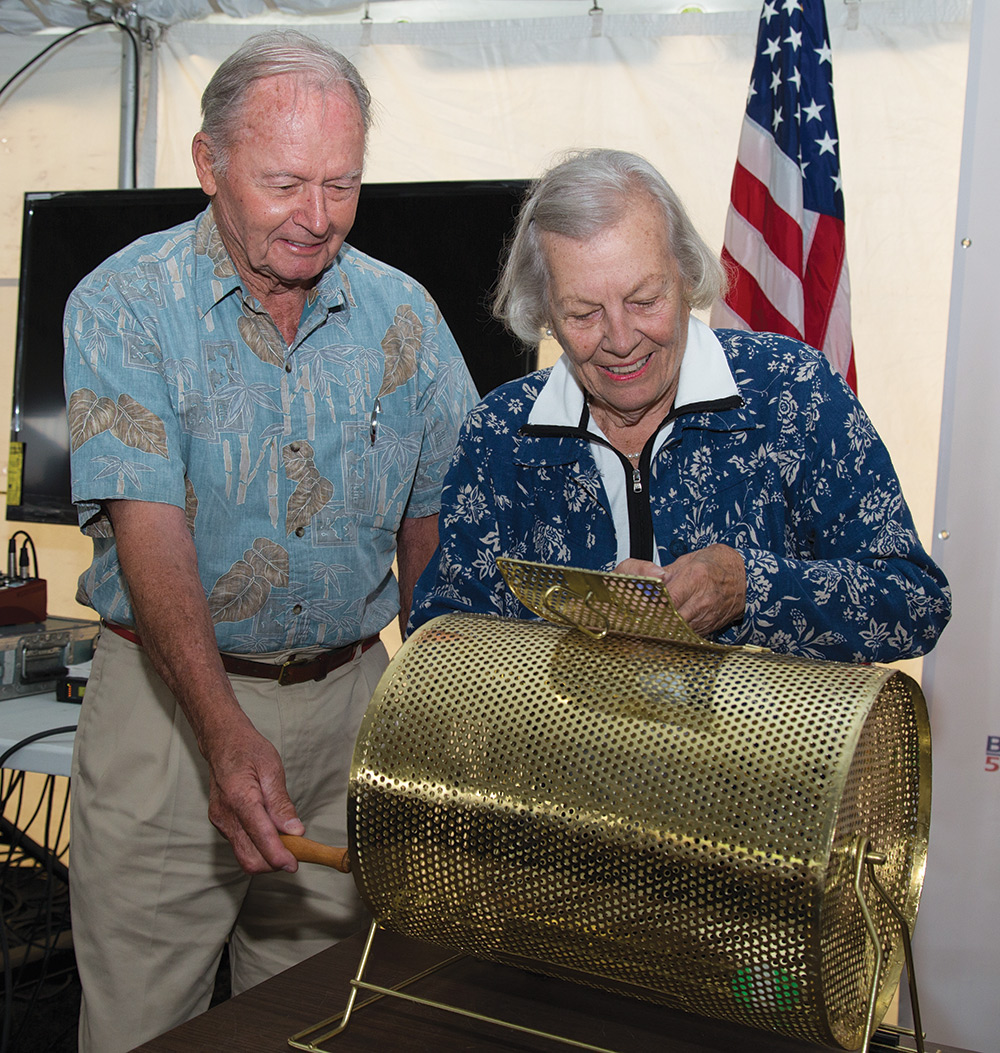 Sharon Green photo
"We always joke that these three men founded it," said Tammy, referring to her father, and fellow co-founders Terry Lentz and Jim Klauser. "But who do you think really ran it?" The Sawyer women carry on the legacy, like so many others.
A warning shot was fired and racers headed back to the start area—a quick jaunt. Pewaukee Lake is all of five miles long, and only the western half is deep enough and suitable for racing. The setting is as bucolic as any, with lush greenery stretching down to the waterfront.
This narrow swathe of sweetwater, 30 minutes west of Milwaukee, seemed an unlikely platform for such grandness. But Pewaukee is the home of Harken Inc., the leading manufacturer of sailboat hardware. Harken's founders, brothers Peter and Olaf Harken, along with many of the employees, are members of the Pewaukee Y.C.
"There has always been a history, considering our relationships with the professional sailors around the world," said Bill Goggins, managing director of Harken USA. "Since the inception of the Blue Chip, Peter Harken, and now I, help to recruit the mystery guests.
"Getting the next mystery guest is a challenge for a club in the middle of the Midwest, and not just because of the scheduling," he said. "There's the difficulty of finding the right person in the right year—you want someone who has just accomplished something great."
Last year organizers wanted Jimmy Spithill, who was fresh off his America's Cup win.
"Peter challenged him," he said. "He said, 'Jimmy, if you're ever going to prove your manhood, you're going to prove it here on an E-scow.'" Spithill bit, and was mystery guest No. 49.
"It's become such a tradition that it's easier to recruit people," Goggins added.
"This is a Who's Who of American yachting and it's really an honor to be invited and be among them," said Jonathan McKee, who interrupted Melges 20 racing in San Francisco to attend. "I believe in supporting this community, and this year, being the 50-year anniversary, it's something any sailor wouldn't want to miss."
Sharon Green photo
McKee, a two-time Olympic medalist, was a mystery guest in 1985 at the age of 25.
"It was a real eye-opener; the culture they created in this little corner of the world. Now I'm back, 30 years later, and see that culture still here—it's amazing."
"The E-scow culture is embedded in these families," Goggins said. "The goal is not to win a bunch of hardware, but to create an experience for each generation, and enrich life."
The unique culture and atmosphere of Pewaukee Y.C.'s Blue Chip Regatta is a common theme among the sailors, but so too is the challenging racing.
"I'm the weak link in this program," said Dave Perry, while extreme sailor Cam Lewis said, "I rely a lot on the experienced crew. They're my Seeing Eye dogs!"
Buddy Melges, a sailing icon and founder of Melges Boat Works, which builds most of the E-scows along with its Melges line of boats, couldn't resist a little ribbing for the mystery guests who are used to winning their respective classes.
"In this event it's nothing to be embarrassed about, if you turn around no one is behind you," Melges said. "I hear the fight for last place is pretty exciting too."
Last place holds a special honor. The team at the bottom of the leaderboard Saturday night is traditionally summoned to do the "Bar Walk." This year was no different as drinks were pushed aside and a quartet of sailors clambered onto the club's broad wooden bar, dancing to the blaring music. The night continued with further revelry, including dancing on an "American Bandstand"-style platform in the middle of the room.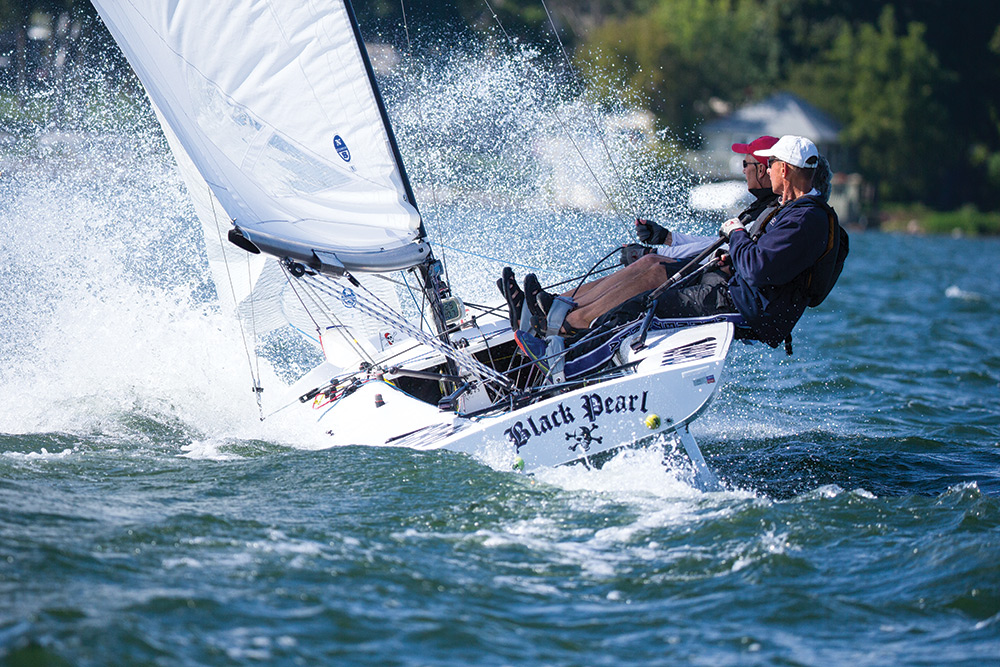 Sharon Green photo
On Friday and Saturday the breeze fostered pleasant east-west courses, but on Sunday, when fog lingered not only on the water, but in the heads of some of the sailors, the only ripple on the water was from the ducks paddling by. Racing was canceled, ending the regatta after competing five of six scheduled races.
"The trick at the Blue Chip is that the mystery guest is always a world class sailor, but they don't know the boat, don't know the lake. By the time they figure it out, we're all taking our masts down and going home," said Dick Wight, who captured third place.
But Wight also had a learning curve when he was the mystery guest 44 years ago.
"When I competed in my first Blue Chip, it was a triangle Gold Cup course. We'd never sailed on a lake before, but miraculously we were first to the first mark, and then first to the next mark, but by the time I was coming to the finish, I couldn't even read the sail numbers in front of me," Wight said. "We discovered we had a lot to learn about lake sailing."
Competitors acknowledge that you have to know your lake, or as Melges put, "Know the ladies on the lake."
Goggins said, "Lake sailing, is all about local knowledge and lore. Like, 'When you smell the cookies baking, tack!'"
Socializing is one of the things Blue Chippers do best, including an opening reception, a party at the nearby Harken world headquarters, an elegant banquet under the tent and never-ending chatter among friends old and new on the shaded lawn of the club. Some of the best memories come from off the racecourse. Club members who hosted guests tell of friendships born out of pre- and post-race interactions. One competitor decided to stay at the party a little longer than his driver, saying he would walk the few blocks to the host's house later. What should have been an easy hike turned into a two hour adventure and earned him no sympathy from his crew in the morning but made for a great story over coffee.
The prize-giving was memorable. Teams came up on stage, from last to first, in a presentation rife with jokes and jabs. No one was immune.
Mark Reynolds, who has three Olympic sailing medals—two gold and one silver—just missed last place, and razzed Terry Neilson for "taking that bullet for me."
JJ Fetter, who would go on the following weekend to her induction into the National Sailing Hall of Fame showed off her souvenir, a masthead Windex caked with mud. "I've never had this much fun, coming this close to last," she said.
Not to be outdone, Olympian Johnny Lovell shared his own tale of woe. "We did return the mark and anchor, after we got tangled up with it," he said.
It was Bora Gulari and Team Shimmer who won the first-place trophy, edging out Peter Holmberg on Ballistic.
"All credit goes to my crew. I was just some knucklehead that got to hold on to the 'which way' stick," Gulari said.
"To be here has been an honor," he said. "I'm always asked where I'm from and I have a hard time answering that. But from now on I'm going to throw Pewaukee into the mix."
As one member said, "We're not a fancy club, but we're a warm club." And that warmth shines through, even without Blue Chip Fever.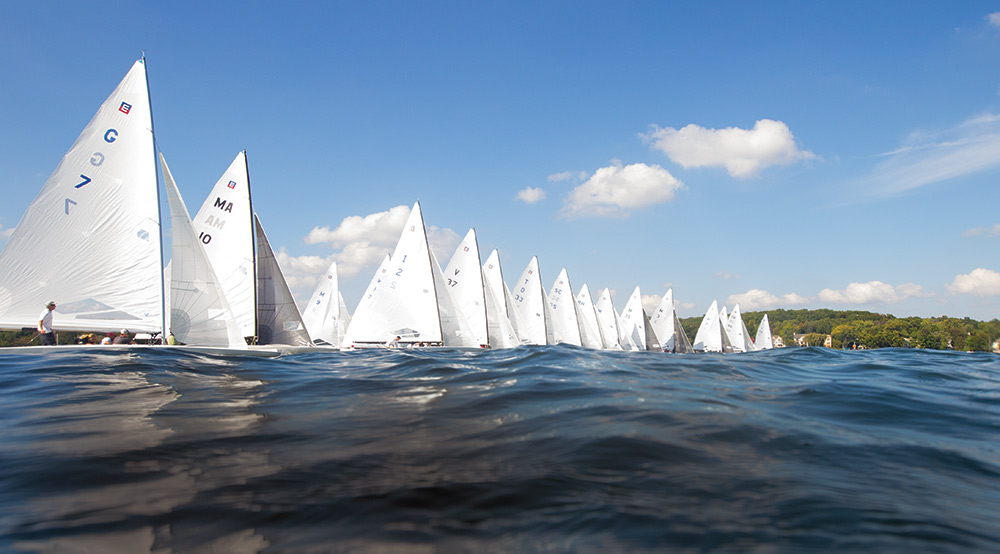 Sharon Green photo