Ludicrous speed on hard water
For hardy sailors, the racing season really gets going—and going fast—when freezing temperatures create the perfect iceboating conditions
Orlebeke won the regional DN championship twice and has taken third place three times at the North American championship. Because the DN class is an international favorite, he said he's made friends all over the world and even had the opportunity to race in the Czech Republic.
"The Polish are the fastest in the world right now," he said.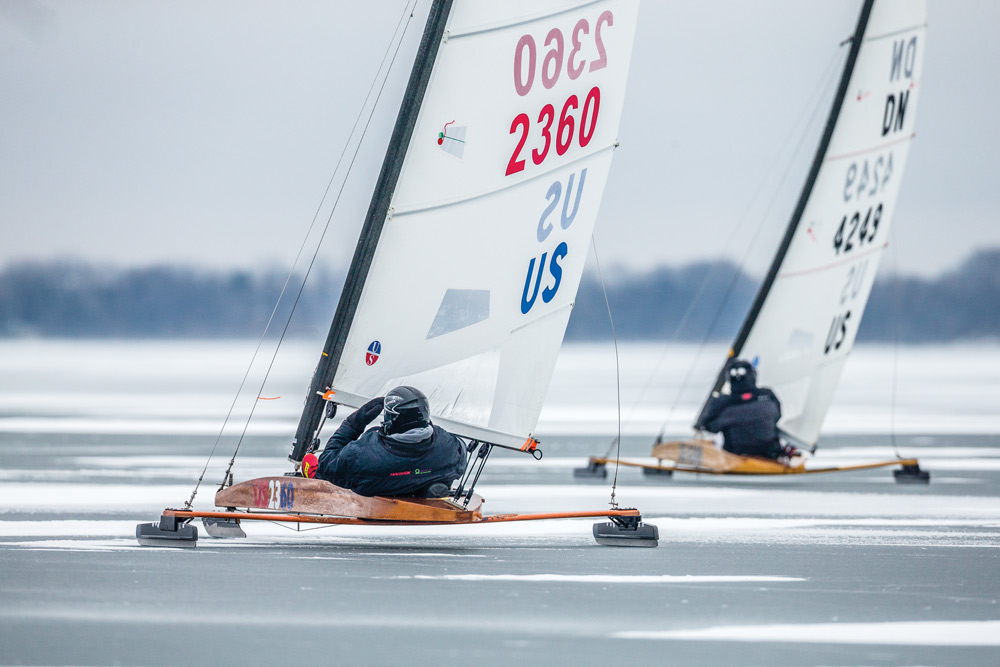 J.H. Peterson photo
Orlebeke belongs to the Four Lakes Ice Yacht Club in Madison, Wisconsin, where enthusiasts have been building and racing iceboats for more than a century. Indeed, south-central Wisconsin has proven to be a haven for iceboaters due to its latitude, prevailing weather patterns and availability of large inland lakes.
This region draws sailors from across the country and Europe as well. Often, they find themselves eagerly awaiting what 4LIYC Secretary Deb Whitehorse has called "The Big Zamboni," which occurs when warm temperatures and maybe some rain melt the season's significant snowfall followed by major cool-down that freezes the water into smooth ice.
"You have to be optimistic, because this is a fickle sport," she said.
The Skeeter Ice Boat Club at Lake Geneva also plays an important role for iceboaters in the region. Since roughly 50% of its membership hails from the Chicago area, the club is dedicated to monitoring ice and weather conditions and communicating regularly with out-of-towners.
For example, if it's below 10 degrees, races are canceled. High winds can be an issue as well. And then, of course, there are the ice conditions. Clear, smooth ice can take higher wind velocities than sticky or slushy ice can, and ice scouts are always on the lookout for pressure ridges, seams and weak ice.
Ice is tricky. It might be 3 feet thick in one spot and just half an inch thick somewhere else. Iceboats need 4- to 5-inch minimum thickness, and some of the large stern-steerers need at least a foot. Visiting sailors should speak with those who are intimately familiar with the ice conditions before venturing onto any of the area lakes.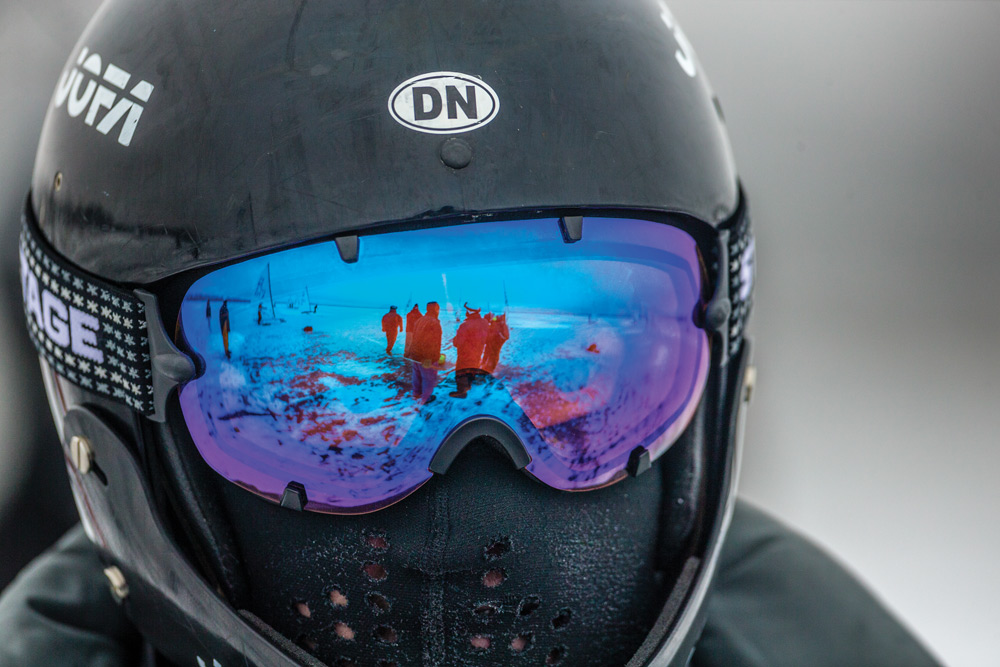 J.H. Peterson photo
"Fishermen and iceboaters are the only ones who really know," cautioned longtime Lake Geneva resident Jane Pegel. "Not snowmobilers, not law enforcement. So don't just wander out. Talk to us; we know where we're going."
Few sailors are as decorated as Pegel, who was the 1957 women's national sailing champion, 1964 US Sailing Yachtswoman of the Year and is a 10-time world champion in the DN class. A longtime resident of Wisconsin's Lake Geneva area, she and her late husband Bob raced together for many years, accumulating a plethora of sailing and iceboating awards and operating the Williams Bay-based dealership Sailing Specialists Inc. before their retirement in December 2009.
Pegel started iceboating in 1948 and has remained active in the local iceboating community into her 80s.
"The people are fun to be with, and I enjoy the challenge of racing, making the boat go faster, even spending hours and hours in the shop, trying to get the last ounce of speed out of the boat," she said. "It's a unique experience, and there aren't many places in the world where you can do it."
This corner of the Midwest has another iceboating celebrity: Harry C. "Buddy" Melges Jr. although he is perhaps more well known for his endeavors on soft water. Since he began competitively racing more than 70 years ago, Melges has amassed an impressive collection of championship titles and Olympic medals in sailing. He won the 1992 America's Cup aboard America3 and his family business, Melges Performance Boats, is renown worldwide. His sailing life began here at age 6, when he first stepped into an iceboat. It was perhaps unsurprising that this would be his first boating experience as the Melges family home isn't far from Lake Geneva.