When Mantoloking Yacht Club E-Scow sailor Peter Hurley and his three-person crew headed to Little Egg Harbor Yacht Club at Beach Haven, New Jersey, for the E-Scow Nationals, September 9 to 11, he knew the upcoming three days of racing would be difficult, but he had no idea he and 70 other skippers of these 28-foot-long "flying sleds" would have to confront 25- to 30-knot gusts, a power outage at the yacht club that prevented some boats from launching, a classic Barnegat Bay thunderstorm, and becalmed conditions on day three that forced the race committee to foreshorten the competition to only five races.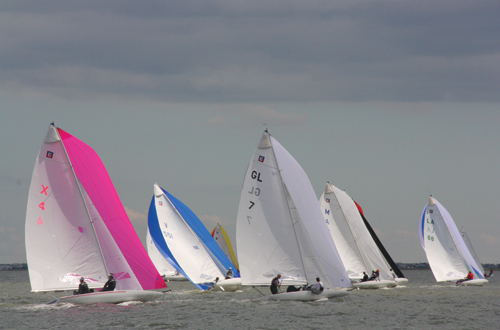 "That's the nature of New Jersey sailing," said a matter-of-fact Bob Stevens, the principal race officer who ran the starts from the deck of his pristine 36-foot Ellis, Sydara, with his usual aplomb. "We generally have pretty consistent winds this time of year, and I know the racers were itching to hike out and let fly, but the challenges of the weather kept the crowd on their toes and the race committee hopping."

This year, the event drew crews from as far away as Minnesota, Colorado and South Carolina. There were plenty of local boats from New Jersey as well. The youngest sailor in the fleet was 12-year-old Trevor Koerwer of Beach Haven, New Jersey. The oldest was 85-year-old skipper Dick Turner from Lake Chautauqua, New York.

"I came to Little Egg Harbor expecting to have to nurse my abs and thighs each night from all the hiking out we'd have to do," said skipper Sam Rogers. "That proved not to be the case, although the club provided a great venue for everyone to wind down after the races, which necessitated recovery of a different sort the next day."

E-Scows were first raced 58 years ago. The National Class E-Scow Organization boasts 600 members representing 33 states. Melges Boat Works of Lake Geneva, Wisconsin, manufactures the sleek, 965-pound boat, which carries 228-square-feet of sail plus a 550-square-foot asymmetrical spinnaker. The boats are a marvel of high-tech engineering with their clean deck layout, spreaders swept aft and no backstay. Speeds over 20 knots
are common.

After a blustery warm-up, during which several boats capsized in the 25-knot winds, the first day of sailing was characterized by light, shifty winds that made setting a proper course difficult. The day was called after two races with winds dropping to nonexistent and the call of cool beverages awaiting the participants.

The second day of racing saw three races in a light breeze of about 5 to 7 knots. Sunday dawned cloudy with storms threatening. After several false starts, the day's racing was called because of inclement conditions and lack
of wind.

The regatta was won by Peter Hurley from the Mantoloking Yacht Club in New Jersey on Barnegat Bay. Coming in second was Art Brereton from Torch Lake, Michigan. Brian Porter from Lake Geneva, Wisconsin, won third. Little Egg Harbor's Jack Lampman won the over-60 senior trophy for finishing 15th in the regatta. Team honors went to Little Egg Harbor Y.C., which won the coveted Club trophy for the best performance by a yacht club. Next year's championship will be held in September at Torch Lake, Michigan.-- Craig Ligibel