Pretty lines and forgiving design from Carl Alberg, plus a sturdy build, make this classic a capable offshore cruiser
People are often surprised when they see the image of a handsome Cape Dory 36 pop up on my slide show of 25 great boats for bluewater sailing. Although I think it's beautiful, I don't hide the fact that I am not wild about full keel, short waterline boats. So why is it on my list? First, it is a well-proven Carl Alberg design with countless ocean miles logged, including a couple of circumnavigations. Secondly, it is well engineered and built with quality fittings. And finally, with prices dropping below $60,000, it has changed from being expensive to reasonably affordable, especially for a serious cruising boat.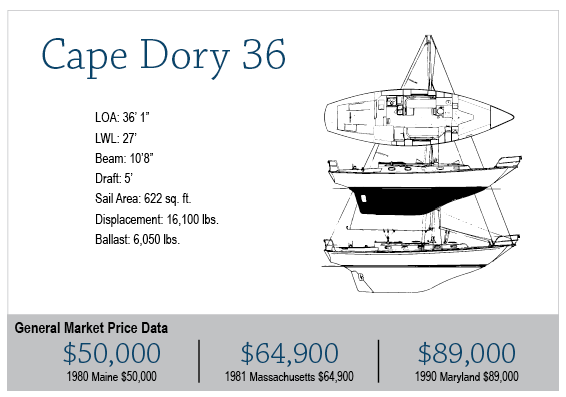 Andrew Vavolotis founded Cape Dory Yachts in 1963. The fledgling company went from building the original 10-foot Cape Dory to becoming one of America's premier sailboat builders in the 1970s and 1980s. From the legendary 19-foot Typhoon Weekender to a 45-foot world cruiser, all Cape Dories had one common denominator: designer Alberg. Prolific and consistent, Alberg was a believer in long keels with attached rudders, narrow beam and relatively slack bilges, and easy-to-handle sailplans, preferably cutters. His designs are humble and seaworthy.

The 36 was very successful. Introduced in 1978, it remained in production for 12 years and 165 hulls were launched. When Cape Dory went out of business in 1991, Vavolotis managed to keep the 36 molds and transported them to Robinhood Marine in Georgetown, Maine. The CD 36 was reborn as the Robinhood 36, and was available as a semi-custom boat until recently, although just a handful were actually built and sold.
First Impressions
The Cape Dory 36 looks at ease in the water. The 36 has a subtle sheerline, and the low freeboard accentuates a low-slung profile. Alberg was a master of creating boats of moderate proportions that gave the impression of being heavier and more conservative than they really were. For example, the CD 36 has a displacement of 16,100 pounds. Contrasted with the Westsail 32's 19,500-pound displacement, the CD 36 is much lighter. Displacement is only part of the equation. The CD 36 has 9 feet of overhangs, and the 27-foot LWL is just 75% of the LOA, which makes it beautiful to look at but not speedy. The full keel is cutaway forward with an attached rudder and the prop is enclosed in an aperture. Most CD 36s were rigged as cutters with a club boom, a few came from the factory as sloops.
Construction
For the most part Cape Dory did an excellent job of building boats and the proof is how well they've held up. The hull is hand-laid in a rotating, one-piece mold with alternating layers of fiberglass mat and woven roving. The deck is balsa cored except in areas of high loads and stresses where it is solid glass, plywood or aluminum. The hull-and-deck joint is on a wide, 3-inch inward flange and through-bolted on 12-inch centers, which makes sense. The chemical mastic bond is what keeps the joint from leaking, especially with a uniformly wide flange, and fasteners placed closer together do little to increase strength but plenty to increase the chances of a hull-and-deck joint leak.

Separate tools, or molds, were used to lay up the headliner and the pans in the V-berth and galley. A fiberglass subfloor adds additional athwarthships support, but further limits hull access. The ballast is cast in two pieces and placed inside the keel cavity. It is secured in place with several layers of fiberglass and covered with gelcoat for a smooth, clean bilge finish. The rudder combines two fiberglass half shells filled with a polyester compound and is built around a beefy 1 ½-inch stock.
What to look for
The CD 36 has few serious problems as a class. Check for signs of deck delamination, not that it's a common problem, but with a balsa-cored deck you need to be wary. Some owners have had problems with the rudder delaminating. The most serious potential problem is with the chainplates, especially on hulls before No. 71. These early boats had a mild steel web that was used to attach the lower shrouds and the backstay to the hull and this unusual metal bracket was prone to rusting and corrosion. There is plenty of information about chainplate issues and solutions on the Cape Dory owner's page at www.capedory.org. After hull No. 71, an aluminum angle bar was fiberglassed to the hull just below the deck flange. The chainplate tangs were bolted to this weldment, which distributed the rig loads evenly, and most importantly, it didn't corrode as quickly.
On deck
Most Cape Dory 36s have wheel steering, and the T-shaped cockpit was designed to accommodate a pedestal and decent-sized wheel. There are tiller boats, and if you will be fitting a windvane self-steering device, a tiller might be preferred. Otherwise, I would look for a CD 36 with a wheel because of the mechanical advantage it offers. The CD 36 can generate plenty of weather helm and the wheel eases the steering load. The visibility from the helm is excellent and the narrow beam places the sheet winches within easy reach. Yet the cockpit still feels spacious and there's plenty of storage with lockers port and starboard and a lazarette astern for the propane tanks. Teak coaming boards are elegant but they are hard on the back and overall the cockpit well is a bit shallow. There's a stout bridgedeck and the mainsheet traveler is usually set up on a bridge spanning the companionway with midboom sheeting on what is a proportionately long boom.

For a narrow boat, the CD 36 side decks are wide and there are long teak handrails atop the cabinhouse and a stout teak toerail. The single-spreader mast is keel-stepped and heavily stayed. The original staysail design called for a club boom, but many boats now have refit the staysail with furling gear.
Down below
The CD 36 interior plan is straightforward and functional, and the level of finish is exceptional. Dropping below through the slightly off-center main hatch you find yourself in the galley, with two large sinks and a three-burner cooker. The comparatively small fridge is aft. The small nav station and quarterberth are opposite the galley to starboard. Unfortunately the electrical panel is located directly below the companionway behind the steps. One owner I noticed had covered the panel with clear plastic to keep it dry.
The saloon includes an L-shaped settee to port with a straight settee opposite. I like the fold-up table that can be mounted on the bulkhead. Although the 6-foot, 4-inch headroom helps, you can't help but notice how narrow the boat is in the saloon. Continuing forward the head is to port with a hanging locker opposite. The V-berth cabin is spacious. There is storage in well-crafted drawers below the bunks. This is definitely the cabin for sleeping when at anchor, with a large overhead hatch and opening portlights to move the air around. Ventilation is excellent throughout the boat with plenty of opening bronze portlights.
Engine
The old reliable Perkins 4-108 4-cylinder 50-horsepower diesel engine was standard on the CD 36. It is shoehorned into place behind the companionway with just enough room to work on it, and most maintenance items are within easy reach. The fuel tank is fiberglass, although some owners have retrofitted an aluminum tank. The engine compartment was nicely soundproofed.
Underway
The CD 36 has been unfairly maligned when it comes to performance. You can't compare them to more modern hull shapes. The Cape Dory 36 tracks well and resists pounding in a seaway. With an SA/D of 15.7 and a D/L of 356, the CD 36 isn't fast, but it can carry sail and continue to make way when lighter, faster boats are running for cover in heavy air. Wide sheeting angles, a moderate-aspect rig and long keel prevent it from sailing close to the wind. But the CD 36 tracks quite well, as long as you don't pinch. And finally, the CD 36 heaves-to very well and this is very reassuring to bluewater sailors.
Conclusion
The Cape Dory 36 is a quality cruising boat with a proven conservative design and impressive offshore track record. It's not flashy or fast but it is capable and also represents a solid financial value. This is a boat that you confidently entrust with your precious cruising dreams.