This fast, tough racer-cruiser is well suited for offshore racing
Construction
The hulls are hand-laid fiberglass mat and unidirectional roving with polyester resin. Although the hulls might be considered thick by today's standards, the materials were both lightweight and strong for the late 1970s. Early reviews of the Peterson 34 referred to the use of Kevlar, particularly at the maststep and other stress points, but there is no indication that the then-new synthetic was added.
As one owner put it, the Peterson 34 has an extremely strong build and no emergent structural problems, "but they are no Swans cosmetically." Owners have commented about its shortcomings related mostly to the interior joinery and cabin finish.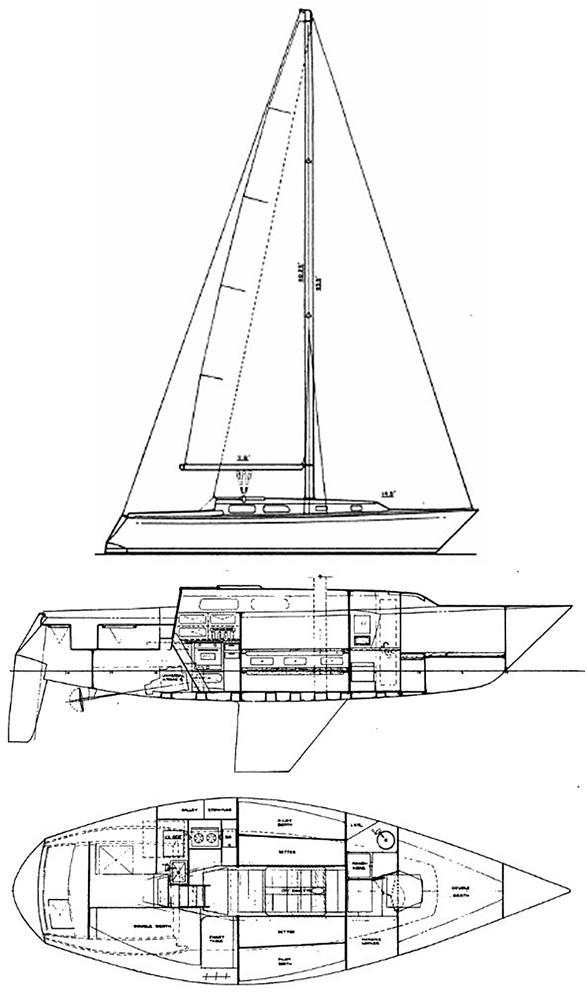 What to look for
As the number of Peterson 34s grew on the water, races revealed skippers could get more out of the boat by welding an extension to lengthen the boom. The original boom was just over 11 feet long and some were modified until they nearly touched the backstay.
Potential buyers might also encounter a steering wheel instead of a tiller, a replacement that has caused plenty of debate. A destroyer wheel could make the cockpit more cramped and difficult for crew to work the winches. Owners have also questioned how big a wheel would be needed to deliver the same amount of leverage provided by a tiller. Those who swear by a tiller celebrate its minimum of moving parts compared to a more complex wheel. Concern has also been expressed that any cockpit reinforcement required before installing a wheel, added to the weight of a pedestal and helmsman aft, could upset the boat's fine balance. Advocates of replacement, which costs about $3,000, say it makes it easier to steer and to connect an autopilot. As a general rule, a Peterson 34 with a wheel probably was not campaigned as a race boat.
At nearly 40 years old, any original standing rigging, turnbuckles or lifelines are likely rusted or weakened. These should be replaced. Check the rudder post for wear. Examine portals and chainplates for leakage.
On deck
The Peterson 34's double-spreader mast is stepped on the keel. The sailplan features a high-aspect main and massive foretriangle, both common design features in the 1970s. These characteristics were often influenced by IOR rules and can take a bit of muscle to control.
Four winches flank the cockpit to control the sheets. The winches are bolted to the coamings. Additional winches are located atop the coachroof.
The small cockpit has two drains. The toerail track provides plenty of locations to attach sheet blocks for efficient sail trim. Potential buyers should check for soft spots on deck and stress at the stanchions.
Down below
Below deck the Peterson 34 is comfortable but certainly not luxurious or spacious. Once down the companionway there's a compact galley with sink, stove and icebox to port. An efficient navigation station with seat is located to starboard. The saloon is essentially a settee and pilotberth on either side and a teak dining table. The enclosed head with a sink is to port and does not have a wastewater tank unless one was later installed. A stowage cubby and hanging locker to starboard is directly across from the head. The V-berth sleeps two but is often used for sail stowage when only four sailors are aboard. The engine box is beneath the companionway. The boat carries 18 gallons of water.
Engine
The Peterson 34 has auxiliary power supplied by a 15-horsepower, raw-water-cooled Yanmar 2QM15G diesel engine. Examine the belts and hoses for wear. Check fluid levels and filters. If possible, shine a light on the engine mounts to look for cracking or loose bolts. The boat has a 12-gallon fuel tank.
Underway
Ask pretty much any owner and you'll hear the Peterson 34 is one sweet boat under sail.
"It sails like a dinghy," said owner John Mills of Mattapoisett, Massachusetts. "The tiller makes it very responsive."
Certainly the combination of spade rudder, fin keel and substantial ballast give the boat both speed and handling ability. Owners have noted the design had less of a pintail than the pure IOR designs of the day, making it "less squirrely" when running downwind in a breeze.
The Peterson 34 is known for its upwind sailing ability. It can point high in light and heavy air, but sail changes will be necessary as wind speed increases due to the relatively large foresails that were typical of that era.
"It has a reputation as a boat that's good in light air," said yacht broker John Proctor at Lawson Yachts. "It's attractive, well designed and can keep a crew of five comfortable."
Owners report the boat does not pound because the fine bow shape slices through the waves, yet can be troublesome to handle under spinnaker in heavy weather should the bow dig and cause the boat to broach.
Conclusion
Fast, tough and well built, the Peterson 34 is an affordable performance cruiser capable of safely passaging whether on a weeklong cruise or as a contender in an offshore race.
---
LOA 33'11"
LWL 28'3"
Beam 11'2"
Draft 6'4"
Displ. 10,800 lbs.
Ballast 5,100 lbs.
Sail Area 339 sq. ft.
General Market Price Data:
$15,000
1978 Massachusetts
$27,000
1978 Wisconsin
$35,000
1979 Montana