A new look at an old haunt
Revisiting the Bahamas' Abaco Islands after a decades-long absence offers a new take on a changed but still beloved cruising ground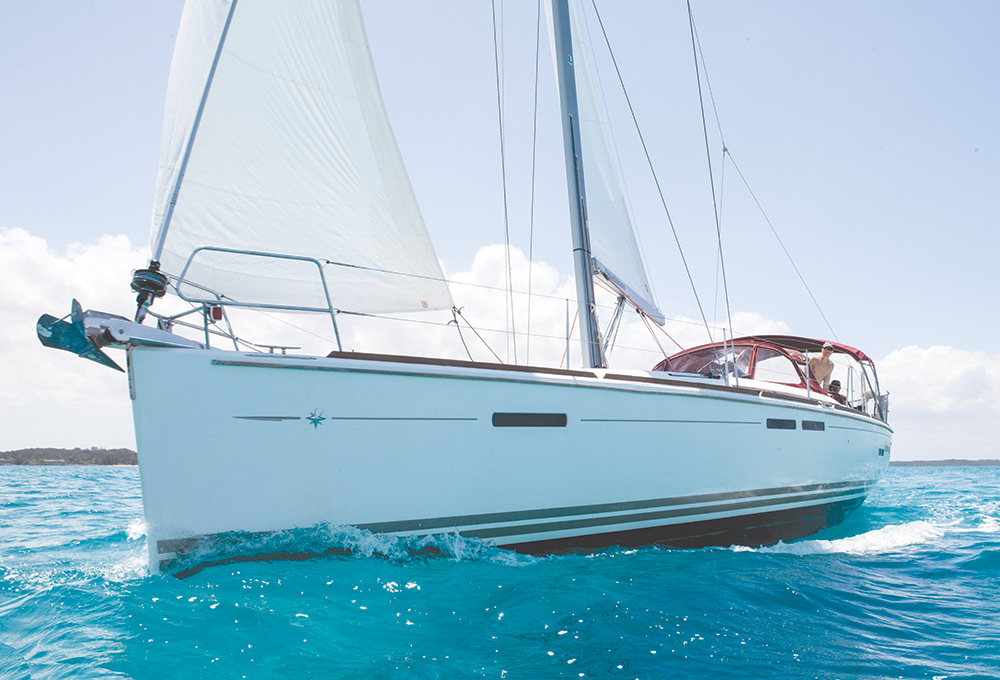 Ebley Creative photo
Growing up in Florida, I was often envious of my friends who spent their summers going to camp or a theme park for a family vacation. Could I spend a week visiting an overgrown and overpriced mouse? Oh no, our family headed to the Abacos for our summer vacation. I vividly recall the image in my head as my mother explained that we would be making "the crossing" to the Bahamas. I pictured our family, all with water wings on our arms, swimming from island to island, with cartoonish sharks circling in the distance. In reality, the crossing was the 12-plus hours it took to sail from somewhere near Jupiter, Florida, to the Abacos, a part of the vacation that I loathed then, as seasickness was something I was prone to.
Flash forward a few decades to a discussion with relatives about how beer always seems to taste better on a boat and the next thing we knew we were planning a charter. My husband, an avid scow racer with some offshore experience, and I were the only two in our group of six that I would call experienced sailors. The others, although outdoorsy and interested in sailing, were not up to the tasks of navigating and maneuvering a large sailboat. I knew the saltwater still flowed in my veins, but having lived in the Midwest for nearly two decades, I didn't want to get in over my head, so I declared our destination would be the Abacos, a place I knew and loved, and we would charter a monohull, which I knew my husband and I could handle by ourselves if needed.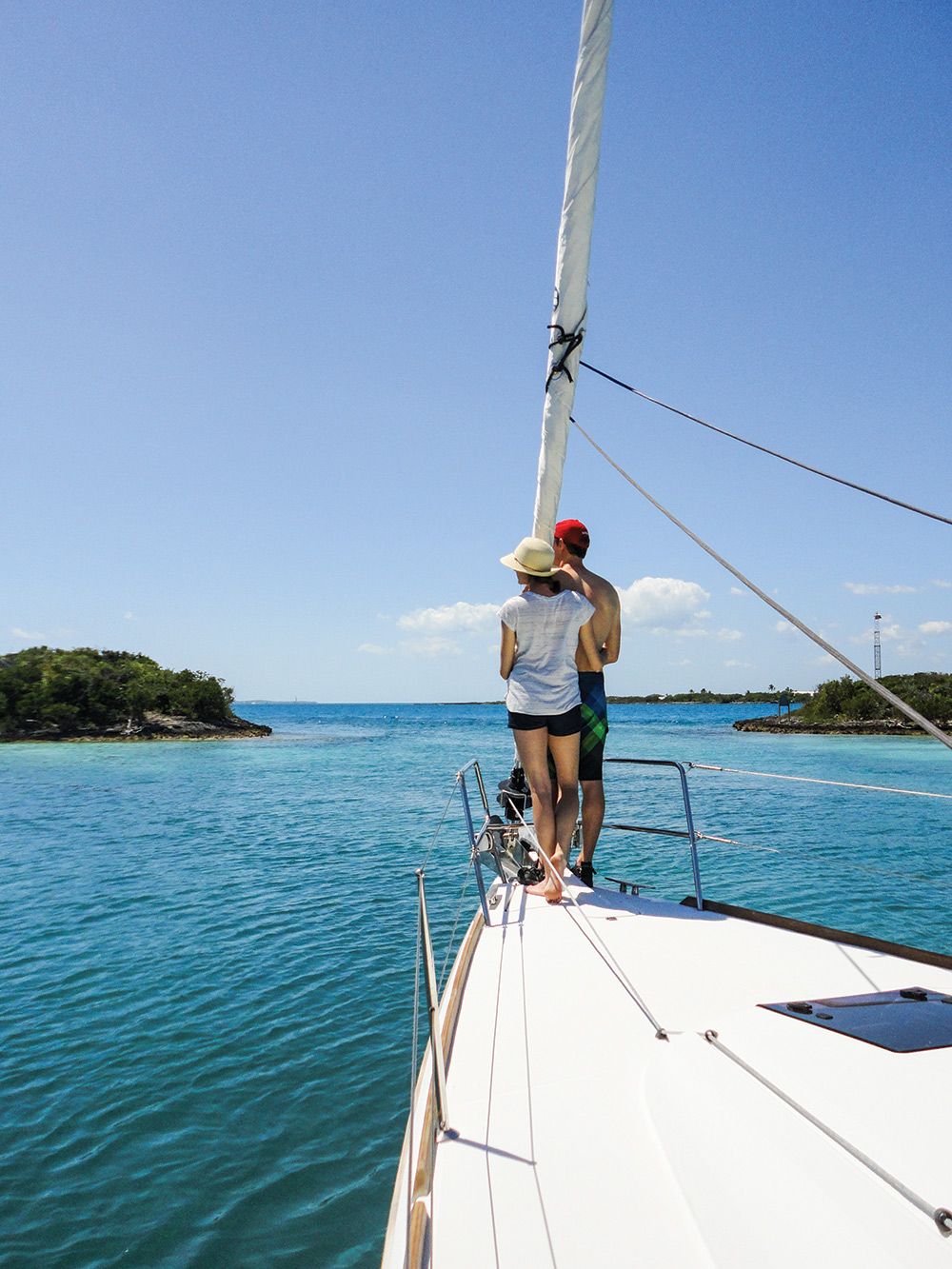 Ebley Creative photo
Our decision to go with Cruise Abaco, a family-owned charter company based in Marsh Harbour, was the next in a string of good choices. We booked our charter for early April, a time when we hoped it would be warm enough to swim, but not so hot that the lack of air conditioning on our chosen boat would be an issue. We were correct on both fronts.
Stepping off the plane I was met with both warmth and a feeling of being home. A quick look around told me that things had changed since my last visit decades before. The sweltering cinder block building that once served as the airport had been replaced by an attractive, welcoming and air-conditioned airport. With six of us to divide up the chores, we stopped at a grocery store and dropped half of our crew with a detailed shopping list in hand. The taxi took the rest of us to Great Abaco Beach Resort where we got our first look at Wind's Will, the nicely appointed Jeanneau 43 that would be our home for the next week. With three cabins, two heads and roomy cockpit and saloon, we had no problem comfortably settling in.
Cruise Abaco is based at Boat Harbour Marina on Marsh Harbour. I recall spending a few days as a teenager at the marina when it was brand new and its pool, docks and scuba shop called to me. Now the pool has a bar I can visit and very nice shower facilities right next to it, at the end of our flower-lined dock. Cruise Abaco is headquartered on the dock, so Mark and Patti and their crew were around to help us load up our gear and get us settled in. By the time we had the luggage onboard, the rest of our group was returning from the grocery store. We quickly changed into suits and headed to the pool for our first beers and conch fritters.
Walking back to the boat, we were introduced to Capt. Joe, an instructor and captain with Cruise Abaco and a bit of a songwriter as well. He serenaded us from the cockpit of one of the catamarans, as he was "working" with some other guests.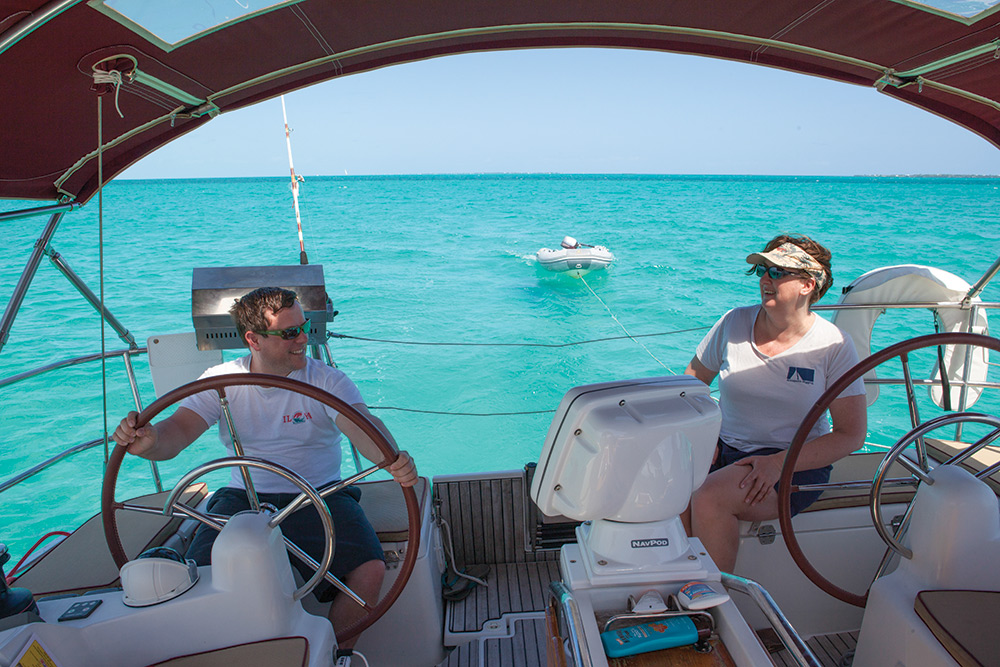 Ebley Creative photo
Fueled by a hearty breakfast at a nearby diner, Jamie's Place, the plan was to get our briefing and check out with Joe. Although we had planned an easy day with a short sail over to Hope Town, Mark and Joe talked us into taking advantage of the pleasant northeasterly breeze and heading to Tahiti Beach instead. I had no recollection of Tahiti
Beach, and looking at the chart, the water seemed a little thin for
my comfort level. "Take Joe with you," Mark said. "He can go with you, perform your briefing and check you out on everything on the boat. Then he can make sure you get anchored safety and then I'll come pick him up." Mark and his wife Patti live on Lubbers Quarters Cay, probably with a view of the anchorage he recommended, so they knew the area well and were spot on with their suggestion.
Joe told some salty jokes as we shook out the sails and settled in for a nice reach around the sandbar. After a few hours getting used to the boat and understanding the systems, we gingerly nosed in to shore, and Joe pointed out Firefly, the resort owned by the people who make the liquor of the same name. We turned south and found a protected place to anchor just off of the beach. The tide was low as we came in, so we were comfortable that we wouldn't get into too much trouble departing in higher water on our own. We thanked Joe for his help and took the RIB to shore for a walk on the beach.
After working up a thirst, we turned the dinghy toward Lubbers and decided to try out Cracker P's Bar and Grill. We were able to sit on the covered porch, surrounded by birds and tropical plants. It felt like we were in a treehouse in the jungle. With rum. Cracker P's has an extensive rum menu, featuring roughly 50 types of rum from all around the Caribbean. Fortunately, the food was also delicious, which helped regulate our rum intake.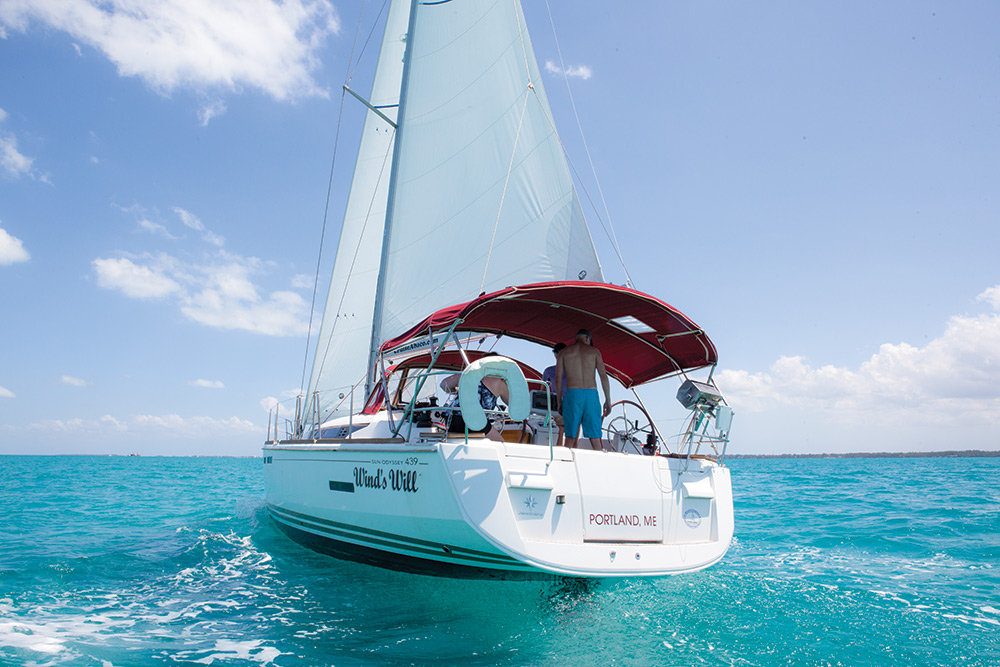 Ebley Creative photo
Back on
Wind's Will
, we heard an outboard engine and a hail from the couple aboard a passing dinghy. "How did you get in here? We have the same size Jeanneau," they said. "We didn't think there was any way to get to this spot." We enjoyed our sunset on the hook, the only monohull in the anchorage, and offered a little toast to Joe and Mark.
The next morning greeted us with light winds. As our plan was just to hop up to Hope Town, we motorsailed and made good time to the harbor. We knew that afternoon's low tide would make getting in through the channel challenging, so we were sure to arrive before noon and were able to snag one of the last mooring balls. After saying hello to cruisers on another boat from the Cruise Abaco fleet, we headed in to the dinghy dock with our snorkel gear to take our first swim on the ocean side. While the water was a comfortable temperature, the easterly winds made it a bit rough for doing much snorkeling, and with the cloudy water the visibility was not great.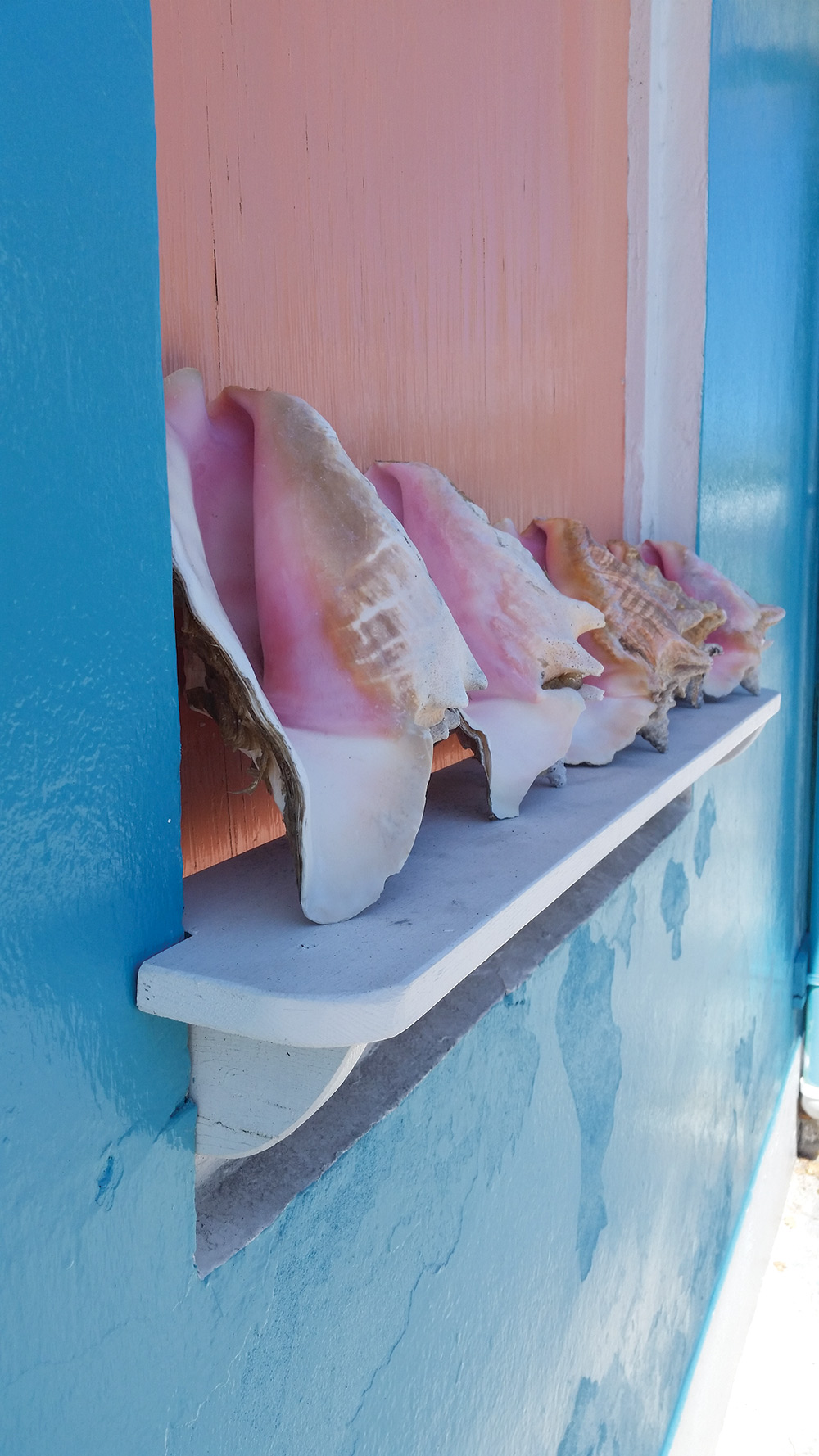 Ebley Creative photo
Much of what I remembered about Hope Town was the same–the beautiful beach, flower-lined streets and lots of curly-tailed lizards scampering about. There are some definite enhancements to the town, too. A frozen mocha was a refreshing treat at the Hope Town Coffee House, where they roast their own coffee and the walls of the shop feature works from local artists. For dinner, we were planning on going to one of the waterfront restaurants along the harbor. But upon replenishing our rum rations at one of the liquor stores, we were told that the Wine Down Sip Sip was the best choice for dinner. Since we were celebrating a birthday that night, we headed inland a few blocks where the small restaurant was packed and a quick look at the menu confirmed we had chosen wisely. The extensive wine list, fresh salads and tropical flatbread pizzas held our attention, as did the sign on a neighboring table that read, "Will play chess for beer."
Conditions were perfect for some leisurely sailing, and since our next destination, Man-O-War, was just a few miles north, we headed out to spend some time testing the speed of the Jeanneau. Everyone got a chance at the helm, and a turn throwing out the trolling line. We had miles of aquamarine water almost all to ourselves and we hoped to catch a snapper or something equally interesting for dinner, but no luck. The charts assured us we had plenty of water, but we kept the alarm set at a conservative 10 feet and a constant eye on the sandy bottom, where dolphins joined us as well. The boat moved nicely through the water, and even the hard-core racer in our group was impressed with the speed and the angles we were able to carry.
Man-O-War was always my favorite spot when I was a kid, as there was something for everyone: snorkeling off the beach, a short dinghy ride to protected shallow waters and a nice marina where I recall my father, stuck on the payphone for over an hour, taking a business call while my mom sat in the shade nearby reading a book and the rest of us hunted for starfish in the shallows. There was a great beach that was an easy walk, well-stocked grocery stores, an ice cream shop where teenaged boys on scooters would hang out, and the most amazing bread, made by a woman who never seemed to sweat. My sister and I would walk into her kitchen and wait for her to take bread out of the oven for us, sweat pouring down our backs, as the heat from the oven was oppressive, even early in the morning.
Sadly, we learned that she is no longer in good health and the road to her house no longer smells of baking treats. Albury's Sail Shop is still there, although their "new" location on the water is fancier than the one I remember. The breeze and view are a nice upgrade, and the friendly man outside selling conch shells taught us how to use one as a horn. The ice cream shop is now a high-end restaurant and there were no teenagers offering to take us on the backs of their mopeds to the other side of the island.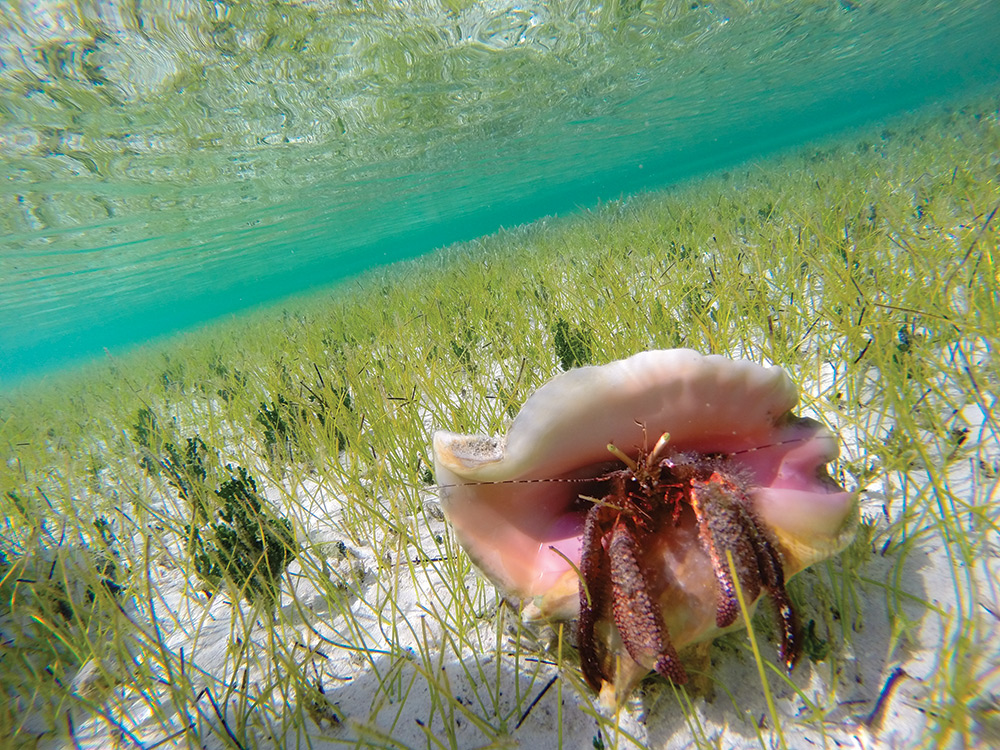 Ebley Creative photo
We decided to take a slip at the marina, as our batteries needed a good charge and we knew the pool and showers would be refreshing. Some in our group decided to walk over to the beach to catch the sunrise in the morning. After their return, and one more stop at the grocery store for provisions, we poked our way slowly out of the channel, the rocky opening making me nervous for the first time since taking the helm of
Wind's Will
. Once we cleared the opening, we set sail for Great Guana Cay, a few miles north.
The streak of ideal weather continued and we enjoyed a pleasant sail up to Guana, our longest sail of the week. With a check in to the Cruisers' Net, we confirmed that the wind forecast should continue from the northeast, another great day to head north at a leisurely pace. The inmast furler with its electric winch made setting the sails and getting up to speed quickly an easy task. We took a few long tacks, keeping things in the galley pretty flat while sandwiches were made. Another boat was also heading north, but we were able to sail at more than 6.5 knots in a building breeze and easily beat our unsuspecting competition to Guana, where we grabbed a mooring pretty far away from the dinghy dock, as the shallow water did not give us many options closer to shore.
Guana is known for Nipper's, a beachside bar with pools and tiki huts and a Sunday pig roast. My memories of Guana include hermit crabs scampering along the sidewalks, and a fish-covered reef just off the beach. We did not see a single crab, and the blustery northeast winds kept us from snorkeling on the Atlantic, but we enjoyed our walk along the beach, cutting up at Nipper's. We made sure to cast off our mooring before noon so we could get to a protected area to get in some swimming.
We anchored off Scotland Cay where we took the dinghy to the beach and collected sea biscuits and driftwood. A few of us swam back to the boat, under the watchful eye of a few juvenile barracuda, before mooring the boat off the north end of Man-O-War for the evening. The wind was building out of the northeast, and we tried our best to tuck in close to shore, but there was a bit more rocking and rolling than we would have liked. Regardless, we were able to cook a nice dinner and work through some more of our rum stash, as we only had one more night onboard.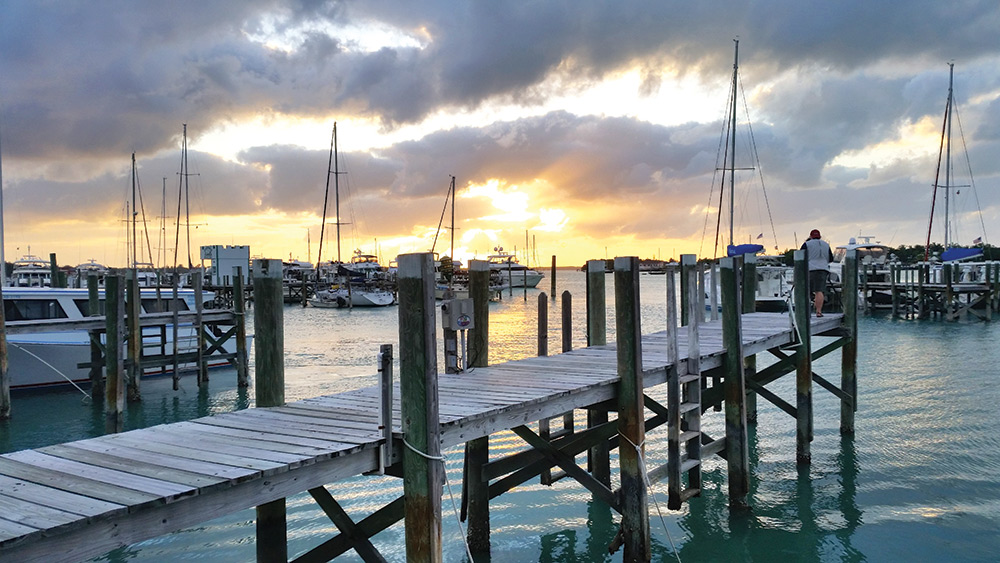 Ebley Creative photo
The next morning, we set sail for Matt Lowe's Cay, where we hoped to get in some more swimming before heading back to Abaco Beach Resort. We noted the sign on the beach warning us of the guard dogs, but we enjoyed swimming in the protected shallow water. Although we did not get much time on the Atlantic side, the Sea of Abaco provided calm, warm water with enough wildlife for us to enjoy the underwater scenery.
We pulled into the fuel dock to top off the tanks. The crew from Cruise Abaco helped us get Wind's Will secured in her slip. The bow thrusters are nice, but I had not quite mastered the use of them in tight quarters.
Our final night back at Boat Harbour gave us a chance to enjoy one last sunset before heading home. The sunsets, and the rest of the cruise, were not the same as the ones I had experienced as a child. Not better, not worse, but a vantage point for an experience. Captaining my own chartered boat with friends and family and getting to show them the islands I first visited as a wide-eyed kid let me rekindle my love of the Abacos. I don't intend to wait another 20 years before I return again.