A carefree cruise provided plenty of opportunities to let the wind be the decision-maker for these warm-water seekers
With the summer of scow racing a distant memory, a sailing adventure was exactly what my husband Matt and I needed to escape a brutal Midwest winter. Our destination had to meet several criteria: have warm, tropical waters for swimming; consistent wind that would allow us to vacation free of an agenda, deciding day by day where our adventure would take us; and a place that offered the opportunity for longer passages to anchorages off the beaten path. And St. Lucia checked all the boxes.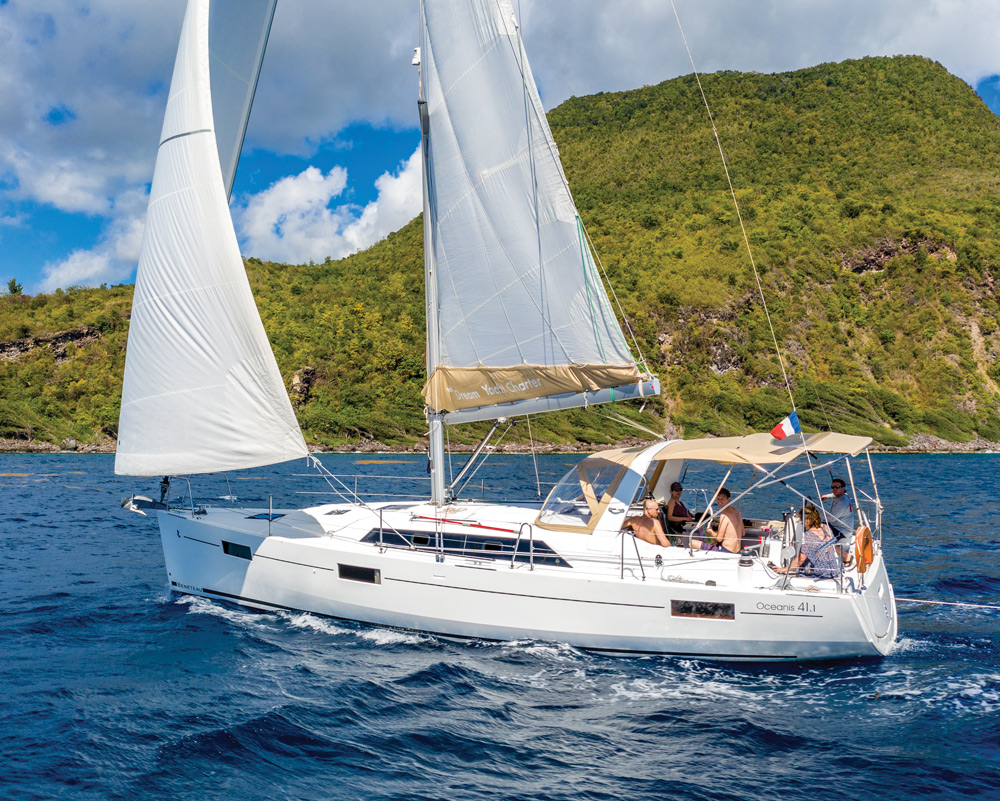 Ebley Creative photo
With volcanoes carving the coast and teal blue warm waters, St. Lucia was recently recognized as "The World's Leading Honeymoon Destination" in 2018. And while I can see the appeal the locale might hold for newlyweds, the crew we had onboard in January was not a wedding party, but married couples enjoying time away from kids and cold. In fact, our party of six was reduced to five at the last-minute due to a pregnancy announcement that meant no overseas travel for Andrea. Kyle, her husband, came along anyway, promising to have enough fun for the two of them, a feat he claimed to accomplish by the end of the trip.
There was a special joy to boarding a plane in the snow and stepping off in sunny St. Lucia fewer than six hours later, meeting up with Tom and Sharon, the other couple in our casual cruising party who seemed quite happy to have a week without their three young boys. Our driver, Edward, greeted us at the Hewanorra Airport with a cooler full of Pitons beer and bottled water for the hour-and-a-half drive north to Rodney Bay where our Beneteau Oceanis 41 awaited. The winding, hilly, narrow road, which is not for the faint-hearted, took us past ramshackle villages, inspiring vistas, banana fields and cruise ships on the way to Rodney Bay at the northwest corner of St. Lucia. We arrived at the marina complex right around dusk. After a long day of travel, we were greeted by smiling faces at the Dream Yacht Charter office, as Daniel Fincham and Elle Crane eagerly settled us into the island pace of things.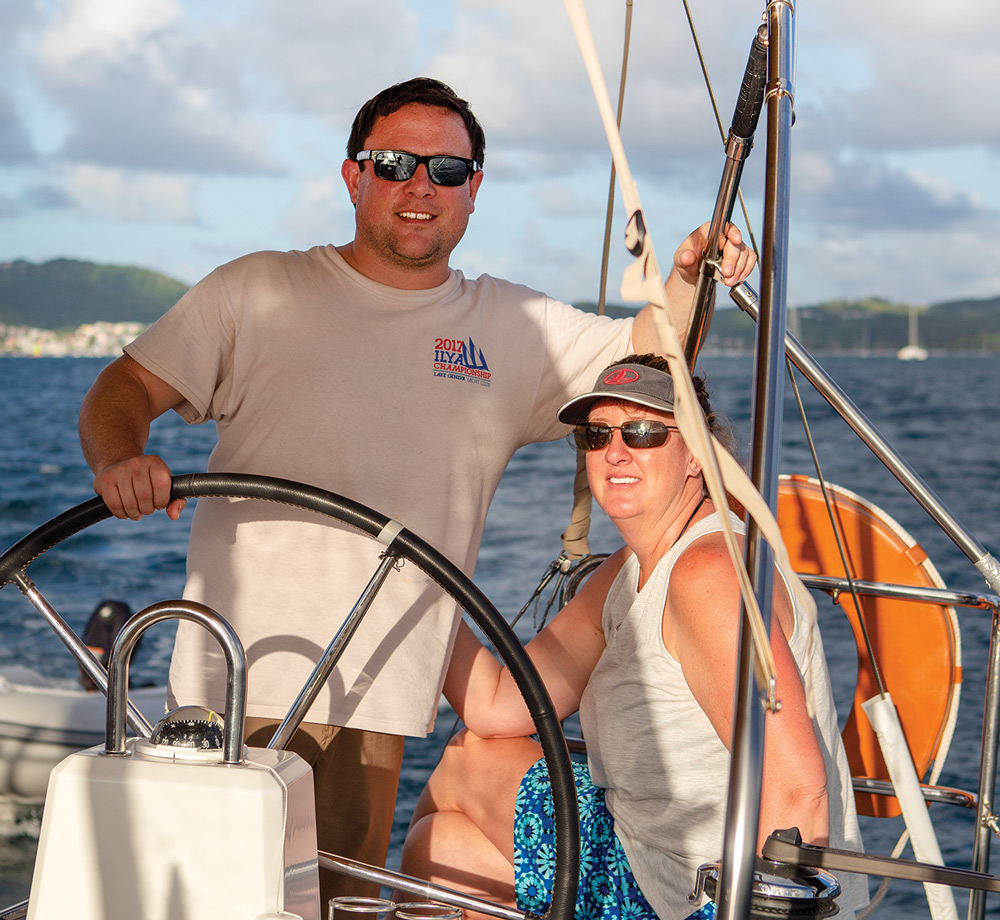 Ebley Creative photo
Sunday morning we decided we were in no real rush to do much of anything other than soak in the view and the sun. The new Dream Yacht Charter base hadn't yet set up provisioning services when we were there, which was fine with us, as we had a list prepared and shopping is part of the fun. We first checked out the marina complex, which includes a small but well-stocked grocery store. We did most of our shopping at a larger market about a mile up the street, then spent the rest of the afternoon exploring Rodney Bay on foot and planning our first passage.
The weather forecast was essentially the same for the entire week; winds 15 to 18 knots, with gusts to 22, sunny, high of 82, low of 74, with the occasional scattered shower. The only difference was a general velocity downgrade predicted throughout the week as the wind clocked from northeast to southeast. With that knowledge in hand, we decided to head north to Martinique, where we planned on heading in to the small town of Ste. Anne for a night or two on the hook.
The boat, which had been comfortable enough at the dock, proved herself once we set the sails and pointed her north. With a reefed genoa, the boat was moving well, but with a lot of weather helm. We checked the reefing gear on the main and were thrilled to find it was a single-line system, so we poked it into the wind to reduce sail, tightened everything back up and found the boat to be beautifully balanced in the 20-plus-knot winds. The wave frequency was a little short and the out-of-practice skipper took a few shots of spray over the deck, but got back in the saddle pretty quickly.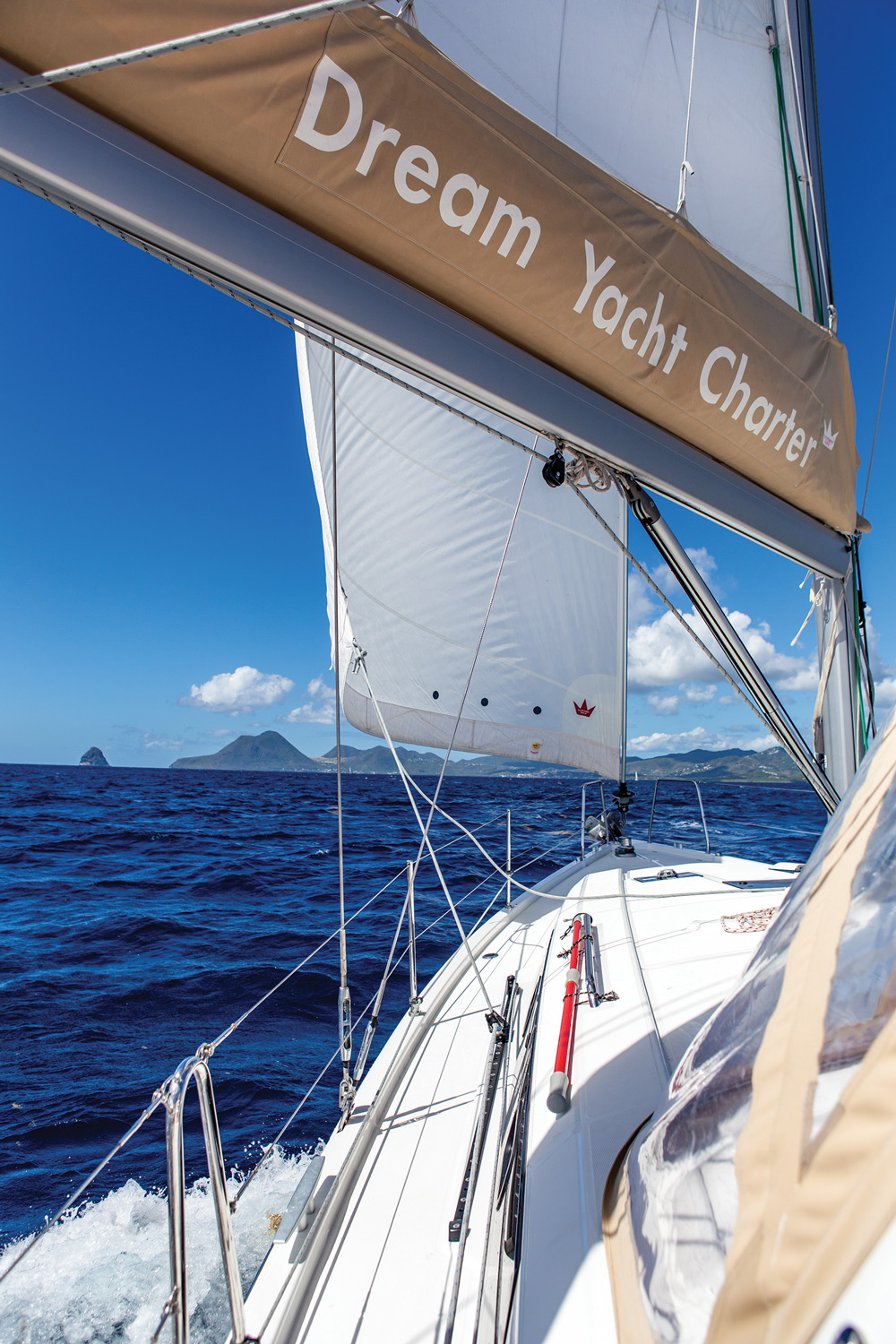 Ebley Creative photo
We were hoping to spot some marine life along the way, ideally whales and turtles. But other than the many flying fish we startled, we didn't see any other animals until about halfway to Martinique when we were approached by a bird resembling a pelican. It seemed to be drafting off our sails for a few minutes, then would veer away and aim for the anchor. A few times we thought for sure it was going to collide with the bow of the boat, but always swerved in time. It stayed with us off and on for the next hour, entertaining us and looking for flying fish. It provided the anecdote we needed for the postcard home to our 5-year-old, "Dear daughter, we miss you. Today a bird tried to poop on our boat and it almost hit Daddy." Once we sailed into the lee of Martinique and our boatspeed dropped, we shook out the reef and our friend flew away.
One of the main draws of Martinique was Diamond Rock. The history of this chunk of limestone intrigued us all, and we wanted to sail by and see it in person. Approaching Martinique from St. Lucia, we got a glimpse of it as we turned into Ste. Anne to anchor for the night.
The anchorage off of Ste. Anne was easy to spot, with dozens of boats of all sizes and styles in this protected yet open bay. To clear customs, we would need to head farther up the bay to Le Marin in the morning, but for the evening, we had ribeye steaks on the grill, a smooth St. Lucian rum, a bottle of French wine and an apricot-colored sunset off our stern. We anchored far enough away from others that our late-night swimming wouldn't bother any other cruisers.
The plan for the morning was simple: We would motor the two and a half miles to Le Marin, where I would hop ashore at the fuel dock and go clear customs while the rest of the crew stayed on the boat. We did not anticipate the queue of more than half a dozen boats waiting to get fuel, or the lack of room to maneuver in the marina. After 10 minutes of searching for a spot where we could tie up and wait while we cleared customs, we decided to just get me to shore quickly and figure it out as we went along. We couldn't find open dock space, but there was a beamy raceboat at the end of a dock where I estimated I could easily step ashore. With passports and boat papers, I stepped onto the boat, only to realize too late that with the Mediterranean-style mooring, there was no way for me to pull the boat close enough to the dock to step across. I weighed my options, and decided to toss my paperwork to the dock and performed a bit of a tightrope act, figuring that the worst case was that I would end up wet but our papers would be dry. Somehow I managed to get across safely although not gracefully, and with sweaty palms began the search for the customs office. Once located, I then had to navigate the French keyboard to input all the details for our boat and crew. I apologized to the lovely man next to me who heard me utter a few unattractive French words as I hunted and pecked my way through completing the forms.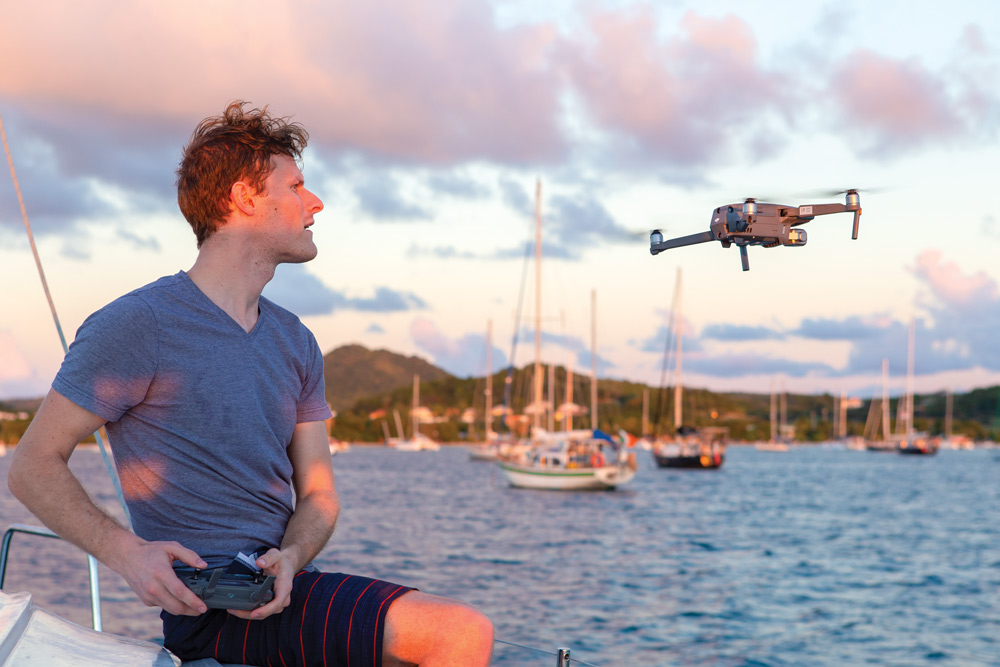 Ebley Creative photo
Having successfully cleared us in to Martinique, and finding the rest of the crew had secured a mooring and launched the dinghy, I beckoned them in to shore, where we found a restaurant that offered what I can only call "the world's best cheeseburger." In true French style, we passed nearly three hours at the café, with a unique beer-serving method and a comfortable table in the shade and the breeze. As Le Marin was a little too populated for our taste, we returned to the boat midafternoon and motored right back to where we had anchored the night before. Ditto for the rum, wine and swimming as well. It appears it took us all of 48 hours to adjust to the pace of the Windward Islands.
Leaving the harbor the next morning, we again marveled at the many different types of boats around us. In a great juxtaposition illustrating the advancement of sailing technology, a traditional yole tacked in front of a foiling kiteboarder in the assertive wind that funneled into the bay to port. We had hardly left the anchorage before we could see Diamond Rock in the distance. It rises 573 feet out of the ocean like the Cliffs of Insanity.
The weather provided a perfect day for exploring farther up the Martinique coastline. We spotted plenty more flying fish on our sail to Anse Noir, where we anchored for a few hours of exploring the black sand beach and snorkeling with sea turtles. The spot is popular for sun worshippers on the beach and head boats coming in for water sports, but by late afternoon we were the only boat in the anchorage. Combining such a perfect day of sailing with a few hours swimming in our almost private beach was amazing, but it wasn't protected enough for overnight anchoring. So we motorsailed to Anse d'Artlet for the evening, where we had a few dozen boats around us and managed to find a beachfront restaurant that was thrilled to serve us their specials of the day, fried flying fish and marlin tartare. The restaurant was little more than a shack with a disco ball and some plastic tables and chairs in the sand. On the walk back to the dinghy, we found a bakery and made plans to return in the morning for fresh French pastries for the trip back to St. Lucia.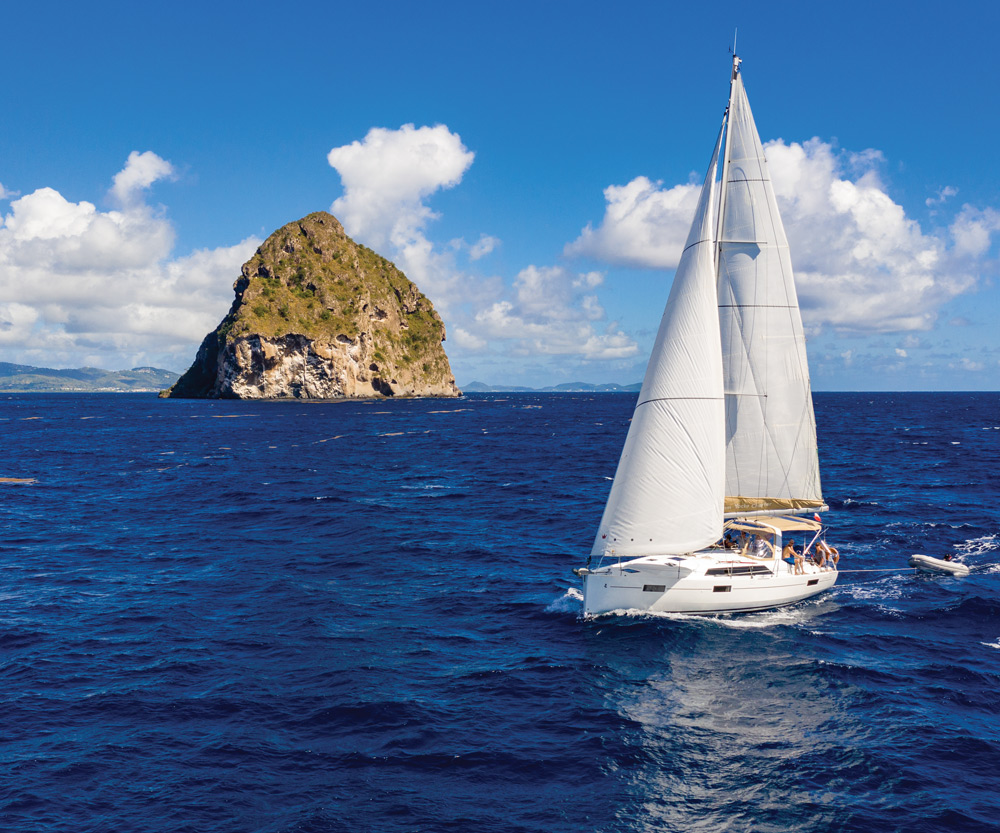 Ebley Creative photo
The run to Marigot Bay was another perfect day of sailing, and since everyone had their sea legs this far into the trip, we were all comfortable just relaxing for a few hours while we made the passage back to St. Lucia. The Beneteau sailed nicely and we never felt slow or bogged down. She popped up on the waves and surfed cleanly. The adjustable jib cars made it easy to get nice sail shape when reefing the genoa, although I would also like a traveler for better mainsail shape, too. We decided to try out the autopilot, and despite my lack of enthusiasm, I was really impressed with how well it handled the boat. Having owned a boat with an autopilot we named "Dizzy Izzy," I'm always skeptical about taking my hands off the wheel. But we arrived at Marigot Bay almost an hour ahead of my prediction. We managed to pick up a mooring ball, clear customs and immigration, settle up with the marina for the mooring and get our first round of drinks delivered poolside before 3 p.m.
As a child visiting EPCOT's World Showcase in Florida, I found it amazing that you can jump from the outdoor market of Mexico to the Chinese temple in a matter of footsteps. As we sat drinking daiquiris at the swim-up bar in the resort pool at Marigot Bay less than 20 hours after our toes-in-the-sand dinner, I had the same sort of feeling, going from one extreme to the other in the blink of an eye.
Pulling into this harbor had a very different feel from anywhere else we had visited. The megayachts with their dozens of uniform-clad crew were tucked in next to liveaboards and cruisers on boats of all sizes. The local fruit-sellers approached everyone equally, looking to sell the day's fresh harvest. On one side of the bay was Doolittle's, a picturesque spot to sip a drink and watch the boats enter and leave the harbor. The other side was the marina, with modern facilities including a grocery store, showers for mooring and marina guests and access to the many pools and restaurants. This wedding and honeymoon destination was a good spot to find other excursions, including mud baths, rainforests and other inland activities. I found myself wishing we had another day or two to spend there.
In fact, there were many parts of St. Lucia we would have liked to see more of. We did not make it south to the Grand Pitons, nor did we head to St. Vincent and the Grenadines as many have suggested we do. I look back on the week and I think "the days were long, but the week was short." This charter was very much a chance to unwind, with no agenda on things we must do or see. We went where the wind took us and we wouldn't change a thing, except maybe add another four days onto the trip.
---
Grand openings
With charter bases in St. Vincent and The Grenadines, Martinique, Grenada and many other Caribbean locations, it may not seem obvious as to why a base in St. Lucia would be the next step for Dream Yacht Charter.
"It's just a beautiful area," base manager Daniel Fincham said. "Rodney Bay is a yacht-based area, we're not competing with other tourist activities here. Guests can immediately feel the chill, relaxed lifestyle, while we can have local experts available to help with maintaining the fleet." He was right with this one, as a malfunctioning air conditioner was fixed in record-time, on a Sunday, while we were there. "Typically guests come here because of the fantastic sailing, but to be fair, we have an abundance of wildlife, with great fishing and other structured activities on the island for those who want to do something other than sail."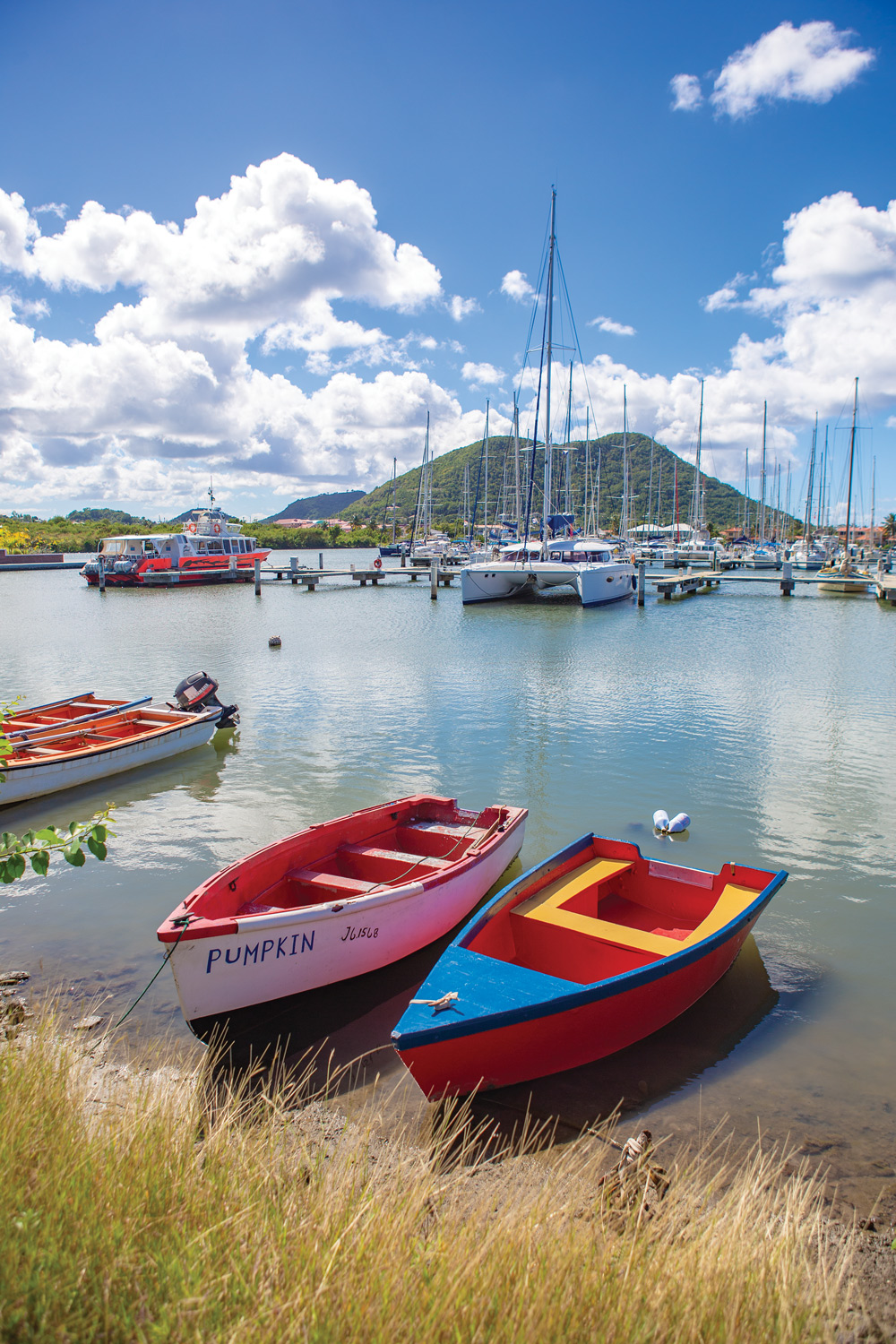 Ebley Creative photo
The base opened in early 2019 with a fleet of six boats, and another four or more boats were due to be added by the end of the year. Fincham pointed out that the base at Le Marin has grown to over 100 boats, and he expects to see St. Lucia grow as well. He is working to add local residents to fill vacancies as they grow, as currently he and staff Elle Crane are adamant about providing a premium experience for guests.
For more information on this charter call 855-650-8902 or visit www.dreamyachtcharter.com.
Martinique is also beginning to hop, with The Moorings opening a new base this year. For more information, call 800-416-0814 or visit www.moorings.com.