Iceboats race the DN World Championship on Lake Kegonsa, Wisconsin, in January.
Stupid sport" is repeated numerous times throughout the iceboating season, including in my house as the ice reports come in. There is a lot of sitting around, sharpening runners, discussing the weather and waiting for the call to come in. From the DN, the most popular iceboat, with worldwide cult status, to the Nite, a slightly larger boat that can accommodate two cozy people, to the Skeeters and stern-steerers that whiz by at dizzying speeds, iceboating is a unique sport.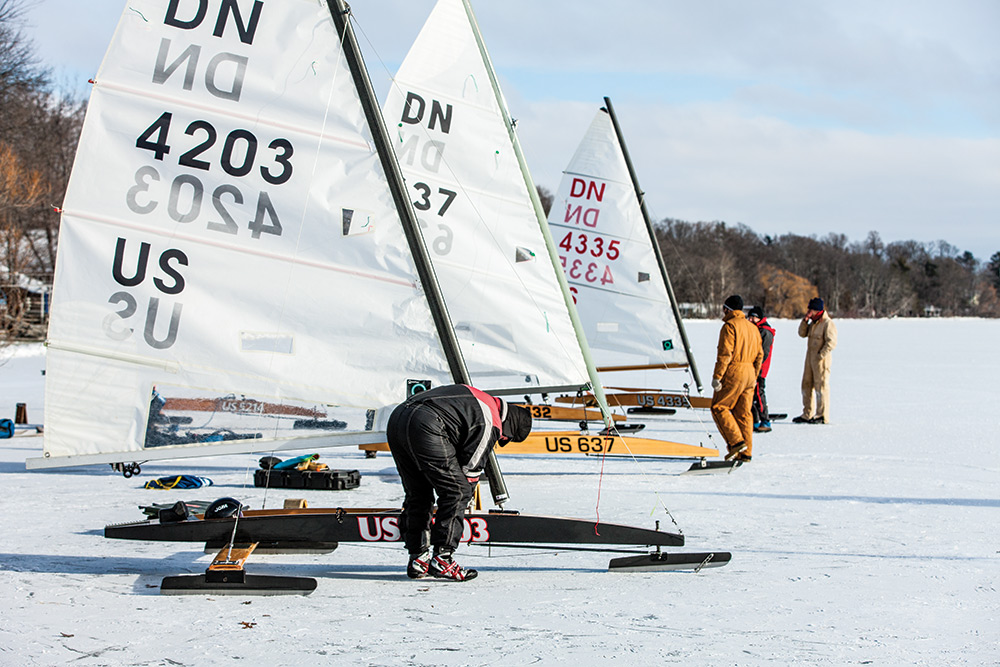 JH Peterson photo
Iceboating, or hard-water sailing, is a fickle endeavor. Not only must there be ice, but the ice has to be smooth and free from snow, heaves, fishing holes and other obstructions. If clear ice can be found, the other component is wind. Having to push an iceboat several miles back to the shore if the wind dies is a situation nobody wants to find themselves in. But too much wind and racing is called off. Iceboats can be depowered, but with too much wind, sailing is not a safe activity. And let's not forget about the cold. This is ice. While sailing can happen if the temperature is above freezing, too warm and the ice starts to melt into slush, slowing down the racing. And at speeds of over 25 mph, wind chill is a significant factor as well. So what are the ideal sailing conditions? Cold, but not too cold, overcast, consistent wind, but not too much, with no snow and few ice fishermen to sail around.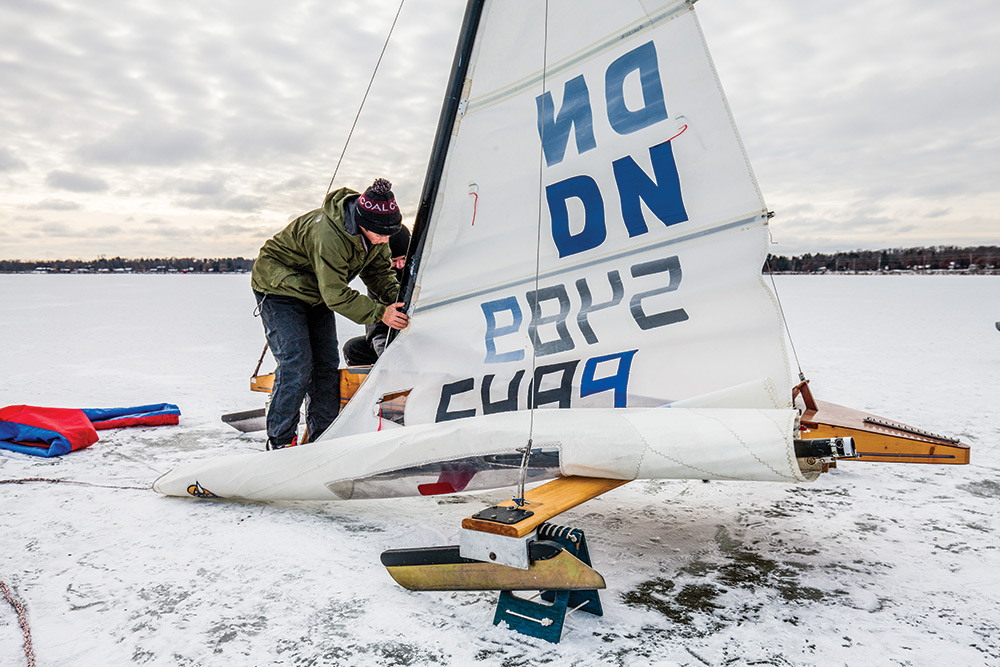 JH Peterson photo
So when the weather cooperates and temperatures are "making ice" the iceboat telegraph comes into play. Depending on the fleet, there are world and North American championships, regional regattas and club racing. Events are scheduled for a certain weekend and general location, but that can change if conditions change. For instance, the Inland lakes in Wisconsin, Michigan and Minnesota are common regatta grounds, but parts of Canada and northeast states are home to many iceboats as well. This year's DN World championship was scheduled for the North America Western Region. That set the stage for ice scouts to check on conditions and possible locations were quickly narrowed down to a handful of lakes, mostly in Wisconsin. Websites keep competitors updated on scouting activities and timelines for decisions on sailing.
The 2017 DN World Championship was called for on Wisconsin's Lake Kegonsa near Madison, beginning January 22, and sailors were given about three days notice to get to the site. Despite all efforts, only three races were held in each of the three fleets. The gold went to Poland's Karol Jablonski, who won his 11th world championship. Day 2 had no wind and Day 3 brought snow and slushy conditions. So the regatta participants packed up their gear, spent some time celebrating the time they had on the ice, finished off the keg of Spotted Cow beer, and started planning for the North American championship. Scouts were headed to Ashland, Wisconsin, and Escanaba, Michigan, in hopes of scheduling the next regatta in just a few days. Sailors spent the time waiting by sharpening runners, discussing strategy, and watching the weather forecasts. Stupid sport.
The North American championship regatta was eventually sailed on Green Bay in Wisconsin on January 27, with a total of four races completed. Ron Sherry took his 12th first-place finish at a DN North American championship in the gold fleet, and his son, Griffin, won the silver fleet. For complete results, visit na.idniyra.org. --Charlotte Peterson